Sunday Night Baseball Betting Odds, Picks and Predictions: Twins vs. Cubs (Sept. 20)
Credit:
Quinn Harris/Getty Images. Pictured: Wilson Contreras, Javy Baez and Kris Bryant
Betting odds for tonight's Sunday Night Baseball matchup between the Twins and Cubs have the Cubs listed as -152 favorites, the Twins at +130 and the over/under at 7.5.
Yu Darvish will start for Chicago against Jose Berrios for the Twins, and that matchup has created some betting value in the eyes of our experts.
Check out our full breakdown below, including our experts' favorite picks.
Twins vs. Cubs Odds
---
Odds as of Sunday afternoon and via DraftKings. Get up to a $1,000 sign-up bonus at DraftKings today or see more offers and reviews for the best online sportsbooks.
---
The Chicago Cubs (31-21) and Minnesota Twins (32-22) will settle the winner of their season series on Sunday night — following an 8-1 win for the Twins on Saturday, and a 1-0 shutout for the Cubs on Friday.
Each team has already clinched a playoff spot, but the game is significantly more important for the Twins, who sit three games behind the White Sox for the AL Central lead with six games remaining on their schedule.
Per FanGraphs, Minnesota has only a 4.6% chance of winning the division (it also trails in the head-to-head tiebreaker with the Sox), while the Cubs are given a 97.7% chacne to capture the NL Central crown.
For the Cubs, this game is more about getting Yu Darvish his first Cy Young Award, as the fascinating righty is likely the frontrunner in the NL race with one week to go in the regular season.
Below you'll find my complete preview for the matchup, along with two picks from the rest of The Action Network MLB crew.
---
Advanced Stats Glossary
FIP or Fielding Independent Pitching measures what a pitcher's ERA would look like if the pitcher experienced league-average defense and luck. xFIP is a regressed version of FIP that adjusts or "normalizes' the home run component based on park factors.

wRC+ or Weighted Runs Created Plus takes the statistic Runs Created and adjusts that number to account for critical external factors — like ballpark or era. It's adjusted, so a wRC+ of 100 is league average, and 150 would be 50 percent above league average.
wOBA or Weighted On-Base Average is a catch-all hitting metric with more predictive value than on-base percentage. An average MLB hitter can be expected to post a .320 wOBA. xwOBA is a regressed version of wOBA that accounts for variables like park factors.
---
Projected Starters
Jose Berrios (4-3, 4.15 ERA) vs. Yu Darvish (7-2, 1.86 ERA)

I could write an entire book on Darvish, so let's start with Berrios — whom I have remained adamant about being no better than a No. 2 starter, despite his name recognition.
Berrios is throwing his fastball both harder (+1.4 mph over 2019) and less frequently (-7% over career) this season than he ever has before, while maintaining an uptick to his changeup usage over the past two years (9% in 2018, 16% in 2019, 19% in 2020), but he has remained equally effective as a pitcher, posting an identical 4.32 xFIP over the past two seasons — right in line with his 4.35 career average.
Berrios gets rave reviews for the optics of his curveball, but it has been only a slightly above-average pitch throughout his career; it either works as an out pitch or gets hammered for extra bases (20 HR allowed on the curveball from 2018-19:
Generally, I feel that the public tends to overrate his abilities, whereas Darvish — while historically enigmatic — is historically underrated.
Darvish was dominant over the final four months of the 2019 season, and particularly in the second half (81.1 IP, 2.76 ERA, 0.80 WHIP, 7 BB, 118 K) while walking 15 batters over his final 19 starts. He was one of my favorite preseason Cy Young bets, and he has surpassed even my best expectations.
Since July 3, 2019, Darvish has a 2.50 ERA with a 2.55 xFIP and a 203:19 strikeout-to-walk ratio in 151.1 innings pitched.
His swinging-strike rate — which sits at 12.4% for his career, increased to 13.4% in 2019 and has moved to 14.4% in 2020.
Here are some other things that are happening with Yu Darvish in 2020:
Ranks in the top 10% for strikeout rate (32.4%), walk rate (4.9%), and hard-hit rate (28.7%) per Statcast
Fastball velocity (95.5 mph) is higher than ever before, but fastball usage (24%) is also less than ever before (45% career)
Cutter usage (40%) is more than double his career average (18.9%)
Curveball (13%) and Changeup (3%) usage a bigger part of his arsenal
First-pitch strikes (64%) at a career-best mark (+4.5% vs. career)
Living in the zone (47.8%) more than ever before (+3.1% vs. career)
Take those pitch classification numbers with a grain of salt. Darvish, a master of disguise, throws an array of pitches (at least eight — potentially up to 11 or more).
For example, he's now throwing three different curveballs (in addition to his hard curve and slow curve), after stealing Shane Bieber's knuckle-curve grip from Rob Friedman's account:
Fittingly, the two men are frontrunners for the Cy Young award in their respective leagues. Good artists borrow, great artists steal — and Yu is a maestro:
The Bullpens
In 2020, the Cubs' bullpen ranks 15th in FIP (4.48), sixth in xFIP (4.08), and ninth in K-BB% (15.5%). By the same metrics, the Twins rank eighth (3.87), fifth (4.07) and second (19.9%).
The entire Cubs bullpen should be available on Sunday. The Twins should be down Matt Wisler after pitching two innings on Saturday and may want to avoid using Caleb Thielbar, who worked back-to-back days on Thursday and Friday.
Fielding
In 2020, the Cubs (+20 Defensive Runs Saved) and Twins (+15 DRS) have both been top-10 defensive teams.
Chicago's infield is amongst the best in baseball — netting 13 DRS — with Javier Baez (+5), Kris Bryant (+4), Nico Hoerner (+4), Anthony Rizzo (+4), Jason Kipnis (+2) and Willson Contreras (+1) all contributing positively.
The Twins have racked up 16 DRS in the outfield, thanks mostly to Byron Buxton (+9), but Jake Cave (+3) and Eddie Rosario (+2) have also done their part — and Rosario appears to be healthy after a very poor 2019 season defensively (-6 DRS).
Since the start of the 2017 season, Buxton (+44) ranks third amongst all centerfielders in DRS, only behind Kevin Kiermaier (+54) and Lorenzo Cain (+45) — who respectively played about 550 and 1,300 more innings than Buxton over that same period of time.
He's arguably the best defensive center fielder in baseball:
Projected Lineups
Data via FantasyLabs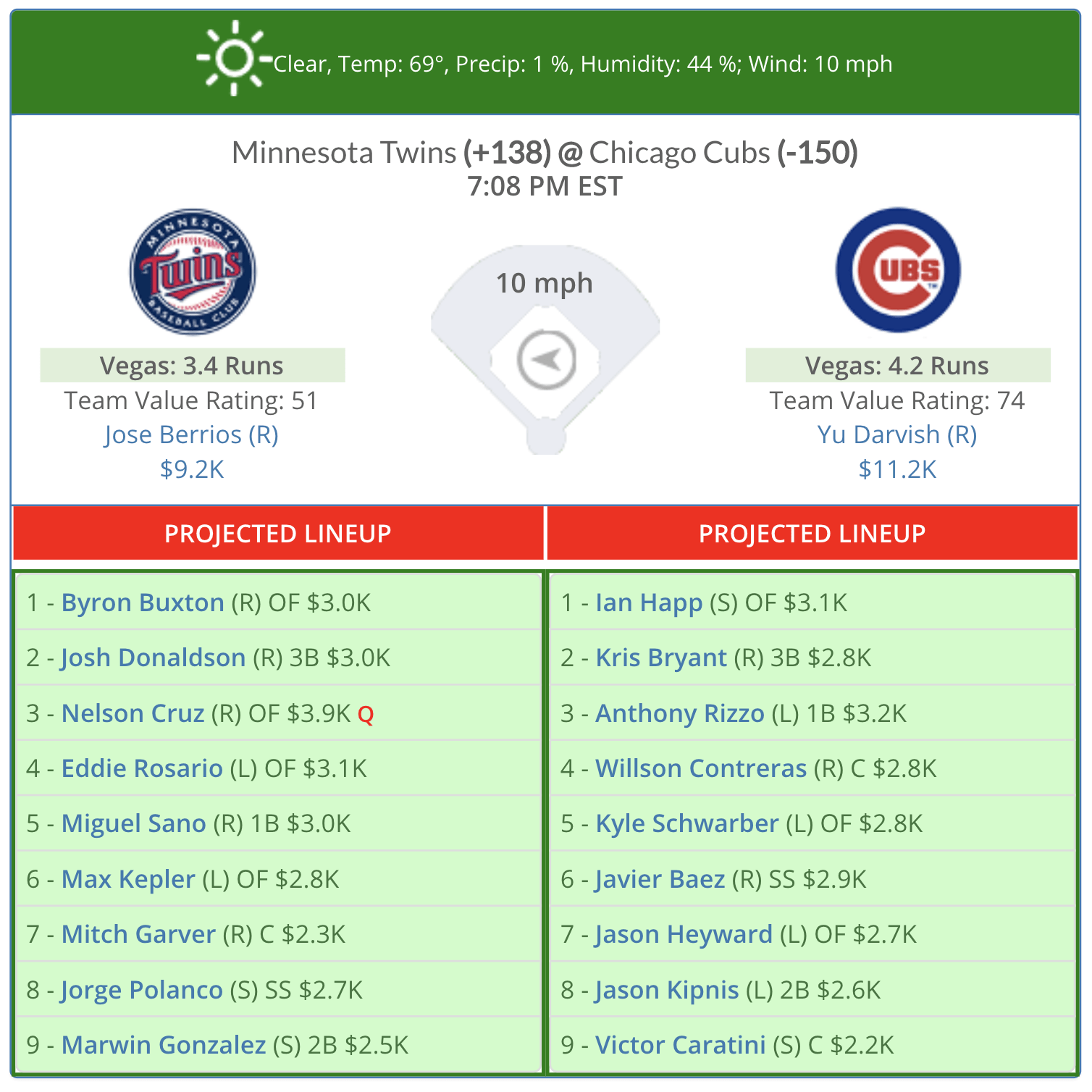 Stadium, Umpire and Weather Report
Nic Lentz is the expected umpire on Saturday evening. He has shown a small lean to the under (62-56-8, 52.5%) in his young career, albeit in a relatively limited sample of games behind the plate.
Projected Odds & Favorite Bets
I project the Cubs as -135 favorites (implied 57.4%) in this game, and I set the total at 7.9 runs. Therefore, I don't see actionable value on either the full-game moneyline or total.
I do see a small edge on the Cubs' first five innings (F5) moneyline, though.
I would make a play on the Cubs F5 moneyline at -150 or better, but I opted for their F5 spread (-0.5 runs) currently at odds of -103, and I would play that small to up to -105 or better.
The PICK: Cubs F5 -0.5 (-103, 0.5 units)
---
More Picks from Our Experts
BJ Cunningham: Cubs First Five Innings -0.5 (-105)
Yu Darvish has obviously been one of the best pitchers in baseball this season, posting a 1.86 ERA and 2.70 xFIP. His biggest improvement has by far been his control. In 2019, Darvish posted a 2.88 BB/9 rate and a 1.66 HR/9 rate, which aren't horrible numbers. However, in 2020 he has only a 1.71 BB/9 rate and a 0.57 HR/9 rate, which are major improvements.
Darvish has a ton of different pitches, but he mainly uses his cutter, which has been really effective this season. His cutter has allowed a .216 batting average and has produced a 32.7% whiff rate in 2020. Darvish's cutter has been excellent, but he's really been excelling with his fastball and slider. He's allowed only nine hits on 281 combined fastballs and sliders and is producing over a 40% whiff rate on those two pitches. The Twins offense has been struggling versus both sliders and cutters this season, so I expect Darvish to feature those two pitches a lot on Sunday night.
Berrios hasn't been very sharp so far this season, accumulating a 4.32 xFIP through 52 innings of work. His biggest issue has by far been his fastball, which has led to a .456 wOBA by opponents. Surprisingly though, he's thrown his curveball more than any other pitch and he's been really effective with it, allowing a .177 average to opponents while producing a 35.6% whiff rate.
Berrios does a great job interchanging all of his pitches, but he has trouble with control, as he hangs too many pitches (7.1% meatball rate this year). The Cubs offense has been stagnant over the second half of the season, but they have been successful against right-handed pitching (.322 wOBA), so I think they'll be able to do enough to give Darvish a lead.
Darvish vs. Berrios is a big mismatch in the Cubs favor, so I am going to back Darvish and Cubs first five inning spread of -0.5 at -105.
Danny Donahue: Under 7.5 (-120)
I'll let Mother Nature lead me here, as even though the wind isn't necessarily blowing in (it's right to left), it's still certainly blowing. And at Wrigley, that's been a recipe for unders.
In our database (since 2005), Wrigley games with at least 10 mph worth of wind blowing in any direction other than out have hit the under at a 59.7% rate on a fairly sizable sample. The 126-85-13 record has returned a profit of 32.0 units over the span for a 14.3% return on investment.
With tonight's 11 mph average throughout the game, on top of this being a win if it ends with the common seven-run output, I'll take my chances on this low total not being quite low enough.
How would you rate this article?