Twins-Yankees Betting Predictions, Picks & Odds: Trust the Yanks in Game 1?
Credit:
Nick Turchiaro-USA Today Sports. Pictured: James Paxton.
Our MLB betting expert breaks down tonight's Twins-Yankees below, including who he's picking to win.
The Yankees are expected to win, according to the betting market (-185 moneyline odds), compared to +170 moneyline odds for the Twins. The over/under is set at 8.5.
Twins-Yankees Betting Predictions, Picks & Odds: Game 1 ALDS
Probable starters: Jose Berrios (14-8, 3.68 ERA) vs. James Paxton (15-6, 3.82 ERA)
Twins odds: +170
Yankees odds: -185
Over/Under:  8.5
First pitch:  7:07 p.m. ET on MLB Network
Odds as of Thursday evening. Check out PointsBet, where Action Network users get an exclusive 200% deposit match (deposit $50, bet with $150).
---
From July 22-24 in Minnesota, the Yankees took two out of three games in a rollicking series that featured 57 runs scored. The highlight was a 14-12, ten-inning epic that ended with a game-saving catch by former Twin Aaron Hicks. After those three games, it seemed destined that these clubs would meet again in the playoffs.  
By becoming the first two teams to ever swat more than 300 home runs in a single season, the Twins and Yankees embody the 2019 MLB season better than any other playoff pairing.
Unfortunately for Twins fans, they're playing the one team that they wouldn't want to face in a postseason series. The Yankees have eliminated the Twins in four of their five divisional round appearances since 2003.
The Yankees also eliminated the Twins in the 2017 Wild Card game, meaning that the Twins have not made a League Championship Series since 2002, or a World Series since 1991; but they have made the playoffs six times since 2002 and their season has ended at the Yankees hands, at the first stage, in five of those years.
As a result, the Twins (2004-present) have lost 13 consecutive playoff games, tied with the Boston Red Sox (1986-1995), for the most extended postseason losing streak in MLB history.
Can they avoid a Game 1 loss in the Bronx, and prevent both extending the streak, and breaking the record, with 14 consecutive playoff losses?
The Starters 
There's not a ton of difference between these two pitchers in terms of overall quality; they go about their business differently.
Paxton is a power pitcher who generates more strikeouts but allows louder contact. Berrios is a command pitcher who creates relatively weak contact.
Paxton was pulled after one inning on Sept. 27, after experiencing a nerve irritation in his glute, but he's ready to go for Game 1. Before that start, he had won 10 consecutive outings, finishing his first year in the Bronx with a 15-6 record.
It was also his worst season since 2015.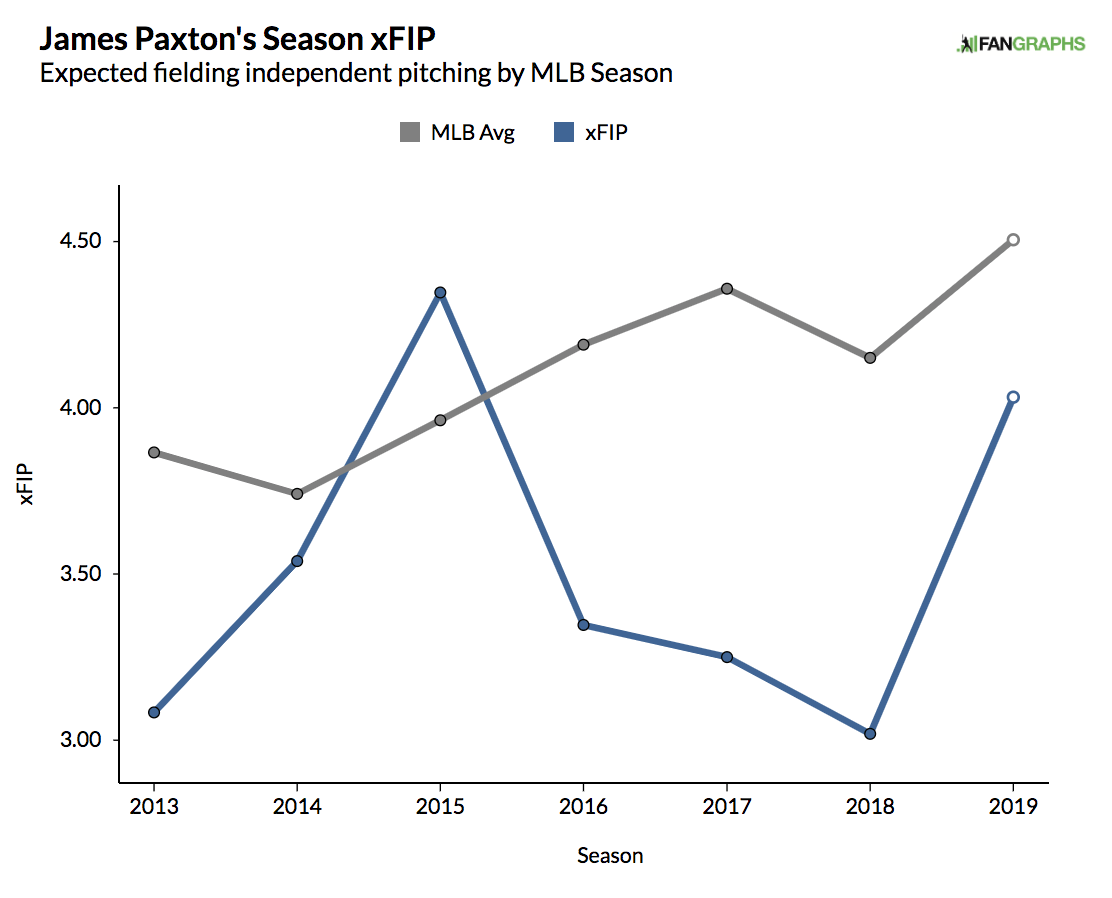 Paxton has trended towards becoming a flyball pitcher of the course of his career, which does not fit particularly well with a move from T-Mobile Park to Yankee Stadium.
As his groundball rate has declined, his HR/9 rate has increased, to a career-high of 1.4 in 2019: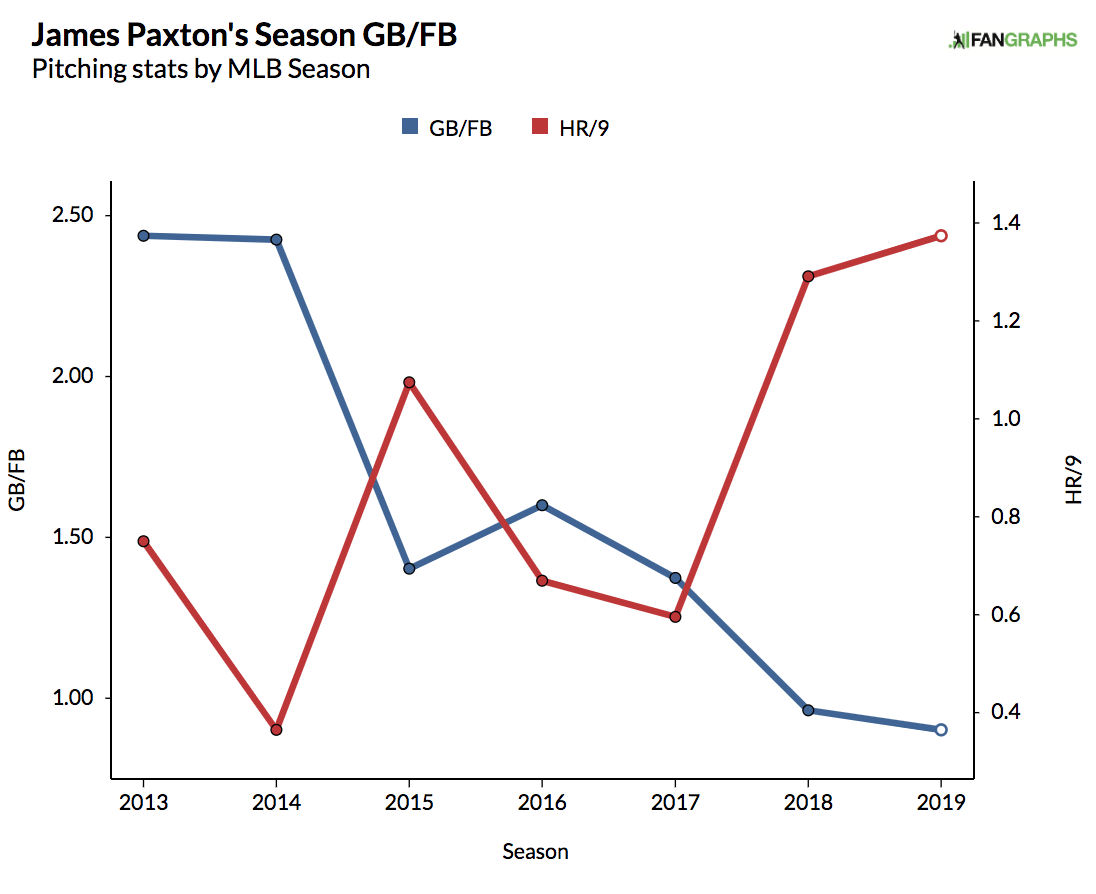 He has nasty stuff, including a 95.5 mph fastball from the left side, in addition to a cutter, curveball, and changeup. He's an ace when he's on.
Berrios also uses two fastballs, but a sinker instead of a cutter, in addition to a curveball and a changeup.
The curveball is his bread and butter secondary pitcher, throwing it nearly 29% of the time in his MLB career.
But its pitch value is pretty neutral. Instead, both the fastball and sinker return a positive value.
He hasn't changed much as a pitcher during his MLB career, so you can see, even in 2017, how Berrios sequences his pitches (which all appear to be going towards the same spot), to set up a hitter for failure:
His early struggles against Yankees hitters are a cause for concern. The Yankees own a career .302/.397/.508 (.905 OPS) triple slash line off of Berrios over 62 at-bats.
The Bullpens
On the season, the Twins bullpen ranks 1st in FIP, 6th in xFIP, and 3rd in K-BB%. By the same metrics, the Yankees rank 9th, 4th, and 6th.
Since the trading deadline, the Twins rank first or second in MLB all three categories, while the Yankees average is closer to 10th.
Their trade deadline acquisitions were Sergio Romo (Marlins) and Sam Dyson (Giants). Romo has pitched well in the eighth inning role, while Dyson hasn't been used since Sept. 4.
Tyler Duffey (2.94 xFIP), and closer Taylor Rogers (2.84 xFIP) are relatively unknown but extremely effective late-inning relievers, each posting a strikeout rate of higher than 11 batters per nine innings.
Rogers averages 95 mph from the left side, with a terrific slider:
The Yankees have an elite trio at the back end of their bullpen with Aroldis Chapman, Zack Britton, and Adam Ottavino — though Ottavino has walked a ton of hitters and has a considerable gap between his ERA (1.91) and underlying metrics (3.44 FIP, 4.32 xFIP).
But they have some decisions to make with regards to their middle reliever group, needing to fill three or four bullpen spots from Luis Cessa, Nestor Cortes Jr., Cory Gearrin, Ben Heller, Jonathan Loaisga, and Stephen Tarpley.
The performance of those depth arms in the playoffs, behind the Yankees relatively shallow group of starters, could make or break their season.
Projected Lineups
Data per FantasyLabs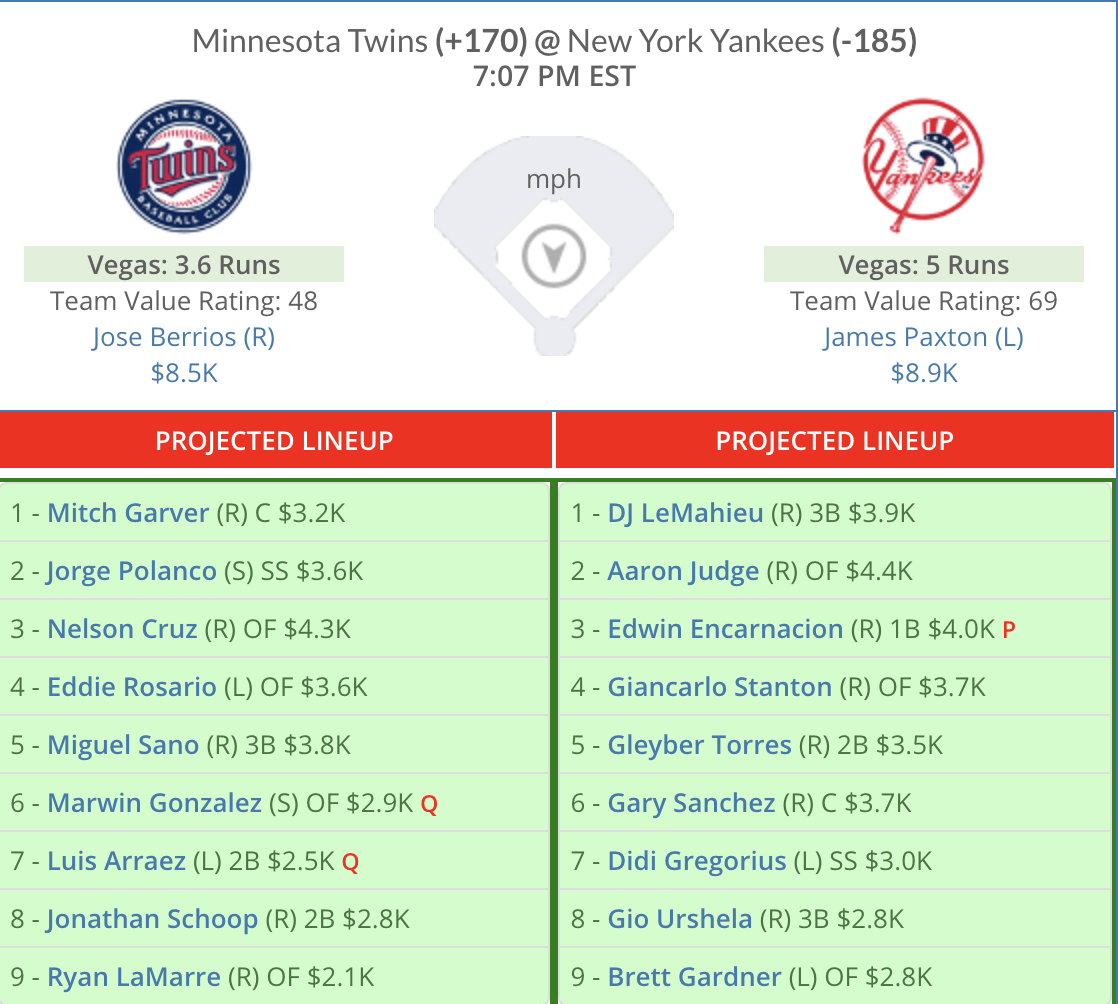 Weather Report
Data per Sports Insights
Trends to Know
This game fits a lot of positive trends for under bettors, including one of the most reliable BetLabs Pro systems:
As of writing, more than 80% of tickets are on the over, but any totals that have touched nine have come right back down to 8.5.
A quick look at the profit history of the Contrarian Under system:

Despite the number of runs that the Yankees scored in 2019, unders went 47-42-2 (52.8%) at Yankee Stadium, which had the second-lowest park factor in MLB this season.
Away from Yankee Stadium, overs in Yankee games went 55-31-4 (64%) in 2019, so keep that in mind when the teams travel to Minnesota for Game 3 and 4 (if necessary).
The Twins have been one of the better road underdogs in MLB this season, at 28-19; generating a consistent $100 bettor $1,643, suitable for a 35% return on investment.
Model Projected Odds
Favorite Bet
I projected the Yankees as a -144 favorite in this game, and I set the total at 9.33 runs. Therefore, I see value on both the Twins moneyline and the over. 
I placed a half unit bet on the Twins when their moneyline opened, but the price now is substantially better. Make a note that if you want to bet the Twins in this series, wait until closer to first pitch, as opposed to open, for the best price.
Rather than adding more on Game 1, I decided to add an additional half unit wager on the Twins series price at +201 (implied 33.2% win probability).
I projected Minnesota's series price at +170 (37%), an expected value gap of 3.8%. Anything over +200 is actionable.
As for the over, I would wait to see how Berrios and Paxton perform early. If both teams score runs and get to the middle relievers by the fourth and fifth inning, consider a live wager on the over.
But I'm never fond of going against that BetLabs system for contrarian unders, and oddsmakers seem reluctant to move the total up to 9.
How would you rate this article?