White Sox vs. Cubs Odds, Preview, Prediction: Where to Find Betting Value in Chicago Showdown (Sunday, August 8)
Credit:
Jonathan Daniel/Getty Images. Pictured: Chicago Cubs starting pitcher Zach Davies.
White Sox vs. Cubs Odds
White Sox Odds
-190
Cubs Odds
+155
Over/Under
10 (-110/-110)
Time
7:09 p.m. ET
TV
ABC

Odds as of Sunday afternoon via BetMGM.
Crosstown rivals heading in opposite directions will meet on Sunday Night Baseball when the Chicago Cubs (52-60) look to avoid a home sweep at the hands of the Chicago White Sox (65-46), who currently hold a 10.5-game lead in the AL Central and all but clinched a playoff spot.
My updated 2021 projection has the White Sox finishing with 93 wins, compared to 94 at FanGraphs and 88.4 per PECOTA. I rank their true talent level right around 89 wins, making the Southsiders the fifth-best team in the American League, following the suspension of Ramon Laureano of the Oakland Athletics.
I currently project the Cubs to finish with 74 wins, but have downgraded their true talent level by 8.3 wins since the start of the season. FanGraphs (73) seemingly agrees with my end-of-season assessment there as well, but PECOTA (79.8) is a bit more optimistic on the club's chances the rest of the way, giving them a 0.9% shot of securing a playoff spot.
Both public projections disagree about the White Sox chances of winning the World Series, with FanGraphs putting them at 12.4% (+707 implied) and PECOTA halving that number to 6% (+1567 implied).
Either way, I don't think there's futures value on the White Sox below +800 to +850 odds or 10.5-11%, which is about where I project their chances.
Chicago Adds Key Pieces to Strong Bullpen
The White Sox didn't necessarily make a big splash at the deadline, but they acquire a few nice pieces to shore up their roster and potentially turn a strength (bullpen) into their identity.
Cesar Hernandez (career 100 wRC+; -11 DRS since 2013) is a consistently underrated commodity who is hitting more flyballs (27.3% career vs. 36.8% in 2021) and generating more power than ever before in the midst of his age 31 season. He seems to be mirroring the career path of Asdrubal Cabrera, another switch-hitting middle infielder who unlocked an additional level of power in the second half of his career.
However, the key move was acquiring Craig Kimbrel (1.91 xERA) and Ryan Tepera (2.77 xERA) from the crosstown rival Cubs.
White Sox relievers ranked fourth in xFIP (3.95) and second in both SIERA (3.56) and K-BB% (18.3%) before the trade. They currently rank fifth (3.95), second (4.55), and second (18.4%) in those three categories, but figure to finish near the top of the league in all three metrics at the end of the season.
In addition to Kimbrel and Tepera, navigating flamethrowers Garrett Crochet (3.04 xERA) and Michael Kopech (2.75 xERA), lefty ace Aaron Bummer (2.75 xERA, 1.23 xFIP vs. lefties) or foul-mouthed closer Liam Hendriks (2.10 xERA) is going to be difficult for opponents in the postseason.
Pair that bullpen with the best rotation in the American League (3.83 xFIP, 3.68 SIERA, and an MLB-best 19.2% K-BB%) and you have a serious World Series contender.
Eloy Jimenez (.303 xwOBA, .368 in 2020) is still rounding into form, and Luis Robert (+8 Defensive Runs Saved in 2020, 3rd amongst CF) should rejoin the team this week. Their presence should help bolster the offensive output from the 14th best offense in baseball, per StatCast (.318 xwOBA), but the pitching (.293 xwOBA allowed, 3rd in MLB) should continue to dominate.
I harped on Dylan Cease as a "one-skill away" guy all offseason, while my colleagues continued to lament his failures. Cease has exploded this year (3.74 xERA; 3.85 xFIP; and, 3.68 SIERA), increasing his K-BB% from 3.9% to 20.9% compared to last season.
Every pitch in his arsenal (fastball, slider, curveball, changeup) has returned a positive pitch value, and his swinging strike rate (15.8%) has increased by more than five percent.
Cease has always had elite spin rates on his pitches, but has done a variety of things to improve this season, including:
Cleaned up his mechanics and became more consistent
Modified his position on the rubber
Increased his spin efficiency
Improved the horizontal movement on his changeup
Changed the shape of his breaking balls
Started pitching to different parts of the zone
In other words, I wasn't correct at all with my one-skill away assessment. Cease has improved his walk rate (from 10.7% career to 9.3% in 2021), but not substantially.
Instead, he's made several small changes, resulting in his opponents: 1 — chasing his pitches outside of the zone more frequently; and, 2) while making less contact with everything he throws:
---
Cubs Clean House Ahead of Trade Deadline
The Northsiders blew up their championship core at the trade deadline, sending Anthony Rizzo and Javier Baez to the east coast and shipping Kris Bryant out west. They traded some other key pieces from their current core, including Kimbrel, Tepera and Joc Pederson.
In my opinion, it seemed like a half measure. Why not deal Willson Contreras (one arbitration year remaining) or an overachieving 29-year-old Patrick Wisdom (.370 wOBA, .320 xwOBA, 38.2% strikeout rate), who has five years of team control remaining at peak value?
The current iteration of the Cubs offense is starting to see non-prospects with auto-generated names, like the ones you see in MLB the Show, a few seasons into your dynasty. You have your Frank Schwindels and your Greg Deichmanns, playing alongside more familiar names like Ian Happ and David Bote.
As a team, Chicago ranks 25th in expected offense and 10th in Defensive Runs Saved, including the contributions provided by their since traded stars. That said, Bryant (-1), Rizzo and Pederson (-5) outweighed any positive contributions from Baez (+6) on the defensive end.
The Cubs' rotation has largely stayed intact this season, but has been a woeful group, ranking 23rd in xFIP (4.49), 27th in SIERA (4.68) and 28th in K-BB% (10.7%). Chicago's bullpen ranks in the Top 10 in all three categories, but has obviously declined in effectiveness after losing both Kimbrel and Tepera.
Its pitching staff ranks 25th in xwOBA allowed (.304), including the contributions from the pair of White Sox relievers.
Zach Davies (5.90 xERA, 5.24 xFIP, 5.58 SIERA) is a pitcher I consistently bet against, and he has seemingly overachieved (3.93 ERA, 4.54 xFIP, 4.79 SIERA) for his entire career.
In 2021, Davies owns the worst strikeout-minus walk rate (3.8%) among 50 qualified starting pitchers (Dallas Keuchel ranks second, at 7.5%). That's the worst mark of Davies' career (9.4% average), as his walk rate (12%) and hard-hit rate (43%) have also climbed to a career high.
Davies has always been a soft-tosser (average 89 mph fastball), but his velocity has dropped a tick to 87.8 mph this season. And it's the first year where his entire arsenal has returned a below-average pitch value.
Davies' Baseball Savant Rankings are possibly the worst I have seen for a single pitcher: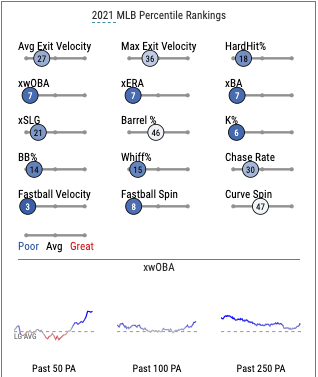 On paper, Davies is exactly the type of pitcher who I would look to fade, but the market might have finally caught up to the depths of his decline.
---
White Sox-Cubs Pick
The hot, humid and windy weather from Friday is worth noting.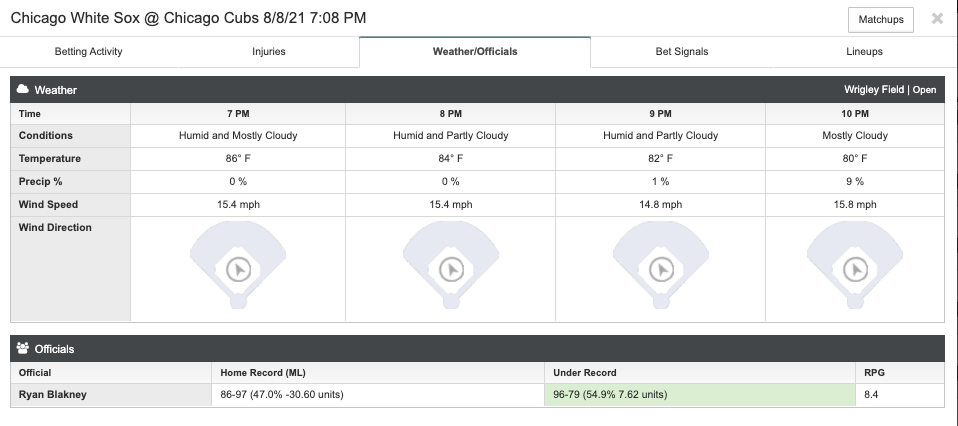 Data via Action Labs
On a weather-neutral night at Wrigley Field, I would have projected this total closer to nine runs. However, I had to bump the total by more than a run due to the weather.
This game satisfies an Action Labs system that is 55.9% to the Over (596-471-61) dating back to 2005, including a 41-16-3 record (+$2,182 for a consistent $100 bettor) at Wrigley Field.
However, based upon my projections for this contest, I can't recommend a wager on the total in either half of the game.
Furthermore, the moneyline for the first five innings looks about right to me.
I found value on the opening number for the Cubs at +170, but I would need at least +160 (implied 38.5%) to make a play on the Cubs moneyline at a betting edge greater than two percent.
Despite the White Sox back-end quality, the difference between the bullpens isn't nearly as significant as the difference between the two starting pitchers.
It's a small edge, and I'm no fan of Davies, but it's still worth taking the value.
Pick: Cubs ML (wait for +160)
How would you rate this article?