Zerillo's Yankees-Dodgers Betting Guide: Finding Underdog Value on Sunday Night Baseball
Credit:
Richard Mackson-USA TODAY Sports. Pictured: New York Yankees right fielder Aaron Judge (99) celebrates after shortstop Didi Gregorius (18).
Sunday Night Baseball Betting Odds: New York Yankees at Los Angeles Dodgers
Probable starters: Domingo Germán (16-3, 4.15 ERA) vs. Clayton Kershaw (13-2, 2.71 ERA)
Yankees odds:  +158
Dodgers odds: -173
Over/Under:  8.5
First pitch: 7:05 p.m. ET on ESPN
---
On Sunday night, the Yankees (84-47) and Dodgers (86-45) will battle for a series win in their first matchup since 2016.
New York took game one on Friday 10-2, behind five home runs from their offense, before managing just one run on Saturday in a 2-1 loss; striking out twice with the bases loaded in the ninth inning.
Dodgers batters have struck out 27 times (against three walks) in the two games, as they were mostly kept quiet by James Paxton and CC Sabathia.
Can the Yankees stay hot against left-handed pitching, after roughing up Hyun-Jin Ryu on Friday?
And will the Dodgers continue to struggle against the Yankees most consistent pitcher, or will they finally bust out facing while facing a right-handed starter for the first time in this series?
The Starters
If you have seen one of the above starting pitcher stat packs before, note that I went ahead and added xwOBA on contact as a point of comparison.
No matter how many categories I add to show the difference between two pitchers, no one stat can ever accurately encapsulate, on its own, the entire composition of one player.
xwOBA comes close to doing the job on its own – as it assigns an expected outcome to every plate appearance and removes defense from the equation; and xwOBA on contact isolates for batted ball events only.
As you can see, Kershaw has better batted-ball data than German, with a lower hard contact rate and average exit velocity.
However, the two have relatively equivalent command over the strike zone, ranking 13th and 14th respectively in walk rate amongst starting pitchers.
Kershaw's first-pitch strike rate (69%) is seven percent higher than German's, but the two hit the strike zone just as frequently as one another (42%). Kershaw relies on getting whiffs outside of the zone, while German has a zone contact rate that is 4% lower than Kershaw's.
Kershaw has transformed himself as a pitcher throughout his career. In 2016, as his fastball velocity began to diminish, Kershaw steadily increased his rate of sliders to the point where he now throws it just as frequently as his fastball: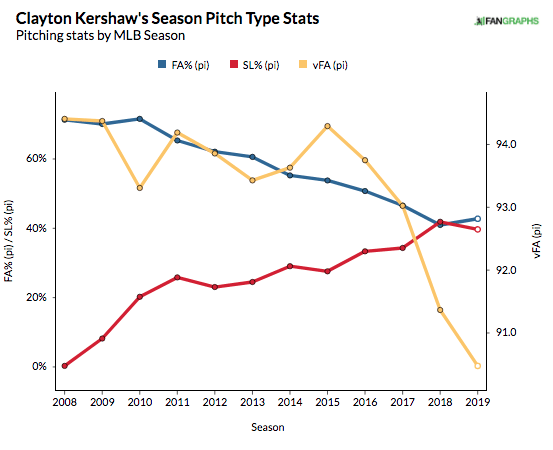 Kershaw's fastball returned negative value in 2018, for the first time in his career, but it has rebounded into positive territory this season; showing a pitch value per 100 pitches that remains in line with his career average (1.12).
Based on the total pitch value, Kershaw's fastball has been the most valuable pitch in baseball since his debut (+201.4). His slider (+163) ranks second:
Even though his fastball and changeup velocity have declined by nearly four mph since their peak in 2015, Kershaw's slider is only down 1.5 mph; so the small speed gap helps his fastball and slider to play off of one another.
As for Domingo German, you might notice that his xFIP appears to be a significant outlier amongst his remaining stats. He has some strange numbers in his 2019 line, including a .263 batting average on balls in play, a 77.5% strand rate, and a 20% home run to flyball rate – all of which are due to regress whether for or against him.
In other words, German's WHIP should be higher than 1.14, but his ERA might be about right if even a little high. His fastball and sinker have been walloped at times, but German owns a good changeup and an excellent curveball, both of which display a positive pitch value:
Batters are chasing that curveball outside of the zone 38% of the time this season, whiffing on seven out of every ten of those swings: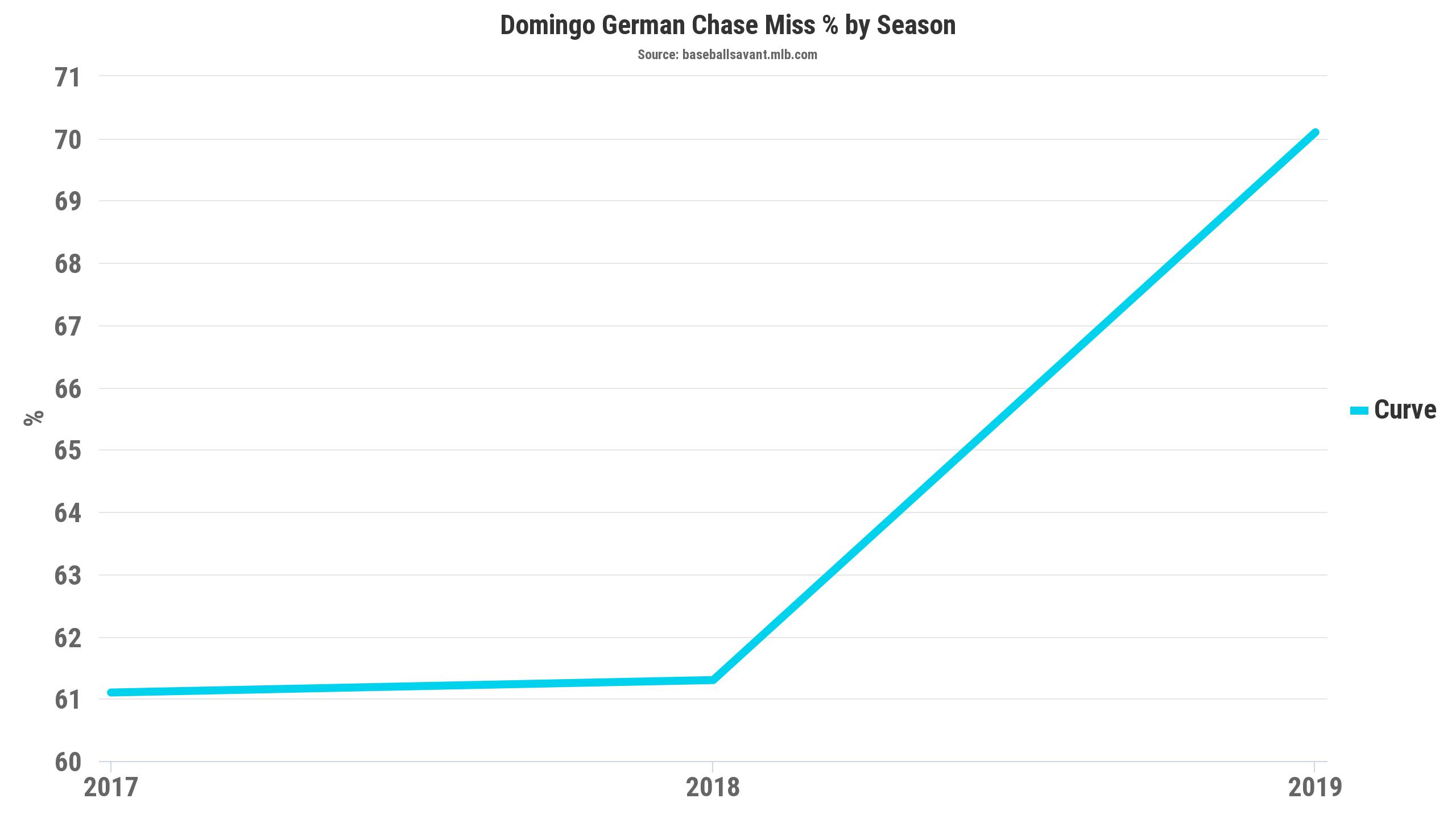 The Bullpens
Chad Green should be the only Yankees reliever who is unavailable on Sunday – he threw two innings on Saturday and worked as an opener for three innings on Wednesday.
Aroldis Chapman has not pitched for over a week, so I would expect him to enter this game tonight in any close/late situation.
The Dodgers should have all of their arms available but are much less rested than the Yankees.
Caleb Ferguson, Yimi Garcia, and Casey Sadler each pitched on Thursday and Friday.
Setup man Pedro Baez recorded four outs yesterday in his third appearance of the week, and Kenley Jansen was one ball in play from blowing Saturday's contest in what was also his third appearance of the week.
The late innings should favor the Yankees more rested group tonight, though the Dodgers bullpen has a better FIP on the year.
Umpire Report
Bill Welke will be the home plate umpire on Sunday night.
The under has gone 255-213 (54.5%, -2.69 units) and home teams have a 218-230 record (48.7%, -25.54 units) with Welke as the plate umpire during the regular season.
Trends to Know
Domingo German is 15-5-1 (75%, +5.66 units) on the first five innings moneyline this season, while Clayton Kershaw is 14-6-2 (70%, +1.04 units).
The Yankees are 17-14 (54.8%, +6 units) as a moneyline underdog in 2019, including a 10-10 record as a favorite.
The Dodgers are 52-17 (75.4%, +11 units) as a home favorite in 2019, winning by an average margin of 2.16 runs; however, they are 34-35 (49.3%, +2 units) against the spread in the same spot.
Favorite Bet
I projected the Yankees' fair odds in this game at +137, so I still see moneyline value compared to their current price. I was not tempted by a total of 8.5, even though I project the game for just less than 7.9 runs.
Both teams get a positive offensive split vs. the opposing starter – the Dodgers rank second in MLB with a 116 wRC+ vs. righties, while the Yankees rank third with a 120 wRC+ vs. lefties; 14 and five percent better than how they have each performed against the opposite hand.
Since July 1, the Dodgers have a 120 wRC+ vs. righties (4th), and the Yankees have a 164 wRC+ vs. lefties – so this has been both a season-long and recent trend of positive production.
Kershaw's ERA is due for some regression, while German has performed about as expected despite getting to his numbers in a roundabout way.
I'm expecting to see some runs tonight, and that would undoubtedly favor the Bronx Bombers; especially if they can through Kershaw and into that Dodger bullpen early.
The Pick: New York Yankees Moneyline
How would you rate this article?