Anderson: Ranking the 12 Most Important Players in the NBA Finals
Credit:
David Dow/NBAE via Getty Images. Pictured: Giannis Antetokounmpo #34 of the Milwaukee Bucks.
This may not be the NBA Finals many expected, but it's an intriguing matchup with plenty of stars, most of them on this stage for the first time ever. There are Xs and Os on both ends of the court that should make for a very intriguing chess match going forward.
So as we think about how the chess pieces fit together, who is the single most important player in the Finals? And how does everyone else fall in line after?
This is not a ranking of player talent but of their importance to the Finals outcome. The higher a player ranks, the more important he is to his team's success on a game to game basis and for the series as a whole.
And there should be no surprise at the top.
1. Giannis Antetokounmpo
Duh.
Antetokounmpo is always going to rank atop any list like this; even more so when we don't even know if or when the two-time MVP will actually get to play ball again. Antetokounmpo is officially listed as doubtful for Game 1.
It can be easy to think of this in binary terms — either Antetokounmpo is out, or he's 100% — but things aren't that simple. In fact, this close to what sure looked like a catastrophic knee injury literally one week ago, it would be far more shocking to see the Giannis we know than to see him playing with a fraction of his typical ability.
So what if we get 80% of Giannis, or 60%? How does that player live up to Antetokounmpo's typical two-way dominance? We already know he doesn't have a reliable jumper. His game is all about length and freakish athleticism.
Look at what happened to Russell Westbrook when an injury made him a mere mortal athlete. Without a jumper, he is greatly reduced and straight up hurts his team at times.
Could Antetokounmpo playing at 60% actually hurt the Bucks more than it helps by gumming up the offense? Can a version at 80% recover as well as a help defender and last year's Defensive Player of the Year?
Antetokounmpo is in a tier of his own. He might be more important to this series than everyone else combined, and on sheer numbers alone, his 28 points, 13 rebounds, and five assists per game are a lot to replace.
The problem is the injury leaves so much unknown that it really throws this entire series in question. But we also can't wait to find out, because the Finals start now, injury question marks or not.
Based on what we know, it's very possible Antetokounmpo misses at least Games 1 and 2. We're only a week out, and even Game 2 is only eight days of rest from an injury that often takes a month or two. The Finals do stretch out from there with two and even three days off between games, so that helps Antetokounmpo's case to reappear later.
It's important to establish a timeline, though, because it means we need to imagine two series, not one — one early series without Giannis for an indefinite number of games, plus a second series later with some percentage of Antetokounmpo.
And with Antetokounmpo presumably out early, that makes the series' second most important player…
2. Khris Middleton
With the Bucks shorthanded early, Khris Middleton becomes all the more important for Milwaukee.
Middleton has had some real clunkers in these playoffs. When the shot goes missing, it can get really ugly. But he's also had some truly great games that have helped carry the Bucks this far. He dropped 38 on 16 shots in a must-win Game 6 against Brooklyn with this version of the franchise on the line. He scored 58 points in the final two games to close out Atlanta with Giannis sidelined, including an outstanding third quarter that pushed the Bucks into the Finals.
If Middleton is not capital-G Great in any game without Antetokounmpo, the Bucks don't win. It really is that simple. There's just not enough other offense otherwise.
And it's troubling that these first two will more thank likely be without Antetokounmpo and on the road. Middleton has struggled with road turnovers, averaging 3.9 per road game this postseason with at least three in all but one game, and his shot has been much hotter at home too.
And don't forget, even with Antetokounmpo playing, Middleton is this team's closer in a series expected to be close and tight late. Offense may be hard to come by in this series, especially so for Milwaukee until Antetokounmpo plays. If Middleton doesn't show up huge until Giannis gets back, there won't be a series for him to come back to.
3. Chris Paul
Paul is the Finals MVP favorite entering Game 1 … what could possibly go wrong?? gulp
This is CP3's moment. This is what his entire career his built toward, and he's ready for this stage. Paul has always been a championship player, now he gets to prove it and win the ring. And the longer Antetokounmpo is out, the fewer excuses Paul has.
For all the young talent around him, Paul is still the engine of this offense. He will probe a tough Milwaukee defense and keep his thumb on the pressure point of the drop coverage, looking to exploit whichever space the Bucks leave open.
On some plays, that will be that patented elbow jumper. On others, it will be a lob to Deandre Ayton or a pass to an open shooter on the wing. No one else can run this offense like CP3, and the Bucks defense will be tough to crack, though not quite as much so early without Antetokounmpo.
Paul is also a terrific defender, probably the best perimeter defender the Bucks have faced this postseason, so he can lead the defensive attack too. He needs to set the tone early, lead his team to a Game 1 win, and ride to the finish line. It's so close now.
4. Devin Booker
The Suns have two stars, and the second star comes right after the first for many of the same reasons. There's only one Jrue Holiday to guard two great Suns guards. If Holiday defends CP3 like he did in the one regular season matchup he played, then that puts a lot on Booker.
Book can do the same thing Paul does, putting pressure on the defense in the pick-and-roll and hitting that devastating mid-range jumper. When Booker gets hot, he can be unguardable.
He's scored 30 or more points in seven playoff games already this year. But he's also had 22 or below five times and has had stretches where he's gone totally missing against both the Lakers and the Clippers.
Booker is also the weak point of Phoenix's defense. Expect Milwaukee to attack him and try to tire him out until he proves he can hold up.
The Bucks might look at the Suns and decide to put Holiday on CP3 and just see if Booker can beat them. We know he can, but he might have to prove it.
5. Brook Lopez
No huge surprises so far, but here's where the supporting cast starts to come into play. Lopez follows CP3 and Booker because he's the other side of that equation.
Lopez can run so hot and cold with the Bucks. There are games where he drains 3s and others where he dominates in the post, but there are also games where his drop coverage isn't working and he gets played out of the rotation.
That's a serious fear against Paul and Booker, especially early in the series if Antetokounmpo is out because the Bucks don't have much of an option but to give Lopez big minutes in that spot.
Can Lopez dominate the offensive glass and buy Milwaukee a few extra chances and easy points? If Deandre Ayton is the primary Antetokounmpo defender — we'll get back to that — can Lopez punish Jae Crowder or Mikal Bridges in the post?
The Bucks need Brook Lopez to play like a center in this series, not a 7-foot shooting guard.
6. Deandre Ayton
If Lopez pairs with CP3 and Booker, Deandre Ayton pairs with Lopez.
Expect Ayton and Crowder to be the main Antetokounmpo defenders, if and when Giannis returns. Ayton was the primary defender in the regular season, and a year ago, he had a breakout game defending Antetokounmpo, showing off huge improvement switching on the perimeter and using his size and length to stay with Giannis.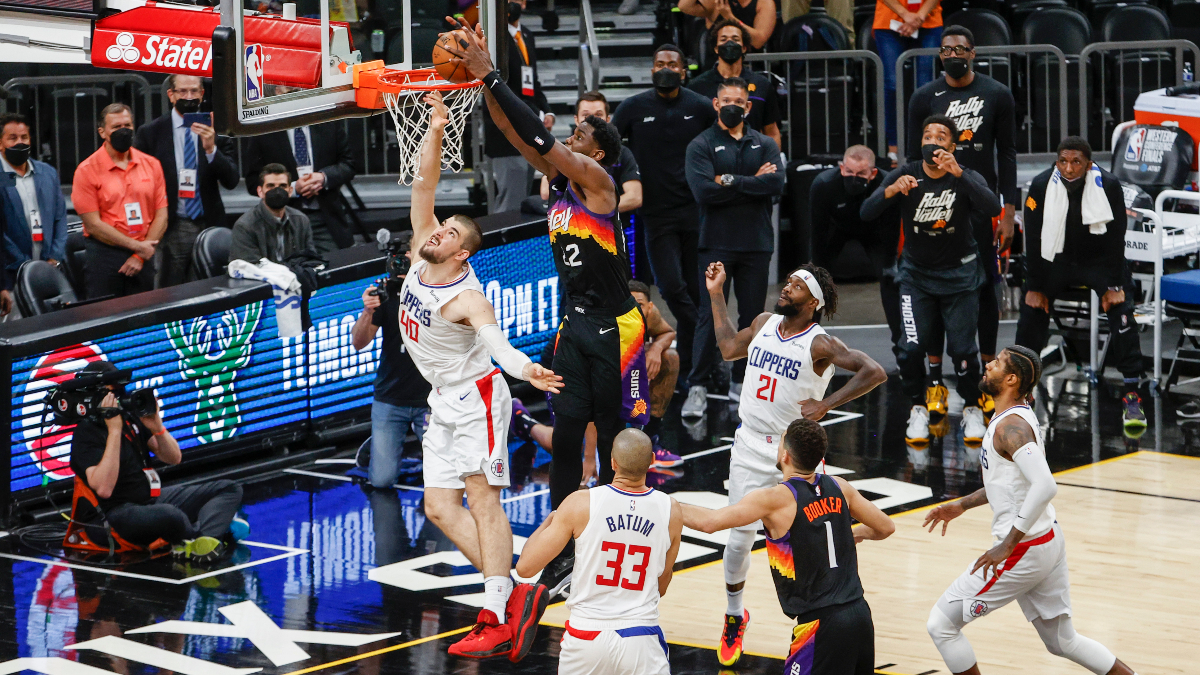 Now he might get a chance to do that against a lesser version, with Antetokounmpo injured. If Ayton even comes close to neutralizing Giannis, the Bucks are in big trouble.
Ayton also has the size and ability to dominate offensively. If Lopez struggles in drop coverage and has to take that extra half step out toward Paul or Booker, that should leave Ayton open on the lob and to crash the offensive glass. He needs to play aggressive and make the smaller Bucks pay in that spot.
7. Jae Crowder
Jae Crowder can be a real bellwether of success for the Suns. When Crowder is feeling good and the shots are falling, the Suns are nearly unbeatable.
To wit, Crowder has scored double digit points 39 times this season. The Suns are 31-8 in those games, including 7-0 so far in the playoffs. They're just 24-14 otherwise and only 5-4 in the playoffs.
Crowder can run so hot and cold, and he knows it. If he hits that first shot or two and the confidence runs high, he can really deflate the opponent with his shot making. But he can also miss early and go quiet, and that has almost as much of an effect on the game as when he's making.
8. Jrue Holiday
It doesn't seem fair to rank Holiday so low, but remember, this is not a ranking of ability or talent but one of importance. Even so, Holiday will be important.
His defense on Paul and Booker will be huge, and the Bucks will need a lot of offense from Holiday early on with Antetokounmpo missing.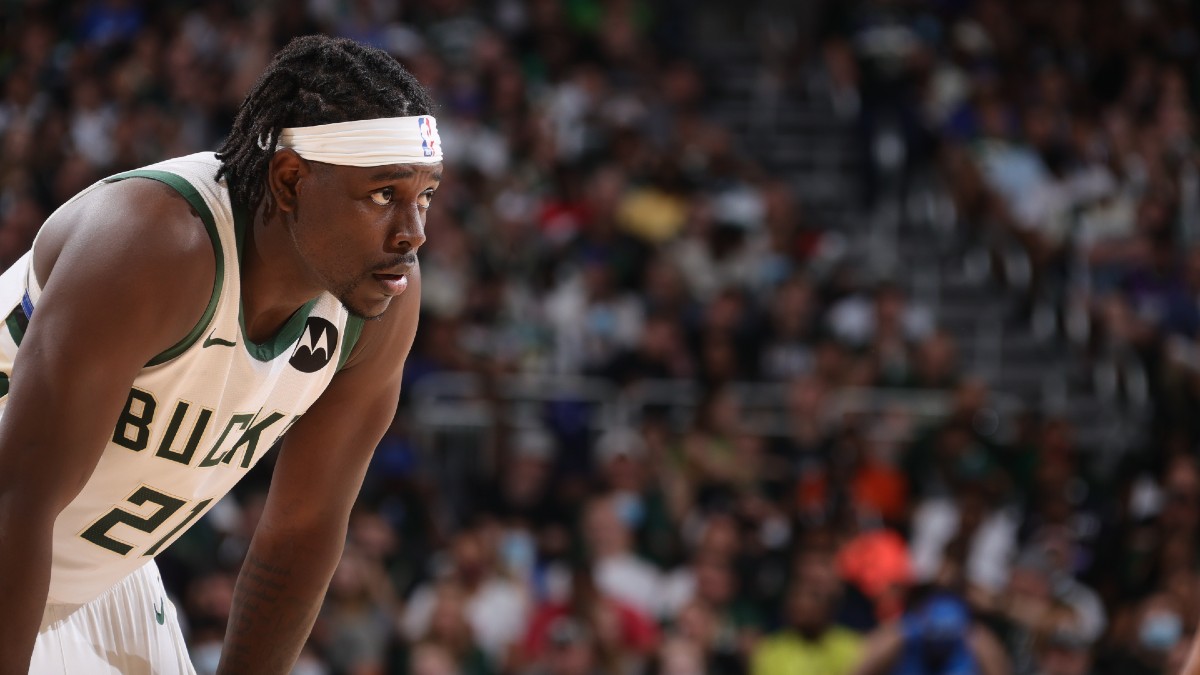 Really, this is a vote of confidence in Holiday's ability more than anything. We know his perimeter defense will be great. We know he'll do his thing on offense. The floor is very high.
It's just that he's not a pressure point on defense and doesn't have a typical superstar ceiling on offense, so he doesn't feel like as much of a swing player as some of the others ahead of him.
9. Mikal Bridges
Think of Bridges as Holiday Lite. We know he'll make a big defensive impact, and I like him best against Middleton.
Like with Ayton on Giannis, if Bridges can mostly neutralizes Middleton or play him to a draw, the Bucks are in big trouble. Bridges also needs to keep his confidence up and take those open 3s when his teammates find him.
10. Bobby Portis
Portis got played off the court entirely against Brooklyn, and I worry that his defensive shortcomings could lead to the same thing at times here.
That's a big problem for a guy who started the last two games with Antetokounmpo out. The Suns guards should target and attack Portis early and often.
Let's just say the more important Portis is, the worse news it is for Milwaukee.
11. P.J. Tucker
I'm not sure Tucker has a huge role in this series, not like he did against Kevin Durant.
Tucker's defensive abilities are a little bit wasted against Crowder or Bridges, and I'm not convinced he has the foot speed to stick with Booker as a primary defender.
Tucker adds precious little on offense, and he could even be a spot for Phoenix to hide Booker in defense, so Milwaukee needs to find enough defensive value in Tucker to balance the equation in its favor.
Tucker becomes more valuable later in the series if Antetokounmpo returns because the duo can unlock Milwaukee's small ball lineup if Lopez struggles against the Phoenix guards; there's just a lot of condition in that sentence.
12. Cam Payne
The Suns have two star guards, but Payne has been pretty good himself off the bench this postseason.
Is Payne healthy again now after that injury against the Clippers? Can he keep pressuring the defense even when Paul or Booker sit?
If Phoenix has three good guards instead of two, that's just one more pressure point on this Milwaukee defense.
How would you rate this article?
This site contains commercial content. We may be compensated for the links provided on this page. The content on this page is for informational purposes only. Action Network makes no representation or warranty as to the accuracy of the information given or the outcome of any game or event.