76ers-Bucks Betting Guide: Time to Take the Under?
Credit:
USA TODAY Sports. Pictured: Joel Embiid and Giannis Antetokounmpo
Betting odds: Philadelphia 76ers at Milwaukee Bucks
Spread: Bucks -6
Over/Under: 223.5
Time: 9:30 p.m. ET
TV channel: ESPN
---
>> All odds as of 11:30 a.m. ET. Download The Action Network App to get real-time NBA odds and track your bets
---
Three of the East's biggest up-and-coming stars — Ben Simmons, Joel Embiid and Giannis Antetokounmpo — are set to face off in a prime-time affair.
Well, at least we'll hope it's all three, as Simmons missed Tuesday's overtime loss to the Pistons with a tight lower back. What's his status tonight? And how would his absence affect this game? Our analysts are here to discuss.
---
Injury to Watch: Ben Simmons
Simmons should be considered questionable tonight. The 76ers are playing on the second leg of a road back-to-back, and they played into overtime in last night's loss, during which Robert Covington played 44 minutes, Joel Embiid played 38 and Dario Saric went 37.
Those guys, plus JJ Redick and T.J. McConnell — who played more than 30 minutes, as well — could be somewhat intriguing in DFS if Simmons is out, although playing on a road B2B isn't an ideal against an improved Milwuakee squad that ranks sixth in efficiency so far this season.
Embiid has averaged an impressive 1.48 DraftKings points per minute over the past year with Simmons off the floor.
Based on our NBA power ratings, we have Simmons worth about 3.5 points to the spread. Factoring in home-court advantage (but not the back-to-back or overtime last night), we have this as Bucks -1.5 with Simmons and -5 without him. — Bryan Mears
---
Moore: What I'm Watching for Tonight
I'm fading the Sixers for a little bit if they're up against a good team. They're trying to figure out too much. With Simmons questionable, it provides more coverage.
It would be very Sixers to lose to Detroit (while giving up 50 to Blake Griffin) and then turn around and beat the Bucks, but a spread inside two possessions with how much better the Bucks offense has been should create a lean toward Milwaukee.
One element that leans toward Milwaukee: So far the Bucks are seventh in containing spot-up attempts, which is Milwaukee's biggest strength.
The Bucks' eighth-ranked defense should indicate that the under is in play, but I'm staying away until scoring cools down a little bit. — Matt Moore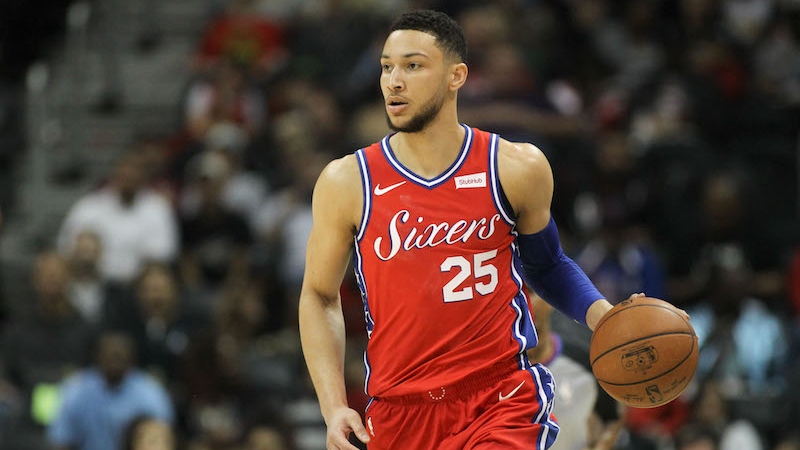 ---
Locky: Is it Time to Bet the Under?
This is a tough game to analyze with a player of Simmons' caliber questionable.
The number currently in the market is Milwaukee -6 as of this writing — and that's with Simmons' status unknown.
What I will say is that philosophically, the Sixers should probably just punt on this game. They played overtime last night, their high-usage players played HUGE minutes (Embiid, Covington, Saric and Redick), and now they're traveling for a game the next night vs. rested Milwaukee.
What do they stand to gain by running that performance back again, especially if Simmons is unavailable? This would be the exact type of situation last season during which Embiid would either sit or be on a minutes restriction, and I think a cautionary approach is still valid.
All of that being said, none of this information is secret. The market is aware of these things, and the awful spot for Philly is baked into the number, so it's not like you're getting line value by knowing that.
One possibility here is to play the under at the current number of 223.5. These two teams have gone 5-1 to the over so far (Milwaukee's gone over in every game), so maybe you're getting a small over-adjustment.
Plus, I think you have an increased likelihood of one team packing it in and asking much less efficient players to play more, which would obviously decrease scoring in the second half. — Ken Barkley
---
Mears: The Bucks Are Here to Stay
The Bucks have looked incredible through three games this season, ranking third in point differential, third in offensive efficiency and ninth on defense, according to Cleaning the Glass.
After struggling shooting the ball for years, they're now first in the league — yes, even ahead of the Warriors, Rockets and Pelicans — with a 58.1% effective field goal rate.
Of course, it's a small three-game sample size. But let's talk about sample sizes and regression to the mean for just a second.
Sure, the Bucks are playing much better than they did last season even with a similar roster. And while they may regress to the mean, it's important to note that they no longer have the same mean with a new coaching staff and an improved Antetokounmpo.
Their new mean is much, much higher, and as a result, I think it's reasonable to expect them to continue to be a top-10 offense this season.
One reason to be optimistic is their offensive profile. I wrote about the "Moreyball Ratings" yesterday, which essentially just measure how modern and optimized an offense is.
Based on that, Milwaukee has one of the three most-optimized offenses in the league. The Bucks push the pace, take a ton of 3s and attack the rim with their newfound spacing. That's the new mean and it's a pretty darn good one. — Bryan Mears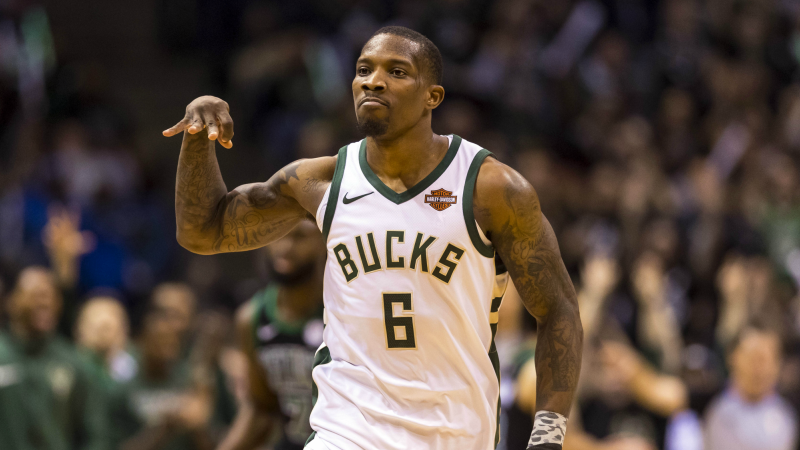 ---
Betting Trends to Know
The Sixers against the Bucks since 2014 …
With Joel Embiid: 2-1 straight up and against the spread
Without Joel Embiid: 2-10 SU and 4-8 ATS
Did You Know? Antetokounmpo, Simmons and Embiid have played only one game in which all three were active. It was a 118-110 Bucks home win over the Sixers, which was their last meeting in Milwaukee. — Evan Abrams
The Sixers are playing the second game of a back-to-back on the road, which sounds exhausting. But early in the season (first 12 games), playing consecutive games away from home isn't as demanding since players tend to be healthier and less tired.
Since 2005, teams playing a back-to-back on consecutive road games early in the season have gone 221-165-5 (57%) ATS. — John Ewing
---
Editor's note: The opinions on this game are from the individual writers and are based on their research, analysis and perspective. They are independent of, and may not always match with, the algorithm-driven Best Bets from Sports Insights.