76ers vs. Nets Game 3 Betting Preview: Time to Get Back on Brooklyn?
Credit:
Bill Streicher-USA TODAY Sports. Pictured: Philadelphia 76ers center Joel Embiid (21) reacts to Brooklyn Nets guard D'Angelo Russell (1)
Game 3 Betting Odds: Philadelphia 76ers at Brooklyn Nets
Spread: Sixers -3
Over/Under: 227.5
Time: 8 p.m. ET
TV Channel: TNT
Series Score: Tied 1-1
---
>> All odds as of Wednesday evening. Download The Action Network App to get real-time odds and live win probabilities on your bets.
---
The Sixers got right in a big way in Game 2, easily cruising to a victory to even the series against the Nets. Will we see more of the same in Game 3 or will the Nets continue to surprise? Our analysts dive in.
Trends to Know
The Sixers have had trouble under Brett Brown on the road against divisional opponents, going 22-29 (43.1%) ATS in that spot. They're 4-15 (21.1%) ATS over the last two seasons specifically, failing to cover the spread by 5.8 points per game. — Evan Abrams
The Sixers scored 145 points in Game 2 against the Nets — the most points scored in a playoff game since a May 11, 1992 game between the Suns and Blazers, which went to double overtime. Since 2005, teams that scored 125 points or more in the playoffs have gone 29-40 (42%) ATS in their next game, failing to cover the spread by 2.9 points per game. — Abrams
As Evan noted, the Nets allowed 145 points in their Game 2 loss. History says they'll bounce back in Game 3. Since 2005, teams that conceded 125 or more points in a loss have gone 28-18 (60.9%) ATS in the playoffs. — John Ewing
---
Locky: Can We Trust the Nets?
I am not fooled by Game 1s very often, but, oh man, did Game 1 in this series get me. It got me real good.
Joel Embiid still wasn't moving great in Game 2, but he was moving perfectly well enough to completely own Jarrett Allen and Ed Davis at every opportunity, and that was good enough for Philly. They went from up two to up 22 in a heartbeat in the third quarter and made some of us who predicted a long series take a step back a bit.
I think as a really young team, the Nets didn't get enough credit for going to a very loud road environment and getting a win in Game 1. They understandably fell apart in a big spot with the crowd roaring in Game 2.
They will be much more comfortable at home, especially their young role players. Meanwhile, the Sixers have horrible road splits, masked by a mediocre road record.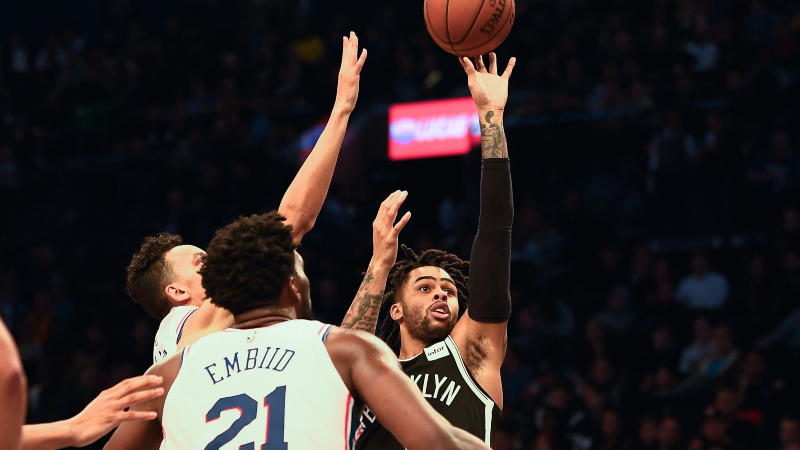 According to Cleaning the Glass, they actually outperformed their road efficiencies by more than any team in the league (in simpler terms: they were the most deceiving team in terms of their road record, because they were actually awful).
I understand that it's easy to think about the game you just saw — Philly winning by a billion — but Brooklyn was still more than competitive for a half and has a huge advantage in the new environment for Game 3 against a team that played like a 32.9-win club on the road using Pythagorean expectation. I like the Nets… for the third time already in the series. — Ken Barkley
---
Mears: What to Make of Philly's Road Struggles
Oh, what a difference a healthy Joel Embiid makes. Jarrett Allen didn't even play poor defense here; Embiid was just a large, agile human.
But the key is what Embiid didn't do: He didn't settle for a 3-pointer. In Game 1, he certainly did, jacking up five en route to an inefficient game and team loss. In the clip above, he was wide open but didn't settle, driving in for a layup and foul. He did the same thing here:
That is a much more dangerous player against this Nets team. Further, you can see what his presence does to the overall offense when he's on his game. He merely catches the ball and faces up here, and watch how Joe Harris stops to see if he needs to help. Even just that 1-2 seconds are enough for J.J. Redick to get open:
And finally, his rebounding was a big factor. He had a 17.6% offensive rebound rate in Game 2, and Ben Simmons was right there, too, grabbing 14.8% of the team's misses. Boban Marjanovic was a beast on the glass as well.
The 76ers finally shot it well, posting a 61.1% effective field goal rate, but the real reason they dominated so thoroughly offensively was hitting the glass. They grabbed 55.9% of their misses as a team — that's the 100th percentile of games this season — which helped them post an astounding 151.3 Offensive Rating.
All that said, the 76ers have been a really poor team on the road all year. They finished just 20-21 straight-up and 17-24 ATS away from Philly; that latter mark was the second worst in the NBA this year.
Further, it's unclear how much Embiid will go in this one. In Game 1, he played just 24 minutes. In Game 2 he played 21, although it was a blowout pretty much the entire fourth quarter. If it was closer, would he have gone more? I honestly don't know the answer to that, which brings a ton of uncertainty to this game and line.
If I knew he was going to play a lot, I'd potentially like the Sixers here. They're much more talented than the Nets when he's right. But since I don't know that, I'm going to pass and get one more game of data. — Bryan Mears
---
Moore: Why I'm On the Nets
Since before the season started, I've been planning to bet the Nets in Game 3. Even before the Game 1 win. That win reinforced that idea, proving that the Nets' 3-point variance, coupled with the Sixers' offensive lulls, opens the door for them to sneak into these games and befuddle Philadelphia with their wizardry of "shooting more than 24 feet away." The Game 2 loss actually reinforced my desire to bet Nets in Game 3.
There are two types of Game 2 blowouts from those home teams down 0-1.
One is the Toronto method, where you just show up and prove to the other team you're better by having a standardized performance. You don't gloat, you don't run it up, you just take care of business and make it known who the better team still is.
The second is the Philly method. Run it up, yuk it up in-game and post-game and throw an elbow to prove something to someone. The other team gets hit with an adjustment on the road after already getting the split.
There's no telling what to expect from the Nets crowd: They were last in attendance this season, but this is an incredibly fun team coming home 1-1 vs. a big bully favorite from another East Coast city. If they show up, it could get wild, but if the city still doesn't know who they are it could be a problem.
If we accept that 1) The Nets' chances hinge on them out-shooting the Sixers and winning by using the Math Problem (3s vs. 2s) to their advantage, and we accept that 2) role players shoot better at home — then the Nets' best chance to pull another game in this one comes in Game 3. I don't trust the Sixers to keep the foot down, and I get the sense that there's real confidence from Brooklyn… and confidence helps shooting.
The Nets had one bad quarter vs. a team that could not go down 0-2 headed to Brooklyn, and they still won two of the four quarters in Game 2. I'm going all the way to Nets +130. — Matt Moore
---
Editor's note: The opinions on this game are from the individual writers and are based on their research, analysis and perspective. They are independent of, and may not always match with, the algorithm-driven Best Bets from Sports Insights.
How would you rate this article?