How the Anthony Davis Injury Boosts Short-Term Betting Value on Montrezl Harrell
Credit:
Logan Riely/NBAE via Getty Images. Pictured: Montrezl Harrell #15 of the Los Angeles Lakers.
The Los Angeles Lakers are dealing with their first major hurdle in their NBA title defense.
Anthony Davis had been on the injury report just about every night this season, but played through a number of nagging injuries before hurting his most recent leg injury over the weekend. It is officially being listed as a calf strain, and according to ESPN's Adrian Wojnarowski, Davis will be reevaluated in two to three weeks.
That timeline means Davis will be out at least until the All-Star break, and it doesn't necessarily guarantee that he'll be back immediately following it, or that he'll be full strength if when he returns.
Including their Thursday night game with the Brooklyn Nets, the Lakers have nine games before the All-Star break. It wouldn't be a surprise to see Davis sit a handful of extra games during the second half of the season too — the Lakers need to be extra cautious with their Davis and LeBron James to make another run at the title.
For the sake of round numbers, let's say Davis misses at least 15 games the rest of the season. That means 15 games for anther Lakers player to step into the minutes that will be left behind.
So how can we benefit from a betting perspective?
The most obvious angle here is James' MVP campaign. James was already one of the MVP favorites, as he has been virtually every season for the past couple decades. Now he's the clear favorite, with his odds dropping as low as +150 at BetMGM.
We talked about LeBron's MVP chances on The Action Network podcast, and both Matt Moore and Raheem Palmer still think there may be some value on James.
He always usually the narrative on his side. Now he has the opportunity to see a boost in his numbers and grab a couple MVP moments where he carries the Lakers without his co-star. But there's one other Laker who could benefit greatly from Davis's absence: Montrezl Harrell.
This, really, is exactly why the Lakers picked up Harrell in free agency. He isn't the sort of player who raises a team's playoff ceiling — he's a poor defender, and against some of the league's elite teams, he may not be able to play big minutes. Harrell was brought in to soak up big regular season minutes and keep the two superstars fresh. This is his time to shine.
Harrell is the reigning Sixth Man of the Year, so we know he can put up huge numbers. He averaged 18.6 points and 7.1 rebounds last season and while Harrell's counting numbers are down this year, he's been even more effective in his role.
Harrell has dropped from 27.8 minutes per game to 24.6 this season, and his scoring is down to 13.3 per game. He's more efficient than ever, though, with absurd 68% True Shooting and his Rebounding Rate is at a career-high too.
Of course, we can't bet on efficiency. But we can wonder what happens if Harrell suddenly gets a much bigger role while Davis is out.
It doesn't look like Harrell will start, and that makes sense. (He's really never been a starter in his career, and he's more valuable bringing his energy off the bench where he's always a spark plug.) Kyle Kuzma will move into the starting lineup, and that leaves a hole in the bench unit, which means Harrell's minutes and usage should still increase.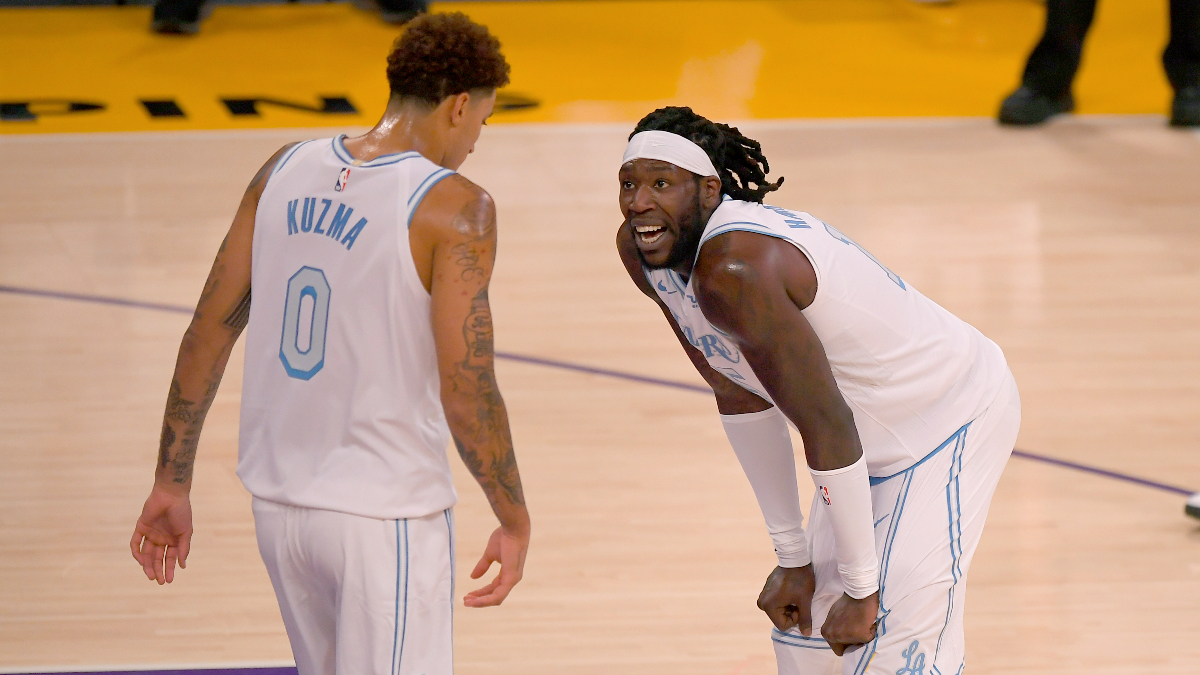 It's reasonable to expect Harrell and Kuzma to soak up most of the Davis minutes when he's out. Davis has averaged 32.8 minutes, 22.5 points, and 8.4 rebounds a game, and really those numbers would be even higher if not for exiting a few games early. Both Kuzma and Harrell could see a boost of around 10 minutes more per game each, and they should collectively eat up a portion of Davis's 16.7 field goal attempts per game.
And more of those shots, points, and rebounds should go to Harrell than to Kuzma. That may feel counterintuitive, but it can be difficult for a bench player to play with starters because it's often a different role, with less usage and less time on the ball.
We've seen Kuzma succeed in that role over the past year, and it's why he's the starter, but it also means that it's Harrell and not Kuzma who will see the big increase in usage in his familiar bench role with low-usage guys like Alex Caruso, Wes Matthews, and Talen Horton-Tucker playing off the bench around him.
So what could this look like by the numbers?
Harrell is averaging 13.3 points and 6.3 rebounds in 24.6 minutes.
If he plays 30 minutes in these games without Davis, those rates would bump him to 16.2 points and 7.8 rebounds. If he gets to 35 minutes at times, those numbers jump to 18.9 points and 9.0 rebounds. That's close to a 20-10 guy with starter minutes, and we've seen Harrell do that for stretches at times.
There could (and should) be a few games where LeBron sits, too, leaving the Lakers without both superstars. A 20-10 game would be a baseline expectation for a game like that, and something like 28 points and 12 rebounds would be in play.
That means it's time to watch Harrell's over props closely.
---
Subscribe to our NBA Insiders tool at Action Labs to beat the market with our cutting edge player projections, injury news and betting thresholds. And check out our free Futures odds page, which has updated MVP, title, conference, division and playoff odds.
---
It looks like none of this helped Harrell in his first game without Davis Tuesday night against the Timberwolves, since he played only 18.3 minutes, but look closer. Harrell put up 17 points, six rebounds, and three assists in those minutes.
That's nearly a point per minute and a rebound every three minutes, even higher than his usual production. What if the Wolves were more of a challenge and Harrell had to play 25 or 30 minutes? I bet you'd have noticed if he put up 24-8 in 25 minutes, or 28-10 in 30. That's the same rate, just over more minutes.
Keep an eye on Harrell overs, specifically his points, his rebounds, and a points and rebounds combo prop. Books are always a bit slow to adjust, so there could be real value there if Harrell's minutes do increase to soak up the Davis minutes and usage.
You may want to consider one more angle too: a Sixth Man of the Year repeat.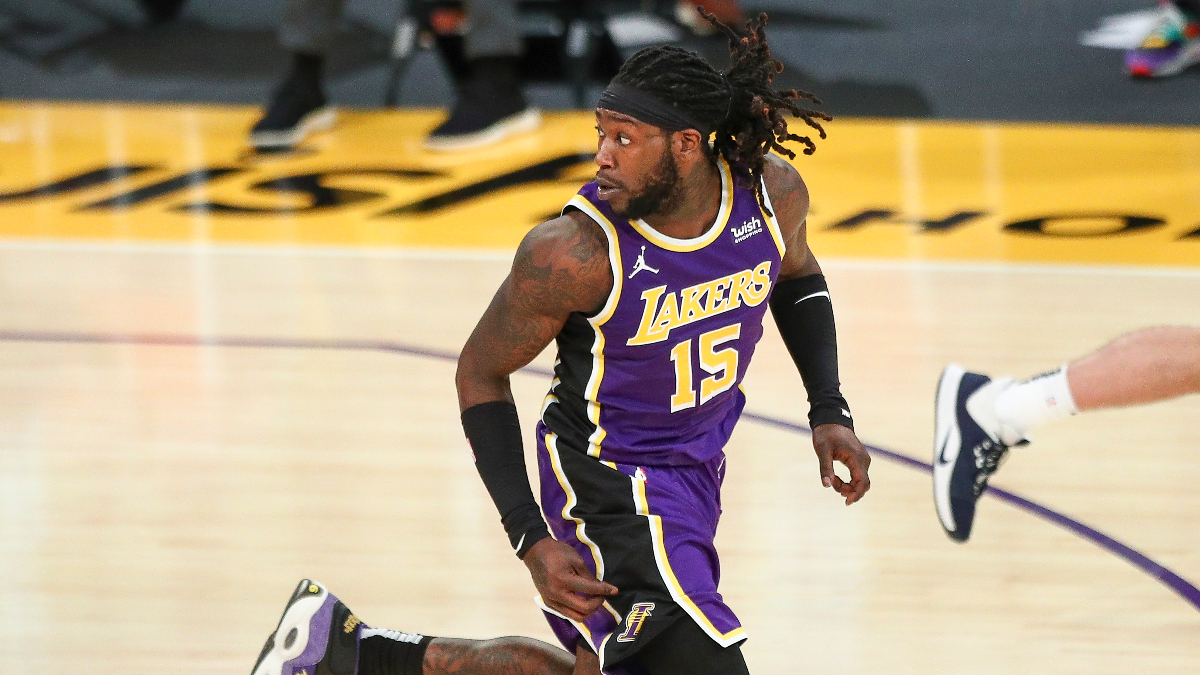 Harrell is a Laker, so if he starts putting up some big lines, everyone will notice. But he's going to need the numbers too, and he'll have to do something significant to catch up with  Jordan Clarkson, a huge favorite for sixth man right now. Clarkson is averaging 18.2 points per game and flying high right now, but it's reasonable to think this is likely his peak.
What would Harrell have to do to catch him?
If we really get 15 games of Harrell averaging 18.9 points and 9.0 rebounds in 35 minutes, that would boost his profile significantly. Assuming Harrell averages 13.3 PPG and 6.3 RPG in the rest of the Lakers games — let's say 55 other games — his season-long averages would come out to 14.5 points and 6.8 rebounds a game.
Is that enough to pass Clarkson for Sixth Man of the Year? Probably not.
But there are other variables to consider. Clarkson could recede further or the Jazz cool way down in the second half. Clarkson could miss time in a season where seemingly every team has dealt with one injury or another. And Harrell's production could continue to tick up even after Davis returns if the Lakers try to preserve him for the playoffs.
Harrell is +2500 to win Sixth Man of the Year at BetMGM right now, so he only has to win the award 4% of the time for that bet to pay off. Isn't it easy to see him reeling off a bunch of big games into the All-Star break and suddenly he's at like +500 and the second favorite behind Clarkson? It may be worth a play.
It's time for the Lakers to let Trezz loose and see what he can do.
How would you rate this article?