Bucks-Celtics Preview: Giannis Looks For His First Playoff Series Victory
Credit:
Kevin Sousa-USA TODAY Sports
Poor Boston. The Celtics' season began with a gut-wrenching blow and will surely come to an end in the near future, putting to bed a season that will be forever surrounded by "what ifs"?
The big question now, of course, is when their season will end. Can the Greek Freak rip the Band-Aid off Celtics' fans hearts and put this misery to an end? Or can Al Horford and the youngsters hold their own for now? — Mark Gallant
---
Odds
Series: Celtics -165, Bucks +145
Game 1 (Sunday at 1:05 p.m. ET): Celtics -4, Over/Under 201.5
---
What's Happening on the Court
By Matt Moore
Giannis Antetokounmpo is the best player in this series.
However, what if he's not the most impactful?
In the matchups between these teams, the Celtics outscored Milwaukee by 8.3 points per 100 possessions with Horford on the floor and were outscored by 24 points per 100 possessions with him on the bench. The Bucks went to guarding Horford with the Greek Freak, and, according to NBA.com's matchup data, Horford shot 5-of-7, scoring 14 points, and, more importantly, dishing 11 assists.
Giannis makes up for a lot with his insane length and athleticism. But here he gives Horford the baseline, and as soon as he does that, Horford is able to force him to over-correct, which gets Horford to Antetokounmpo's left shoulder. At that point, no amount of length is going to stop this:
Horford's so quick to recognize the play that needs to be made. The Bucks aren't as aggressive on the perimeter as they were under Jason Kidd, but they still sometimes slip into trying to blitz randomly. That lack of discipline against a player such as Horford is tough.
If Horford is the most impactful player in this series, as he was the entire regular season for Boston and especially vs. the Bucks, the Celtics can survive despite their injuries.
---
Advanced Metrics Breakdown
By Bryan Mears
Kyrie Irving is out, but not all hope is lost. In fact, the Celtics' main lineups without him and Marcus Smart this season have been pretty darn good. Per Cleaning the Glass, the unit of Terry Rozier-Jaylen Brown-Jayson Tatum- Horford-Aron Baynes has posted a +14.2 net rating, mostly thanks to a ridiculous 91.8 defensive efficiency. For reference, Boston's league-best season-long mark is at 101.5. That unit has played 233 minutes together. Substitute Marcus Morris for Brown and it's just as good — a +18.2 net rating and 80.8 defensive efficiency. Those offensive numbers aren't good at all, but the wing length plus two bigs in Horford and Baynes are just impossible to score on, and the Bucks aren't exactly the Rockets on offense. Further, Milwaukee ranks 26th in offensive rebound rate; it'll be one shot per possession the entire series.
That's not great for the Bucks, although Milwaukee could be sneaky offensively. Giannis' team ranks seventh in half-court offense, and the Bucks have even more upside in the playoffs than they did a couple weeks ago. Their best main lineup this season is a combination of Eric Bledsoe-Malcolm Brogdon-Khris Middleton-Antetokounmpo-John Henson. That fivesome has posted a +13.2 net rating and scored at a rate of 115.9 points/100. Brogdon has played just two games since returning from injury and got up to only 18-19 minutes. If he's able to push to the 20-minute range, this Bucks starting unit will be much stronger.
---
Locky's Betting Analysis
By Ken Barkley
It's incredible that a team could win everyone so much money during the regular season and then be so undervalued yet again in the playoffs, but here we are.  I will happily take Boston -165 to win the series and feel great about it. I understand why this price can be so low and why it's such a trendy upset pick; Giannis is such a popular, formidable force.  Much like with the regular season, though, not enough weighting/emphasis has been placed on the effect of Brad Stevens when handicapping Boston's odds.
I'm not sure there's enough written about what a coaching mismatch is in play in this series.  Stevens is really on another tier — compared to even other excellent coaches — with his game plans and in-game adjustments.  Joe Prunty, meanwhile, has been a marginally successful interim coach who has never been a head coach in the playoffs and most likely won't be with the team next season.  He has not maximized the talent at his disposal whatsoever. The idea that, with home court, Stevens could be this small a favorite is astounding, never mind the fact that the Celtics had a better record on the road than the Bucks had at home.  This price seems to reflect more of the handicapping between the current Celtics team and the Bucks team we all wished we got this season and hope to get next season — not the one that actually played the 82 games. That doesn't mean there won't be drama, or the Celtics will dispatch Milwaukee easily, but the longer the series goes, the more I trust Boston to make the right adjustments.
This was another series where you can throw out basically all of the regular-season matchups (they split 2-2) because of who isn't playing for Boston. Even their most recent meeting, a narrow Bucks win, is irrelevant because Boston essentially had no point guard the entire game and the forwards were splitting the minutes running the offense.  
Considering the Celtics' exploits on the road this season, and that Games 1 and 2 should give Stevens even more time to tweak his game plan to its most optimal version, I'll most likely be playing Boston in Games 3 and 4 as small dogs and late in the series.
---
Notable Matchups and DFS Spin
By Matt LaMarca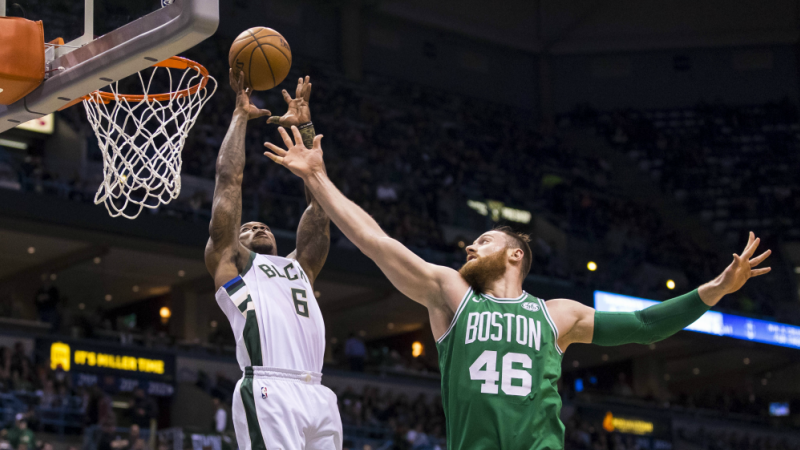 Jeff Hanisch-USA TODAY Sports
The big question is how effective the Celtics can be with Kyrie on the sidelines. One possible solution is leaning a little heavier on their traditional lineup that features both Horford and Baynes. The Celtics have averaged a net rating of +12.2 with both big men on the court this season, and their projected starting lineup has posted a net rating of +14.9 over 115 minutes. Baynes has also presented specific matchup problems for the Bucks, as he's exceeded his season average by +18.6 points per 100 possessions when guarded by John Henson. No one else on the Bucks' current roster has guarded Baynes for more than seven possessions during the regular season, so the Celtics big man see a lot of Henson in the playoffs.
Horford has spent most of the season serving as Boston's primary defender on Giannis, and he's done a solid job on him, all things considered. The Bucks have averaged only 1.0 additional points per 100 possessions with Giannis in that matchup, so they're going to need someone else to step up during the playoffs. Don't look for it to be Jabari Parker, though: The Bucks have posted a net rating of -4.6 with Parker on the floor this season, so they'd be wise to limit his minutes in this series. He's also been dreadful against the Celtics in particular, with Morris, Brown and Tatum all limiting him to at least -14.7 points per 100 possessions when matched up against him. 
---
Betting Trends to Know
By John Ewing
Boston was the most profitable team in the regular season, going 50-30-2 (63%) ATS. Milwaukee was the fifth-least profitable team with a 34-44-4 (44%) ATS record. In the playoffs since 2005, when a team such as the Celtics that covered 60% or more of its games faced an opponent with a losing ATS record, those squads have gone 29-46 (39%) ATS.
---
Picks
Barkley: Celtics in 7
Mears: Bucks in 6
LaMarca: Celtics in 5
Moore: Celtics in 6
---
Pictured above: Giannis Antetokounmpo
Photo credit: Soobum Im-USA TODAY Sports