Inside the Play: How Cavs' Trades Energized a Once-Listless Defense
Credit:
Pictured: LeBron James and Jordan Clarkson; Winslow Townson-USA TODAY Sports
The Cleveland Cavaliers had about as great of a debut for their new team — and it is almost literally a whole new team — as you could have asked for on Sunday. In front of a raucous crowd celebrating Paul Pierce's jersey retirement, the Cavaliers dissected, decimated, and destroyed the Boston Celtics.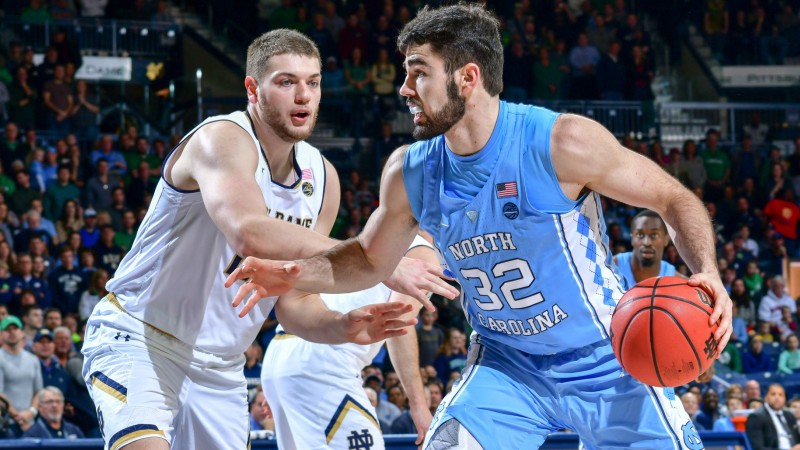 Our crew of college hoops experts predicts the two biggest games on Monday night: Notre Dame-UNC and TCU-West Virginia.
With less than a full day of practice, the Cavs put together an offensive clinic against the NBA's No. 1 defense: 121 points per 100 possessions (a 90th percentile league-wide mark this season). Newcomers Jordan Clarkson and Rodney Hood combined to shoot 13-of-22 from the field for 32 points, LeBron James did his thing with 24 points, 8 rebounds, and 10 assists, and the Cavs shot 16-of-30 from deep.
Except, we knew the Cavs could score. That was never a problem. That they did it by creating their own looks, especially when James was out of the game, is impressive and noteworthy.
But the defense is what should really catch your eye, as the Cavs shut down a Celtics team that's playing its worst basketball of the season.
It wasn't just Cleveland's athleticism; check out the team's mental effort to stay with sequences:
Here, Kyrie Irving and Al Horford run a dribble hand-off, which functions basically the same as a pick and roll. The Cavs can play back, in which case Irving takes and probably makes a three behind Horford. They can switch, in which case George Hill is trying to defend Al Horford on the roll, or they can do what they do here, which is blitz, get the ball out of Kyrie's hands.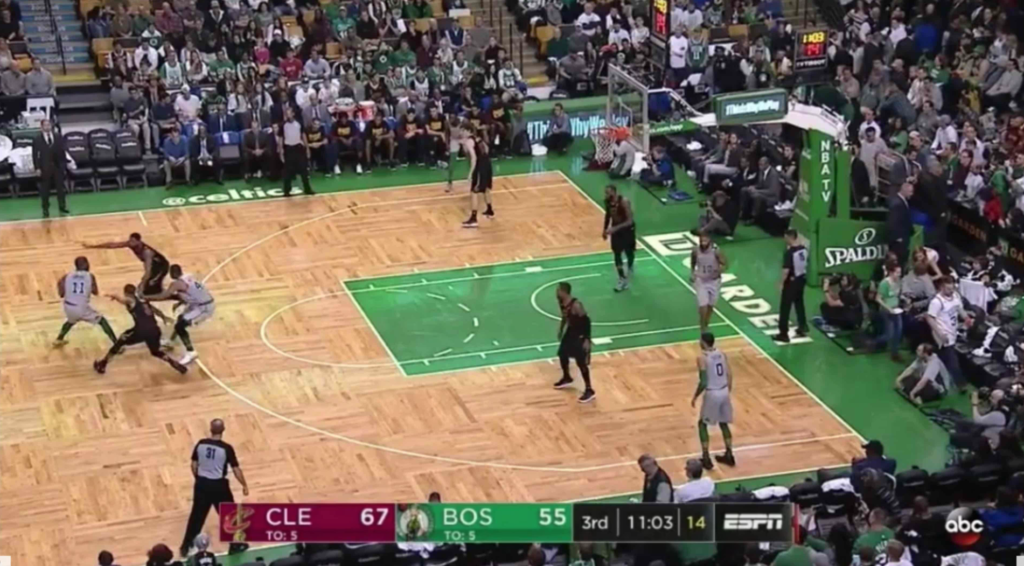 Irving obviously recognizes this, and makes the easy pass to Horford. When Horford is rolling to the rim, the Cavs' scheme calls for J.R. Smith to "tag" the roll man, helping down to get in Horford's way and stop him from scoring. In doing so, it means leaving his man Jayson Tatum, wide open.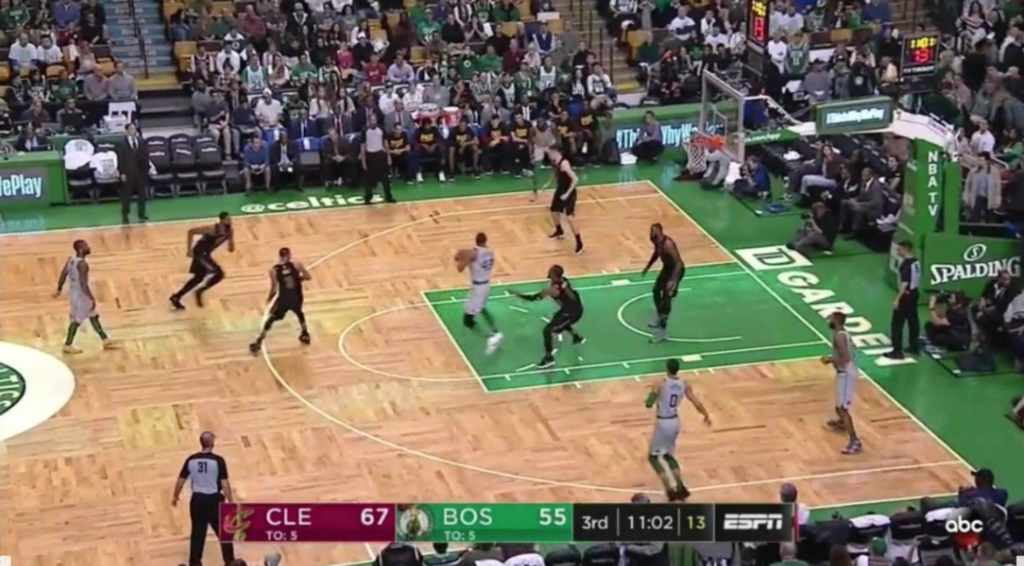 Now, at previous points in this season, this was the end of the Cavs' possession. Blitz, tag, pass to open man, bang. The Cavs have been a bottom-five team in defending spot-up shots all season long.
That's not what happens here.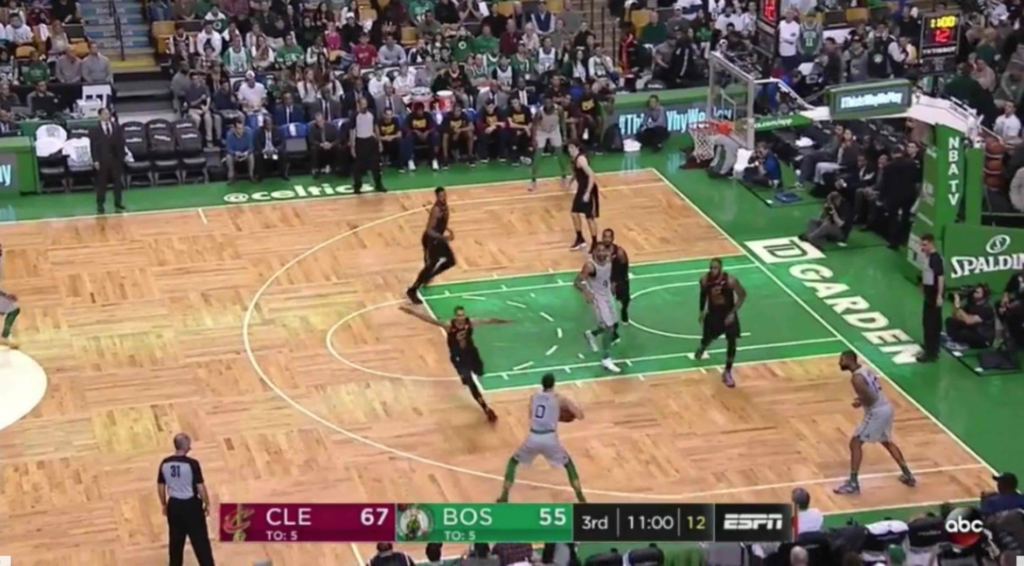 George Hill puts his hand up to try and alter the pass to Horford, then immediately turns and rotates to Tatum. That sequence, Hill's little bit of effort instead of just giving up on the sequence, is enough to force Tatum to swing the ball back to Irving. Not only that, but while he's a little late from tagging Horford, Smith runs off Irving hard.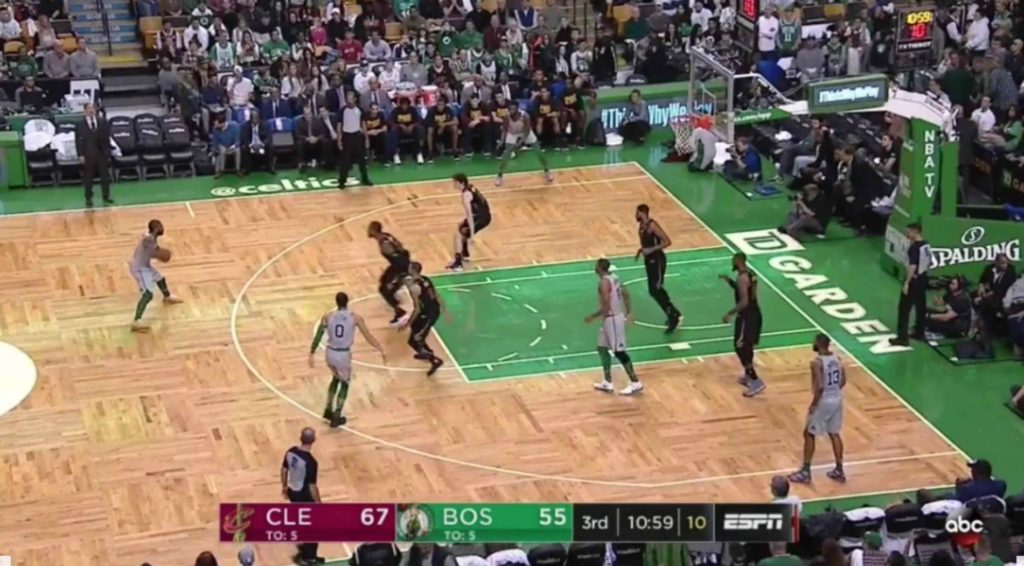 Smith goes full bore to help the helper, who was helping him, the first helper, and that's enough to force Irving to pass to the corner, which is well defended by Cedi Osman.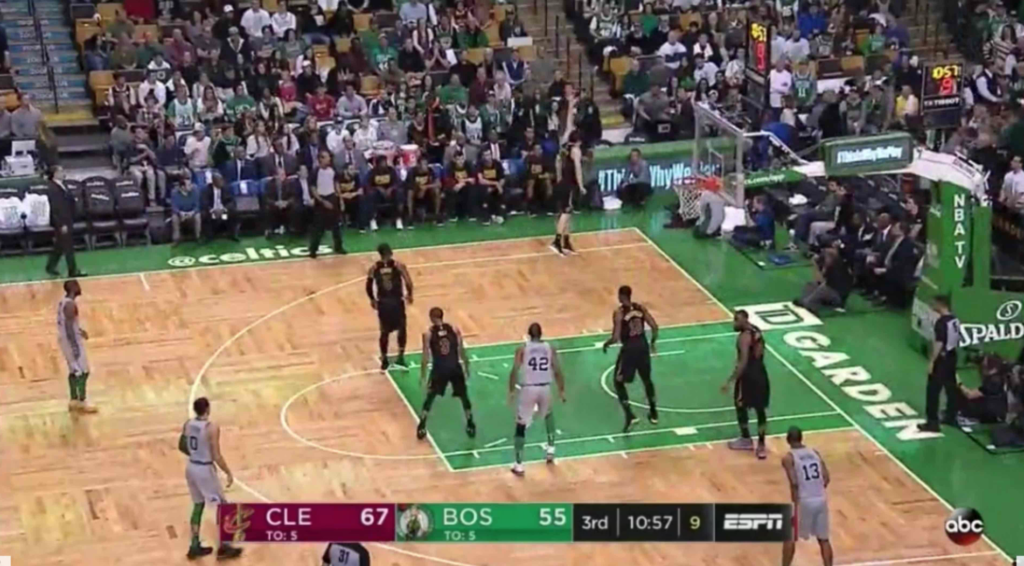 Now, yes, Tatum could have just risen and fired over Hill. And Irving definitely has a look here even with Smith closing out. But the point is that the Cavs actually had the mental effort to make multiple rotations and stayed with plays.
It's one game, their first, on a day when Boston was off its game. But if you want to know what was really different in how Cleveland looked Sunday vs. how they've looked the rest of the season, that play showcases it.
Also …
Check out how Jordan Clarkson doesn't give up on the play here. Instead, he fights through traffic and intercepts the drop-off pass. Clarkson was angling for steals all afternoon, but honestly, the Cavs could use a little reckless gambling at this point.
This is a small thing, but watch LeBron's closeout. This is honestly one of the five best closeouts I've seen from him this season, and I've watched a depressing amount of (bad) closeouts from LeBron. Whether he actually fouls Morris here or not is irrelevant. He doesn't just stop when he closes to cut off the drive, he actually gets his hand up to contest:
Cleveland did a lot more switching after the first quarter (where Boston actually led and played well offensively). The Cavs' new-found versatility on defense is what really stands out.
Saying this is one game is not a platitude. Defensive impact is built on sustained, disciplined effort and mental commitment every game. The Cavs have to get greedy. Making shots cannot be enough. They have to get better and continue to evolve or this game means absolutely nothing.
Photo via Winslow Townson-USA TODAY Sports