Cleveland's Defense Is a Problem: Your Ultimate Cavs-Pacers Preview
Not often do you see a 4-seed with about an 85% implied probability to beat a 5-seed in a series. Not often at all. Perhaps never.
It's switch-flipping season, though! LeBron James was plenty good this season, but the Cavs' play was at times downright awful. They went just 1-3 against the Pacers this year, so is taking Indy at +450 or so not a slam dunk value bet? Here's what the hoop-heads have to say. — Mark Gallant
---
Odds
Series: Cavaliers -600, Pacers +450
Game 1 (Sunday at 3:35 p.m. ET): Cavaliers -6.5, Over/Under 212.5
---
What's Happening on the Court
By Matt Moore
Follow me down this logical path.
The Pacers are 25th league-wide in 3-pointers made per 100 possessions. They won't be able to keep up with Cleveland.
That said, in their four games vs. Cleveland (in which the Pacers went 3-1), they made 13.2 three-pointers per 100 possessions, which would have been good for second-most league-wide on the season. The Cavaliers defense really, truly is that bad schematically, even with new personnel. Cleveland will definitely give Indiana, a better defensive team, the chance to keep pace.
Except then I looked at this: The Pacers hit 54 three-pointers total vs. the Cavaliers this season. Twelve of those were against players no longer on Cleveland after the big trade at the deadline. Another 13 — almost half — were solely Victor Oladipo lighting up J.R. Smith.
The Cavaliers have stopped doing this, for the most part, but they used to try switching almost everything off-ball. So here J.R. randomly helps down and then assumes Jae Crowder is going to switch onto Oladipo. Crowder is worried about, you know, his man, and then, yeah.
It got really bad in Cleveland for a long time. The Cavs are better at this stuff now, though they still miss it a lot.
The key is that Smith won't be guarding Oladipo nearly as much now. George Hill, LeBron James, Jeff Green and Rodney Hood will get that assignment. That's a better matchup for Cleveland. However, I need to stress this: The Cavaliers are still really bad defensively.
They held a 109.8 Defensive Rating before their three trading deadline deals and have a 109.0 mark since. Everyone likes to point out how they climbed from 25th to 19th in that span, but it has more to do with a lot of tank-related action rather than Cleveland improving. There are schematic issues with how Cleveland defends. Maybe that trend reverses itself, which is why I think staying away from any investments here is a smart idea, but there are real signs that even if Cleveland "flipped a switch" and got way better defensively …
The Cavs might still be bad on that end.
---
Advanced Metrics Breakdown
By Bryan Mears
It's hard to analyze the Cavaliers because of how dramatically they changed their roster throughout the season. Instead of using season-long data, I'm going to be looking at the newer five-man lineups that have actually played over the past month.
The lineups with the current roster — which have collectively amassed a little more than 3,000 possessions now — have been excellent offensively, scoring 115.5 points per 100 possessions and posting a 55.2% effective field goal mark. Further, they rarely turn the ball over, coughing it up on just 12.4% of their possessions. All three of those marks are in the 90th-plus percentile of all lineups this season. The old adage remains true: Let LeBron be your point guard, surround him with athletic players and elite shooters and you'll have yourself one of the best offenses in the league.
The confounding question, as you'll read throughout this preview, is whether the Cavs can get things going on the other end. Those lineups have allowed 112.5 points/100 and a 54.1% effective field goal rate. Thus, in sum the Cavs have outscored opponents by just 3.0 points/100 with the new guys. That's the mark of a slightly above-average squad — not a championship-hopeful one. And it really all comes back to the King: Throughout his entire career essentially, he's had an on/off net differential of double digits. This year, that mark is just +3.6 despite not really dropping off offensively. The Cavs this season have allowed 5.6 more points/100 with him on the floor versus off, which just can't be the case in the playoffs. Will the flip be switched?
---
Locky's Betting Analysis
By Ken Barkley
You will see the LeBron superlative first-round trends above this, below this and all around this write-up — and for good reason: They reflect the insanely stellar performance he brings to the start of each postseason and the extent to which he values the rest periods that can come between short series.
Gamblers know this, too, which is why the Cavs opened at -505 and are now (as of Saturday morning) at -600 on 5Dimes. At some point this reaches a level where you have to at least consider Indiana, but I'm not sure we're there yet. The four regular-season meetings between these teams are not as relevant because they all occurred before the Cavs made their giant roster moves. Indiana has not played this Cavs team, so it's tougher to know what to expect.
However, the types of indicators I would look for in an underdog here — a coaching mismatch, an inability to stop the underdog's superstar player, veteran players with playoff experience, strong play vs. other top-tier opponents — just can't be found. Nate McMillan may have some small advantage over Tyronn Lue, but it's not enough to overcome the talent disparity. Folks want to point to Cleveland's new acquisitions as unproven in the playoffs, but the Pacers play very few players with any relevant playoff highlights (the most notable is Lance Stephenson's ear-blowing). This is a team that wasn't supposed to win this much, overachieved drastically and got a bad draw. The rising series price makes sense. Pass.
---
Notable Matchups and DFS Spin
By Matt LaMarca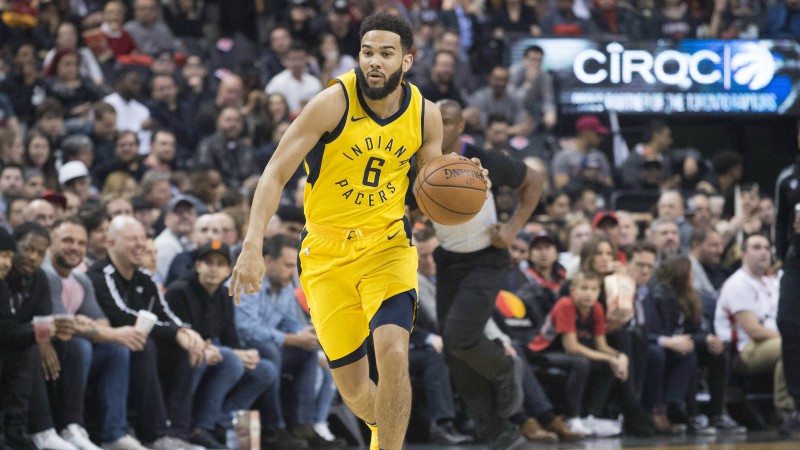 Nick Turchiaro-USA TODAY Sports
If the Pacers are going to have any chance in this series, they're going to need to find a way to contain LeBron. That responsibility will likely fall to Bojan Bogdanovic, who has defended LeBron on more possessions this season — 170 — than any other player in the league. He's fared well at it, too, holding James to 5.3 fewer points per 100 possessions than his season average. The Pacers have additionally increased their offensive efficiency by +3.5 points per 100 possessions with Bogdanovic on the floor this season, so expect him to play a big role in this series.
Another key question for the Pacers concerns the player who will handle the majority of the point-guard minutes. Darren Collison will likely draw the start, but Cory Joseph has played a big role for the Pacers off the bench to end the season. The numbers support going with Joseph, as the Pacers starting lineup has posted a net rating of +12.7 with him compared to just +2.0 with Collison. Joseph has also shut down Kyle Korver this season when matched up against him, holding him to 0-for-7 from 3-point range over 87 possessions. Korver is someone with a sneaky big impact for the Cavs, so that could be important.
---
Betting Trends to Know
By John Ewing
LeBron is 48-7 straight-up and 35-20 (64%) ATS in the first round. He has won 21 straight first-round games — the longest streak in NBA history.
The Cavs finished the season 32-49-1 (39.5%) ATS. Cleveland is the first team since 2005 to enter the playoffs covering in fewer than 40% of its games in the regular season. That said, favorites with losing ATS records have gone 169-139-8 (55%) ATS in playoffs.
---
Picks
Barkley: Cavs in 5
LaMarca: Cavs in 5
Moore: Cavs in 6
Mears: Cavs in 5
---
Pictured above: Kevin Love and LeBron James
Photo credit: Scott R. Galvin-USA TODAY Sports