Heat-76ers Series Preview: Will Philly's Playoff Inexperience Be an Issue?
The Process is looking very trustworthy these days. Miami is walking into a buzzsaw, as Philly enters the playoffs on a 16-game win streak. Is there anything the Heat can hope to do to slow down this young squad? I know one thing that might help: Pray that Joel Embiid doesn't return. — Mark Gallant
---
Odds (via 5Dimes)
Series: 76ers -500, Heat +400
Game 1 (Saturday at 8:05 pm ET): 76ers -6.5, Over/Under of 212
---
What's Happening on the Court
By Matt Moore
Going in, there are two questions about the Sixers most are asking. First, how will their inexperience hurt them? And second, what happens when teams make Ben Simmons a shooter?
To the first matter, there are good indicators that inexperience is overstated as a limiting factor in team performance. Additionally, there are examples of young teams that have actually thrived in a playoff environment. It's not an absolute negative, which probably means the matchup matters more.
Second, to Simmons' shooting, the problem is that if you back off him, you're 1) opening up his passing lane and 2) giving him space to attack. The problem with this is a matter of distraction.
If you back off him, the Sixers can use distractions with hand-off and off-ball cutters to divert attention, and if you give Simmons a second, he's at the rim:
Further, if you back off him and give him the room to attack, there's a good chance a help defender will see an opportunity for weakside help, and, guess what, Simmons will crush you with his passing:
The Heat will likely look to do this in certain situations, but they're also going to layer their defense. Point of attack, one at the elbow, one at the rim. The Heat are in a unique position to do this with the athletic wings they have such as James Johnson, the smart wings such as Josh Richardson and Wayne Ellington and their rim protectors in Kelly Olynyk and Bam Adebayo. (Olynyk isn't some big shot blocker, but he is a great charge-taker and his verticality discipline is excellent. Great interior defense isn't just swatting the ball anymore.)
Miami's tactical response to Philly's weapons — and the Sixers' adjustments thereafter — will both decide this series and make it a lot of fun to watch.
---
Advanced Metrics Breakdown
By Bryan Mears
Miami is a well-coached team that isn't great or poor in any aspect. Philadelphia is a youthful squad that flies at great heights but can sometimes drift too close to the sun. It should be a fascinating series.
The 76ers have been undeniably stellar of late: Over their past 16 games, they have a perfect win rate, and they've posted a +15.3 net rating thanks to excellent play on both ends of the floor. That said, a big part of that stretch was against tanking teams, and now they'll have to deal with Miami coach Erik Spoelstra, who is a playoff wizard. Philly's weaknesses — Simmons' shooting and turnover troubles, to name a few big ones — will be exploited by Miami. The 76ers have a huge talent advantage in the series, but they'll definitely have to overcome adversity.
If this becomes a slow-paced, half-court battle, that favors Miami keeping it close and covering. However, if Simmons and Co. can push the tempo, they'll be unstoppable. Per Cleaning the Glass, the 76ers have been 12.3 points per 100 transition plays better with Simmons on the floor, who is an absolute freight train attacking the rim. Rookie guard Markelle Fultz has had his share of shooting woes, too, but he's been very aggressive in transition of late. With him on the floor this season, the 76ers have gotten out in the open court 2.5% more often. This is all notable, as the Heat's biggest defensive weakness is against the fast break: They rank a subpar 20th in transition defensive efficiency.
---
Locky's Betting Analysis
By Ken Barkley
I will take all the Miami you want to give me here. Here's a fun exercise. The current series price is something like -475/+375, give or take. What would you have made it a month ago? Two months ago? Four? The answer is much, much less. Why is it so big now? Because the Sixers have won 16 in a row? That is truly an unprecedented streak: No team has ever entered the postseason on a run like that, and only twice in the past 15 years has a team even been on a 10-plus streak. But does that really matter here? Twelve of the 16 wins came against non-playoff teams, and this year if you were a non-playoff team, you were really, really interested in losing. A lot.
Ignore the Sixers' overall success and examine the two teams against each other: They played four times, splitting 2-2, and the total score was 409-407. All four games were decided by single digits, and Embiid played in three of them (his status for most of the series is uncertain at best). One of Philadelphia's two wins was also a Miami back-to-back in which the Heat were up 24 and blew the game late. Any form of logical measurement has the difference between these two teams as marginal, if there's any separation at all. And certainly not a level of separation that should equate to -475 on Philadelphia, no matter how much you value home court.
Two other things to consider: First, the complete lack of veteran leadership on the Sixers, which in postseasons past has at least led to stumbling, if not outright elimination from other teams. Also, I think Spoelstra vs. Brett Brown is a significant mismatch in favor of Miami, and in a series which figures to go a long distance, adjustments will be that much more critical. I'm taking Miami +375 now or even if they lose Game 1 and it rises higher; those are prices that I think will be valuable late in the series.
---
Notable Matchups and DFS Spin
By Matt LaMarca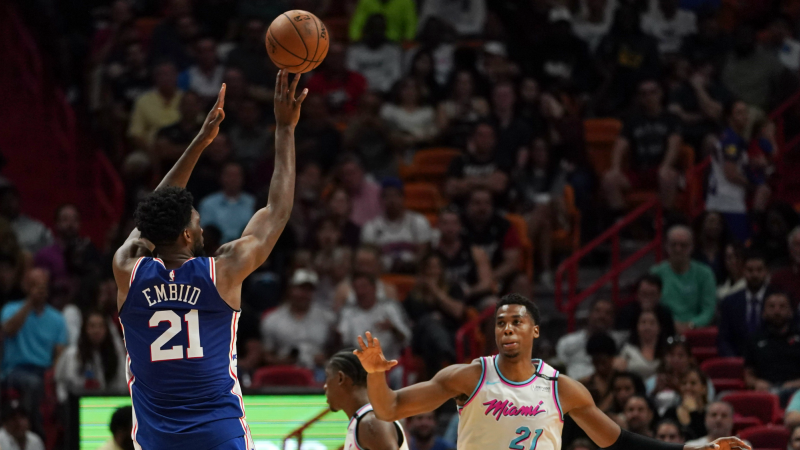 Jasen Vinlove-USA TODAY Sports
Embiid's status could go a long way toward determining the Heat's rotation at center. Hassan Whiteside has been unhappy with his playing time all season, but the Heat have just flat out been better with him off the floor this season. They've posted a net rating of -2.6 with Whiteside on the floor compared to +2.1 with him off. He hasn't been able to deter Embiid, who has exceeded his season average by 2.5 points per 100 possessions when facing Whiteside. That could lead to more minutes for Adebayo, who has been Miami's best option against Embiid by a considerable margin. He limited him to a field-goal rate of 41.7% over 62 possessions this season, resulting in a scoring differential of -11.0 points per 100 possessions for Embiid. Olynyk has been absolutely destroyed by Embiid this season, but the Heat have averaged a net rating of +5.9 with him on the court this season. He could get the majority of the center minutes if Embiid is ultimately unavailable.
---
Betting Trend to Know
By John Ewing
According to FiveThirtyEight.com, Philly is the fifth team since 1990 to make the playoffs when their top four players (Simmons, Embiid, Dario Saric and Robert Covington) had no postseason experience. The four previous teams all lost their opening-round series and went 2-13 straight-up and 5-10 against-the-spread.
---
Picks
LaMarca: 76ers in 6
Mears: 76ers in 7
Moore: 76ers in 7
---
Pictured above: Joel Embiid and Ben Simmons
Photo credit: Bill Streicher-USA TODAY Sports