NBA Betting, DFS Angles for Every Friday Game
Credit:
Brad Rempel-USA TODAY Sports
Why do the Cavs force me to write about them in every single betting guide intro? I hate them, yet I can't imagine a league without them. Who are the Cavs, really? Are we supposed to bet on them tonight? Do we bet against them? Are they better or worse? The one thing I do know is that they can't get any worse against the spread.
Hopefully our panel of experts knows what to do when a team trades their entire roster away, because I for one have no idea. Don't act like you do, either. — Mark Gallant
All info as of Friday morning. Check back during the day and keep an eye on our Twitter handle for any updates.
If there's a specific matchup you want to jump to, click the quick links below. For live spreads and bet percentages, check out this page. Follow the latest injury info on our industry-leading news feed. To get access to our premium betting tools, subscribe here.
LAC-DET | NOP-PHI | CLE-ATL | IND-BOS | DEN-HOU | Rest of Slate
---
LA CLIPPERS AT DETROIT PISTONS (-3.5) | O/U: 221
7 p.m. ET | ESPN
What I'm watching for: No one knows how to scheme you better than your former teammates. But the Clippers don't have the personnel to physically match Griffin. Drummond vs. DeAndre should be a battle, but a wash. What's interesting here is how much more balanced and deeper the Clippers are, especially with the Pistons' injuries. Detroit has been red hot, but their schedule has been filled with teams on back-to-backs and lottery squads.
This feels like a sneaky tough game for Detroit. — Matt Moore
What the metrics say: It's the Blake Griffin Boban Marjanovic revenge game. The Pistons are hot right now, having won five straight and all four with Griffin in town. Their main lineup with him — a combination of Ish Smith-Reggie Bullock-Stanley Johnson-Griffin-Andre Drummond — has blitzed opponents, posting a +9.5 net rating in 150 minutes together. They've primarily done it on the defensive end, holding opponents to just 91.2 points per 100 possessions and a 45.7 percent effective field goal rate. They're cleaning up the boards, which makes sense given the size of Griffin and Drummond, and they've rarely fouled. They will likely come back to earth, but the eye test suggests they do have nice defensive upside and could give Griffin's old team problems tonight. — Bryan Mears
DFS nugget:  Drummond has been an absolute monster recently, exceeding salary-based expectations by an average of 11.96 points on DraftKings over his past 10 games. The addition of Griffin has done nothing but help him from a fantasy perspective, as Drummond is averaging an additional five fantasy points per 36 minutes when sharing the court with his new stud teammate. He's in another great spot today against the Clippers, who have been the third-worst team against opposing centers this season. — Matt LaMarca
Did you know? Including this game against the Clippers, the Pistons have now been favored in five straight games for the first time since November. During their current win streak, Detroit has a net rating of +11.7 (it was -1.2 before the trade). — Evan Abrams
Trend to know: Over the past two seasons, the Clippers are 9-2 ATS when listed as an underdog against the Eastern Conference, covering their past four games against the East since December 1. — Evan Abrams
---
NEW ORLEANS PELICANS AT PHILADELPHIA 76ERS (-5) | O/U: 219.5
7 p.m. ET
What the metrics say: The Pelicans, unlike the Pistons, are in a tail spin, having lost four of their past five games. It's been ugly without DeMarcus Cousins, and they've been particularly bad in the areas he excels: On the boards and at the free throw line. They've grabbed more than 20 percent of their misses just once since he's been gone, and in their last game against the Jazz they had a putrid 8.2 percent free throw rate. Philly is a young up-and-down team, but the 76ers are elite defensively, ranking fifth in points/100 allowed and second in effective field goal percentage allowed this season. If the Pels are limited to just one difficult opportunity per possession, they could struggle to put up points. — Bryan Mears
DFS nugget: Joel Embiid is currently questionable for today's contest, and his absence would create a lot of DFS appeal on both sides of the ball. The 76ers' defense has been awful this season with Embiid off the court, allowing an average of 111.5 points per 100 possessions. Anthony Davis, Jrue Holiday, and Rajon Rondo would all see nice bumps to their fantasy stock if he were to sit out. For Philly, Dario Saric has been the biggest beneficiary when Embiid has sat this season. He's averaged more than 35 DraftKings points per game in 11 contests, resulting in an average Plus/Minus of +11.90. — Matt LaMarca
Trend No. 1 to know: The Pelicans lost to the Jazz 133-109 on Monday, and thanks to a leaky roof, the team didn't play on Wednesday and has had four days off. Well-rested teams (four or more days) after a blowout loss (20 or more points) have gone 61-73 (45.5%) ATS since 2005. — John Ewing
Trend No. 2 to know: In the Pelicans' 53 games this season, the over is 31-21-1 (59.6%) — the highest over rate in the NBA. No other team in the league has an over win-rate even five games above .500. — Evan Abrams
CLEVELAND CAVALIERS (-2) AT ATLANTA HAWKS | O/U: 214.5
7:30 p.m. ET
What I'm watching for: Did you ever wonder what it would be like if LeBron was on a lottery team? Because this is what this is going to look like. None of the reinforcements have arrived and Kevin Love is hurt. LeBron's going to play a lot of minutes, J.R. Smith's going to take a lot of shots . . . and still they're favored, because the Hawks have built a foolproof tank plan. — Matt Moore
What the metrics say: It's hard to point to any metric when the Cavs have remade their entire team. The Cavs' second-most used lineup this year — a combination of Isaiah Thomas-JR Smith-LeBron James-Jae Crowder-Kevin Love — has just two healthy players left. That might not be a bad thing, however: That lineup scored only 96.7 points/100 and posted an embarrassing -20.3 net rating. The Cavs trading away their highest-usage players (Thomas, Dwyane Wade, and Derrick Rose) will only increase LeBron's ceiling in DFS. James is at his best when he has the ball in his hands and surrounded by shooters, and he'll get at least one intriguing 3-point specialist in crunch time in Rodney Hood, who is shooting 38.9 percent from beyond the arc this year. The Cavs are never boring. — Bryan Mears
DFS nugget: It's almost impossible to know what the Cavs will look like after trading away half their roster, but they do figure to be pretty shorthanded tonight against a poor defensive team. Jose Calderon, Cedi Osman, JR Smith, Kyle Korver, Jeff Green, and Tristan Thompson are all projected to play at least 28.2 minutes, and none are priced above $4,700 on FanDuel. Of course, the biggest beneficiary of the Cavs' moves should ultimately be LeBron, who has averaged approximately 55 fantasy points per 36 minutes with Thomas and Love off the court this season. — Matt LaMarca
Trend No. 1 to know: Sell high on the Cavs. Since LeBron returned to Cleveland, betting against the Cavs after a win has been profitable: 102-84-4 (55%) ATS, and 21-9 ATS this season. — John Ewing
Trend No. 2 to know: The Hawks (17-37) are bad, which could be good for Cavs bettors. Since LeBron returned to Cleveland, the Cavs are 37-21 (64%) ATS vs. teams with a win rate of .333 or worse. — John Ewing
Trend No. 3 to know: Take the trend above with a grain of salt. This year, Cleveland is 2-16 ATS (11.1%) vs. teams with a win rate of 40 percent or fewer, failing to cover the spread by an average of 8.4 PPG. The Cavs are 0-12 ATS as favorites of nine or more in this spot. — Evan Abrams
---
INDIANA PACERS AT BOSTON CELTICS (-4) | O/U: 204
7:30 p.m. ET
What I'm watching for: Indiana's defense has lost the coil lately, and they have to get that back together or the Celtics will tear them to pieces. They're going to show hard on Kyrie Irving pick-and-rolls with wings and drop with Myles Turner, so expect Al Horford to have space to operate. Kyrie's defense has laxed the last month, but the Pacers are without Darren Collison. Lot of weirdness in this one. — Matt Moore
What the metrics say: These teams have met twice this year, both going to Boston on the road. Indiana struggled to stop the Celtics, posting defensive ratings of 115.2 and 116.7, and things would've been worse if Boston hadn't been sloppy with the ball. That said, it's likely Boston got a bit lucky, as well: The Celtics hit a whopping 61.5 percent of their 3-pointers in their most recent game. Marcus Smart, who's not a good 3-point shooter, went 4-for-4. Boston's defense is too good for Indiana to overcome that sort of barrage, so they'll have to be on their defensive A-game to keep this one close. — Bryan Mears
DFS nugget: Victor Oladipo will probably fly a bit under the radar tonight, especially considering his brutal matchup with the Celtics. That said, he has exceed salary-based expectations in each of his past two games, and his current $8,000 salary on DraftKings is his lowest price tag in nearly two months. His Bargain Rating of 99 percent is the top mark among SGs on today's slate. — Matt LaMarca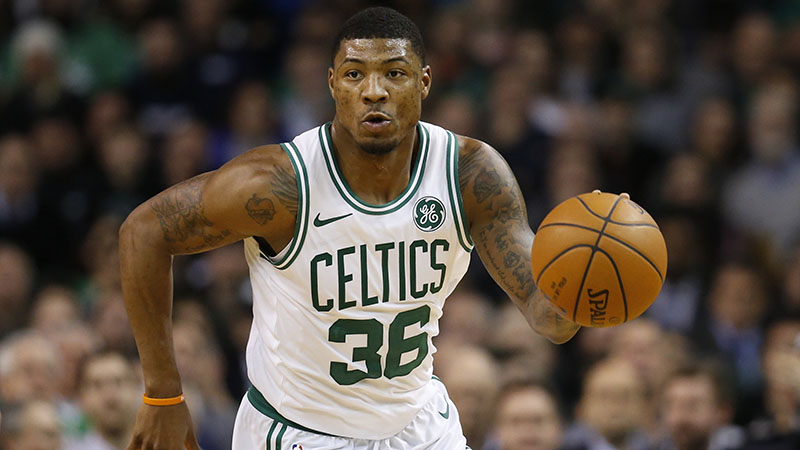 Trend No. 1 to know: Under Stevens, the Celtics are 52-30-1 ATS (63%) on a back-to-back. That said, most of the damage came in his first two seasons, when they went 28-9-1 ATS (76%). They're 24-21 ATS the past three years. — John Ewing
Trend No. 2 to know: Brad Stevens will coach is sixth career game for the Celtics after an overtime game on a back-to-back. The Celtics are 3-2 SU (have won three straight) and 4-1 ATS in those five games under Stevens. — Evan Abrams
---
DENVER NUGGETS AT HOUSTON ROCKETS (-8.5) | O/U: 223
8 p.m. ET
What I'm watching for: Denver's offense has been popping since Michael Malone stopped calling as many plays. Devin Harris likely won't play, so they'll be short on backcourt availability. Clint Capela's going to have a field day on lobs; Nikola Jokic's defense on those has gone downhill after a good start. Torrey Craig is fighting to get Denver to clear a roster spot for him, so he may go at James Harden extra hard defensively. — Matt Moore
What the metrics say: In their only meeting this year, the Rockets blew out the Nuggets 125-95 at home. It was utter domination: Denver scored just 80.7 points/100, compared to Houston's 135.7 points/100. The Rockets posted a 74.2 percent eFG%, and they hit 46.0 percent of their 3s. It will be interesting to see if the Nuggets will improve simply by not playing bad players anymore (I'm looking at you Emmanuel Mudiay, who Denver traded at the deadline). One of their main lineups — a combination of Will Barton-Jamal Murray-Gary Harris-Wilson Chandler-Nikola Jokic — has killed teams, posting a net rating of 22.8. But the room for error is really small against a team like Houston.  — Bryan Mears
DFS nugget: James Harden is in a pretty intriguing spot today. On one hand, the Rockets lead the slate with an implied team total of 115.25, and Harden has averaged a Plus/Minus of +4.58 with a comparable implied team total and salary over the past two seasons. On the other hand, the Nuggets have actually been pretty tough against opposing SGs this season, resulting in an Opponent Plus/Minus of -0.36 for Harden on FanDuel. He'll likely be a popular option on a day with tons of value, but this spot is far from a slam-dunk. — Matt LaMarca
Trend No. 1 to know: Well-rested (four or more days between games) road teams like the Nuggets facing a good (60 percent or better win rate) conference opponent have gone 77-56-2 ATS (58%) since 2005. — John Ewing
Trend No. 2 to know: The Nuggets' home/road splits against the Western Conference this season are alarming:
At home: 15-3 SU, 12-5-1 ATS

On road: 3-14 SU, 6-10-1 ATS — Evan Abrams
Quick Hits on the Rest of the Slate
Bucks at Heat (-1) | O/U: 198.5
8 p.m. ET
Three simple words: Dwyane. Wade. Back. — Matt Moore
Miami (29-26) has lost five in a row. Teams with a winning record on a long losing streak of five or more games have gone 39-25 SU (60.9%) and 32-32 ATS in the next game since 2005. — John Ewing
The Bucks are 7-1 SU and 5-3 ATS under Joe Prunty. Milwaukee has a net rating of +12.1 during that span — the third-best mark in the NBA. The biggest improvement for the Bucks has been their defense. Their defensive efficiency was 107.5 (T-24th) under Jason Kidd; under Prunty, it is 97.2, best in the NBA. — Evan Abrams
Hornets at Jazz (-6) | O/U: 205
9 p.m. ET
Over the past two seasons, the Hornets are 8-17 SU and 8-15-2 ATS on a back-to-back. Charlotte ranks among the league's bottom-three both SU and ATS in the spot. — Evan Abrams
Wolves (-7.5) at Bulls | O/U: 215.5
9:30 p.m. ET
DFS nugget: Don't sleep on Zach LaVine. He's averaged 1.13 fantasy points per minute since returning from injury and has played more than 31 minutes in back-to-back contests. He has plenty of appeal at just $6,100 on DraftKings. — Matt LaMarca
Trend to know: Minnesota scored 138 points in a loss to Cleveland on Wednesday. Teams that have scored 135 or more points in their previous game have gone 69-81-2 ATS in their next contest. Against opponents with a losing record they've gone 22-43 ATS (34%) since 2005. — John Ewing
Please: This has nothing to do with the game, but the Wolves should not sign Derrick Rose under any circumstances whatsoever. — Matt Moore
Blazers (-5) at Kings | O/U: 207
10:30 p.m. ET
DFS nuggets: Zach Randolph has gotten some extra burn recently with Skal Labissiere sidelined, and he's taken advantage by exceeding salary-based expectations in five of his past six games. He's been super productive this season, averaging 1.1 fantasy points per minute, and his current $5,700 salary on DraftKings comes with a Bargain Rating of 95 percent. — Matt LaMarca
Trend to know: The Blazers are on a back-to-back and playing their fifth game in eight days. This brutal stretch of games earns Portland a score of 8.5 from ESPN's schedule alert model. Over the past two years, fading teams with a score of 8.5 or higher has gone 15-6 (71%) ATS. I went more in-depth on this trend here. — John Ewing
Top photo via David Richard-USA TODAY Sports