Pelicans-Blazers Deep Dive: Portland Lacks a Brow-Stopper
There's no denying Anthony Davis is a generational talent, but the young unibrowed man doesn't exactly have a playoff resume worth bragging about. He's sort of like the Mike Trout of basketball. In his first five seasons, he made the playoffs just once and was swept in the first round. Something has to be done about that.
We know Dame is no stranger to the playoffs.
What do Damian Lillard, C.J. McCollum and Co. have to do to fend off AD? — Mark Gallant
---
Odds 
Series: Blazers -220, Pelicans +180
Game 1 (Saturday at 10:35 pm ET): Blazers -5.5, Over/Under of 217
---
What's Happening on the Court
By Matt Moore
The Pelicans push the ball, but they're not actually good at it: They're 20th in transition points per possession, via Synergy Sports. They're sixth in fast break points per 100 possessions, but all that means is they up the tempo, playing at the fastest pace in the league.
In a playoff series, you expect things to be slower. Those trends have started to reverse in recent years, with teams playing more quickly more consistently, but a slowdown is still something to expect. That's especially true against Portland, which is excellent vs. the break, ranking 11th in points allowed per possession. That might actually help New Orleans, though. The Pelicans are fifth in half-court offense and are top 15 in both spot-up and pick-and-roll play.
Anthony Davis has to absolutely punish Portland and has to have a huge series, even above standard expectations for an All-Star. The Jusuf Nurkic-Brow matchup is fascinating. With Nurkic on the floor, Davis scored 31 points per 36 minutes, shooting 69% from the field with 9.1 rebounds. But the Pelicans scored just 100.6 points per 100 possessions with Nurkic on the floor and were outscored by 5.0 points per 100 possessions.
Basically, the rest of the Pelicans have to step up around Davis.
Nurkic trying to guard Davis in space is a nightmare. The Blazers keep Nurkic tethered to the paint to keep him effective at defending the rim. But Davis' mobility creates havoc:
And, without Nurkic, there's no rim protection against him:
The Pelicans' issues otherwise were about turnovers and a lack of attention to detail. These two teams match up well on paper. The little things are what made the difference in the regular-season meetings, and those will decide this series as well. This is a much closer series than the seeding indicates.
---
Advanced Metrics Breakdown
By Bryan Mears
The Blazers are the 3-seed, although I don't think much separates them from their 6-seed counterpart either in talent or resume. In fact, I think there's a solid case that the Pelicans are a better squad right now. The Blazers have a slightly better team net rating (+3.4) than the Pels do (+3.1) since the New Year, although that mark overvalues them without Moe Harkless, who is going to miss at least the first part of the series with a knee injury. It's not like he's been a world-beater this season — the Blazers have actually been 2.5 points/100 worse with him on the floor on the season — but he is shooting 41.5% from 3, and most importantly his presence means fewer minutes for Evan Turner.
Per Cleaning the Glass, the Blazers have been 9.1 points/100 worse with Turner on the floor this season, which is by far the worst mark on the team and one of the worst ones in the playoffs. They've posted an effective field goal rate 3.6% worse (10th percentile), which is discouraging as Portland already ranks a rough 25th in eFG%. The Blazers are literally the worst team in the league this season in field goal percentage at the rim, so when you combine the poor gravity thanks to Turner with poor performance at the rim, the result is a stinky, clogged toilet-like offense. If Harkless returns, things get more interesting, but I'll be buying the Pels at a plus number until then.
---
Locky's Betting Analysis
By Ken Barkley
This was an interesting opener to monitor, as Portland quickly went from -180 to -210 within hours of the series prices being released. If you consider the teams about equal, Portland's home-court advantage probably makes the price about right in that area.
This is also a slightly tougher series to handicap because the Pelicans had DeMarcus Cousins for three of the four meetings during the season, so they are basically irrelevant to the basketball we will see the next couple weeks. That leaves us with one in-season meeting, which took place a couple weeks ago. It was a narrow Portland win at New Orleans in which both Lillard and Davis played excellently. Yes, Portland was able to limit the Pelicans' fast break points (holding them slightly under their average), but it's an even smaller sample size than those in the other series, so I'm not sure how much can be drawn from that one game, if anything.
As a gambler, one of your greatest weapons is the ability to pass (something the sportsbooks can't do; they need to price everything of significance). To me, there's so much uncertainty here, and the price is basically just reflective of the team that has home court, so passing is my vote. (If you were to happen to come by some information about Stephen Curry's status for the second round, though, and it didn't look good … first of all, email me immediately. But also, you could grab Portland at a massive price to win the West, as the Blazers have played very competitively against the Warriors all season.)
---
Notable Matchups and DFS Spin
By Chris Raybon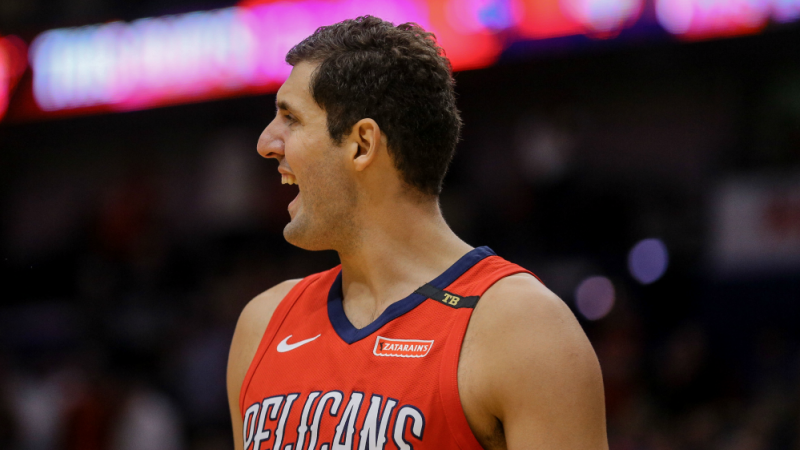 Photo credit: Derick E. Hingle-USA TODAY Sports
It's an understatement to say Nikola Mirotic is on fire right now. Mirotic is so hot he could drain a 3 in Portland all the way from his native Montenegro in Southeastern Europe. He's shooting 49-of-87 (56.3%) over his past five games, including 20-of-43 (46.5%) from 3. This presents a conundrum for Portland, because playing Mirotic at the 4 forces Nurkic into a different defensive assignment than he's had for most of the season series. Nurkic spent 134 of his 210 defensive possessions against Boogie Cousins, but if he's forced to guard Davis at the 5 instead, things could get ugly. Nurkic guarded Brow on only 25 possessions this season, and the Pelicans were 9.3 points per 100 possessions better than Portland in those situations, as Brow shot 8-of-11 (72.7%) while increasing his shot attempt rate by 71.8%. Al-Farouq Aminu did a far better job on Brow — the Pelicans were 2.5 points per 100 possessions worse than Portland in that scenario — but Aminu will be needed to stick to Mirotic.
When these two teams last played on March 27th, Mirotic logged only 20 minutes while dinosaur Emeka Okafor played 15, allowing Nurkic to spend almost half of his time on the court guarding the washed-up big while Aminu was on Brow for the majority of his possessions. But Okafor's playing time has dwindled lately; he hasn't played more than six minutes in any of the Pelicans' past five games. And when Nurkic did end up on Brow in that last game, it wasn't pretty: Davis scored 14 points in just 17 possessions en route to 36 points. Portland's expected starting five of Lillard, McCollum, Turner, Aminu and Nurkic was its most-used five-man lineup against New Orleans this season, and that lineup scored seven fewer points per 100 possessions than the Pelicans did while it was out there.
Even though Brow has mostly been a DFS fade on the road — he averages 56.28 DraftKings points per game at home but 'just' 50.28 on the road — he has monster upside against a Portland team that will have to make some difficult decisions on defense.
---
Betting Trend to Know
By John Ewing
Road teams that didn't make the playoffs the year before (such as the Pelicans) facing an opponent that did in the first round have gone 71-45-4 (61%) ATS since 2006. In the first game of the series, the road team has gone 22-9 (71%) ATS in that situation.
---
Picks
Barkley: Blazers in 7
Raybon: Pelicans in 7
Mears: Pelicans in 6
Moore: Pelicans in 6
---
Pictured above: Anthony Davis
Photo credit: Jaime Valdez-USA TODAY Sports