Sunday NBA Playoffs Guide: Will LeBron Steal Back Home Court?
Credit:
Ken Blaze – USA TODAY Sports. Pictured: LeBron James.
Want to help us make The Action Network better? Take our brief user survey.
Saturday brought us four games all in a row, like little ducks. Not a bad idea if you ask me. How about we do it again Sunday?
Wrong sport, but what the hell?
Fend off the Sunday scaries with some playoff basketball sweat, courtesy of us. Read it and weep, my friends. — Mark Gallant
All info as of Sunday morning. Check back throughout the day and keep an eye on our Twitter handle for any updates.
For live spreads and bet percentages, check out this page. Follow the latest injury info on our industry-leading news feed. To get access to our premium betting tools, subscribe here.
---
GAME 4: BOSTON CELTICS AT MILWAUKEE BUCKS (-5.5) | O/U: 204
Boston Leads 2-1
1 p.m. ET | ABC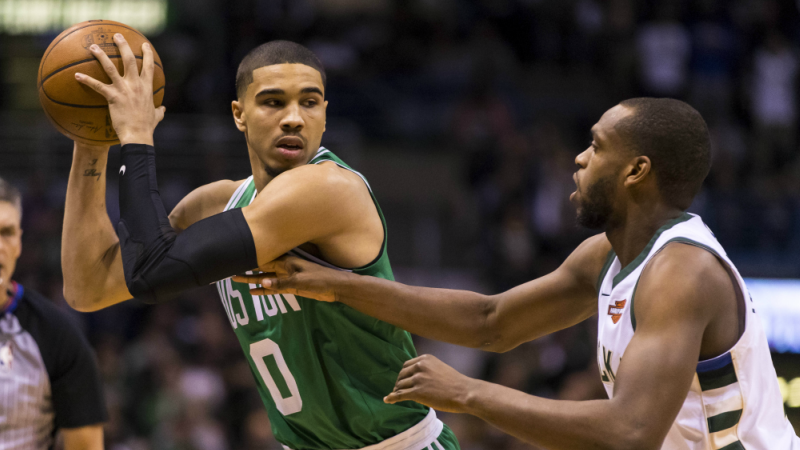 Jeff Hanisch-USA TODAY Sports
What to watch for: The Bucks made eight 3-pointers in Game 1. They made seven in Game 2.
They made 16 in Game 3.
The end.
That's really as simple as it gets. If Giannis Antetokounmpo and Thon Maker go 6-of-8 from deep, the Bucks are going to win. Role players shoot better at home, but let me give you a little context on how the Celtics were scheming those shots from Milwaukee: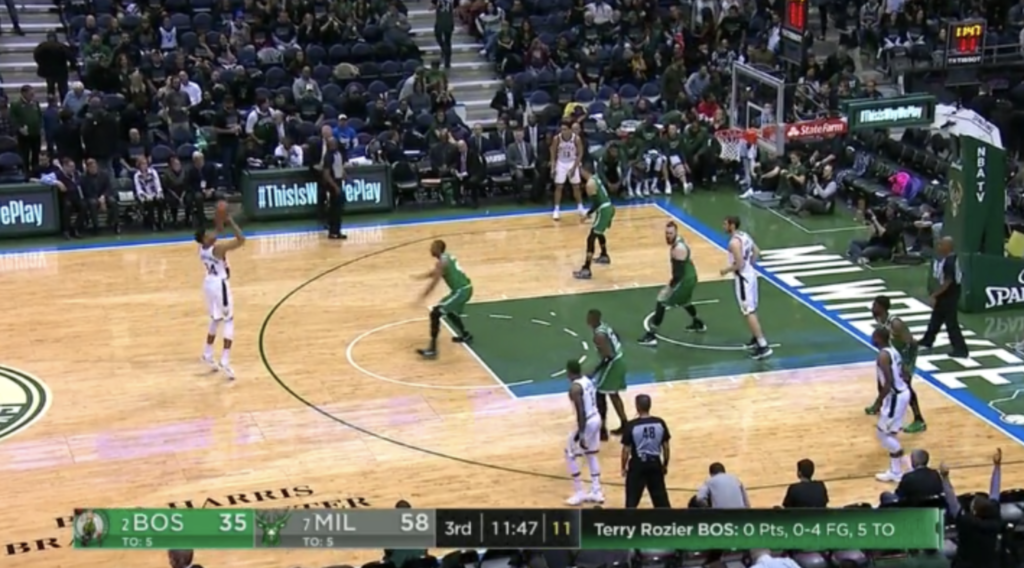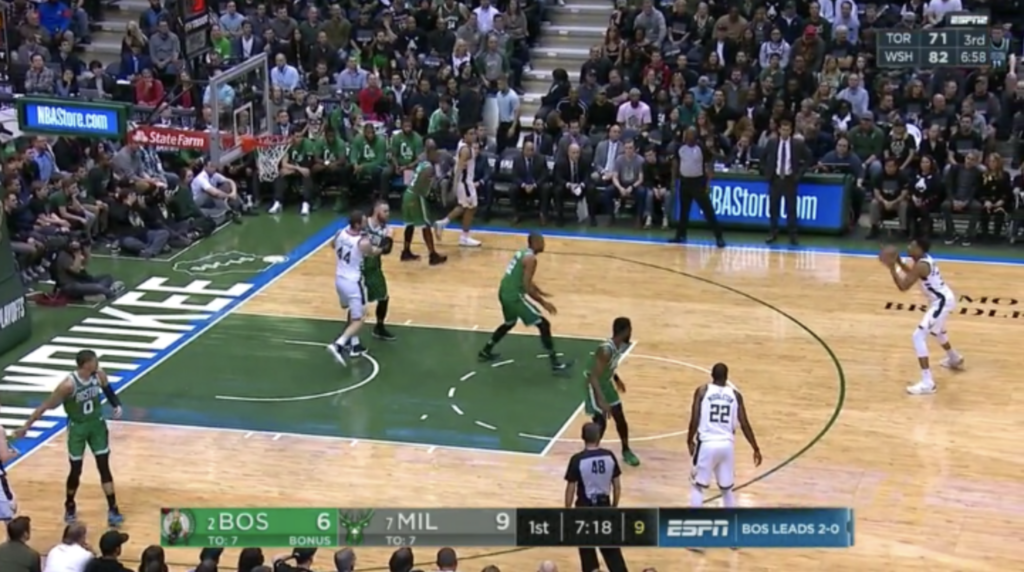 Here, Marcus Morris runs away from Antetokounmpo.
Be prepared for a different approach Sunday, given Brad Stevens' comments after the game:
Asked Brad Stevens that it appeared the Celtics were letting Giannis shoot threes and whether they have to reevaluate that strategy since he's hitting them. He made it clear they want to contest his shots and need to do better, but cautiously to not let him find a lane: pic.twitter.com/F3Zx9Imtuj

— Jared Weiss (@JaredWeissNBA) April 21, 2018
Live bettors will want to look at how Milwaukee is hitting from deep and if the Celtics' approach changes. — Matt Moore
Metrics to know: No John Henson in Game 3 for the Bucks, no problem at all. The Bucks exploded offensively, scoring a ridiculous 133.3 points per 100 possessions and posting an effective field-goal mark of 67.9%. They turned it over on only 10.3% of their possessions and held the Celtics to 104.5 points/100. It was utter domination on both ends of the floor, especially in the half court:

The biggest surprise was the effectiveness of Maker. The main unit for the Bucks, a combination of Eric Bledsoe-Malcolm Brogdon-Khris Middleton-Giannis-Tyler Zeller, didn't do particularly well, scoring just 100.0 points/100 and posting a net rating of -11.7 in eight minutes together. When Maker was in for Zeller, however, things were quite different: With Maker on the floor in Game 3, the Bucks outscored the Celtics by 53.7 points/100. A lot of the main Bucks starters had similar marks, which suggests that when Milwaukee maximizes spacing, whether it's with Maker or even Giannis at the 5, good things can happen. We'll see if that continues in a critical Game 4. — Bryan Mears

Trend No. 1 to know: Over the last two seasons (including the playoffs), the Celtics have gone 18-7-1 against the spread (+10.5 units) after losing their previous game by double digits, covering by more than 2 PPG. During that span, only one coach has been more profitable to bettors in this spot than Brad Stevens (Rick Carlisle). The Celtics have gone 9-3 ATS on the road in this spot over the past two seasons, winning and covering in their past four games heading into Game 4. — Evan Abrams
Trend No. 2 to know: At the time of writing this, 73% of spread tickets are on the Celtics +4.5. Since 2005, playoff underdogs getting 60% or more of spread bets have gone 57-88-5 (39%) ATS. Track live betting percentages here. — John Ewing
---
GAME 4: GOLDEN STATE WARRIORS (-6.5) AT SAN ANTONIO SPURS | O/U: 206
Golden State Leads 3-0
3:30 p.m. ET | ABC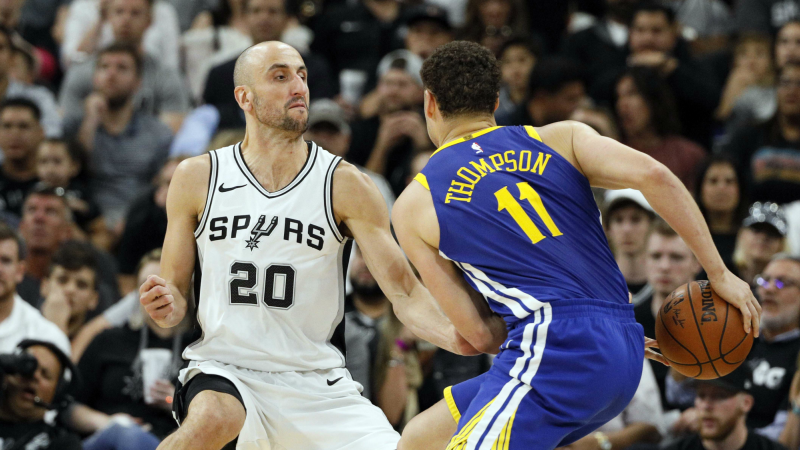 Soobum Im-USA TODAY Sports
Metrics to know: The Spurs are one of the best organizations we have in sports, but they're very outmatched in this series. Put simply, they just cannot get enough offense on the floor to hang with the Warriors. In a do-or-die Game 3 at home, they managed to score at a rate of just 96.6 points/100. They posted an atrocious 43.8% effective field-goal mark and finished a laughable 5-of-28 from the 3-point line. They garnered just 82.5 points/100 in the half court, which is a problem considering they almost never get out in transition.
There are just too many nonshooters on the floor with Kawhi Leonard out of the rotation. The main unit for the Spurs, a combination of Dejounte Murray-Patty Mills-Danny Green-Rudy Gay-LaMarcus Aldridge, was outscored by 17.0 points/100. Unfortunately, short of substituting perhaps Manu Ginobili in for Murray, I'm not sure if the Spurs even have superior offensive units. They aren't doing themselves any favors with their offensive shot profile either: The Spurs rank 27th in frequency of shots at the rim and 26th in frequency from the 3-point line. The combination of poor shooters and a poorly spaced offense is a death wish against Golden State. — Bryan Mears
What to watch for: There's not much left to say about this one, but here's a key metric that plays into what Bryan is talking about. When the Warriors have sent a hard double at Aldridge and he's passed out of it, the Spurs are 3-of-17 from the field. That's brutal inefficiency and shows you the fundamental flaw of this team from a playoff perspective.
Playoff basketball is about either punishing a mismatch or countering the opponents' counter to you. The Spurs can do neither. If you can't punish a team for helping one pass away, you have no shot. There's not much else the Spurs can do to adjust other than "actually make those shots," which they're not equipped to do. — Matt Moore
Betting market: The public is all over the Warriors, as they are getting 80% of bets. Initially, they had gone from -6/-6.5 to -7.5, but there has been some sharp action on San Antonio today. The Spurs received a steam and reverse line move this morning, helping them go from +7.5 back to +6.5. — Mark Gallant
Trend to know: San Antonio is a 6.5-point underdog at home. In 188 playoff games since 2005, the Spurs have been home dogs in five previous games. They went 1-4 straight-up and ATS in those. — John Ewing
Did you know? The Spurs are really struggling, more than they have over the past 20 years. San Antonio has dropped three consecutive home playoff games SU dating back to last year's playoffs — all against the Warriors. In the 21 consecutive seasons San Antonio has made the playoffs, it has never had a four-game home playoff losing streak. In that span, the Spurs have had two previous three-game home losing streaks and won their fourth game SU but failed to cover the spread as the favorite. The Spurs have also dropped four straight home playoff games ATS — something they haven't done since the 2010 and 2011 playoffs.
In the Spurs' last six playoff games, they've allowed the Warriors to shoot over 50% in every game. San Antonio has not allowed a streak of that nature in the playoffs since a streak of seven consecutive playoff games against the Lakers and Nuggets between 1985-1988. In consecutive playoff series in the 1986 and 1988 playoffs, San Antonio faced the Showtime Lakers with Kareem Abdul-Jabbar, Magic Johnson and James Worthy, who won three titles in four seasons — something these Warriors are looking to duplicate. — Evan Abrams
---
GAME 4: TORONTO RAPTORS (-1) AT WASHINGTON WIZARDS | O/U: 217
Toronto Leads 2-1
6 p.m. ET | TNT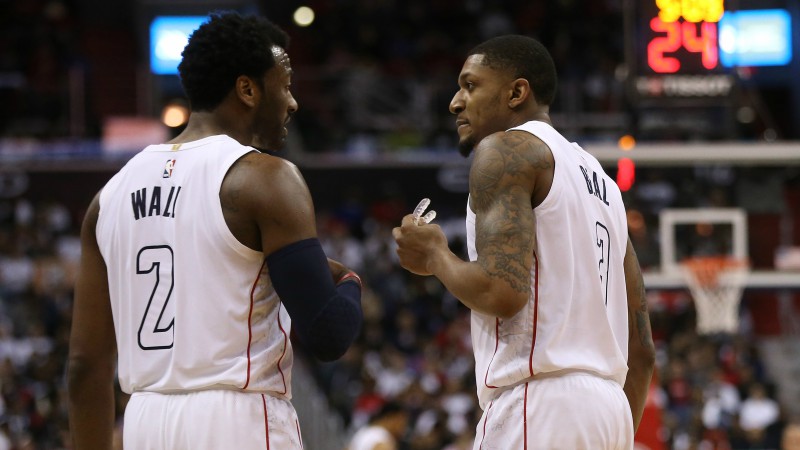 Geoff Burke-USA TODAY Sports
What to watch: Discipline matters. John Wall finished with 28 points in Game 3, and it came on a variety of looks. He made multiple midrange shots, which is always a gamble the Raptors should live with.
But the Raptors also goaltended three of his shots. That's six points they just handed him. Their success in Game 1 against Wall came with contesting him at the rim, but they didn't actually swat the thing. The Raptors have to be more disciplined with not giving up easy points to a player whose success matters so much to Washington.  — Matt Moore
Metrics to know: Something rare happened in Game 3: The Wizards' starters actually played together for extended minutes and found success. That unit, a combination of Wall-Bradley Beal-Otto Porter-Markieff Morris-Marcin Gortat, had been either injured or struggling all season. That reversed the other night: That fivesome got 14 minutes together and posted a stellar +16.3 net rating. They assisted on 64.3% of the field goals in those minutes and posted an excellent 9-1 assist-to-turnover ratio.
The Wizards have long been a better squad at home, and that's especially true this season: They own a fine +2.5 net rating in D.C. versus a -2.3 mark on the road. Role players are typically better at home, and Washington will need those guys to step up yet again to even this series at 2-2. I'd still like to see them get more minutes with Porter and Kelly Oubre at the 3-4 in lineups, as that maximizes spacing, athleticism and even defense around Wall and Beal. Those four guys plus center floor-spacer Mike Scott crushed in Game 3, posting a +30.6 net rating. Can they keep it up? — Bryan Mears
Betting market: The Raptors opened at a pick 'em and had moved to -3 by this morning, but action on the Wizards today has moved the line back to Toronto -1. The most recent indicator of sharp action was a steam move at Buckeye on the Wizards +2, which took place about an hour and 15 minutes before tip-off. — Mark Gallant
Trend No. 1 to know: Wall's home playoff success continued in the Wizards' Game 3 win against the Raptors. Since the 2015 playoffs, Wall is 9-1 SU and 7-3 ATS at home, including winning seven consecutive games SU over his last two playoff campaigns. He's averaging 27 PPG and 11.3 APG with a plus-minus of +73 in those games. — John Ewing
Trend No. 2 to know: The Wizards are currently a home underdog in Game 4. This would be Wall's first career playoff game as a home underdog. Washington played two home playoff games in 2015 as an underdog, but Wall missed those two games with a wrist injury. In the last 20 seasons, the Wizards are 1-5 SU and ATS as a home underdog in the playoffs. — Evan Abrams
---
GAME 4: CLEVELAND CAVALIERS (-1) AT INDIANA PACERS | O/U: 204.5
Indiana Leads 2-1
8:30 p.m. ET | TNT
What to watch for: Cleveland has to start hitting shots. That's an easy and simple factor here. But the Cavs' fourth-quarter defense on Victor Oladipo was baffling, as well.
For three quarters, the Cavs had caused havoc against Oladipo by aggresively blitzing pick-and-rolls and forcing the ball out of his hands, which led to stuff like this happening:
In the fourth quarter, with the Pacers coming back, the Cavs tried to blitz him with hard doubles out of isolations.
This, quite frankly, is madness. When Oladipo comes off a pick-and-roll, he's perpendicular to the sideline. Blitzing the screen requires him read and react, which you can compensate for as a defender if you know how to anticipate the decisions like in the sequence above.
But in isolation, Oladipo is going north-south, and can see the double coming. You want to know why Bojan Bogdanovic was such a Cavs killer in Game 3? It's because of that hard double:
This next sequence may have been the most important of the game. Tie game with just over six minutes remaining. Kyle Korver, who is on the floor because Ty Lue trusts the veteran to make the right decision, brazenly helps one pass away on the strong side. Oladipo easily makes the pass, and Korver, too late to recover, fouls Bogdanovic for a four-point play.
That, my friends, is a disaster.
It's easy in hindsight to say that the Cavs should have known Oladipo would adjust and stop running pick-and-rolls, and that their blitz wouldn't work as well in iso situations. But there does have to be some recognition of the difference in blitzing a pick-and-roll and "running right at a guy, leaving your man wide open in the ballhandler's line of sight."
The Cavs tried this approach in Game 3, and it worked … until it didn't. Be wary of thinking the Cavs have "figured out" something here. It was a gimmick approach, and it honestly may not work again consistently given how Oladipo understands to just attack whatever mismatch he's presented with, since no one on the Cavs can stop him, not even LeBron James. — Matt Moore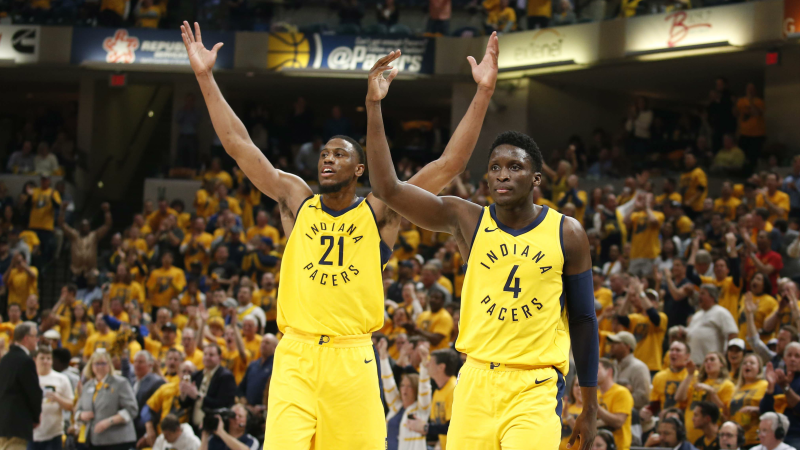 Brian Spurlock-USA TODAY Sports
Metrics to know: James isn't the problem in this series, although that's probably even worse news for the Cavs. If their superstar was struggling, the answer to solving their issues would be simple: Get LeBron engaged. When the issue is, frankly, a mediocre roster, there's not much you can do about that entering Game 4. The main unit of George Hill-J.R. Smith-Kyle Korver-LeBron James-Kevin Love got 18 minutes together in Game 3 and played the Pacers just even, posting a -0.3 net rating. It was a defensive slugfest in those minutes, with the Cavs scoring 89.8/100 and the Pacers scoring 90.1/100.
All that said, it's definitely not time to write off the Cavaliers. There are actionable things they can do to improve. They have been dominating defensively, which is encouraging: They held Indiana to a brutal 74.4 Offensive Rating within the half court in Game 3. That type of defensive effort will win most games. The issue is that the Cavs got beat in transition repeatedly, allowing +7.1 points/100 to the Pacers, who pushed on a ridiculous 20.2% of their possessions. Even if the Cavs' shooting problems don't resolve in Game 4, they absolutely can steal back home-court advantage simply by being more disciplined in transition defense. Of course, knowing this Cavs team, that's anything but a given. — Bryan Mears
Trend No. 1 to know: The Cavaliers have failed to cover the spread in the first three games of this series. A LeBron-led team has failed to cover the spread in the first three games of a series three times in his career prior to this season. The Cavs lost all three series, never even making it to a Game 7 in any of them. — Evan Abrams
2017 NBA Finals vs. Warriors: L, 4-1
2009 Conference Finals vs. Magic: L, 4-2
2007 NBA Finals vs. Spurs: L, 4-0
Trend No. 2 to know: Cleveland is a 1-point underdog. This would be just the eighth time in 58 career first-round playoff games that LeBron has closed as an underdog. His teams went 4-3 SU and ATS in the previous seven games. — John Ewing
Top photo: LeBron James