Game 3 Guide: Golden State Goes for 16 Straight in the Playoffs at Home
NBA Western Conference Finals Betting Guide

Golden State Warriors vs. Houston Rockets
Series Tied 1-1
The Rockets have made it known that they aren't going down without a fight. The deck is still stacked against them, but the Rockets don't play cards. They play basketball.
From two-point favorites in Game 2 to seven-point dogs in Game 3, Houston may be about to learn what an advantage home court is in the NBA playoffs. Obviously, they're going to have to win at least one in the State of Gold to advance. Do they have what it takes or will their amazing regular season be all for naught? — Mark Gallant

GAME 1
Mon. 5/14, 9:00pm ET
Open: Rockets -2, O/U 225
Close: Rockets -2, O/U 225.5
Result: Warriors 119-106
GAME 2
Wed. 5/16, 9:00pm ET
Open: Rockets -2, O/U 224.5
Close: Rockets -1.5, O/U 225
Result: Rockets 127-105
GAME 3
Sun. 5/20, 8:00pm ET
Open: Warriors -7, O/U 227
Close: TBD
Result: TBD
GAME 4
Tue. 5/22, 9:00pm ET
Open: TBD
Close: TBD
Result: TBD
Game 3 Guide: Golden State Goes for 16 Straight in the Playoffs at Home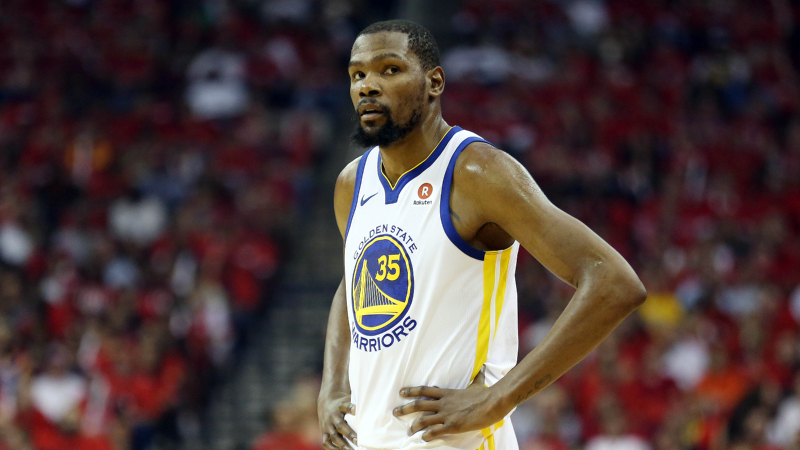 Thomas B. Shea-USA TODAY Sports
Locky: Are the Warriors Due for a Vintage Defensive Performance?
By Ken Barkley
I warned everyone beforehand that I would be near dormant this entire series, and degenerates everywhere are once again going to be disappointed. Not even a lean on the spread. I'm just the worst.
I think this number (the Warriors are 7.5-point favorites per Bookmaker.eu as of Friday evening) is excellent. It's basically what I thought the number would be. It's basically what I thought the number should be. Yes, I think Golden State wins the game a high percentage of the time, but of course that is reflected in the moneyline for each team.
Where is the edge? You want to back Houston off its A++ game, now traveling to a face a team with a significant home-court advantage? You want to back Golden State already getting a ton of credit and with Stephen Curry clearly not 100% (and the team needing at least two of Curry/Kevin Durant/Klay Thompson to score significantly to win any game this series?) Again, not a lot to like.
OK, fine, you want a lean? The total has stayed in the same range throughout the series, hovering between 225-226.5 in all three games. Following Houston's strong offensive output in Game 2, which should regress a little, and with the possibility that the well-rested Warriors may give you one of their classic defensive performances, of which there have been a couple in the playoffs already, I'll lean under at 226.5. A strong defensive showing from Golden State is seemingly more likely than in most other times this postseason.
Houston's Defense Remains the Most Important Factor in the WCF
By Bryan Mears
A lot of people will look at Houston's offensive performance in Game 2 as the reason James Harden and co. won. And it was impressive, no doubt: The Rockets scored at a rate of 129.7 points per 100 possessions and posted a 62.8% effective field goal mark. Those are both in the 93rd-plus percentile of all games this season. The Rockets were very much themselves in this one, playing Moreyball exactly as it was envisioned.

They hit eight corner-3s — the most efficient shot in basketball — but, more importantly, they took 12 of them. Twelve! It's unlikely a smart team like Golden State will allow that to happen again, but it's encouraging for Rockets backers nonetheless. I saw a lot of people comment that Trevor Ariza and P.J. Tucker won't shoot like that again — but I bet you they will if the Warriors leave them wide open for corner-3s. Even Stuckey could make those.
But I buried the lede here. The real story in Game 2, and the story that is most important for this series and ultimately the 2018 title, is Houston's defense. Again, it's not even really about percentages here; rather, look at the shots they forced. Sure, Klay Thompson will likely shoot better than the 27.3% from the field he posted in Game 2, but his shot quality was much worse in that game than in the series opener. In Game 1, Klay had 18 total shots, and a ridiculous 15 of them were 3-pointers. In Game 2, he had 11 shots and four 3-pointers. I don't know what the exact correlation between Klay getting up 3s and the Warriors winning is, but I would guess there's a notable relationship there. When they're rolling, Stephen Curry is bending offenses with his gravity, and Klay Thompson — one of the best shooters of all time — is somehow getting open catch-and-shoot opportunities.
There's also a correlation between the Rockets offense discussed above and Klay's efficiency (and thus the Warriors' efficiency). When the Rockets offense is doing what it's supposed to, Tucker, Ariza and Luc Mbah a Moute can remain on the floor. And that means they can use their length on the wing to disrupt the Warriors' shooters. This is the beauty of basketball: Everything is connected. It's not as simple as Klay shooting better or the Rockets regressing on offense. All of these things are interconnected, and, at least for one game, Houston found an equation that worked.
Game 3 Trends from John Ewing and Evan Abrams

The Warriors will have four days to get the bad taste of the Game 2 loss out of their mouths. Golden State can hit the reset button, and historically it has been profitable to bet well-rested (four or more days between games) home teams in the playoffs: They're 95-58 (62%) against-the-spread since 2005.
I know what you're thinking: Yeah, but the Rockets are well-rested too. That hasn't mattered: If the opponent has also not played for four or more days, the home team is still 75-45 (62%) ATS.
Here's a rest trend specific to Golden State: Under Steve Kerr, the Warriors are just 6-9 ATS with both teams on at least four days of rest, failing to cover the spread by 4.8 PPG. It's likely because they've on average been favorites of 7.1 points.
After a playoff loss under Steve Kerr, the Warriors have gone 12-5 straight-up and 10-7 ATS. As favorites of six or more points (like they are in Game 3), the team has gone 9-0 SU and 7-2 ATS.
The Warriors are hard to beat at home under Kerr in the playoffs. Golden State is 35-5 SU and has won games in Oracle by 11.9 points on average. The team currently owns a 15-game home winning streak in the postseason, last losing to the Cavs in Game 7 of the 2016 NBA Finals.
The Rockets opened as seven-point underdogs against the Warriors in Game 3. Under Mike D'Antoni, Houston has opened as an underdog of at least seven points five times: The Rockets have gone 3-2 SU and 4-1 ATS in those, with their last three games in this situation coming against the Warriors. (The Rockets are 2-1 SU and ATS in those.)
Did You Know? The Rockets edged the Warriors in field goal percentage in their Game 2 win. In 26 meetings between the Warriors and Rockets since 2014-15 (Steve Kerr's first season), including the playoffs, this was just the third time Houston topped Golden State in that category. In Houston's next game against Golden State in the other two instances, they lost by 14 and 17 points:
12/1/16: Rockets win in double-OT at Golden State
5/25/15: Rockets win Game 4 of the 2015 Western Conference finals, their only win in the series