Wizards-Raptors Series Preview: Why Washington Has a Shot
Toronto with the No. 1 seed over Cleveland and Boston: who would've thunk it? Any of you readers? Screenshots of the ticket or it didn't happen.
Toronto's been quietly great all season long and the Raptors hope they can eventually prove the haters wrong by redeeming themselves against the Cavs. First, however, they have to get by the Wizards. Washington managed to get the 8-seed despite a half season out of John Wall. Are the Wizards a threat now that he's healthy? Is it possible that a No. 8 seed could upset a No. 1 seed in basketball??? Probably not, but let's take a look. — Mark Gallant
---
Odds (via 5Dimes)
Series: Raptors -650, Wizards +475
Game 1 (Saturday at 5:35 pm ET): Raptors -8, Over/Under of 211
---
What's Happening on the Court
By Matt Moore
Evaluating this series without Wall is a huge pain in the ass. He just fundamentally changes everything on the floor when he goes 100%. However, a couple things to keep in mind:
Wall hasn't been 100% at any point this season. Last season was the best one of his career. This season, he just hasn't been the same, which was what led to another knee procedure.
As a result of these struggles, his defense just hasn't been the same, either.
Everyone's questions are about that Raptors bench — the best in the league — and how much it will play. Dwane Casey is pretty firmly on record saying he's not going to go away from the bench with how good it's been this season. That's huge, because with Fred VanVleet on the floor the Raptors were a +31.6 with a net of +46.8 on versus off against Washington in the regular season.
If that sounds like a lot, it was. Much of that came with Tomas Satoransky, who has been excellent this season, on the floor. FVV is able to blow by him, and when he does, the Wizards' rotations go to pieces:
This is the big test. If Casey sticks to his guns, and plays his reserves as much as he says he will, Toronto will win this matchup. Washington's bench has been better this season than last, but the Wizards' reserves are outgunned by what the Raptors bring to the table.
That said, even with all the cold hard evidence presenting itself toward Toronto, be wary. The Raptors have earned caution from everyone who might consider backing them in any playoff capacity.
---
Advanced Metrics Breakdown
By Bryan Mears
Given Wall's injury, it's hard to trust any of the matchup data from the regular-season series. It was competitive — they split 2-2 — but Wall didn't suit up for a single minute. With him on the floor this season, the Wizards have been 5.4 points better per 100 possessions, including 4.1/100 specifically on offense. They shoot 2.0% more at the rim (which is a significant number), and they make 6.2% more shots there. They add 4.1 more points/100 in transition, and it's possible that understates his impact in that regard: Over the 2016-17 season, the Wiz added a ridiculous 10.9 points/100 in transition with Wall on the floor. It's been trendy to say this season that Washington has been fine without its floor general, but I'm not buying it. Things are just easier when Wall has the ball in his hands.
That said, this is a tough matchup for the Wiz. The Raps are just a ridiculously efficient defense, ranking second in field goal percentage allowed at the rim and behind the arc. They're fifth in half court defensive efficiency and second in transition defense. Even if Wall is healthy and gets the Wizards rolling like they were at times last season, the Raptors are still the superior team.
The million-dollar question, of course, is how much the Raptors bench will matter in this series and in the playoffs in general. Their starters are good, don't get me wrong: That unit ranks fourth in the league with a +7.1 net rating. But the bench is dominant, ranking first by quite a bit with a ridiculous +8.3 net rating. In fact, among five-man units this season with at least 200 minutes played, the bench unit of Fred VanVleet-Delon Wright-C.J. Miles-Pascal Siakam-Jakob Poeltl ranks in the top five with a +17.1 net rating. The question is whether that success will continue as teams play their starters more. If it does, Toronto should rightfully be the favorite to come out of the East.
---
Locky's Betting Analysis
By Ken Barkley
I'm interested in Wizards +475, as well as Wizards +1.5 and +2.5 games in the series (if those props end up being released again this year). You have a team in Toronto whose statistical profile is getting worse as the season goes on, entering a time of the year when the Raptors' strengths (depth, consistency) are more marginalized. They are historically one of the worst teams to back in first-round situations, and their opponent here has a higher ceiling than an average 8-seed and a much higher ceiling than you see with price disparities of this size.
The four regular-season games between these teams were fascinating. None of them was part of a back-to-back for either team, so the results are a little more, shall we say, authentic. Washington covered twice, winning outright both times, and doing so in both without Wall. The complete unknown of how these teams match up with Wall on the court and very high stakes make these prices very appealing. Given the Raptors' propensity to play atrociously in Game 1s, this is also a price that you could more likely end up hedging in a lot of early series situations, with the Wizards up 2-1 or 3-1 after they split the two games in Toronto.
One other thing to consider: Three of the four games this year went under the total (which closed in the 210-215 area each time), and, in the fourth game, there were 19 points in the final 1:45 and 14 in the final 37 seconds. That's obviously quite rare. They've opened the total at 211 for Game 1, and I will most likely be taking the under. I was also going to grab Washington +8 in Game 1, but with losing Jodie Meeks to suspension and Otto Porter/Mike Scott still questionable, I will wait and play Washington later in the series.
---
Notable Matchups and DFS Spin
By Matt LaMarca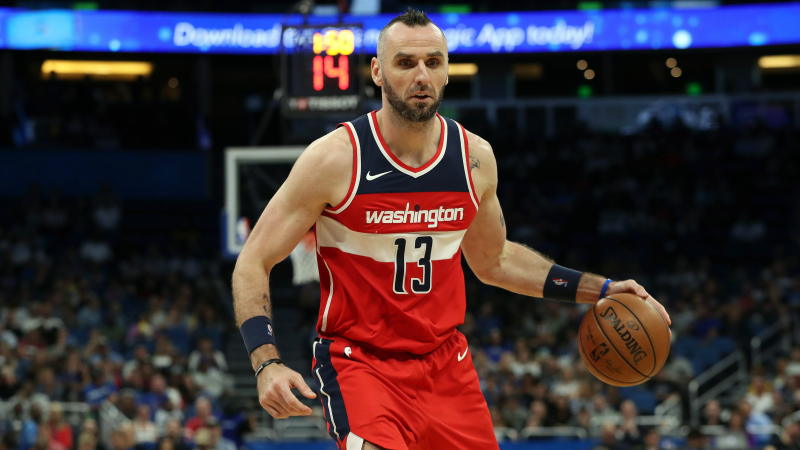 Kim Klement-USA TODAY Sports
This matchup theoretically sets up perfectly for the Wizards. The Raptors have relied on their depth for the majority of the season, which shouldn't be as big of a factor in the postseason. On the other hand, the Wizards starting lineup has been excellent, but the team's overall record has been affected by injuries and a lack of depth. Washington's starting lineup has posted a net rating of +6.1 this season, and replacing Markieff Morris with Kelly Oubre increases the net rating to +14.0. Oubre will likely see tons of minutes in the postseason, but the Wizards would be smart to limit those against DeMar DeRozan. The Toronto wing has averaged an additional +11.4 points per 100 possessions against Oubre than he did against the rest of the league.
Marcin Gortat could be an interesting X factor. He's been effective this season on a per-minute basis but has averaged just 25.3 minutes per game. He presents specific matchup problems for the Raptors, who have averaged 10.2 fewer points per 100 possessions with him on the floor this season. Banking on him to see a few extra minutes in this series could be wise from a DFS perspective. Ultimately, if the Wizards can survive by playing their core seven guys the majority of the minutes — their five starters plus Oubre and Satoransky — they have a chance to pull off the upset.
---
Betting Trends to Know
By John Ewing and Evan Abrams
Since 2007, Toronto is 0-9 straight-up and against-the-spread in Game 1s, failing to cover by 12.2 points per game. In that same time frame, fading the Raps in the first round has been profitable, with bettors going 23-10-2 (70%) ATS.
In two seasons with the Wizards, Scott Brooks is 5-11 ATS (31.3%) on the road against opponents with a win rate above 60%. He's 0-4 ATS in the playoffs, failing to cover the spread by 9 PPG.
---
Picks
Barkley: Wizards in 7
LaMarca: Wizards in 7
Moore: Raptors in 6
Mears: Raptors in 7
---
Pictured above: Bradley Beal and Kyle Lowry
Photo credit: Brad Mills-USA TODAY Sports