Sunday NBA Betting Odds, Game 4 Preview, Prediction for Nets vs. Bucks: Is Milwaukee's Offense Going to Show Up? (June 13)
Credit:
Stacy Revere/Getty Images. Pictured: Jrue Holiday.
Milwaukee looks to even the series against Brooklyn on Sunday in the Game 4 matchup.
The Bucks and Nets put together a putrid offensive performance last time out, and oddsmakers have responded accordingly by lowering the total.
Brandon Anderson breaks down below whether or not he expects the shooting to pick up in this Game 4 showdown.
Nets Odds
-2
Bucks Odds
+2
Moneyline
-127 / +107
Over/Under
229
Time
Sunday, 3 p.m. ET
TV
ABC
Odds as of Saturday and via DraftKings
It may or may not have qualified as "basketball" on Thursday night, but a win is a win as far as the Bucks are concerned, and Milwaukee kept its hopes for the season alive with an ugly 86-83 win over the Nets that would've made even the most fervent fans of 90s basketball blush.
Jrue Holiday scored the go-ahead layup with 11 seconds remaining, and the Bucks held on to win as the teams combined for just 37 points combined in the final stanza. Both teams shot below 38% from the field, and the two combined to make just 14-of-63 3-point attempts, a close-your-eyes-awful 22%.
Still, the playoffs are about surviving and advancing. Had Milwaukee lost this one and gone down 0-3 to the Nets, that was curtains for Milwaukee's season and, probably, this version of the team. Sports have a funny way of penalizing teams that don't put opponents away, and suddenly as poorly as the Bucks have played all week, they can tie this thing up at 2-2.
James Harden is out again, so we should see the same teams from Game 3. Did the Bucks find some answers in Thursday night's insult to rock fights, or can Brooklyn regain control and push Milwaukee to the brink?
Nets Were Awful And Still Almost Won
It was a horrendous performance by the Nets in particular on Thursday night, who played as if they wondered what it would be like to just not try for an entire first quarter even without their MVP candidate and see if they could still win. And by God, they almost did it too.
The Nets scored just 11 points in the opening quarter. Heck, they had 18- and 23-point quarters too, and this for a team that has scored 130 points 15 times already this season, including twice in the playoffs. An 11-point quarter is a 44-point pace for an entire game. Even a 23-point quarter would put the Nets on pace for 92 points, far short of their typical output.
So what went wrong for Brooklyn? In a word: everything.
Kevin Durant and Kyrie Irving couldn't hit anything. Durant had a rare inefficient game at 11-of-28 from the field, shooting just 39% and turning it over four times. Irving was 9-of-22 himself, so 20-of-50 combined for the two most talented scorers on the court. The duo took eight free throws, well below their usual tally, but those were the only Brooklyn free throws all game.
The supporting cast wasn't much better. Bruce Brown had 16 points and 11 rebounds but shrunk in the final minute and missed the key shots late. Blake Griffin was the only other Net to make more than one shot — and he made two. Typically sharpshooting Joe Harris shot 1-of-11 from the field, an outlier among outliers. Brooklyn's bench played over 47 minutes and combined for seven points.
The Nets had the most efficient offense in NBA history this regular season, scoring 118.3 points per 100 possessions, per Basketball Reference. They scored 83 points on 98 possessions.
It was bad, an outlier poor performance from everyone wearing Brooklyn colors other than Bruce Brown. And still, the Nets almost delivered the knockout punch anyway. That ugly first quarter start led to a 30-11 deficit, but that lead was cut to three points by halfway through the second quarter, and the presumed terrible Nets defense has more than held its own against what was supposed to be a great Bucks attack.
Blake Griffin has started all series and gotten the first assignment on Giannis Antetokounmpo, and he's done a shockingly good job so far. Bruce Brown has started in place of James Harden and filled in admirable as a terrific defender and dangerous short roll man who has served the offense well in a unique, small big man role.
Without Harden, that's what this team looks like now, and we know it well. Durant and Irving will play a ton of minutes — they've averaged 38.7 and 41.0 so far this series — with Harris, Griffin and Brown playing plenty next to them and Mike James, Landry Shamet and Nic Claxton filling in sporadically off the bench.
This version of the Nets without Harden is certainly less than invincible, but it sure was good enough the first two blowout games and was nearly good enough despite all its foibles in Game 3 too.
---
Milwaukee Must Buck Offensive Performance 
The bigger question may be where Milwaukee continues to look extraordinarily "vincible" in its tepid attack.
Do you enjoy a good horror story? Let's dig into the Bucks offensive, and I do mean offensive, numbers.
Milwaukee scored 86 points in Game 3, duplicating its 86 from Game 2 and a modest drop from 107 in the opener. That 93.0 points per game is over 27 points down from the Bucks season average against a defense that was supposed to be terrible and easily beaten.
Milwaukee has only one rotation regular above a 97 offensive rating, and that's Brook Lopez (115). Giannis Antetokounmpo and Jrue Holiday are the only other two regulars at even a paltry 90 rating, and the team has a 94.5 offensive rating for the series — against this Nets defense!! Jrue Holiday is under 40% from the field, and Khris Middleton is at 37%. The Bucks are shooting 22.7% on 3s and an abysmal 47.2% True Shooting for the series.
So what's gone wrong for the Bucks? Again, nearly everything, except it's the same everything that's been going wrong all series. This offense is playing like they all just met each other. They have absolutely no plan and scarcely looked like the Bucks from the regular season, the team that had the No. 1 offense early in the year and finished in the top 20% of the league.
Instead, the Bucks are playing iso ball. They're playing the sort of ball everyone expected from the Nets with their superior talent. The problem is that Brooklyn isn't usually playing that way. The Nets are whipping the ball around the perimeter and finding good looks, looks they just missed a lot of in Game 3. The Bucks aren't doing that. They're just dribbling into iso shots — mediocre shots — instead of playing team basketball and breaking down this beatable defense.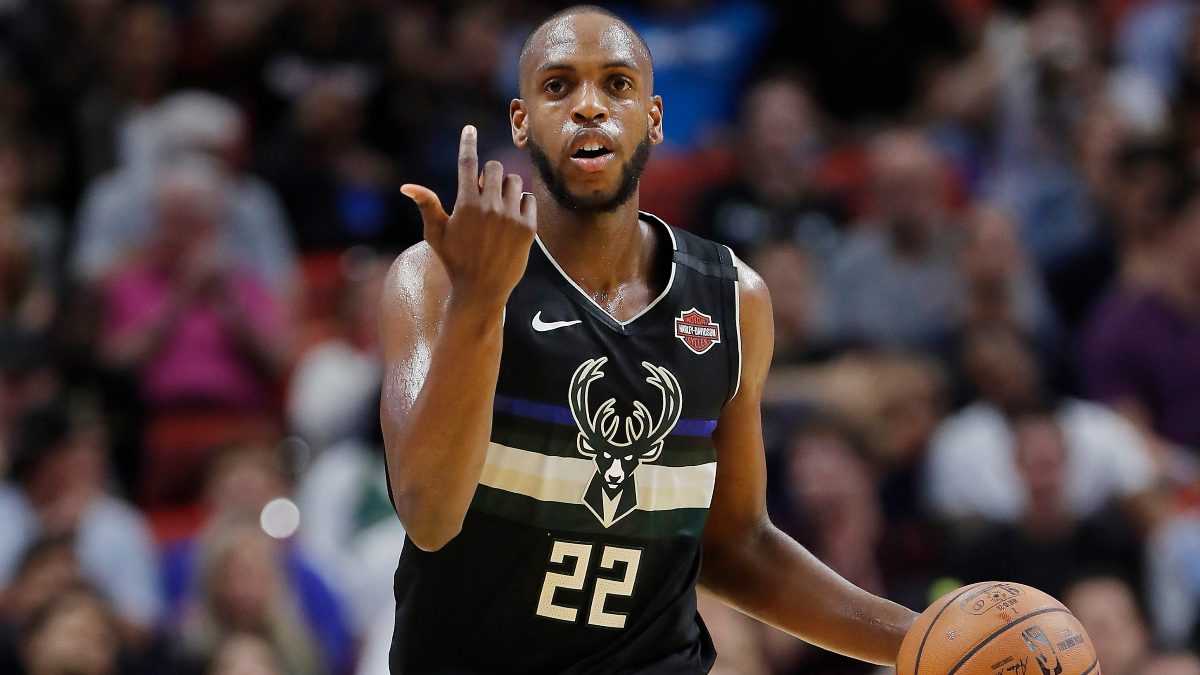 Both Antetokounmpo and Middleton averaged five-and-a-half assists per game in the regular season. The two are under that number combined in this series. The Bucks had only 12 assists combined in Game 3, and they're averaging just 15.7 per game for the series. That's down almost a full 10 assists per game from Milwaukee's regular season average.
The Bucks are also playing much slower than usual. Milwaukee ranked second in the NBA in pace this season at 102.2 Game 3's pace was 97.7, and the pace was down in Game 2 as well. It might be down in part because the Bucks are finally playing their stars huge minutes, leaving them tired in the second half.
Antetokounmpo, Middleton, and Holiday played 43, 44, and 46 of the possible 48 minutes in Game 3, and Milwaukee needed everyone of them. The Bucks bench has been terrible. Neither Bryn Forbes nor Pat Connaughton has given them anything, and Bobby Portis's defense severely limits his playing time. Milwaukee continues to start P.J. Tucker with Donte DiVincenzo out for the season, but Tucker doesn't score, and neither does this bench, which combined for six points in Game 3.
So, let's review.
The Bucks aren't passing the ball. They're not making shots. They're not running or pushing the pace like usual. They're not making their 2s or their 3s. Milwaukee doesn't look itself. Antetokounmpo took eight 3s on Thursday night and made only one. He also continues to miss a litany of free throws and got another 10-second penalty at the line, so that's a thing now too.
The only good news for the Bucks is that their defense has done its part. You had better beat this Nets team when you hold them to 83 points, and 107.7 PPG allowed is all Milwaukee could really hope for against an offense of this caliber.
Milwaukee's problem hasn't been stopping the Nets. The Bucks just forgot how to play basketball on offense.
Nets-Bucks Pick
Milwaukee won and covered Game 3, but it feels like it took a barrage of happenstance things to go the Bucks' direction.
The Bucks held Brooklyn to 11, 18, and 23 points in three of the quarters and held a 19-point lead after one. They got a push from the home crowd, got the winning shot from Holiday late, and finally got a huge game from Khris Middleton with 35 points and 15 rebounds. They got outlier poor shooting from Durant, Irving, and Harris and outlier low free throw attempts allowed. They got Bruce Brown playing hero ball in the final minute while KD and Kyrie watched on.
The Bucks got all that and still came one shot away from losing anyway. It's a grim picture indeed. It's fair to point out how poorly the Bucks also shot, and that it's nice to get a win over such a great team despite shooting 6-of-31 on 3s yourself, but that logic only holds up when that number still looks like an outlier  and not the trend.
Game 1 of this series opened at an NBA playoff record 239.5. That total had dropped to 235 by Game 3, and the teams combined to set an NBA record for futility, going under the total by a record 66 points. Put another way, it would have taken four overtimes for these teams to hit Thursday's over at their tepid pace.
The Game 4 line is down to 228.5, but that number is low enough now that it's scary to trust it with at least one good offense out there. Brooklyn can drop 128 without blinking in any game, and now you need the Bucks to stay below 100 to get to the over.
Instead, let's isolate this putrid Bucks offense and play the team under at 113.5. Milwaukee has gone under that number by 6.5, 27.5, and 27.5 so far this series. The bench can't score, the pace is way down, and the stars are missing shots.
It's always possible the 3s finally fall for the Bucks, and if they do, Milwaukee has a decent chance of going over. But as poorly as the Bucks are moving the ball and generating looks right now, I have no choice but to fade this offense. I'll play the 113.5 down to 112.5 as needed, but you can play even more aggressively low lines if you prefer to get better juice.
I have to fade the Bucks offense at this point until they prove otherwise.
Pick: Bucks team under 113.5 (-110 FanDuel, play to 112.5)
How would you rate this article?
This site contains commercial content. We may be compensated for the links provided on this page. The content on this page is for informational purposes only. Action Network makes no representation or warranty as to the accuracy of the information given or the outcome of any game or event.