'It's About Winning for That Guy': Bucks in Dangerous Territory as Giannis Suitors Enter the Picture
Credit:
David Sherman/NBAE via Getty Images. Pictured: Giannis Antetokounmpo.
Another year, another playoff disappointment from the Milwaukee Bucks.
I wrote before the restart that the Bucks "should lose" to the Heat. I wrote before the series I was taking the Heat. I wasn't the only one. The basketball intelligentsia on the absolutely-never-wrong (feel the sarcasm) NBA internet all had the Heat circled for this series. It was a bad matchup unless the Bucks made adjustments — but we knew Mike Budenholzer wouldn't.
And so, the Bucks return home, and the conversation turns as it always would to where Giannis Antetokounmpo will end up. He's eligible for a supermax extension this summer. The soon-to-be two-time MVP was quick to put down rumors he would request a trade this summer in an interview with Yahoo's Chris Haynes:
"It's not happening. That's not happening," Antetokounmpo told Yahoo Sports after the Bucks were eliminated in five games in the second round by the Miami Heat on Tuesday night.

"Some see a wall and go in [another direction]. I plow through it. We just have to get better as a team, individually, and get right back at it next season."
This will not deter teams from pursuing Antetokounmpo.
"I guess we'll see," one executive not expected to pursue the star forward told The Action Network.
For starters, this isn't anything that hasn't been said before by stars in his position.
Kyrie Irving said, "I'll be back if you'll have me" the summer before he left.
Anthony Davis said, "I'm here to stay" in 2017.
Paul George said, "It's all about bringing a championship to Indiana" in 2017.
Kawhi Leonard said he wanted to stay with the Spurs his entire career.
Dwight Howard said he'd be in Orlando as long as the fans wanted him there.
On and on. Some of those players probably meant it at the time. Things change. That's how it goes.
None were on a team as good as Antetokounmpo's Bucks were in the regular season, outside of Leonard. But none suffered ignominious exits as he has the last two seasons.
No one knows the future of Budenholzer at this point, but if the Bucks aren't considering replacing him despite clinching the No. 1 seed two years in a row, that shows a lack of all-out commitment to getting Antetokounmpo what he needs to win a title.
That goes with their decision not to re-sign Malcolm Brogdon in restricted free agency due to luxury tax concerns, a damning decision that put money over winning potential.
But the biggest factor in all this is the timing. Antetokounmpo is eligible for the supermax extension this summer. If Antetokounmpo declines that money, it's absolutely possible he can still re-sign with the Bucks. It would mean, however, that the Bucks essentially would have to win the title or come so close Antetokounmpo believes entirely that he can and will win there.
This is why Antetokounmpo is a little different from other stars. Every league person queried on this issue all repeated the same thought. "It's about winning for that guy, he cares about it more than the rest, and they all care about it," one source said.
Some stars wanted the fame and fortune that come for their brands and the money that goes with it. Others want the lifestyle that comes with living in a major market. Antetokounmpo, however, values family and competition.
The problem is most of the really great teams are all in the glamour markets anyway. Miami has long been circled as a team intent on making a run at Antetokounmpo. They offer the Heat Culture, which Antetokounmpo saw up close and personal the product of what it produces. They have Jimmy Butler as a second star, a cadre of young players to offer to the Bucks and still have reserves, veterans to provide quality depth, and Erik Spoelstra's top-tier coaching.
Then there's Golden State. The No. 2 pick this year. The Wolves' pick next season. Their own picks going forward. Andrew Wiggins. Draymond Green, if it comes to that. The Warriors have every possible offer and the kind of winning culture ready to go right now with Steph Curry and Klay Thompson for Antetokounmpo if he wants to play with Steph.
Kevin O'Connor at the Ringer reported Wednesday the Clippers will join the pursuit. How they'd manage that with the money owed to Paul George and Kawhi Leonard (though both come up in 2021 when Antetokounmpo would enter free agency if he declines the Bucks' extension offer), they could take less money to pull a 2010-Heat-Triad-type move.
Every team will be pursuing him. The Sixers are a logical team to dangle one of their marquee stars. The Raptors are considered suitors due to Giannis' relationship with Masai Ujiri. The Denver Nuggets will absolutely be looking into acquiring him, though Jamal Murray and Michael Porter Jr.'s emergence as potential stars complicate that.
Antetokounmpo may not ask for a trade, but if he declines the extension, the Bucks have a choice to make. Do you go all-in trying to keep him that summer and risk not getting anything back for him, or do you trade him now to where he wants to go to make sure you don't lose him for nothing?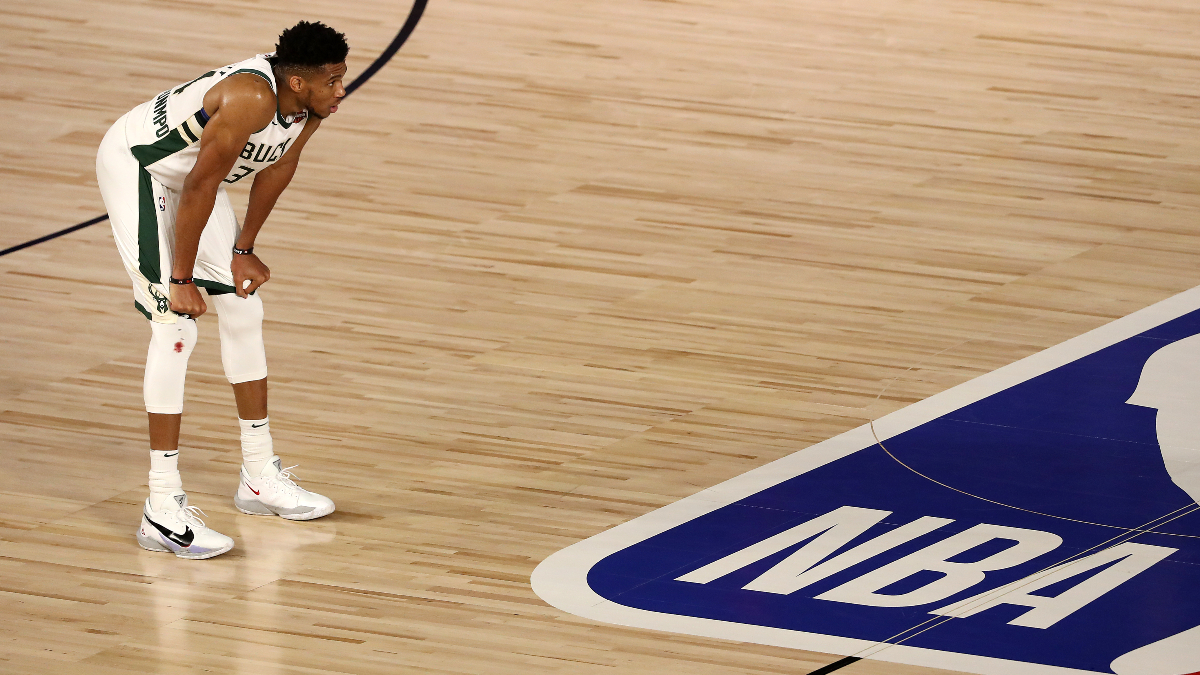 If you trade him at the deadline in 2021, the value is lowered because any team looking to rent him knows they're only getting a half-season.
But there are issues with trading him early, too. If you deal him to the Warriors, you're taking Andrew Wiggins. Do you want Wiggins, on that contract, for that duration, even if it comes with picks?
If you trade with Miami, it already owes its 2021 and 2023 draft picks and can't deal the 2022 pick. It has traded most of its second-rounders over the next five years, so draft equity is gone. Tyler Herro has looked great, but is he a star? Duncan Robinson is an incredible spot-up weapon … but is that a cornerstone?
If the Bucks are trading Antetokounmpo, they're never getting approximate value back. It's impossible. He's the most dominant player and MVP. But the teams he'd likely go to also don't have the assets to put together a package that would jumpstart a rebuild.
In general, it's a bad spot.
Unless, of course, Antetokounmpo really means what he says and re-signs with the Bucks on the supermax this summer. There's a belief he's built differently. And he can always sign that deal and then ask out after. He wouldn't be the first player to do so after ensuring hundreds of millions in guaranteed money.
The Bucks have had an emotional, difficult, and ultimately devastating four months since the shutdown, even among everyone in the NBA struggling in 2020. Their future is perilous, and ultimately, out of their control. All the power rests in the giant hands of Antetokounmpo.
How would you rate this article?