Celtics Season Win Total: Will Irving and Hayward's Return Make the Difference?
Credit:
Credit: Greg M. Cooper-USA TODAY Sports. Pictured: Kyrie Irving (11), Jaylen Brown (7), Jayson Tatum (0).
The Westgate Las Vegas Superbook has placed odds on the Celtics' win total for the upcoming season at 57.5.
The Celtics finished 55-27 despite major injuries in large part because of defense and chemistry.
The growth of their young players and inclusion of the players they missed -- Kyrie Irving and Gordon Hayward -- should help them reach their total.
The Westgate Las Vegas SuperBook released its 2018-19 over/under for NBA win totals Sunday, and the Boston Celtics unsurprisingly lead the way in the Eastern Conference at 57.5.
There's good reason to ride the friggin' over, but I'll give you the counter-argument first.
---
>> Follow Matt Moore in The Action Network App to get free alerts on all of his bets.
---
The case for the under: Chemistry is not a Lego House. It's not something you tack on bit by bit in the right order and voila! It's not something where if you build four walls and then add a ceiling later, it fits together perfectly.
That's just not how it works, unfortunately.
The Celtics had remarkable chemistry last season and as a result everything hummed. It's important to remember that what made the Celtics great last year wasn't their performance on the court as much as it was their ability to find pathways to the win. They were great in the clutch, winning 63% of their games inside five points in the final five minutes.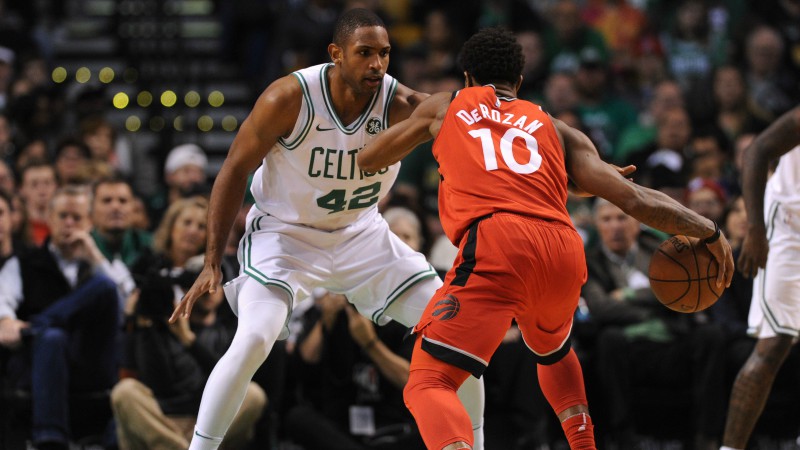 Credit: Bob DeChiara-USA TODAY Sports. Pictured: Al Horford (42) guards Toronto Raptors guard DeMar DeRozan (10).
Their formula was mostly built on great defense and Al Horford conducting an efficient offense while Brad Stevens put guys in the right position. Even when Kyrie Irving went down, they won because their depth stepped up.
But that combination is not this year's combination. Jayson Tatum and Jaylen Brown won't have as many opportunities or as much freedom offensively. How do they react to that? It's asking a lot of young players to take a backseat after so much success.
Irving's success last year was such a mixed bag. Everyone rushed to celebrate him as having adapted and changed. This was not the case. Kyrie was still very much Kyrie, as he will likely be again this season.
Irving is headed into a contract year, coming off another major injury, and his game is inherently outside the bounds of the ball-movement, quick-decision system Brad Stevens has otherwise developed. This doesn't mean he's a detriment, nor was he last year.
The Celtics put themselves in positions to win games with their defense and depth, but they still would have lost were it not for Irving's isolation individual scoring efficiency and productivity late in games.
The Celtics set them up, Kyrie knocked them down.
However, with more weapons, does that model hold? Is everyone, from Tatum who garnered so much buzz, to Brown, who was so shockingly good offensively in the playoffs, to Gordon Hayward — throw in Marcus Smart and Marcus Morris wanting to get theirs, too — going to be cool if Irving dominates the ball even a little bit more than last year?
Add in the injury concerns with Irving, Hayward coming off a traumatic injury, and Al Horford being 32-years-old, and there's a lot of stuff the Celtics will have to manage. That's enough to think they could slip up.
---
>> Sign up for The Action Network's daily newsletter to get the smartest NBA conversation delivered into your inbox each morning.
---
The case for the over: The Celtics are going to have three All-Stars: Irving, Hayward and Horford. Tatum is honestly a maybe depending on how many minutes and shots he gets. Teams with that many All-Stars are nearly always a lock for at least 55 wins.
But diving deeper, this team won 55 games last season with Irving out for a quarter of them, Hayward out the whole year, and having to learn on the fly. They were bad on offense, brutally young and their defense was not only the league's top unit by the end of the season, but held that mark for almost the entire season.
Hayward alone bears consideration for pushing them into the over here. Where Irving has never been a virtuoso playmaker, Hayward is patient, precise, and willing to sacrifice. Having him as a shot creator who can punish mismatches and find the open man sets him apart from Tatum and Brown, if only by experience.
Tatum is another factor to push the Celtics over. It is not inconceivable that he could actually increase his usage rate. That's how good he is.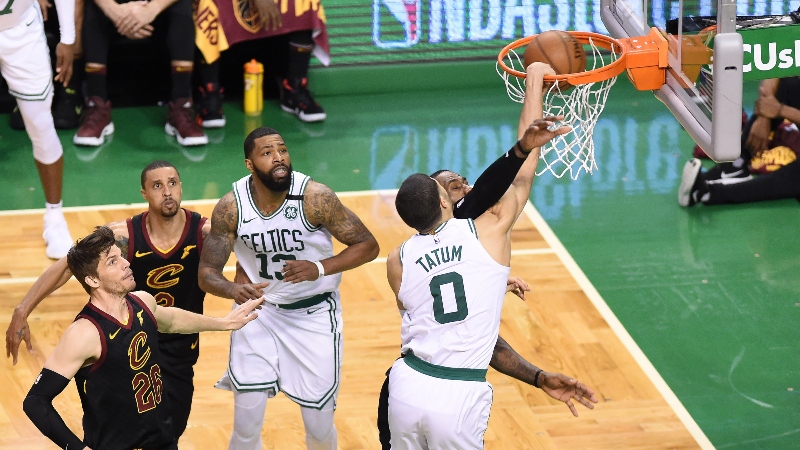 Credit: Bob DeChiara-USA TODAY Sports. Pictured: Jayson Tatum (0).
If there's any jump in Tatum's game, they'll have two premium scorers in Irving and Tatum surrounded by two do-it-all guys in Horford and Hayward.
All of this is to say that the model is pretty simple. They were a 55-win team with a young, inexperienced roster, missing one All-Star the entire year and another for the entirety of their playoff run.
Throw in internal development, the addition of those two, and Brad Stevens (unquestionably a top-three coach in the league), and this screams over. I bet the over up to 59.5, honestly. This seems like a 60-plus win team in a conference that is short on real contenders.
The Celtics play in the toughest division, but had the Sixers' number last year and who knows what happens with Toronto this season. Meanwhile, they had the second-most wins vs. teams under .500 and the most wins vs. teams under. 500 in the East.
As someone who was skeptical of the Celtics' early-season success, I wasn't surprised to see them slide in the second half of the year. They got past Milwaukee, narrowly, on account of the coaching gap.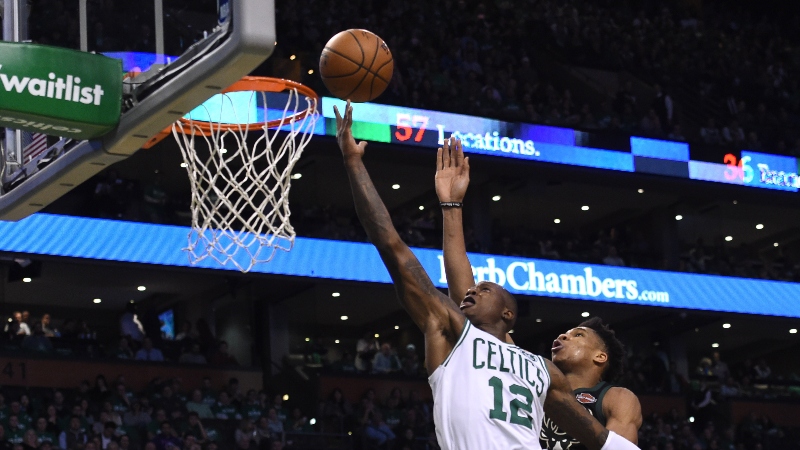 Credit: Bob DeChiara-USA TODAY Sports. Pictured: Terry Rozier (12) lays the ball in past Milwaukee Bucks forward Giannis Antetokounmpo (34).
They took out Philadelphia, exposing how two teams can be young but one has more meaningful experience, and they gave Cleveland a shove mostly because, well, Cleveland wasn't actually very good last year.
The results remain, however. This was a 55-win Eastern Conference finalist that had the best defense in the NBA last season and returns two All-Star-caliber players. The Celtics should once again be a top-10 defense and should rise out of their doldrums offensively.
At 57.5, the market indicates the Celtics will be caught in a tight race for the East. A comprehensive view of Boston's season, however, indicates it will likely be above the fray, and one of the best teams in the entire NBA.
How would you rate this article?