Chet Holmgren NBA Draft Odds & Outlook: How the Gonzaga Unicorn Will Fare In 2022 and Beyond
Credit:
Brian Rothmuller/Icon Sportswire via Getty Images. Pictured: Chet Holmgren.
Chet Holmgren NBA Draft Profile
| | |
| --- | --- |
| Position | Center |
| School | Gonzaga |
| Height | 7'1″ |
| Age | 19 |
| Class | FR |
| No .1 Draft Pick Odds | +115 |
March Madness is here, and this year's NCAA tournament brings a special treat since almost all of the top projected 2022 NBA Draft picks are actually playing on good, high-seed teams that could make deep tourney runs.
We're profiling the top four prospects on the board: Gonzaga's Chet Holmgren, Auburn's Jabari Smith, Duke's Paolo Banchero, and Purdue's Jaden Ivey.
Let's give Holmgren a long look.
A Big Man Unlike Anything You've Seen

Holmgren is one of the most unique prospects to come along in years. In a world where the word "unicorn" gets thrown around far too often, Holmgren is a true unicorn in every sense of the word.
You've never seen anything like Holmgren on a basketball court. You have to see him for yourself. This dude is 7-foot-1 with a plus wingspan but barely weighs 190 pounds soaking wet.
Holmgren is a beanpole who can defend the rim ferociously at one end, gobble up the rebound, take four or five long strides down the court, dribble behind his back on a spin move, and dunk on the other end — or pull up and swish a 3 if you prefer.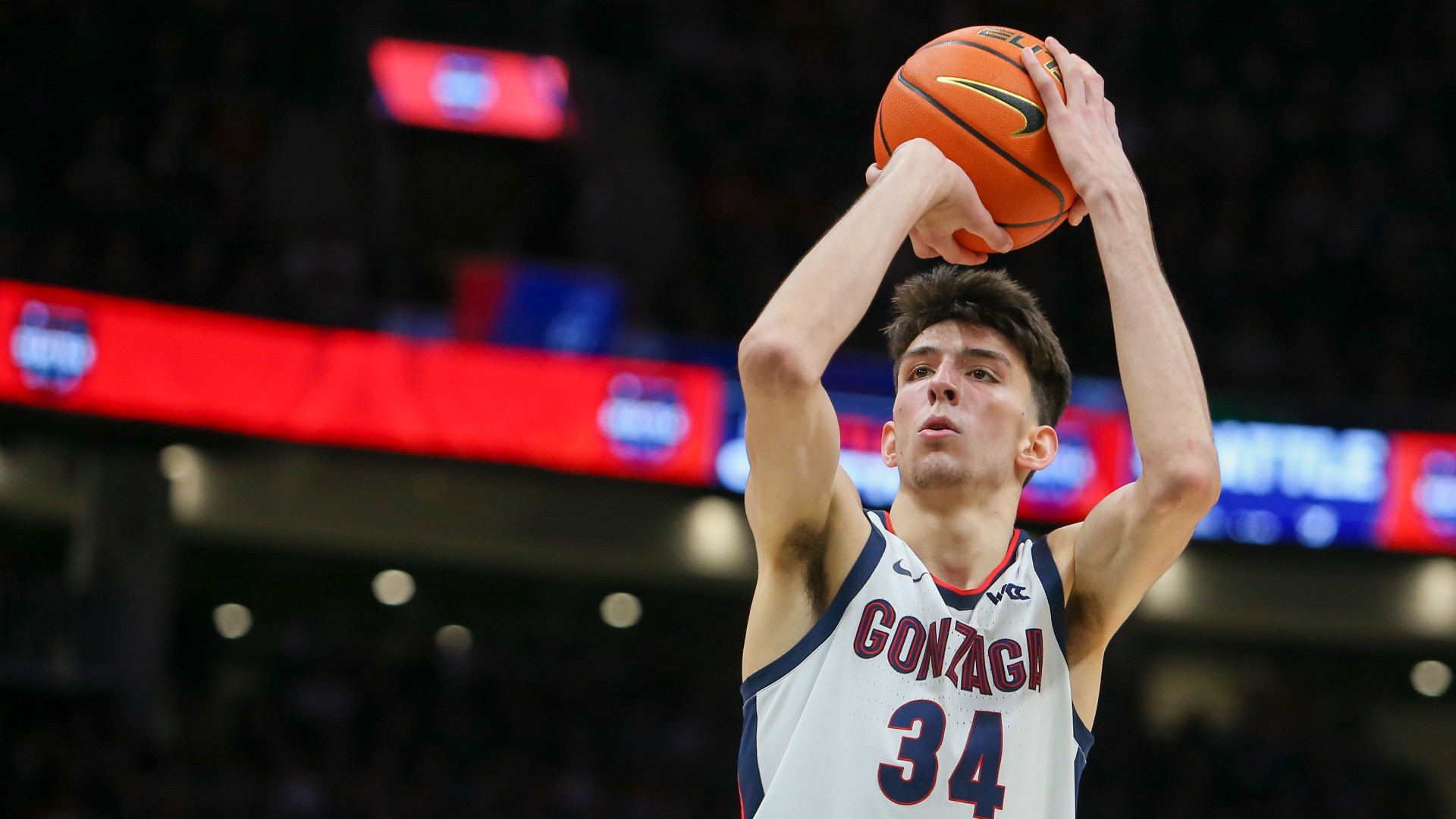 That is not a hypothetical scenario. That's a real play Holmgren made several times this season, so much so that it's somehow become routine. Holmgren was the No. 1 recruit and has been awesome for the No. 1 overall seed in the bracket, Gonzaga.
He might well be the best player in college basketball, plays for the nation's best team and has gotten better as the season progressed. That is a remarkable accomplishment for a true freshman.
So what exactly is Holmgren — and how can a player this talented not be a slam dunk sure thing with the No. 1 pick?
Key Strengths
Elite Shot Blocking and Rim Protection
Holmgren is an outstanding defender who affects nearly every possession. He has such a huge reach patrolling the paint that he impacts myriad shots simply by preventing them from ever happening when opponents cower from the rim or dribble out to look for another option. Gonzaga allowed just 78 points per 100 possessions with Holmgren on the court, an ungodly low number.
Holmgren is an elite shot blocker. He blocks shots with both hands and even does something rarely seen, using both arms and hands to create multiple shot-blocking lanes on the same play, sometimes even protecting both sides of the rim.
Holmgren has fantastic hand placement and does a great job not going for shot fakes. He also does the old Bill Russell thing where, instead of swatting it into the stands, he tips the ball to teammates or himself, starting a quick and devastating transition going the other way.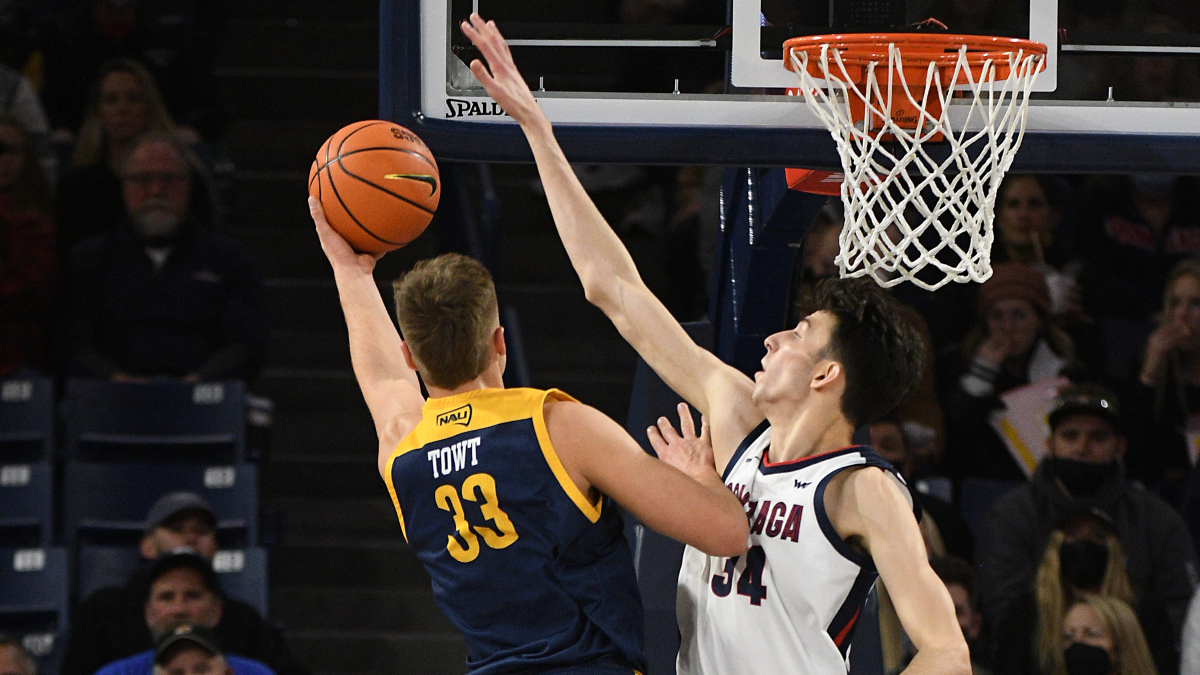 Holmgren should be an outstanding drop defender in the NBA, and he's going to block a lot of shots and has great recover ability. He moves well on the perimeter for a guy his size too and should be able to switch some, using his instincts, intelligence, and length to make up for a slight deficit in movement and burst. He also blocks and defends well without fouling.
He blocked three-plus shots in 22-of-29 games (76%) and had six-plus blocks four times (only fouled out once all season), truly remarkable. Holmgren is a potential All-NBA defender.
Scalable Offense as a Connector Who Fits the Modern Game
Holmgren's role on defense is clear. The offensive role isn't quite as obvious, but that's not necessarily a bad thing. NBA fans expect a No. 1 overall draft pick to score 25 points a game as the face of the franchise.
Holmgren might never produce at that level — he's averaging 14.1 PPG at Gonzaga with a career high of 23. He's not really a scorer first, but that's not necessarily a flaw.
Just like on defense, Holmgren is always valuable to the offense at all times because of his spacing. He's made 40 3-pointers this season at 41% behind the arc, and he's also making 73% of his 2s, in part because a large number of them are dunks over the opponent. That makes him twice as valuable as a spacer, both vertically and horizontally, and it means he is constantly putting pressure on the defense even without the ball.
Holmgren doesn't score a ton, but he scores efficiently. He's over 70% True Shooting as a freshman! Think Rudy Gobert's efficient numbers, but now add in silky smooth 3-point shooting and spacing without losing any of the efficiency.
Holmgren is also a smart passer with a shockingly comfortable handle for a guy his size. He casually dribbles between his legs or behind his back and already has the footwork to hit a rhythm 3-pointer. Holmgren's bag is deep and overflowing. His skills are off the charts.
There are faint shades of Kevin Durant when Holmgren gets the ball on the glass on one end and brings it up court. He's especially dangerous in transition and loves the pull-up 3 at the top of the key. And like Durant, Holmgren is the sort of player who will fit on any team with his deep and varied set of talents.
He's scalable in that way, and he'll be even better on better teams, multiplying the talents of the players around him and making good teams even greater.
Holmgren is a connector. He's like a superstar glue guy, a piece of connective tissue that ties everything else together and makes it all work. He's also the perfect international big man and will likely be an Olympic mainstay for years to come on the American team. He can do it all.
Notable Weaknesses
His Frame and Body Need a Lot of Work
So after all that gushing, why exactly is Holmgren not a surefire No. 1 pick? Because of his body.
The 7-foot-1 height and long wingspan are great, but the 190 pounds is a serious concern. Holmgren is super skinny. Remember the concerns about Evan Mobley's frame (not an issue, by the way)? Mobley has 25 or 30 pounds on Holmgren, who looks like he could blow away in the wind. You worry the wrong guy will dunk on Holmgren and break him into a million pieces.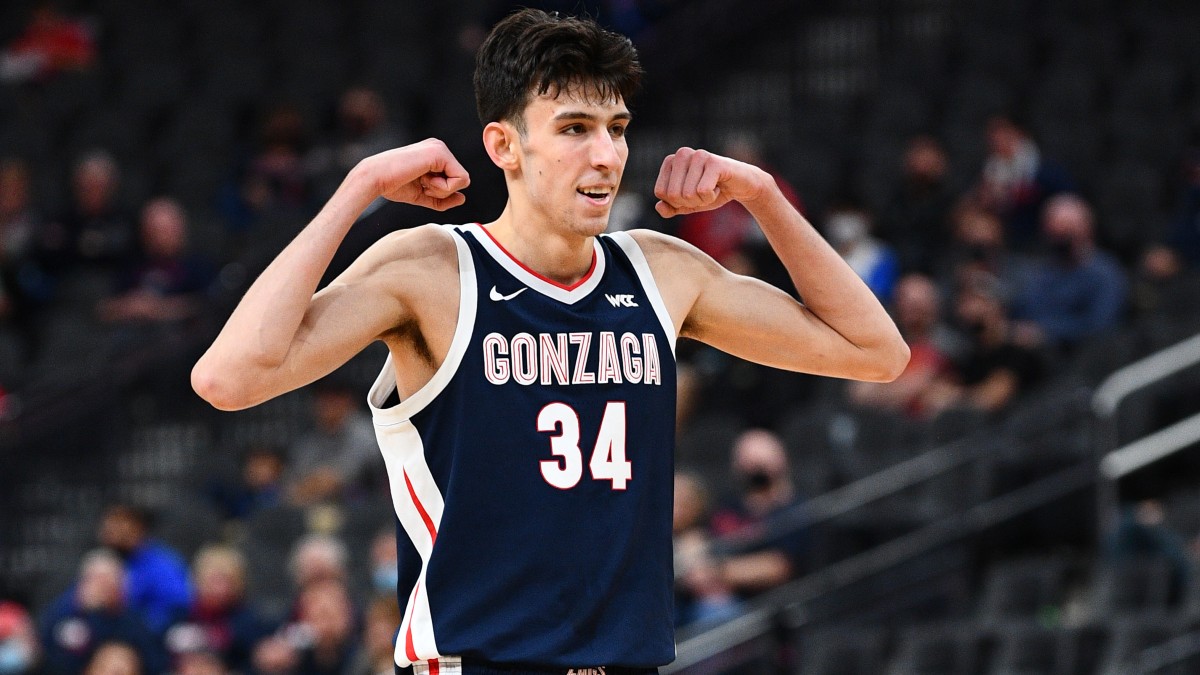 Without a doubt, Holmgren's body will need some work. He doesn't have the broadest shoulders and may not be able to put on a ton of weight. He's also closer to a sophomore by age. That adds a bit to the concern since it means he's that much already closer to the body he'll grow into.
Holmgren needs to add serious strength and muscle so he doesn't get pushed around in the NBA. You can't be a star if you can't stay on the court.
Holmgren Doesn't Look Like a Big We've Seen Before
The most difficult prospects are the guys who don't look like anything we've seen before. It's scary to imagine something totally new and different. It's hard.
Who's even the comp for Holmgren in the NBA? It's like if Duncan Robinson could also dribble and pass, protect the rim, and was six inches taller. Like Marcus Camby with a 3-point shot and a handle. Holmgren is Alexsej Pokusevski if the Monstars finally gave his talents back. He's the fully-realized Kristaps Porzingis.
The fact that it's so impossible to put together a coherent NBA comparison for Holmgren is scary because of the availability heuristic. We haven't seen anything like him before, so we assume it won't work. Holmgren's body just looks like it doesn't belong out there. And remember, he plays for Gonzaga, a mid-major with a schedule that limited his exposure to NBA athletes.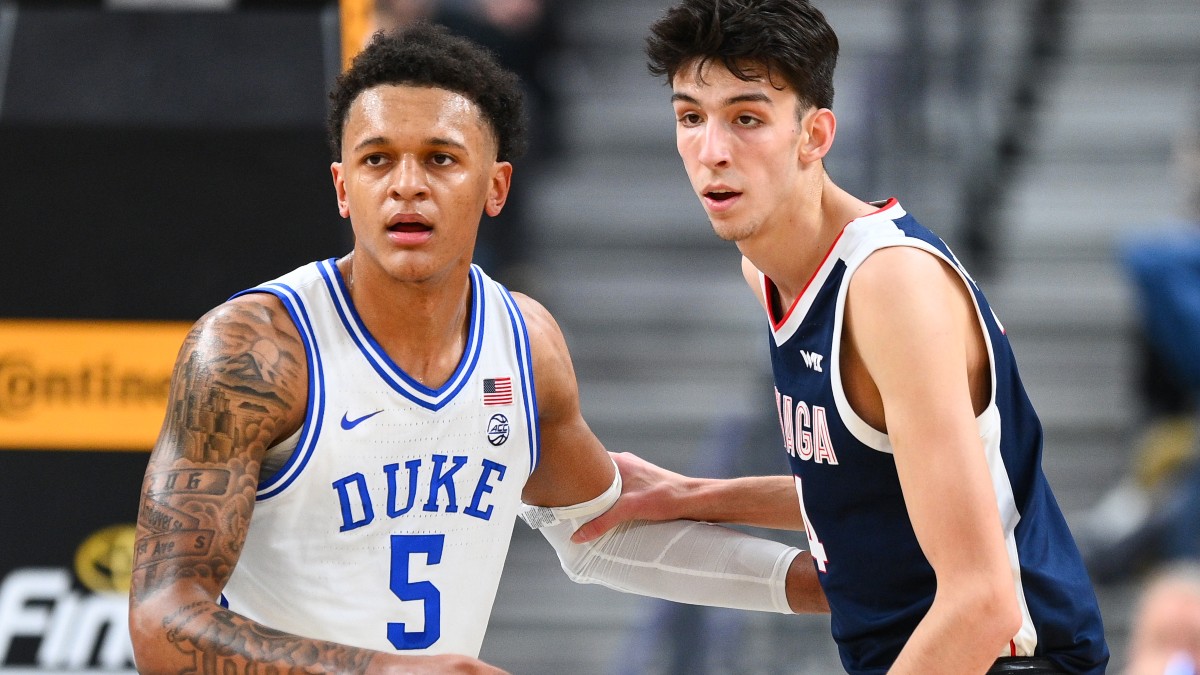 In a hefty non-conference schedule, Holmgren struggled some against physical teams like Texas and Duke. He could be tested in the West region by Duke's Paolo Banchero and Mark Williams, or by Texas Tech's No. 1 defense.
Holmgren high points rebounds well but also gets pushed around at times. Even teams like St. Mary's who slowed things down to a grind were able to get into Holmgren physically and reduce his impact. He's at his best in the open, free-flowing games, but at the highest level and in the biggest moments, things tighten up.
Will Holmgren work at the next level? It's natural to have doubts. But it's important to remember that he's worked at every other level so far, now including the No. 1 team in college and also including high-level international ball last summer. Why not the NBA too?
Overall Draft Outlook and NBA Projection
Holmgren could be an integral part of an NBA championship someday. His skill set is that varied and that rare, and if he lands on the right team, he's going to make everyone around him better immediately.
It's no coincidence that Gonzaga nearly went unbeaten last season, lost a top-five draft pick in Jalen Suggs plus another pro prospect Joel Ayayi, added Holmgren, and immediately went right back to No. 1 in all the land. Holmgren won four high school championships. He led the under-19 American team to a FIBA gold medal last summer. Maybe he'll be cutting down the nets in April next.
If he does that, it'll be hard to deny Holmgren a spot at the top of the draft. He'll surely be in the mix either way, though whether or not he goes first may depend on which team wins the lottery and whether they have the cajones to take a player so unique.
He's is a potential superstar. It's time to stop focusing on all the things Holmgren isn't and start appreciating in awe of what he already is.
How would you rate this article?
This site contains commercial content. We may be compensated for the links provided on this page. The content on this page is for informational purposes only. Action Network makes no representation or warranty as to the accuracy of the information given or the outcome of any game or event.