Clippers vs. 76ers Betting Odds, Betting Picks & Predictions: Should You Bet Philadelphia As a Home Underdog?
Credit:
Chris Elise/NBAE via Getty Images. Pictured: Joel Embiid #21 and Ben Simmons #25 of the Philadelphia 76ers.
The latest betting odds for Tuesday's NBA game between the Los Angeles Clippers and Philadelphia 76ers makes LA a slight road favorite (spread: LA -1.5) with the over/under at 227.5
The total has risen after opening at 225.5, as 72% of the betting tickets have come in on the Over.
Get the best betting picks for Clippers-76ers before the game tips off at 7 p.m. ET.
Clippers at 76ers Picks, Betting Odds & Predictions
Spread: Clippers -1.5
Over/Under: 225.5
Time: 7 p.m. ET
TV Channel: TNT
---
In Pennsylvania and want to bet on the 76ers? Check out FanDuel, where Action Network users get a risk-free bet up to $500.
---
Both teams made moves at the trade deadline last week to improve their rosters ahead of final marches toward the playoffs.
Which team has the edge tonight? Should the Sixers be home dogs? Our experts break it all down below.
Betting Trend to Know
Philly is a 1.5-point underdog at home against the Clippers. This is the 11th game in the past three seasons that the 76ers have been home dogs. In the previous 10 games, the Sixers went 8-2 ATS. – John Ewing
Bryan Mears: How I'm Betting Tonight's Game
The public is all over the Clippers tonight: They're receiving 75% of the bets and 68% of the money wagered. They opened as a one-point road favorite and have been bet up to -1.5 already this morning.
I get it: The Clips are my current pick to win the title, their roster is loaded and they just upgraded it in a smart way by acquiring Marcus Morris. Though they've been up and down at times this season, the data is pretty clear: When Kawhi Leonard and Paul George play, they're awesome. In 1,117 possessions with those two players sharing the court, the Clips have been at a +9.4 Net Rating.
But they are missing Patrick Beverley tonight, who I think has been an underrated part of their success, especially on defense. They're still getting chemistry with Morris. There's some uncertainty.
But I think tonight is really all about the Sixers. They're so weird.
Let's start with the home/road splits, which I've written quite a bit about lately.
Sixers at home: +11.9 Net Rating (2nd) | 113.8 ORtg (11th) | 101.9 DRtg (1st)
Sixers on road: -5.1 Net Rating (24th) | 105.7 ORtg (25th) | 110.8 DRtg (9th)
I say this without researching the data, but I'd bet you'd be hard pressed to find more extreme home/road splits for any team in the history of basketball. I mean that's just ridiculous.
What's nearly just as extreme is their splits against certain teams. Against teams with a higher than 70% win percentage, they're 8-3-1 ATS. Against teams at 45% or lower, they're 7-13-1 ATS.
They're 2-0 against the Jazz, 3-1 against the Celtics, 1-0 against the Lakers, Blazers and Spurs. They're 1-0-1 against the Nuggets. But against the Knicks, they're 0-3. They're 0-2 against the Magic, as they are against the Hawks.
For whatever reason, they suck on the road and against bad teams. At home and against good teams — especially on nationally-televised games — they dominate against-the-spread.
I also like their trade deadline moves, acquiring some cheap bench scoring in Glenn Robinson III and Alec Burks. They will help on the margins and could hold their own against Lou Williams and the Clips bench, which is about as good as you'll find.
One of the Clippers' potential weaknesses in the playoffs is the lack of an awesome center who can combat a Joel Embiid type. That matchup, if Embiid is dialed in, could be a massive win for the Sixers.
I get the public money on the Clips. They're awesome. But if this continues to move up (+2 or higher), I'm going to fade the public and grab the home dog.
Pick: 76ers
[Bet now at FanDuel. NJ, PA, IN and WV only.]
Wob: Sixers' Stock Is Going Up
I want to believe the 76ers have figured it out. I want to believe they don't need Furkan Korkmaz to go for 30 looking like Turkish Ray Allen to beat OK teams. I want to believe Joel Embiid trolling his own fan base and heel turning back to the league's "a**hole," (he said it not me) is what's going to jumpstart this otherwise lackluster roster of underachievers. I want to believe JoJo and Ben Simmons can co-exist, they're simply too good not to.
Every great team goes through lows like this where the stars must face the trials and tribulations that have claimed so many would-be championship teams before them. It's how they deal with it from here that will determine their fate.
Anyways, the 76ers are good. I promise you this. They've figured it out, they're awesome at home, and most importantly: they're back to winning. It may be against mediocre teams in their own building, but still, you can't take anything for granted if you're the 2020 Sixers.
Now, the question is, can they bring it against the league's most formidable opponent. Since Kawhi load managed the Clippers' previous contest, you have to believe he's going to be back in there tonight. As for the rest of the Clippers, who knows.
They honestly look bored with the regular season and to be honest, it's hard to blame them. They get up for games maybe once a month, and this might be the one — a national television matchup against a team willing to drop the gloves.
If the Clippers decide to show up and play, it spells trouble for Philly, but not only do they have to care, they're not healthy, and their rotations are still in flux because of the Marcus Morris trade. Just too many ifs for me to bet on a road favorite. I'm a strong believer in momentum and my religion will reward me tonight with extra money.
The PICK: 76ers +2 (has since moved to +1.5)
[Bet now at FanDuel. NJ, PA, IN and WV only.]
Clippers-Sixers Sharp Report
It might not seem like there's been a ton of action on this game so far — the total hasn't budged from opening and the spread is just a half-point different — but sharp bettors have been quite active.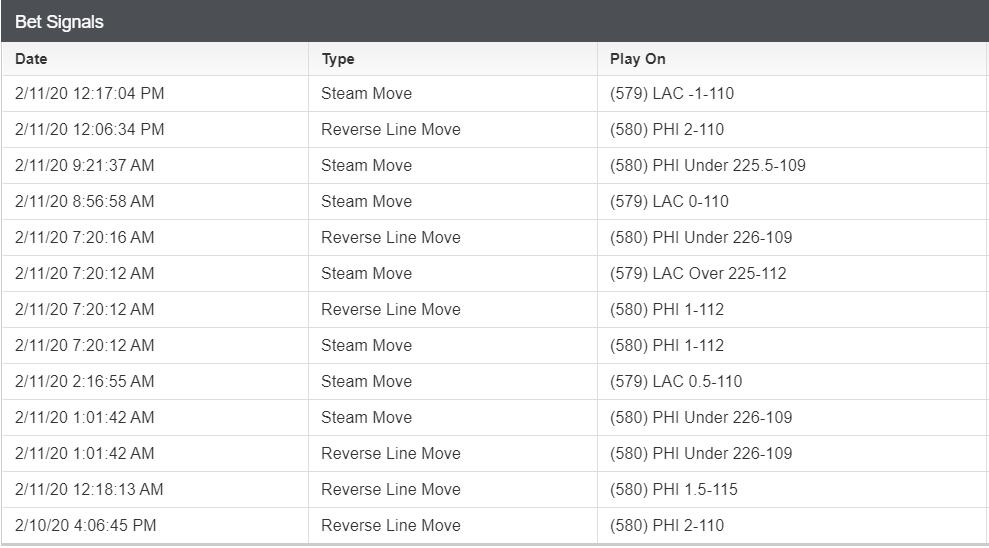 And it seems like even the sharps are in somewhat disagreement. We've tracked steam moves on the spread at Clippers +0.5, Philly +1, Clippers pick and Clippers -1. On the total, there have been steam moves on under 226, over 225 and under 225.5. As a result, these lines have fluctuated but not moved too much from the opening numbers.
The public definitely has favorite sides, however, and they aren't too surprising: The Clippers and the over, both of which are getting 70-plus percent of the bets.
[Bet now at FanDuel. NJ, PA, IN and WV only.]
---
Editor's note: The opinions on this game are from the individual writers and are based on their research, analysis and perspective. They are independent of, and may not always match with, the algorithm-driven Best Bets from Sports Insights.
How would you rate this article?