Moore: Devonte' Graham Deserves a Place in the All-Star Conversation
Credit:
Photo credit: Cameron Browne/NBAE via Getty Images. Pictured: Devonte' Graham
The NBA All-Star teams are set, with the reserves announced Thursday night. The group is primarily made up of superstar players, hyped since they were in high school and who have made the very most of their talents.
The best stories about All-Stars, though, are the bets that paid off the biggest. The longshots. The diamonds in the rough. The guys who no one knew the names of and who made it anyway.
Devonte' Graham isn't going to be an All-Star. I'm not even able to make an ironclad case he should be, given the other worthy guards in the Eastern Conference. He has no significant other or family member going on television to rant about how the system is rigged. (None that I'm aware of anyway. If there's a significant other or family member of Graham who wants to do so, please hit me up.)
What I do know, without a doubt, is that he needs to be in the conversation.
Graham played 46 games last season in a backcourt shared by Kemba Walker and Tony Parker, averaging just 4.7 points on 28% shooting from deep. Then this summer, Graham watched as Kemba signed with the Boston Celtics in free agency and Tony Parker retired. That was when he knew there would be a real chance for him to make his mark in the league.
"Pretty much when Kemba and Tony were leaving," Graham told The Action Network earlier this month, "it was just like, the point guard position was open. I knew we were going to sign another point guard … didn't know who yet. But I felt like then I was going to have more opportunity to play, and I just tried to prepare all summer for it."
Graham played 13 games for Charlotte's G-League team, the Swarm, and flashed his potential, averaging 23 points and five assists on 38% shooting from deep.
The Hornets entered the season with what many believed to be the worst roster in the NBA. Their season win total was as low as 22.5 in the preseason. And don't get me wrong, the Hornets are not good. They're 16-31, with the 26th-ranked Net Rating and 26th-ranked defense.
But they're also just seven wins from clearing that over, and due to how bad the East is, they're just five games back in the loss column from the 8-seed.
More important, however, is Graham's emergence as a key offensive player and the impact he's had on the Hornets.
Graham is averaging 18 points and eight assists a game this season. The obvious black mark on his resume is a rough 37.5% field goal percentage, but he's shooting 38% on 3s. Further, his volume is what really stands out. Graham is one of only four players to be top-10 this season in both made 3-pointers and assists, joining the likes of James Harden, Trae Young and Damian Lillard. Pretty good company for a guy who was with the Swarm last season.
"Last year, I waited patiently. I did what I had to do, went to the G-League. Worked on the little things. I talked with my family, told myself to stay patient."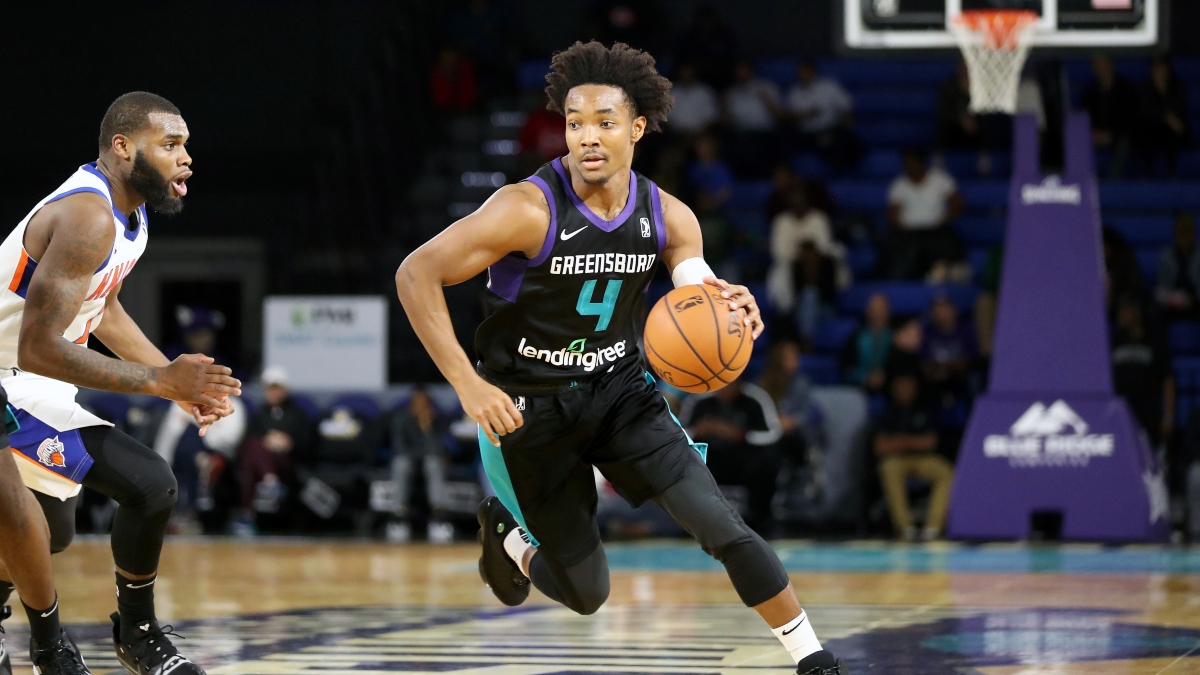 Graham's rise started immediately. He posted 23 points in an opening night win vs. the Bulls, hitting six 3-pointers. Graham has six or more made 3s in nine games this season, behind only Lillard and Harden.
Graham is shooting 41% on catch-and-shoot opportunities (61% eFG) via Synergy Sports, and 36% (56% eFG) off the dribble. For comparison, Trae Young has shot 37% off the dribble on roughly the same number of attempts.
Graham has shot better off the dribble and on catch-and-shoot opportunities than either Bradley Beal or Zach LaVine, for a team with far fewer offensive weapons.
Graham's release is smooth, and he has absolute comfort when coming off the screen.
The range is exceptional as well:
But there are lots of great shooters in the league. What sets Graham apart is how good of a playmaker he is as well.
As his reputation as a shooter has grown, he's finding ways to attack teams for decisions to cover him as such, like here where his shot fake pulls Marc Gasol up, allowing the cut to the basket:
Teams are putting two on-ball on him coming off screens consistently now; it makes sense with the Hornets being a bottom-five team scoring off the roll man. But Graham has alternatives, like how he finds the corner to Miles Bridges here:
Graham isn't bothered or deterred by larger defenders; he's found ways to make it work:
"I'm always trying to come off and see how long the big stays with me," Graham says. "The longer he stays with me, the better I can throw it back and get more advantage on the backside or the big can get a layup."
The one key area he has to improve, the reason why that field goal percentage is so low, the biggest individual knock you can make on Graham, is finishing. He's shooting just 40% around the basket — the ninth percentile (via Synergy). And he's aware that's the challenge.
"I've got to improve around the basket," he says with an air of desperation. "I'm working on floaters, middies. My touch around the basket, I'm not showing a good percentage there."
Still, there are signs. He's learning how to put opponents "in jail," hesitating off the screen to get the defender pinned against his back before bursting to the rim:
He's working on his floater, adjusting his hand positioning and trying to develop it more consistently. While he'll never be Steph Curry (no one is), there are similarities in how Graham might improve simply by shooting more scoop shots and layups from farther away.
Graham's story of how he reached the NBA is well told. Undersized and under-recruited, he was stuck in the transfer system before finally landing with Kansas, eventually starting in his sophomore season through his Final Four run his senior year.
And yet, there he was, a year later, in Greensboro with the Swarm. This is Graham's story. Climb and climb… start over. If anything, these experiences have left a mark on Graham that keeps him grounded. He knows the thrill of the Final Four for a power program and the grind of the G-League.
"You get the luxury, the way we travel, the hotel we stay in, the atmosphere we get to play in … you don't take it for granted," Graham says of what he's learned. "You don't want to lose a great opportunity, because it's such a privilege the way it is here (in the NBA)."
If nothing else, Graham needs to be in the 3-point contest at All-Star weekend. His ability to hit from any distance and his comfort both off-the-dribble and in spot-up situations makes him a natural selection.
Graham says he hasn't been offered a spot yet, but he'd definitely be interested. If selected, you can be sure he'll be the longshot to win the event.
And somehow, you get the feeling he'll still be a good bet to rise to the top.
How would you rate this article?