Odds To Win 2019 FIBA World Cup Championship: USA Favored To Win Gold, Serbia Eliminated
Credit:
https://twitter.com/FIBAWC
Check out the odds to win the 2019 FIBA World Cup Championship between August 31st and September 15th, 2019 from Beijing, China via Westgate Las Vegas SuperBook and DraftKings.
The United States is listed as a -167 favorite followed by Spain and Australia.
For the first time since 2014, the FIBA World Cup Championship is being played in Beijing, China starting on August 31st.
This year's tournament marks the 18th FIBA World Cup Championship in the history of the event. The United States has won five gold medals, which is tied with Yugoslavia for the most.
In total, the U.S. has 12 medals, which is the most of any country and nobody is going to catch them anytime soon, since the countries in second (Yugoslavia) and third (Soviet Union) do not even exist anymore.
The United States has had the most success in the FIBA tournament when NBA players are in the mix, which has been the case since the 1994 tournament in Canada.
So it should not be a shock to anyone that the United States opened as a -500 favorite to win the 2019 tournament with Serbia listed in second at +500 odds.
The Americans have won the gold medal in two consecutive World Cups, beating Serbia in the final in 2014 and Turkey in 2010.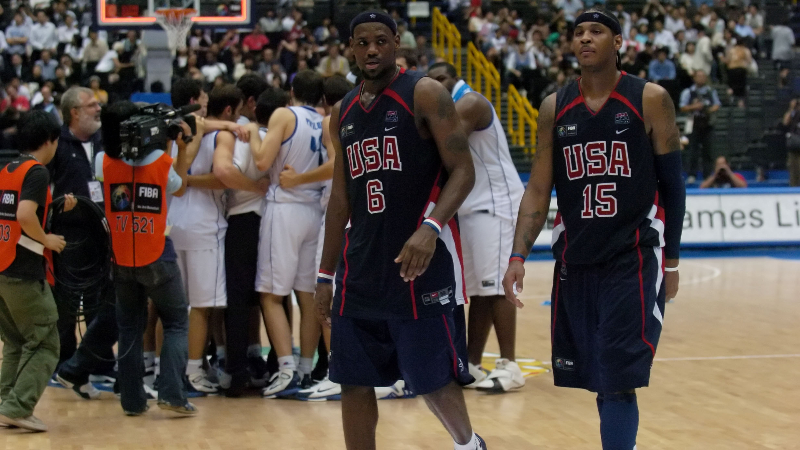 The last U.S. loss in the FIBA World Cup came at the hands of Greece in 2006 semi-final round, where it blew a 12-point halftime lead.
Looking back at the 2014 FIBA World Cup, the United States was just a -220 favorite to take home the gold, compared to the -500 odds it opened in 2019.
This time around, though, several high-profile NBA players have declined to play for team USA this summer and numerous injuries both before and during the tournament have made this time around a lot more interesting.
The United States faces France on Wednesday morning (ET) with a chance to advance to the Semifinal against Spain.
Here are the Americans upcoming schedule:
September 10th: Quarterfinal vs. France
September 13th: TBD Semifinal
September 15th: TBD Final
Without further ado, here are odds to win the 2019 FIBA World Cup .
All odds are as of September 10, 2019 (via Westgate Las Vegas SuperBook and DraftKings).
2019 FIBA World Cup Championship Odds (via Westgate and FanDuel)
---
Opening 2019 FIBA World Cup Championship Odds (via Westgate)
United States: 1-5 (-500)
Serbia: 5-1
Spain: 18-1
Greece: 20-1
France: 40-1
Australia: 40-1
Canada: 50-1
Lithuania: 80-1
Argentina: 80-1
Russia: 100-1
Italy: 150-1
Germany: 150-1
Turkey: 150-1
Brazil: 150-1
Poland: 200-1
Montenegro: 250-1
Puerto Rico: 250-1
New Zealand: 300-1
Czech Republic: 500-1
China: 500-1
Nigeria: 500-1
Dominican Republic: 500-1
Iran: 1,000-1
Venezuela: 2,000-1
Tunisia: 2,000-1
South Korea: 2,000-1
Angola: 2,000-1
Jordan: 2,000-1
Japan: 2,000-1
Philippines: 2,000-1
Senegal: 3,000-1
Ivory Coast: 3,000-1
How would you rate this article?