FIBA World Cup Odds, Betting Predictions: Is Dominican Republic a Sleeper Pick?
Credit:
Fermin Rodriguez/Quality Sport Images/Getty Images. Pictured: Karl Towns of the Dominican Republic Men's National Basketball Team.
The 2019 World Cup is perhaps most remembered for Team USA finishing seventh, their worst-ever placement in a major international competition, which officially hammered home that the rest of the world has caught up.
(Even though a Team USA team led by Paul Pierce, Jermaine O'Neal, Shawn Marion, Ben Wallace, and Reggie Miller finished sixth in 2002. And even LeBron James, Dwyane Wade, Carmelo Anthony, Chris Paul and Chris Bosh only finished third in 2006.)
But in 2019, we also had a pair of such surprisingly good stories that won't be able to replicate their breakouts in 2023 because neither of them qualified for this World Cup: Czech Republic and Poland.
Czech Republic — Tomáš Satoranský and dem boyz — finished sixth, and Poland — led by A.J. Slaughter (I'm serious) — finished eighth.
Team USA even beat Czech Republic in group play 88-67 to start the World Cup, but they finished behind them after losing to France in the quarterfinals and Serbia in the 5th to 8th place classification round. In that same round, Czech Republic beat Poland, clinching sixth, and forcing Team USA to beat Poland for seventh.
On paper, this Dominican Republic team is better than both those Czech Republic and Poland teams, which is only part of why I bet them +300 to reach the quarterfinals, and +150 to win their group.
Talent isn't everything in these tournaments as it appeared when the gap between Team USA and the world was more pronounced, but it helps, especially when the World No. 23 ranked Dominican Republic adds Karl-Anthony Towns, an arguable top-five player in this tournament.
In the NBA? I'm not a KAT guy, but in FIBA …
DR is only qualified for their fourth World Cup ever, and their third straight after breaking a 36-year streak of never making the tournament between 1978 and 2014.
Beyond Towns, this DR roster has real quality and experience. Former Clipper and 6-foot-9 center Angel Delgado is a hellacious rebounder who has produced in the G League, in Europe and has represented the national team since 2016 during his Seton Hall days.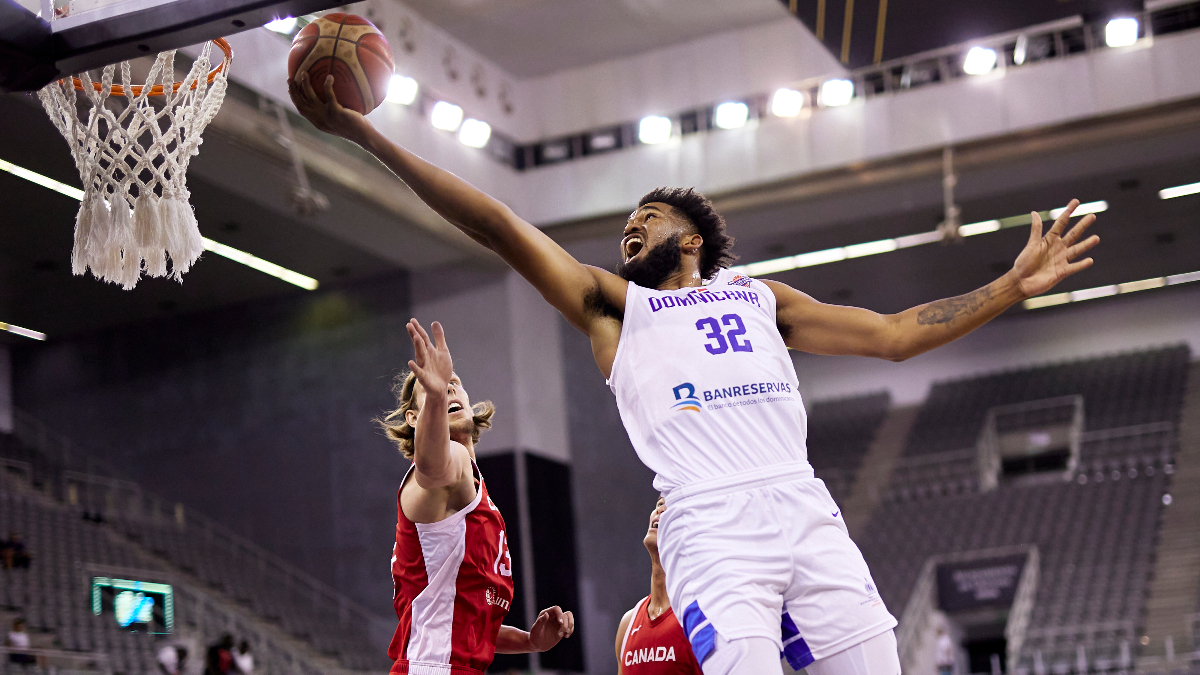 Point guard Jean Montero was, for my money, one of the best undrafted players from 2022. The 20-year-old won the Spanish ACB Best Young Player Award for 2023, an award won previously by, among others, Sergio Rodriguez, Ricky Rubio, Juancho Hernangomez, and Luka Doncic (twice). He's been in the national program since he was 13, and he should be an NBA player one day.
Lester Quinones is a two-way player for the Golden State Warriors who has been in the DR program since his teenage years as well, and appeared in four games with the Warriors after going undrafted out of Memphis. He was the G League's Most Improved Player in 2023.
And they have a veteran in Victor Liz, the team captain who, at 37, is likely competing in his final World Cup. Liz is a combo guard who has been a champion in Puerto Rico and a mainstay for the Dominican National Team who represented them in the 2014 and 2019 World Cups.
Up and down the roster, you have other guys like Andres Feliz, LJ Figueroa and Rigoberto Mendoza, who should play meaningful minutes for the team and have been with the program for years.
There's talent, there's familiarity, and there's the blessing of a favorable route to the quarters, which rounds up my case for them to make a run.
In group play, DR will see Italy, the Philippines and Angola. They should beat the latter two, and that alone would get them to the next stage, but, straight up, they could beat Italy, who isn't as good on paper as their standing (No. 10 in the World) would suggest.
In the next phase, DR will see two of Serbia, Puerto Rico, China and South Sudan. Serbia will win that group, and Puerto Rico should take second. (That isn't a guarantee for many reasons I could complain about, but won't here.) Regardless, DR is better than everyone in that group outside of Serbia, and at their best, they could give Serbia a run. Like Czech Republic, 3-2 could get you to the quarterfinals, but I think 4-1 is on the table.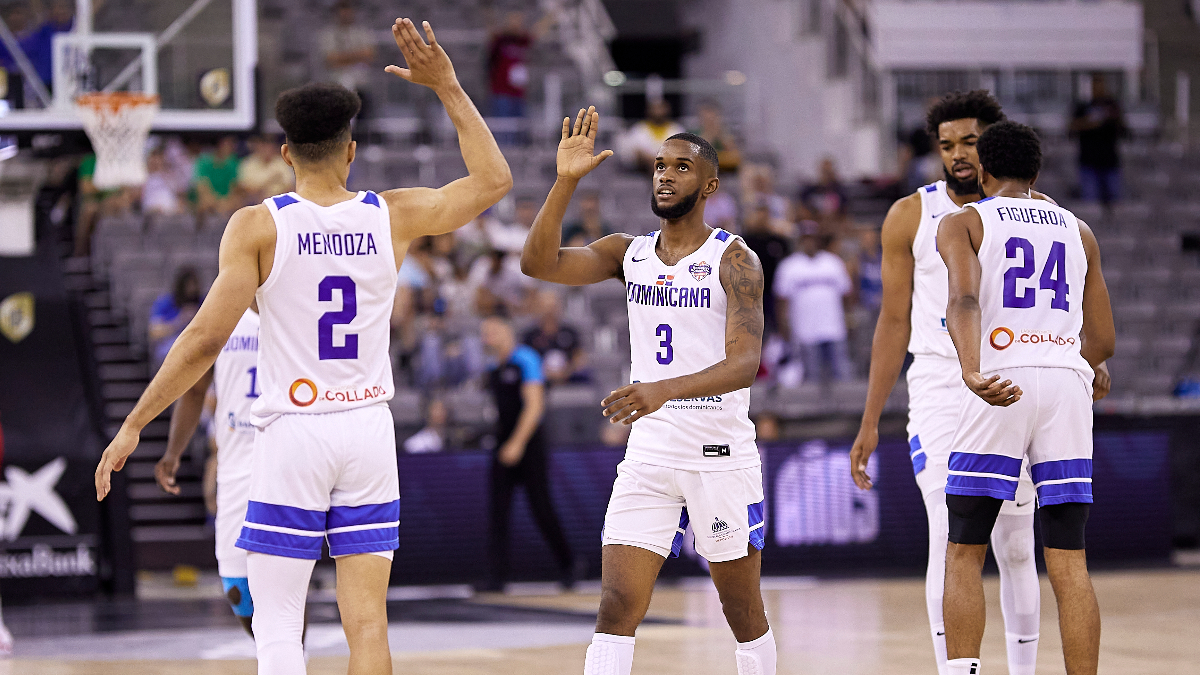 Predicting the Dominican Republic to make it to the quarterfinals is basically me telling you I think they could beat Italy. KAT, Delgado, Montero, Quinones and others provide a tough match-up for a team that'll be led by Simone Fontecchio and Nicolo Melli.
And if Canada struggles — assuming Puerto Rico, Mexico, Venezuela or Brazil don't surprise — a run to the quarters could mean DR's first Olympic slot ever. For the seven World Cup-qualified teams in the Americas, the top two World Cup finishers automatically earn bids for the Olympics, which will be in Paris next summer.
So, yes, you'll have to trust KAT, but the Philippines are a long way from Minnesota, and hopefully, that's for the better.
Another thing to monitor betting wise is, if DR reaches the quarterfinals, they'd play the maximum amount of games in the World Cup: Eight.
If you're eliminated in rounds one or two, you play five games due to loser classification that'll order places 9-32 in the tournament.
If you make the quarterfinals, you play eight games because even if you lose in that round, you'll play two additional games that'll determine places 5-8. For example: Team USA lost in the quarterfinals but still played all eight games because after going 5-0 in the first two rounds, they lost to France, lost to Serbia in the first game to determine places 5-8, and then beat Poland to finish in seventh place because Serbia beat Czech Republic for sixth.
If Dominican Republic gets to the quarterfinals, it puts Towns in a position to be the tournament's scoring or rebounding leader. I sprinkled on him at +1,100 to lead the tournament in scoring on DraftKings. For rebounds, I like Rudy Gobert, but Towns is +900 to lead in rebounding, and I don't mind it as a longshot sprinkle either.
Picks: Dominican Republic Stage of Elimination – Quarters +300 | DR to Win Group +150 (DraftKings)
How would you rate this article?
This site contains commercial content. We may be compensated for the links provided on this page. The content on this page is for informational purposes only. Action Network makes no representation or warranty as to the accuracy of the information given or the outcome of any game or event.