Warriors-Celtics Betting Guide: Bet on Boston as Rare Home Dog?
Credit:
Photo credit: USAToday Sports. Pictured: Stephen Curry and Kyrie Irving
Betting Odds: Golden State Warriors at Boston Celtics
Spread: Warriors -3
Over/Under: 230.5
Time: 8:30 p.m. ET
TV Channel: ABC
---
>> All odds as of 10:30 a.m. ET. Download The Action Network App to get real-time NBA odds and track your bets
---
It's the game of the year. The 34-14 Warriors, currently running through the league with DeMarcus Cousins back in action, will travel to Boston to take on the 30-18 Celtics.
The public is all over the Warriors, as expected. Does that mean there's value on Boston as a rare home dog?
---
Betting Trends to Know
The Celtics are home underdogs for just the second time this season. Under Brad Stevens, Boston is 30-35-2 against the spread when getting points in TD Garden (counting the playoffs), but over the past two seasons the team is 10-1 ATS as a home dog. — John Ewing
The Warriors have won nine consecutive games straight up and just defeated the Wizards on the road, 126-118, shooting 56.8% from the field. Under Steve Kerr, the Warriors are 43-27-2 (61.4%) ATS the game after shooting at least 55% from the field, covering the spread by over 4.0 points per game.
The 60 other head coaches in the league over that span have covered the spread just 46.5% of the time in this spot. — Evan Abrams
The Warriors have won nine straight. The Celtics have won five straight. Since 2005, there have been 16 non-conference matchups between two teams that have both won at least five consecutive games: The underdog is 11-5 ATS in those games, covering the spread by 5.1 points per game.
Underdogs have covered the spread in seven consecutive games in this spot dating back to 2013. — Abrams
---
Mears: How to Bet on the Public Warriors
The Warriors started January with a 135-134 loss the Rockets. Since then, they have won each of their past nine games, completely obliterating all teams in their path.
During that stretch, they've posted a +20.7 Net Rating; for reference, the 2015-16 Warriors team that won 73 games had a Net Rating of +11.6. Over the past nine games, the Dubs have scored a ridiculous 129.0 points per 100 possessions and posted an effective field goal rate of 61.7%.
What's been propelling the recent surge? As we mentioned in this piece on DeMarcus Cousins' fit with the team, it's the rotations.
In December, Stephen Curry and Kevin Durant averaged 27.7 minutes together per game. On Jan. 11, Kerr started playing them together and staggering them less in order to get rotations ready for Cousins' debut, and since then they've averaged 31.1 minutes together per game.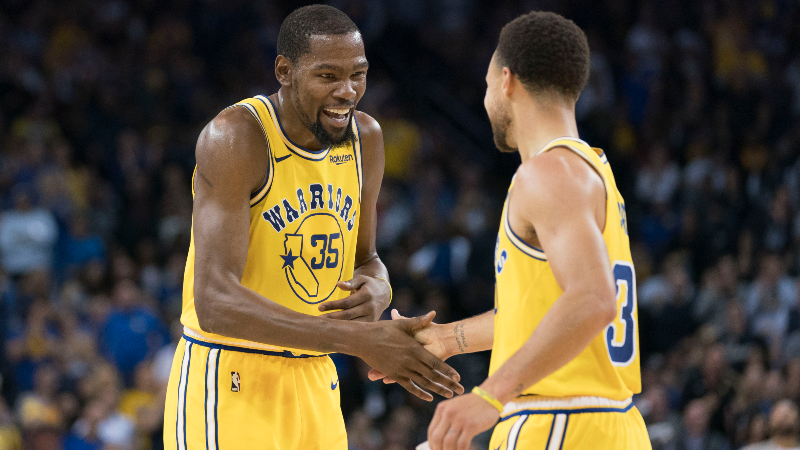 That may seem like a minor shift, but the data suggests it's quite big. Since Durant came to Golden State, the Warriors have scored an astounding 125.0 points per 100 possessions with Durant and Curry on the floor together. That is an utterly ridiculous number over a huge sample and shows just how devastating that combo is together; it's virtually unstoppable.
An extra five minutes per game of that type of offensive efficiency is a big deal, and the Warriors now have Cousins to help buoy everything when they're out. It's a small sample of course, but Boogie through three games has a Net Rating of +28.9 — he's been pretty darn good coming off a brutal injury.
Alright, so the Dubs are unstoppable; what does that mean for tonight's spread?
First, a couple of notable trends for these teams. The Warriors are an incredibly public team, and that's true even against the Celtics today: The Warriors are getting 79% of the bets and 80% of the money. Over the past two seasons, the Dubs are 55-74-1 (42.6%) ATS overall and 33-35-1 when they're getting at least 70% of the bets.
Further, the Celtics thrive at home — they're 16-8 ATS in Boston this year — and especially as home underdogs, as John mentioned above. This line is definitely inflated towards Golden State; history would suggest betting against the public here.
Moore: Brad Stevens Needs to Think Bigger
The Celtics are one of the few teams that consistently net praise from the Warriors. The Dubs actually respect this team, which is a rare thing for them. The Warriors don't even respect the Rockets, who needed just one more good quarter to send them packing last spring.
DeMarcus Cousins changes this matchup, though.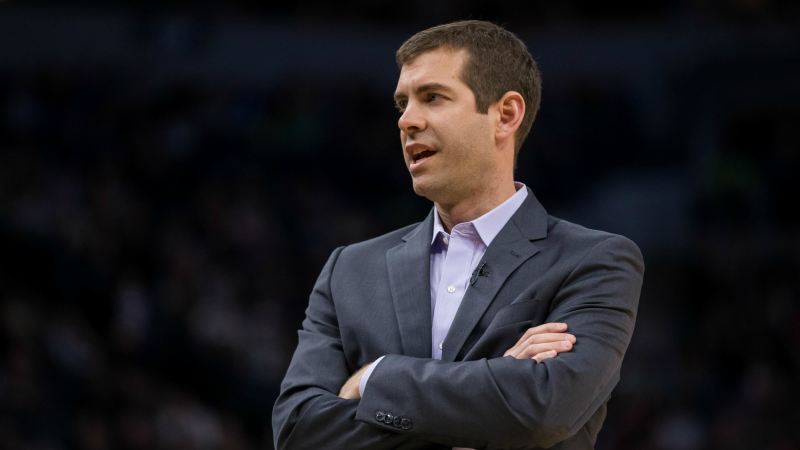 With Cousins out there, and Stevens' bizarre reluctance to deploy Aron Baynes, things might get out of hand for Boston. Cousins' size and skillset could wreak havoc, and it frees up Draymond Green to attack one of the wings defensively.
The Celtics are 13-5 when Baynes plays more than 15 minutes, and Al Horford's numbers in particular have been stellar alongside Baynes in the limited minutes the two have played together. If Stevens is ever going to use that lineup, this would be the game.
Boston allows the fourth-most 3-pointers per 100 possessions league wide, but just the third-lowest percentage. The Celtics have to decide if they want to allow the Warriors to shoot a lot of 3's and trust that their defense can make the Warriors miss. The Celtics also give up the 14th-most unguarded 3-pointers, league-wide. There are a lot of reasons to think this is a shootout, despite the reputations of both teams.
---
Bet to Watch
Warriors -1 (1st Quarter)
The Warriors are just terrifying to bet against. Instead, I think I'll be looking to bet the Dubs specifically in quarters where I know I'm going to get those long Curry-Durant stretches, since it's been so unstoppable.
Look at their Net Rating by quarter over the last nine-game winning streak:
1st Quarter: +27.6
2nd Quarter: +6.5
3rd Quarter: +30.3
4th Quarter: +3.3
They're good in every quarter, and that recent fourth quarter Net Rating is lower because of blowouts. But they're destroying worlds in those KD-Curry minutes, so I'll be looking to bet them in those first and third quarters instead of the full-game spread. And, of course, I'll be looking to live bet them if they become dogs as well. — Mears
Warriors -1.5 (1st Half)
Golden State was 1-6 against first-half spreads vs. teams over .500 in November, as their malaise was very apparent. In January, however, since they started this berserk run a little before Cousins' return, they are 3-1 ATS on first-half spreads vs. those teams, and 7-3 overall.
Golden State is going to gear down and coast at some point, likely after the All-Star Break. But on national TV, in the big premiere game, in what should be an NBA Finals preview, you can expect their best, right from the start.
And here's the kicker: this season on the road vs. East teams, the Warriors buck their overall profile for half-by-half performance, with a plus-13.7 net rating in the first half and a plus-10.8 net rating second half.
They get out to big leads on the road vs. East teams, and that's enough to push me to lay the mere 1.5 points here. — Moore
---
Editor's note: The opinions on this game are from the individual writers and are based on their research, analysis and perspective. They are independent of, and may not always match with, the algorithm-driven Best Bets from Sports Insights.