NBA Betting Odds, Picks & Predictions: Value On Grizzlies vs. Pelicans (Monday, August 3)
Credit:
Getty Images. Pictured (L-R): Memphis Grizzlies guard Ja Morant, New Orleans Pelicans forward Zion Williamson.
The Pelicans take on the Grizzlies in Monday night NBA action, and New Orleans is the favorite at -4.
With Zion Williamson on a minutes restriction, Raheem Palmer thinks there's value on Memphis, even on the second night of a back-to-back.
Check out his full betting analysis for Grizzlies vs. Pelicans below.
Grizzlies vs. Pelicans Betting Odds
Looking for Wednesday's Grizzlies-Jazz game? Head here.
Odds as of late Sunday night and via FanDuel. Get up to a $500 risk-free bet at FanDuel today or see more offers and reviews for the best online sportsbooks.
---
Is there value on the Grizzlies on a back-to-back?
The Rookie of the Year race between the Ja Morant and Zion Williamson is all but settled, but the final spot in the Western Conference playoffs is still up for grabs. The New Orleans Pelicans are fighting for their playoff lives and have a chance to pick up one game on the Memphis Grizzlies, who are 3.5 games ahead of the Pelicans for the 8-seed in the Western Conference.
The Pelicans won both matchups this season, defeating the Grizzlies 126-116 as 3.5-point road underdogs and snapping their seven-game win streak on Jan. 20. Eleven days later the Pelicans beat the Grizzlies again at home, 139-111, as 7.5-point favorites.
Let's take a look at Monday's matchup.
Memphis Grizzlies
The Grizzlies are coming off two close losses, an overtime thriller in which they blew an 11-point second-half lead to the Blazers to lose 140-135, following that up with a demoralizing loss to the Spurs in which DeMar DeRozan made two free throws with one second to play.
Unfortunately for the Grizzlies, they need to have a short memory and put that loss behind them quickly as they face a back-to-back against the Pelicans.
The Grizzlies have been successful on zero days rest as they are 7-3 against the spread and 7-3 straight-up with a +5.5 margin of victory in that spot. In addition, they have a 113.5 offensive rating and a 107.9 defensive rating in back-to-backs with the pace slowing slightly from a season average of 103.27 to 102.85.
Although some of that could be noise, I've always believed how a team response to B2Bs says a lot about them. Nevertheless, the bubble creates an interesting scenario for situational spots, one we've never seen before: There's no travel and there's no home-court advantage involved with these back-to-backs. The Wizards, Grizzlies and Spurs are the first teams playing back-to-back games in the bubble on Monday, so this set of games will provide our first frame of reference for how teams are impacted by them in the bubble vs. in a standard season with travel.
Morant has continued his Rookie of the Year level play with 25 points, nine assists and nine rebounds against the Spurs.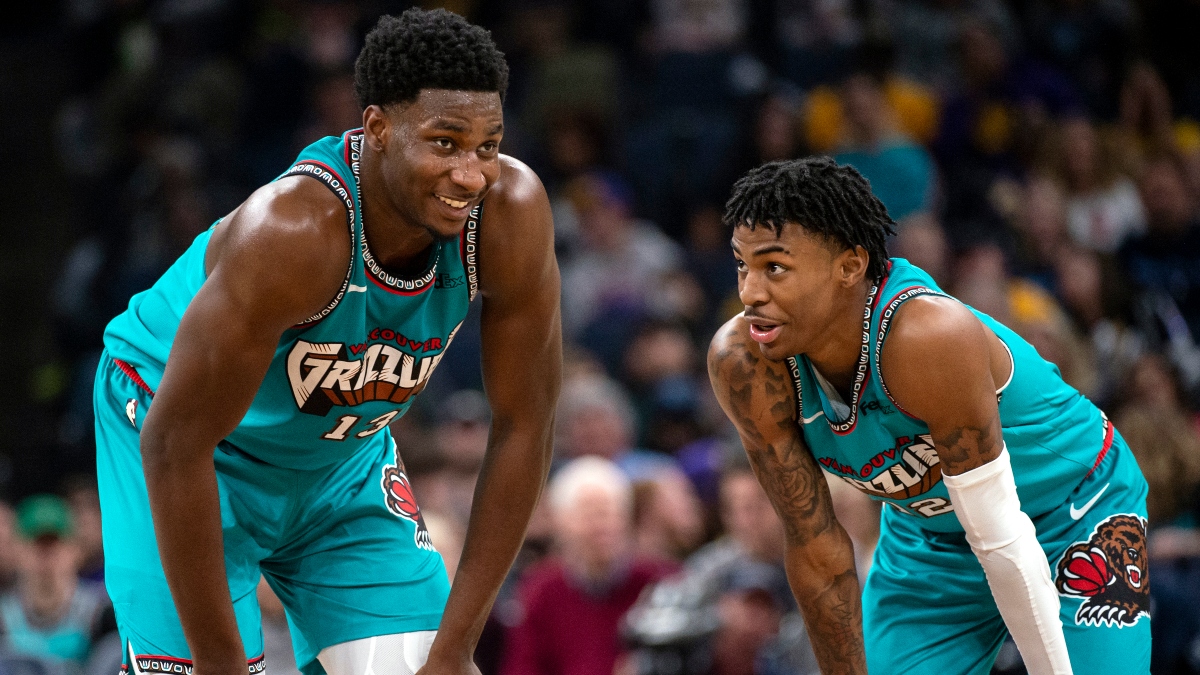 Jaren Jackson Jr. has also been a bright spot for the Grizzlies, shooting 39.7% from 3-point range at six per game, though foul trouble has been an issue. If he can stay on the floor, he'll cause problems for any defense with his ability to stretch the floor.
New Orleans Pelicans
The restart created the perfect opportunity for the NBA to not only crown a champion but to also get Zion Williamson involved and sell the world on its newest phenom by giving his team a chance to make the playoffs.
Unfortunately, the Pelicans — who had the easiest schedule of the 22 teams in the bubble — had other plans. They were firmly in control of their opening night matchup with the Jazz only to blow a 16-point lead and lose 104-102. They then followed that up with a 126-103 loss to the Clippers.
The Pelicans now find themselves desperately clinging to their playoff chances.
One issue for the Pelicans is that Williamson has been on a minutes restriction since leaving the bubble after missing 13 days of basketball activity leading up to their opener.
Zion is averaging 22.3 points, 6.4 rebounds and two assists with an on/off rating of +10.5 points per 100 possessions this season. However, he's played only 29 minutes since the restart: 15 in their first game when he sat the final 7:19 as the Pelicans lost by two, then 14 minutes against the Clippers in a game that got out of hand quickly and he suffered a minor injury.
Zion is still expected to be on a minutes restriction, and more and more, it looks clear that New Orleans values the future over the present.
The Pelicans play at the second-fastest pace in the league at 103.93, which is great for getting easy baskets before the defense sets up. However, they've been sloppy with the ball during the restart, turning the ball over on 19% of their possessions.
Although Brandon Ingram has kept his Most Improved Player campaign going throughout this lockdown, Lonzo Ball and Derrick Favors have left much to be desired. Obviously it's tough to win when you aren't getting much from two of your starters.
Lineups with Zion and Favors have also been problematic given the lack of spacing. Alvin Gentry will have to work that out, but given Zion's minutes restriction, it's tough to know if Gentry has seen enough of it.
Betting Analysis & Pick
One of the biggest mistakes people make in sports betting is wagering on teams because they're playing in a must-win game. It's a narrative that, when heard excessively, can lead to disastrous results — believing that a team will play above their level and give you a positive expected value proposition because they're in a must-win spot is the epitome of irrational.
I like to tell myself that, if a team finds itself in a must-win game, it probably isn't very good. Unfortunately, the Pelicans find themselves in that spot now. With the Spurs and Blazers creeping up the standings, a loss to the Grizzlies is basically a death sentence for the Pelicans — one that the market has already priced in.
Often times you'll actually find that there's value fading teams in these spots.
The market makes the Pelicans 4-point favorites over the Grizzlies on a neutral court with most of the public betting on New Orleans. Although the Pelicans laid and covered -7.5 at home against the Grizzlies on Jan. 31, I'm not sure it's fair to assume these are the same teams that played then.
For starters, Jackson nor Brandon Clarke played in their previous matchup, and I'm not sure the Pelicans are playing at the same level as they did pre-lockdown.
With the uncertainty about how back-to-backs will impact teams in the bubble and how Zion's minutes will be distributed, I'm inclined to pass, however there's some value on the Grizzlies at this price.
The Pelicans seem to be gearing up for the future and their play doesn't make me feel great about laying four points on a neutral court. My model has the Pelicans as being 1.23 points better than the Grizzlies on a neutral court. The Grizzlies have yet to put together a consistent full 48-minute game, but this is a one- to two-possession game either way.
THE PICK: Grizzlies +4 (or better)
[Bet $20+ on the Grizzlies at PointsBet and Win $125 if they make at least one 3-pointer]
How would you rate this article?