Lakers vs. Heat Game 2 Odds, Picks, Betting Predictions: Can Banged-Up Miami Keep it Close? (Friday, Oct. 2)
Credit:
Jesse D. Garrabrant/NBAE via Getty Images. Pictured: Lebron James (right) high-fives Anthony Davis.
The Lakers are nearly a double-digit favorite over the Heat in Game 2 of the NBA Finals after Miami suffered a few key injuries in Game 1.
See how Joe Dellera is betting Friday night's game.
Heat vs. Lakers Game 2 Betting Odds
Odds via PointsBet, where you can get $250 FREE instantly after signing up AND your bets automatically sync to the Action app. Learn more about BetSync here.
---
The Los Angeles Lakers came out firing on all cylinders in Game 1 as they thrashed the Heat, 116-98. Do the Miami Heat have anything left in the tank or will the Lakers continue their dominance in Game 2?
Miami Heat
The Heat got hit with the injury bug at the absolute worst time.
While Jimmy Butler (ankle) did not miss any significant time in Game 1, two of Miami's best players suffered more substantial injuries. Bam Adebayo is listed as doubtful with a strained left shoulder but intends to play in Game 2. The bigger issue is Goran Dragic, though. He was downgraded from questionable to play in Game 2 to doubtful, per our NBA Insiders Tool.
The guard has had a tremendous playoffs and a resurgence of sorts in the bubble. He was diagnosed with a torn plantar facia and is out indefinitely. Dragic has not ruled out a return to the NBA Finals, but this is a brutal blow to the Heat.
In the playoffs, he has contributed 19.9 points (second-most on the team), 4.0 rebounds, and 4.6 assists (first) and is tied with Adebayo for the team's best Plus/Minus at +4.8/game, per NBA.com. Moreover, when Dragic is off the court, Miami has its third-worst offensive rating (108) and its worst defensive rating (111.9).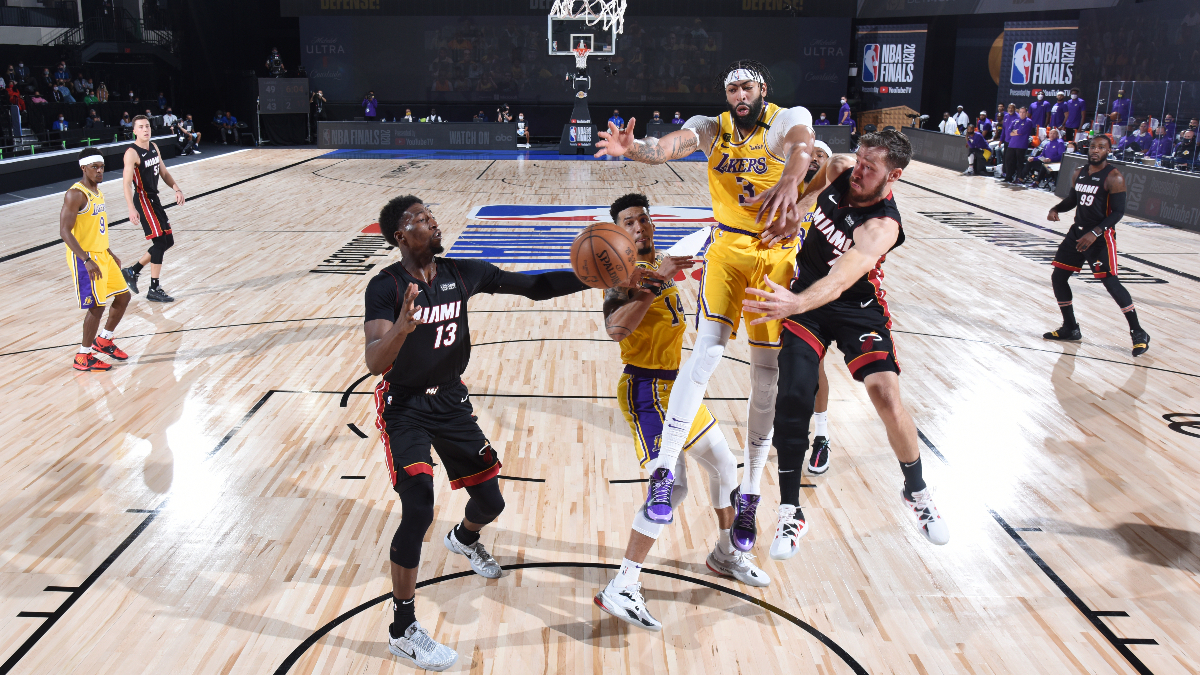 Our power rankings project Adebayo and Dragic as worth 5.8 points to the spread. Per Cleaning the Glass, in all lineups without Adebayo and Dragic the Heat were -16 points per 100 possessions in the regular season.
How does Miami combat this massive loss in production? Expect to see more minutes from Kendrick Nunn, who fell out of the rotation during the playoffs, but contributed 18 points, five rebounds and two assists in 18 minutes of action during Game 1.
Solomon Hill, Kelly Olynyk and Meyers Leonard will likely have their minutes increased, but none has the impact on the interior that Adebayo provides. Olynyk should help to stretch the floor, specifically on offense, to open up some cutting lanes for Heat shooters.
Additionally, I think we will see more zone defense to compensate for the lack of size (they barely used it in Game 1), but if the Lakers continue to push the pace I don't think it will matter much.
Los Angeles Lakers
The Lakers came out on a mission and shot the lights out in the first half of Game 1. They let off the gas a bit, as the 17-point margin is not indicative of the dominance they showed in the victory.
The Lakers enjoyed a massive disparity at the free throw line, as they took 27 free throws compared to the Heat's 14. The Lakers exploited their size advantage to attack the interior, specifically Adebayo. Once he was in foul trouble, they went right back at him to force the issue.
The Lakers shot the ball extremely well in Game 1. They had a 55% eFG%, which was carried by shooting 40% from 3-point range. They will likely regress as they've shot 36.9% from 3, but the Lakers should see positive regression at the rim — they shot 60.7% at the rim compared to a playoff-best 70.2% in the rest of their games, per Cleaning the Glass.
I expect the Lakers to continue to attack the interior, which will open up the 3-point shot for Kentavious Caldwell-Pope and Danny Green. LeBron James and Anthony Davis can win this alone, but if they get any contributions from their role players this series will be over very quickly.
Betting Analysis & Pick
The Lakers are a superior team regardless of the injuries to Dragic and Adebayo, but their potential absence widens the gap. They were downgraded from questionable to doubtful and the opening line shot to -9.5 from the initial -7.
In Game 2 of the NBA Finals, favorites of 7 points or greater are 3-1 ATS since 2005. The one loss? The 2015 Cavaliers — led by James — won outright as 7.5-point underdogs.
If Dragic and Adebayo do not play, this line might close at double digits. If they do play I cannot imagine this line moving anywhere below +9 since they would not be fully healthy.
I'm taking a long look at their team total: 103.5. Normally, I'd like to play the under without two of their best players; however, when Dragic and Adebayo are off the court, Miami increases its pace from 97.36 to over 101, per NBA.com. Due to this uptick, I'll avoid their team total.
The -4.5 line in Game 1 was way off and I still think the spread is actionable. If you want to see if Dragic and/or Adebayo plays, that's up to you, but given the injuries I question their impact if they do play.
The Pick: Lakers -9.5, up to -10.5
How would you rate this article?