NBA Finals Game 1 Betting Preview: Heat vs. Nuggets Odds, Picks, Predictions
Credit:
Bart Young/NBAE via Getty Images. Pictured: Jimmy Butler #22 of the Miami Heat shoots the ball against Nikola Jokic #15 of the Denver Nuggets.
The Miami Heat and Denver Nuggets meet in Game 1 of the NBA Finals Thursday.
The Nuggets are well rested and enter as near double-digit favorites (spread: Nuggets -8.5).
Jim Turvey details his trio of bets, including predictions for Nikola Jokic vs Jimmy Butler in the Heat vs. Nuggets preview.
Heat vs. Nuggets Odds
Heat Odds
+8.5 
Nuggets Odds
-8.5 
Over/Under
219 
Time
8:30 p.m. ET
TV
ABC
Odds via DraftKings. Get up-to-the-minute NBA odds here.
It's here! The Miami Heat and Denver Nuggets face off in Game 1 of the NBA Finals Thursday night, the start of a series that you have undoubtedly have heard by now is a "true hoop heads" Finals.
The Nuggets have been off for over a week now, while the Heat finished a physical and emotional seven-game series that staved off the kind of history no team would want to make. The Nuggets are heavy favorites, in part due to this dynamic, but three indisputable facts: They have the best player in the world right now (don't be mistaken about it), they have home-court advantage (arguably the biggest advantage in the league) and were the far superior regular season team.
The great news for bettors is that there are about a million different ways to bet this Game 1, and the even better news for readers is that I took the time to go through them all so you didn't have to! So let's dive into some of the best ways to play Game 1 of the NBA Finals in our Heat vs Nuggets preview.

Miami Heat
The breakout story from the past week for the Heat has been Caleb Martin. (He's undrafted, have you heard?!) He was one vote away from being named Eastern Conference Finals MVP, a genuinely amazing and impressive feat for a player who averaged less than 10 points per game this regular season.
I say this not to shade Martin, but rather to put into context his betting market.
He has averaged 8.0 points per game in his career and 9.6 points per game this regular season. Even this very postseason, up until two games ago, he was averaging 12.9 points per game. Now his Game 1 points prop is set at 16.5 points, only slightly juiced to the under. In the first 16 games of this postseason, Martin cleared that number just three times. Of course, we definitely cannot just simply write off the fact that these last two games did occur and that the Martin breakout is somewhat real.
The biggest thing will be minutes. Martin has indeed seen his minutes steadily increase throughout the postseason as Spoelstra and his staff have gained more and more trust in him. That's a blessing and a curse, of course. Martin has never in his career played as many minutes in two straight games as he just did, and now he is headed to the altitude in Denver on farrrrr less rest than the players who will be guarding him. He also has made himself far more of a name in the past week and may well draw a stingier defensive assignment from Michael Malone.
Add it all together, and I am looking to fade Caleb Martin in just about as many markets as I can find. I like the under Martin's points, his rebounds, his points + rebounds combo (duh); as well as fading him in the player head-to-head props for those two categories.
It's not the fun bet — it is for certain the wet blanket bet. But at the end of the day, we're here to win money, right?!
---

Denver Nuggets
There are a lot of smart folks who believe that Erik Spoelstra may well be looking to have Nikola Jokic beat the Heat as a scorer and not a passer this series. For most teams and coaches, I would write this off as unlikely to happen, but as our own Brandon Anderson has said throughout these playoffs, with Spoelstra, you almost can count on him doing the smart thing — it's glorious!
With Jokic having such a high baseline for points per game, and his first love clearly being as a creator, this does seem like a smart tactic to try, at least in sections of this series. It may well come to be that because of the Heat's lack of size, this is not a feasible route, but especially early in this series, Jokic scoring props are going to be an angle I am looking towards.
And my favorite of those Jokic scoring props in Game 1 is for him to outscore Jimmy Butler. As noted in the BUCKETS series preview, Butler was averaging 35.5 points per game in this six games this postseason before he got hurt, and has seen his points per game total slip to 24.6 in the 11 games since. If we look at just the last five games, it's down to 22.2.
Similar to Martin, he is also "fresh" off a combined 90 minutes in Games 6 and 7 of the Celtics series and visibly looked worn down. Now, say it with me, he travels to Denver for one of the toughest road environments to play in when a player is worn down. He's had an extra day to rest compared to the standard on-off-on, but even still, this is a spot I am looking to fade his points prop.
Add it together, and you get DraftKings' head-to-head player prop market. This line opened with Butler actually favored to outscore Jokic, but has since moved to Jokic -130. (Organic plug to follow on Twitter @TurveyBets, where I suggested this play at -110 before the market shifted.)
Even here, I like this number, but it also appears as if they haven't fully shifted the juice for this matchup. Bettors can get Jokic +0.5 (-135) even though buying half a point in this market is typically worth 10-15 cents. This allows bettors to have Jokic and Jimmy tie in terms of points scored and still win the bet.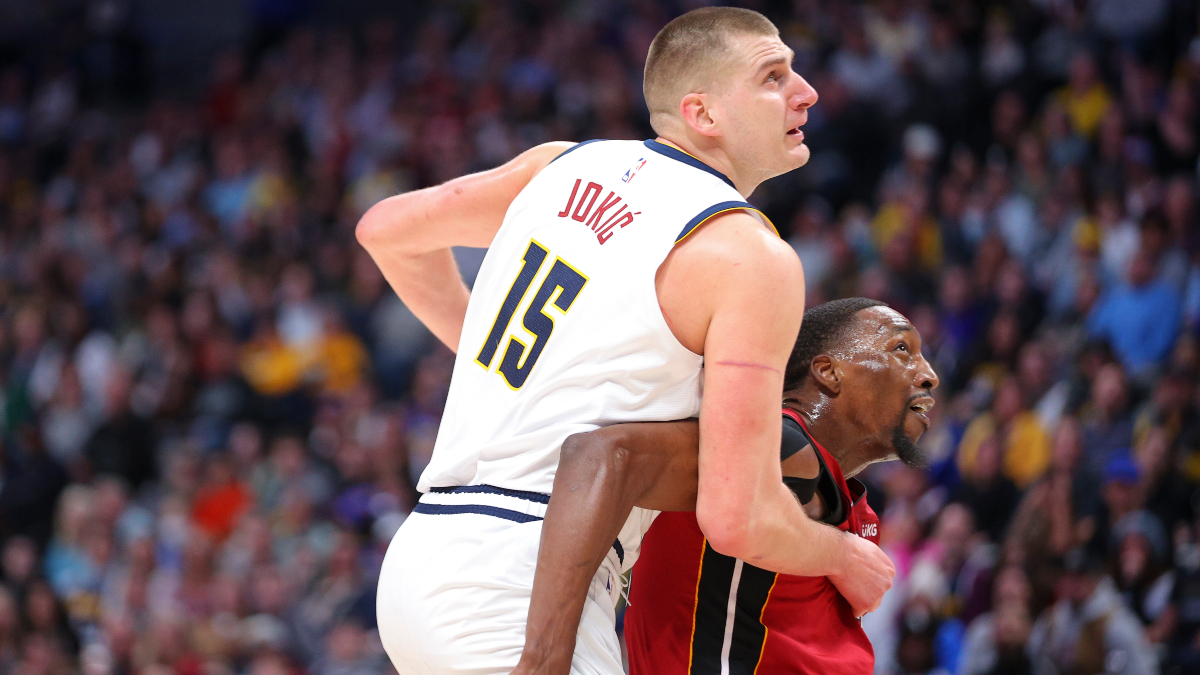 NBA Finals First Look: 3 Bets for Heat vs Nuggets
Heat-Nuggets Pick
I have talked a lot here about two player props but not as much about the spread or total. With games as big as the Finals (especially Game 1 with the healthy layoff in front of it), these spreads and totals are often the sharpest, having been hammered into line by the sharps since they can get the most down on the spread and total. I do lean towards Denver -8.5 (still available at DraftKings and BetRivers), but it's more of a lean than the prop plays laid out above.
Lean: Nuggets -8.5
Best Bets: Caleb Martin under 23.5 points + rebounds; Kentavious Caldwell Pope to outscore Caleb Martin +310; Nikola Jokic +0.5 points head to head with Jimmy Butler
How would you rate this article?
This site contains commercial content. We may be compensated for the links provided on this page. The content on this page is for informational purposes only. Action Network makes no representation or warranty as to the accuracy of the information given or the outcome of any game or event.