Rockets-Warriors Betting Guide: Can Anyone Stop James Harden Right Now?
Credit:
Photo credit: Kamil Krzaczynski-USA TODAY Sports. Pictured: James Harden
Betting odds: Houston Rockets at Golden State Warriors
Spread: Warriors -8
Over/Under: 224.5
Time: 10:30 p.m. ET
TV channel: TNT
---
James Harden is a walking flame right now, setting NBA records left and right. He'll be without both Chris Paul and Eric Gordon tonight against the defending champion Warriors in Oracle Arena.
Can he cover the big spread? Our analysts discuss that and tonight's total.
---
Betting Trends to Know
Did you know? On Monday, Harden had 43 points, 10 rebounds and 13 assists in a win over the Grizzlies. It was Harden's fourth straight 40-point game. Harden set an NBA record with eight straight games with at least 35 points and five assists.
This is just the seventh regular season game under Mike D'Antoni that the Rockets have been listed as underdogs of six or more points.
In the previous six games, Houston went 3-3 SU and 4-2 ATS. Three of the games were on the road in Oakland against the Warriors; the Rockets won two outright. — John Ewing
The Rockets are rolling. They've won 10 of their past 11 games overall, including five consecutive straight-up and against-the-spread wins.
Under Steve Kerr, the Warriors have faced a team at Oracle Arena on at least a three-game straight-up winning streak 27 total times. Golden State is 22-5 (81.5%) against-the-spread in those situations, covering by 5.9 PPG.
The Warriors are 16-3 (84.2%) ATS when their opponent covered the spread in its previous game. — Evan Abrams
---
Moore: Be Careful Trusting Golden State
Given how Golden State has played and covered the last 18 months or so, I would have assumed they were absolutely terrible only as double-digit favorites.
But it turns out they struggle when they're in this spot, too, as favorites of 3-9.5 points, going 3-12 ATS overall and 2-7 ATS at home.
Steph Curry's absence surely impacts that, but it makes me nervous here. Andre Iguodala did great work vs. James Harden for years, but as Iguodala has slid, Harden's gotten even better.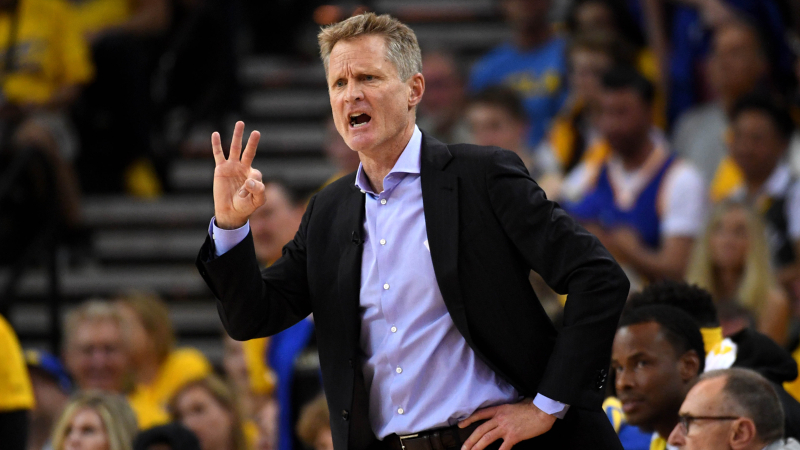 It's also bizarre that the Rockets have better players at the 4-5 right now with Draymond Green's struggles. P.J. Tucker isn't the defensive presence Green is, but he's able to hit the broad side of a barn, and that matters. Clint Capela is better than any center the Warriors have until DeMarcus Cousins plays. (NOTE: Cousins fully practiced Wednesday, so keep an eye out.)
I would warn against Abrams' stat above on Golden State vs. an opponent coming in on a winning streak.
This isn't the old Warriors.
This is a worse, barely-keeping-it-together Warriors team. They're still the Warriors, so a blowout is always in play, but at eight points, it's hard not to like Houston here — CP3 or not. — Matt Moore
---
Mears: Why I Like the Under
It feels like every Houston game for the past three weeks I've been writing to buy the Rockets.
The reason was a defensive scheme change: For most of the season, the Rockets continued their switch-everything strategy that garnered so much success a year ago.
This year it's been a disaster: Before this recent run, the Rockets ranked 29th in opponent shots at the rim and defensive rebound percentage. Those are the two clearest stats indicating that switching is hurting them, as it takes center Clint Capela away from the basket.
Since D'Antoni talked about changing their defensive strategy (see the link above from Dec. 17), the Rockets rank 11th on defense — much better than their previous ranking of 25th. They're eighth in effective field goal percentage allowed and 18th in defensive rebounding rate.
Those aren't perfect numbers, sure, but they're miles better than the beginning of the year, and combined with the walking flame that is James Harden currently, it's no surprise that the Rockets have been winning nearly all of their games of late.
I agree with Matt that CP3 likely doesn't affect this line as much as you might think given his star name: The Rockets have been just 2.0 points per 100 possessions better with him playing vs. not — which ranks in the 59th percentile of players.
For reference, they were 6.6 points/100 better with him last year, and the Clippers in his final season were a ridiculous 21.8 points/100 better.
The Rockets have taken a larger dip without Eric Gordon, who is out tonight as well. Most of that is on offense, as the offense has been 9.0 points/100 worse without him.
Perhaps most notably, the Rockets have played much slower with Gordon off the floor. I think that says less about him and more about the current rotation. No CP3 or Gordon means Harden will operate almost every offensive possession while on the floor. And it's not like the Rockets are fast-paced to begin; they rank 28th in pace this season.
Harden's 94.8 pace mark is even lower than the overall team mark, and the next slowest player on the team is Austin Rivers, who should get extended run without Gordon and CP3.
And finally, it's important to note that the rotations tonight are fairly new in terms of playing together. The Rockets have played just 178 of their 3,264 possessions without CP3, Gordon, Carmelo Anthony and James Ennis.
Thus there are a ton of factors point toward the under: 1) the Rockets' improved defense, 2) their decreased pace without two of their three main offensive creators, 3) their offense hurting without Gordon and 4) less chemistry than usual.
Oh yeah, and we've identified that sharps are betting the under. — Bryan Mears
---
Editor's note: The opinions on this game are from the individual writers and are based on their research, analysis and perspective. They are independent of, and may not always match with, the algorithm-driven Best Bets from Sports Insights.