Raptors-Spurs Betting Guide: Will Toronto Cover in Kawhi's San Antonio Return?
Credit:
Photo credit: Kim Klement-USA TODAY Sports. Pictured: Kawhi Leonard
Betting odds: Toronto Raptors at San Antonio Spurs
Spread: Spurs -1.5
Over/Under: 216.5
Time: 8 p.m. ET
TV channel: TNT
---
Kawhi Leonard's tenure in San Antonio … well, it ended with some drama. He'll return to his old arena for the first time since being traded, and his Raptors are currently 1.5-point road dogs. How should we handicap this situation? Our analysts discuss.
---
Betting Trends to Know
The Spurs last played on New Year's Eve at home against the Celtics, beating Boston 120-111. In 2018, teams that are on extended rest at home have dominated, going 73-54-2 ATS (57.5%), profiting bettors 15.7 units.
In this spot, the Spurs are 5-0 straight-up and against-the-spread this season, covering by 8.1 PPG. San Antonio is one of two teams (Detroit is the other) undefeated ATS at home on extended rest this season. — Evan Abrams
The Spurs opened as 1.5-point favorites at home against the Raptors. Since 2005, San Antonio is 31-15-1 (67%) ATS when listed as a small favorite (less than three points) or an underdog at home in the regular season. In all other home games, they've gone 268-241-15 (53%) ATS. — John Ewing
---
Moore: Why I'm Staying Away from the Spread
You ready for the squarest of square takes? I don't want any part of this game on account of the emotions involved.
Look, it takes a lot for me to say that about any NBA regular season game: Guys just don't care. This is the NBA, and in no other sports league is it as accepted and understood that this is a business.
This isn't football where emotions are a commodity manipulated throughout the week, or baseball where the nobility is sanctified. This is the NBA; guys play 82 games and get traded and it's not a big deal.
But this is just different. I don't know how to evaluate the impact of this type of game, where Leonard spit on the entire Spurs culture.
I don't know how to evaluate the reaction of Leonard, a superior player who has been dancing with his peak form the past few weeks.
I don't know how to get a feel for what it's going to be like for all the players who went through it last year, when Leonard sabotaged Manu Ginobili's last season. That's going to sting.
The Kyle Lowry injury situation looms large, as he was upgraded to questionable Thursday morning from doubtful and could very well play or miss.
I want no part of any of this. — Matt Moore
---
Mears: Is the Spurs' Recent Success Sustainable?
Lowry has already played more than 1,000 minutes this year, and his stats confirm just how important he is to this team. The Raptors have been 12.0 points per 100 possessions better with him on vs. off — the 92nd percentile of all players this season.
The defense has largely been the same, but the offense has fallen off a cliff. Toronto's effective field goal percentage has dipped by 5.6% sans Lowry, and the Raps' field goal percentage has dropped by at least 2.5% in literally every place on the court.
The most notable locations have been the rim and the corner: The Raps have shot 6.4% and 10.7% worse, respectively, from those spots without their star point guard.
At least early on, the betting market has not adjusted for Lowry's absence, as the Raptors have gone 3-6 against-the-spread without him.
I thought the under would have been a solid bet during that time given Lowry's importance to the offense, but the market has seemingly adjusted. It hit in the first game without him, but has gone 4-4 since.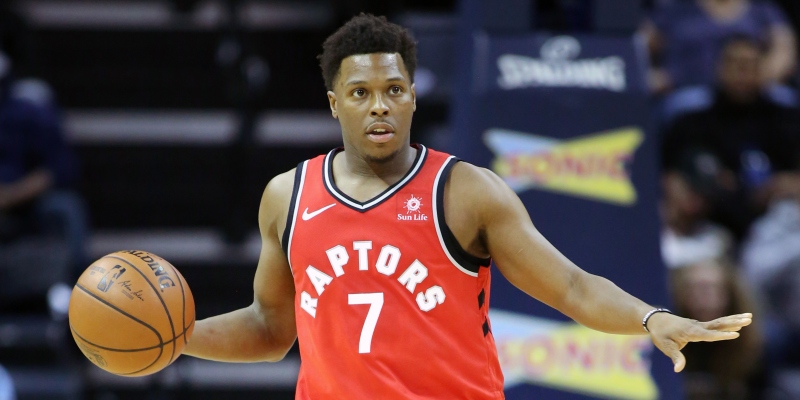 Meanwhile, the Spurs are hot lately, going 8-2 ATS over their past 10. Since the start of December, they're second in the NBA with a +10.0 point differential. They're first in offense, scoring a scorching 118.0 points/100, and 12th in defense.
Part of that is keeping the ball safe, as the Spurs rank first in turnover rate. But the biggest portion is just ridiculously hot shooting; the Spurs rank first in field goal percentage at the 1) rim, 2) short mid-range, 3) long mid-range, 4) corner-3s and 5) and non-corner-3s.
In other words, they've been the best shooting team over the last month from literally every spot on the floor.
I think it's unlikely that continues, but this line does really revolve around the status of Lowry.
With him out, Spurs -1.5 is probably about right. With him playing, however, and with the possible increased motivation of Kawhi Leonard against his former team, I'd lean toward the Raps on the road. — Bryan Mears
---
Editor's note: The opinions on this game are from the individual writers and are based on their research, analysis and perspective. They are independent of, and may not always match with, the algorithm-driven Best Bets from Sports Insights.