2022 NBA Finals MVP Odds: Can Anyone Challenge Stephen Curry or Jayson Tatum?
Credit:
Jed Jacobsohn/NBAE via Getty Images. Pictured: Stephen Curry #30 of the Golden State Warriors.
It's Dynasty vs. Destiny as the Golden State Warriors take on the Boston Celtics in the NBA Finals. Two teams with 21 titles between them and four in the last 15 years square off for the Larry O'Brien Trophy.
But the other trophy, the Bill Russell Finals MVP Award, is a great market to bet. The favorites are Stephen Curry and Jayson Tatum. Should your MVP bet be as simple as the best player from the team you think will win? Should you bet now or later? And who votes for this thing anyway?
Let's break down the needs to knows for betting 2022 NBA Finals MVP.
2022 NBA Finals MVP Odds
As I noted, Curry and Tatum are the favorites, though Curry is now -110 after being listed at +110 just a day ago. The drop off from the two superstars to the second tier stars is steep, which is expected considering the heights that Curry and Tatum can reach at their respective peaks.
Click arrow to expand 2022 NBA Finals MVP odds via BetMGM


| Player | Finals MVP Odds |
| --- | --- |
| Stephen Curry | -110 |
| Jayson Tatum | +170 |
| Jaylen Brown | +1100 |
| Klay Thompson | +1800 |
| Draymond Green | +1800 |
| Jordan Poole | +3500 |
| Marcus Smart | +4000 |
| Andrew Wiggins | +4000 |
| Kevon Looney | +10000 |
| Al Horford | +10000 |
| Derrick White | +15000 |
| Gary Payton II | +20000 |
| Robert Williams | +25000 |
| Jonathan Kuminga | +25000 |
| Moses Moody | +50000 |
| Nemanja Bjelica | +50000 |
The Prospective Voters
The NBA selects 11 voters present for the entire series to vote for the award. Here is the makeup of the voting bloc in previous seasons:
One representative from the television color commentary duo of Mark Jackson and Jeff Van Gundy. Jackson voted in 2019, Van Gundy in 2020, and Jackson in 2021, so it's fair to assume it'll be JVG again this time.
One representative from the ABC studio crew. Rachel Nichols voted the past three years. Mike Greenberg is the host of NBA Countdown, but it seems more likely that Stephen A. Smith, Michael Wilbon, or Jalen Rose will get one of the votes.
Longtime veteran respected journalist Sam Amick has voted consistently. There is typically at least one national NBA reporter, often times two. Other potential names include Andscape's Marc Spears, Sports Illustrated's Howard Beck and Chris Herring, Jeff Zillgitt of USA Today, Chris Haynes of Yahoo Sports, and Hall of Famers David Aldridge of the Athletic and Marc Stein.
The Associated Press has traditionally gotten a vote from either of their two long-time scribes Brian Mahoney and Tim Reynolds.
An international media representative will get a vote.
One beat writer from each city will get a vote. The most likely candidates are Gary Washburn of the Boston Globe and Connor Letourneau of the San Francisco Chronicle, though this may be the year that the Athletic gets a beat writer vote from either Jay King from Boston, or any of the trio of Tim Kawakami, Marcus Thompson, and Anthony Slater of Athletic Bay Area.
ESPN Radio also gets a vote, so that will be either Doris Burke or Hubie Brown.
So we know, generally, who will be in the voting pool. What's to take from that?
The big takeaway here is that the voting pool will not be lazy with the analysis.
On the surface, it's an easy viewpoint to just assume the best player on the winning team wins. There's a correlating factor there; however, in most cases, the best player on the winning team is the offensive engine of the team. He brings the ball up. He initiates the offense. He takes the most shots. He challenges switches on-ball.
Curry is the Warriors' best player. He's the reason they are championship contenders. He is, in my opinion, somewhere between the eighth and fourth-best player in NBA history. There is no one more impactful than him in NBA history.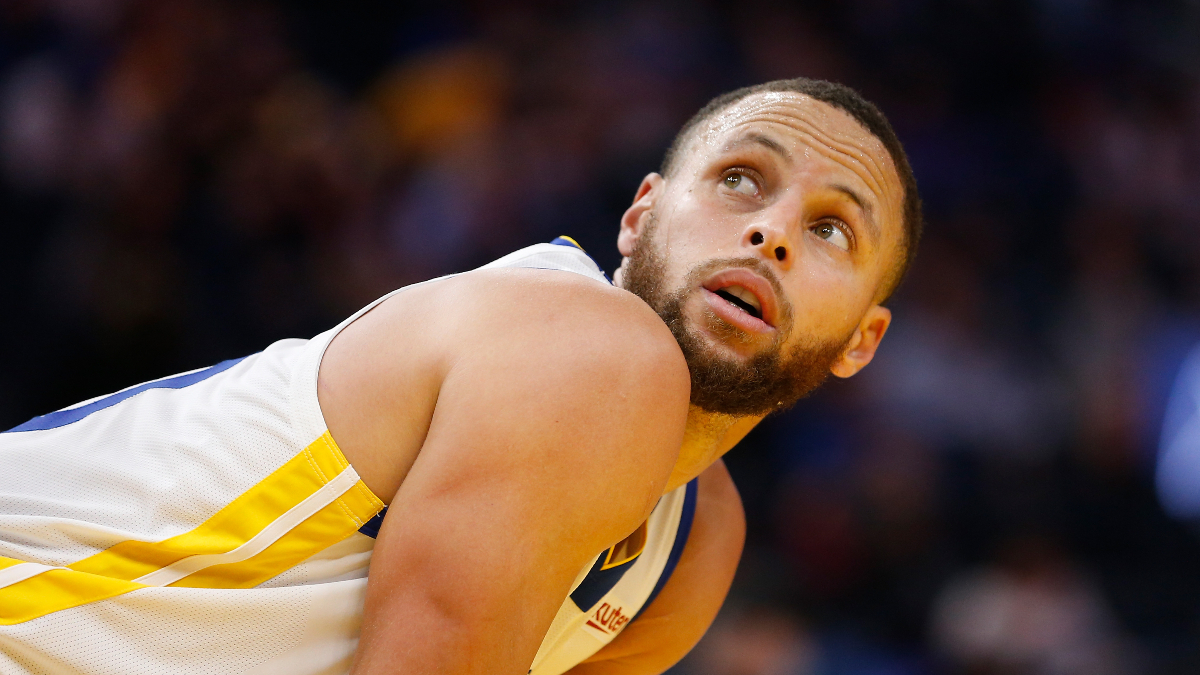 He's also not the engine of the Warriors' offense. Their offense is systemic and built on triggers. Curry initiates the offense in pick-and-roll, then seeks to relocate. Draymond Green is arguably the engine, or at least the navigational system.
If Curry is the best player, and the Warriors have three titles, how has Curry not won a Finals MVP? Is he not actually that good?
No, he is that good. Let's not be stupid.
You can argue the context. LeBron James was so incredible in 2015, Curry's first NBA Finals, that Andre Iguodala won by virtue of defending the best player in the universe. The Warriors lost in 2016, and in 2017 and 2018, Durant was either the best player on the team, or because of the nature of his game, more prototypical of the "engine" as the team tried to keep him happy.
There's a strong sense that because Curry has not won a Finals MVP award, the voters will want to give it to him if there's any doubt.
However, these again are serious voters. We're not hot-taking for engagement. (Well, maybe one voter, depending on who gets selected.) They all respect Curry, and they know how amazing he is, but Curry will need to lead the team in scoring on efficient shooting. That's a completely reasonable expectation against almost any other team.
Boston, however, is maybe the best team to defend him. The Celtics will switch constantly off ball if necessary and try to keep Defensive Player of the Year Marcus Smart tethered to him at all times. Smart does not get distracted ball-watching with Curry, and he stays with him at all times.
Curry's NBA Finals Drop Off Is Real
| | Non-NBA Finals | NBA Finals |
| --- | --- | --- |
| PPG | 29.9 | 25.3 |
| FGM | 9.8 | 8.3 |
| FGA | 20.8 | 19.8 |
| FG% | 47.3% | 41.8% |
| 3PM | 4.8 | 4.3 |
| 3PA | 11.4 | 11.3 |
| 3P% | 42% | 37.3% |
The idea that the voters would award it to him because Curry needs one is flawed, based on the voter bloc. Additionally, if you think Curry will have a Finals MVP series, you should probably be betting Warriors -1.5 on the win spread at +145 or -2.5 at +290 because it fundamentally means that the Celtics' entire defensive approach has failed.
For the Celtics, Tatum is that engine. Tatum averages more touches per game and often brings the ball up the floor. He's the leading scorer, and their system with his role is closer to that of previous winners than the Warriors' is with Curry's.
So Who Are the Alternatives?
You're looking for defining games.
He was huge in their pivotal Game 3 win.
He had that 20-point third quarter in Game 4.
He had those three steals on (star) along with 25-8.
For the Warriors, the candidates are Klay Thompson, Jordan Poole, and Andrew Wiggins.
Green may actually be the most important (read: valuable) player in the series, but Green simply won't score enough to justify it. It would take an unbelievable defensive series for a player Boston will look to avoid attacking and near-triple-double rebound and assist production for him to win it.
Thompson and Poole are basically interchangeable. Thompson is not the same player he once was due to the traumatic injuries he suffered, but his high points are still elite. Thompson has four 25-plus-point games out of 16 playoff games so far. It's likely he has one 28-35-point game in the series. If he's able to stabilize in three of four Warriors wins, and the series goes long, Thompson has value.
Poole is more explosive, but he is also more of a defensive target.
Wiggins is exceptionally interesting. If Wiggins defends Tatum full-time, leads the team in rebounding (he's only 0.7 behind Kevon Looney for the playoffs, and there's consensus that Golden State will look to play smaller without Looney as the series goes on) and puts up scoring performances, that might get Wiggins home.
If Curry averages 28 on lower efficiency against the best defensive team the Warriors have faced in the playoffs, and Wiggins averages 22-25 on better efficiency while leading in rebounding with some key shots/moments, does that get him past the production gap?
For the Celtics, Tatum is the best value by far at a plus-number (thanks to the Celtics being dogs in the series).
The only other Celtics I think have real value are Smart and Al Horford. The latter has legitimately been the swing player in multiple series for Boston. If he has a big scoring game, just one, it could boost his scoring output high enough if Tatum struggles (and Tatum usually has a few clunkers).
The narrative vote towards Horford, a consummate winner and pro in his first and maybe last NBA Finals, would be strong. If Horford is a better big in the Finals than Green, that's a striking concept.
The NBA Finals should be excellent and dramatic. There will be twists and turns. You can wait to see what the predominant storyline is after the first few games and likely still get value, unless you believe the Warriors or Celtics will win both Games 1 and 2. (And if you do, you should just bet that right now at a big plus number.)
To find value on Finals MVP, you need to understand the texture of this matchup, who the voters are, and think about the scenarios.
Or you can just bet Curry, because he's Curry. Despite all evidence above, that's still a pretty convincing argument.
How would you rate this article?
This site contains commercial content. We may be compensated for the links provided on this page. The content on this page is for informational purposes only. Action Network makes no representation or warranty as to the accuracy of the information given or the outcome of any game or event.