Moore: Would You Rather Have James Harden's Consistency, or Jimmy Butler's Apex?
Credit:
NBAE via Getty Images. Pictured: James Harden #13 of the Houston Rockets, Jimmy Butler #22 of the Miami Heat.
Jimmy Butler had an incredible playoff run, capped by his absolutely phenomenal showing in Game 5 in the NBA Finals. It was an all-time performance, a testament of will and determination. It proved how Butler is different from his contemporaries.
It is the kind of performance everyone has always wanted to see from James Harden, willing his team to a win on the biggest stage.
It's the kind of performance everyone has wanted to see from Paul George, stepping up and delivering when it mattered most.
About 48 hours later, Butler had 12 points on 5-of-10 shooting, with seven boards, and eight assists in a blowout loss to the Lakers in Game 6.
The Lakers were the better team in the NBA Finals. They were likely going to win that series no matter what. And Butler's assists and rebounds were crucial to the short-handed Heat's chances.
---
Check out our free NBA odds page, which automatically surfaces the best line for every game. Subscribe to our new NBA Insiders tool at FantasyLabs to beat the market with our cutting edge player projections, injury news and betting thresholds.
---
However, I have to ask this question: Do you ever imagine Harden going out with 12 points in an elimination game? Or any of the top level players Butler is being put on par with?
That is not to denigrate Butler; his good playoff performances were incredible. In particular, the best thing about Butler this postseason was how he played in the fourth quarter. The Heat would hang around in games until the fourth quarter and then Butler would bring them home by driving and creating contact.
During the postseason, he averaged the third-most made free throws per game in the fourth quarter behind Joel Embiid and Donovan Mitchell. He was also 10th in fourth quarter scoring, and second in fourth quarter scoring in wins. When he had it going, he was a monster.
However, in losses, Butler ranked 58th in fourth quarter scoring. Think about that. Butler was either dominant, or pedestrian.
So would you rather have a player who is there for you every game but whose heights will never quite get to the impact Butler had in his signature games? Or a player who will take over and get you wins but then the next game might vanish?
"I'd rather have Butler," one exec said this week. "He's a headache sometimes, but at the end of the day, those playoff games he had were so impactful. I'm willing to hope other guys can step up and Butler can win us two games, which is basically what happened in the Finals."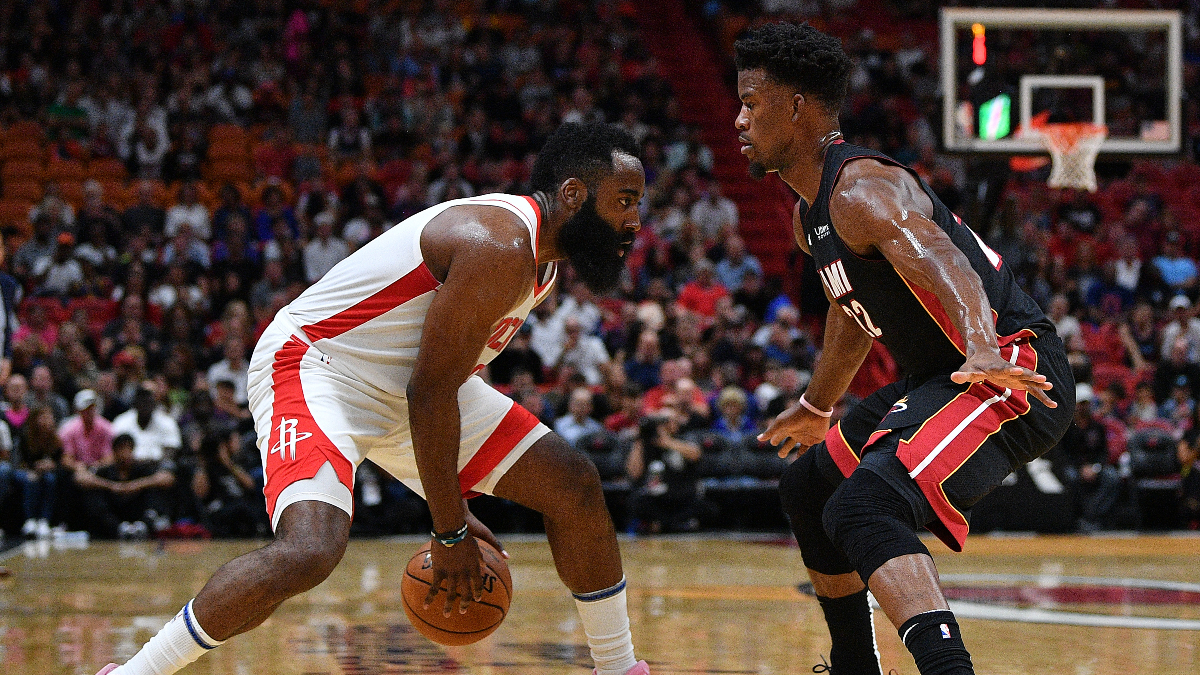 "Look, Harden's had some bad playoffs, despite the numbers," another scout countered. "But I know every single night I'm getting 25 and 9 from him. I know I'm getting the production. That has to count for something."
Harden had bad games as well in the playoffs, like Game 7 in the win over OKC with just 17 points. But he also had the game-winning block in that game. He went for 21 against the Lakers in Game 4 on 2-of-11 shooting.
The bigger comparison point, however, is usage. Harden is often criticized for being a ball hog, having the ball in his hands all the time. The Houston offense is certainly built for that.
But in the playoffs, your best players need to be the ones handling and creating most of the time. Harden's playoff low in usage this season was 24%. Butler's low, by contrast, was just 12%, and he had a usage rate lower than Harden's low nine times in the playoffs.
If Butler wanted the ball more, would he get it? Absolutely. Miami built a system designed to take advantage of all their talent, but Butler is the star and their leader. By the same token, if Harden said "take me off ball, they won't be able to counter that," the Rockets would do so.
Butler, however, seems to prefer playing Superman. What I mean by that is that Superman doesn't rush for the phone booth before something goes wrong. It's only after. He's a reactive force. When the team needs him, he steps up and delivers, and if he doesn't? Well, the team didn't do enough.
This is why Butler's media conversation differs so greatly from other players. Butler's triumphs come in signature moments. You can watch him take over a game and it's what stands out in your memory. In the games where he doesn't show up, it's more a sign of how good the other team was, or how much the Heat struggled.
The reality is that both Butler and Harden would probably best fit together. The Rockets nearly traded for Butler when he was staging his exit from the Minnesota Timberwolves, but a deal fell through and he wound up with the Philadelphia 76ers before joining the Heat.
Butler would provide Harden with hard-nosed force to drive the defense and get tough buckets late. Harden would provide Butler with an offensive force to carry the load and put up the figures every night. Butler could pick his spots, then show up late and deliver, Harden could put up MVP numbers and then defer when teams dedicated their whole defense to stopping him.
Alas, barring a Rockets teardown, that's unlikely to happen. But the contrast between the two players does showcase what both teams will need for their stars to win the NBA title.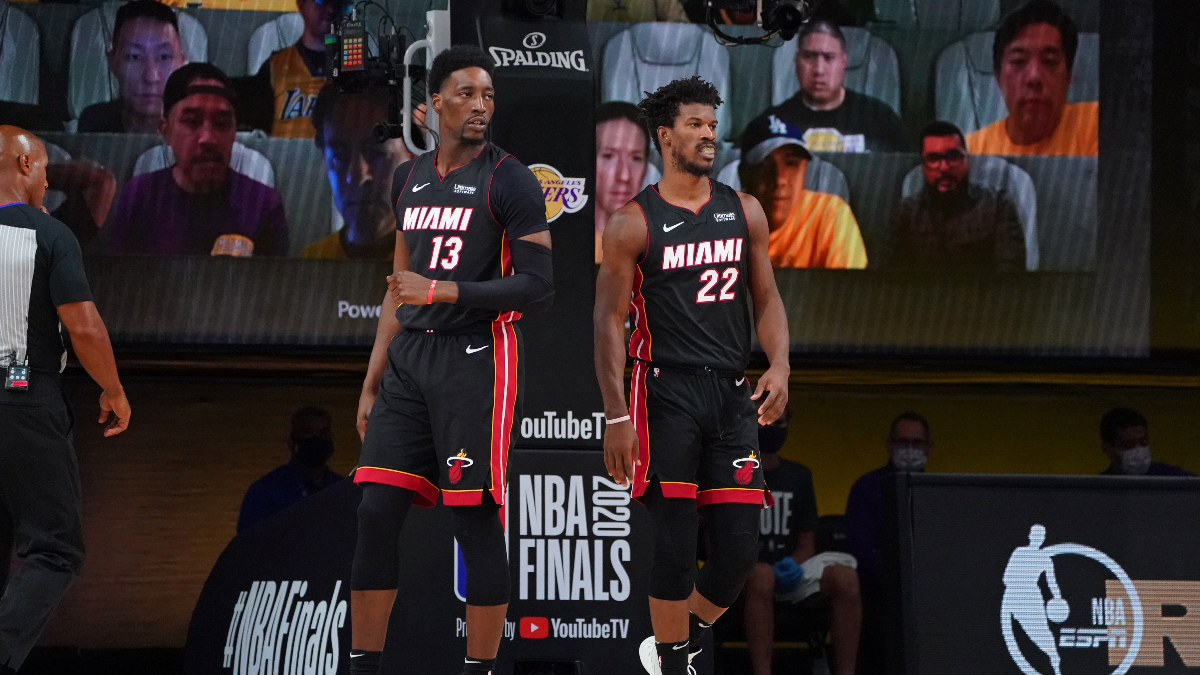 The Heat got to the Finals because they were a great matchup against the Bucks and the Celtics found itself spinning in circles for reasons unknown. Miami has every chance to return as the East champion next season, but to get over the hump, they're going to need to raise the bar of their star production outside of Butler.
Bam Adebayo is a tremendous versatile player, but not ready to take over games for long stretches with scoring, at least not yet. Put simply, he's not Nikola Jokic offensively, yet.
Goran Dragic played his best basketball since 2013 and hoping for sustained play at that level again is probably a bit far. Tyler Herro might develop into that role but might also be several years away from 25-5 every night.
Then again, this is probably why Miami is constantly linked as one of Giannis Antetokounmpo's suitors should he ask out of Milwaukee.
Butler put himself on a different level in these playoffs for good reason. But to start adding him to the list of guys like Anthony Davis, Kawhi Leonard, Steph Curry, and the like, his bad nights are going to have to look a little closer to the good, as good as the good ones are.
More NBA Coverage
How would you rate this article?