Jimmy Butler vs. The World: How the Miami Heat's Combative Star Made the NBA Finals
Credit:
Issac Baldizon/NBAE via Getty Images. Pictured: Jimmy Butler #22 of the Miami Heat.
From the 30th pick in the 2011 NBA Draft to an All-Star to the NBA Finals. Jimmy Butler's career has been a wild ride.
Matt Moore details how his journey has prepared him for his biggest challenge yet.
A wise man once said "Life is short but it feels very long."
We've seen NBA superstars go from heroes to villains, from MVP candidates to afterthoughts. Lives create long and complex stories throughout their course, especially when they are performed in the public eye.
Four years ago, the joke among NBA executives was that Jimmy Butler in Chicago was what happened when the kid in the mailroom became CEO. The subtext was that he was always trying to be a superstar veteran even on a team with tested playoff veterans.
Three years ago, Butler was the underappreciated star the Bulls gave up on, who lead the Minnesota Timberwolves to their first (and only) playoff appearance since 2004. Then he was the malcontent who was bullying his teammates and openly manipulating the media to set up a trade demand.
Then he was the missing piece for the Philadelphia Sixers, leading them to the doorstep of the Eastern Conference finals before Kawhi Leonard got no one, not two, not three, but four bounces in Game 7.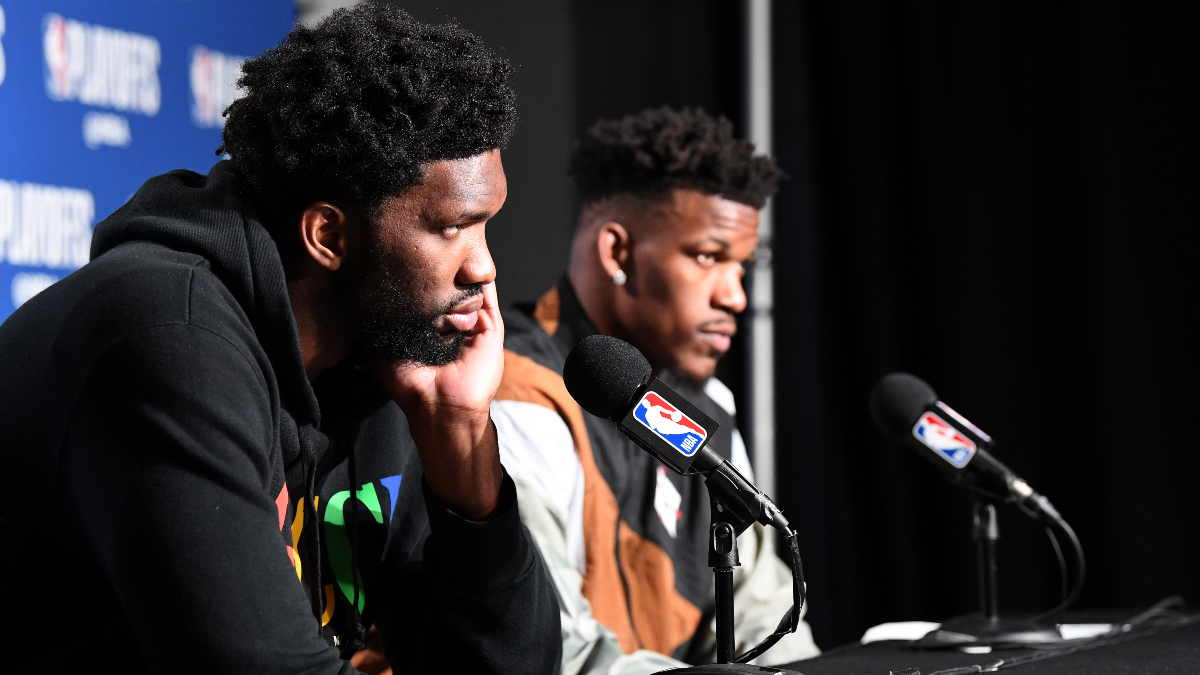 But he was also the malcontent who openly challenged the former head coach Brett Brown in film room sessions and didn't get along with Ben Simmons.
And then … he was gone.
As that 2018-19 season went on, as he went from Minnesota to Philadelphia and then to free agency, several executives reconsidered whether or not Butler was worth it.
He had the profile and skill set of a star, but he was never putting up insane stat lines. He wasn't a shooter like Stephen Curry or a dominant physical player like LeBron James, or Giannis Antetokounmpo.
But more concerning was his attitude. Butler undermined his coaches and pushed teammates in ways they didn't respond well to — who can forget his infamous practice with the Wolves where he played with the third stringers.
There's a running joke about Butler in league circles that he's the hardest working player in the NBA … and the hardest working at telling you he's the hardest working player in the NBA.
Several executives said that while they had made calls to the Bulls and Wolves about him, he wasn't someone they were excited about working with and openly wondered if he was worth the hassle.
But teams made the calls anyway because that's how good Butler is.
The Miami Heat, however, did not see Butler as a challenge or damaged goods. They saw his competitiveness and ferocity as a feature. Not a bug. That drive matched with their own standards of excellence, commonly referred to as "Heat culture" by those around the organization.
Those same standards caused them to send unwilling players home if they weren't in shape and has kept the franchise afloat as a playoff contender long after the departure of James, a pulmonary embolism diagnosis for Chris Bosh, and Dwyane Wade's retirement.
Now here they are, the Heat and Butler together, standing on the precipice of the NBA Finals, sharing the last laugh.
Several people familiar with Heat culture were asked why it's worked with Miami with Butler when it failed other places:
"It hasn't, always," one source replied. "There have been bumps as there are with every superstar. But (the Heat) culture thing that everyone talks about really gets down to one thing: accountability. And Butler responded to that. It's easy to give him what he wants, franchises always try that with stars. And it's easy to try and set standards for him as the best player because it seems like he wants to be challenged."

"But what Jimmy actually needed was somewhere where everyone would ask him to give what they were giving, and that he could do the same."
Another source, when asked what exactly it was that Butler and the Heat had to give said simply, "Everything."
---
Butler is not the sole engine of the Heat (he led the Heat in scoring just five times in 15 postseason games). He is part of a larger component, which fits him. He is not a guy you just give the ball to possession after possession and ask him to create points and offense for the team.
But then he strikes, and teams just don't know what to do. All game long a team spends its time trying to stop the Heat's layered and discipline offense: chasing Duncan Robinson off screens, trying to contain a rejuvenated Goran Dragic, bringing help on Bam Adebayo at the rim.
Then there's Butler, springing in late to rip opponents to shreds with clutch shooting and aggressive drives. Butler has drawn free throws this postseason at the same rate as Dwight Howard and Joel Embiid, despite having over 100 more possessions and playing on the wing.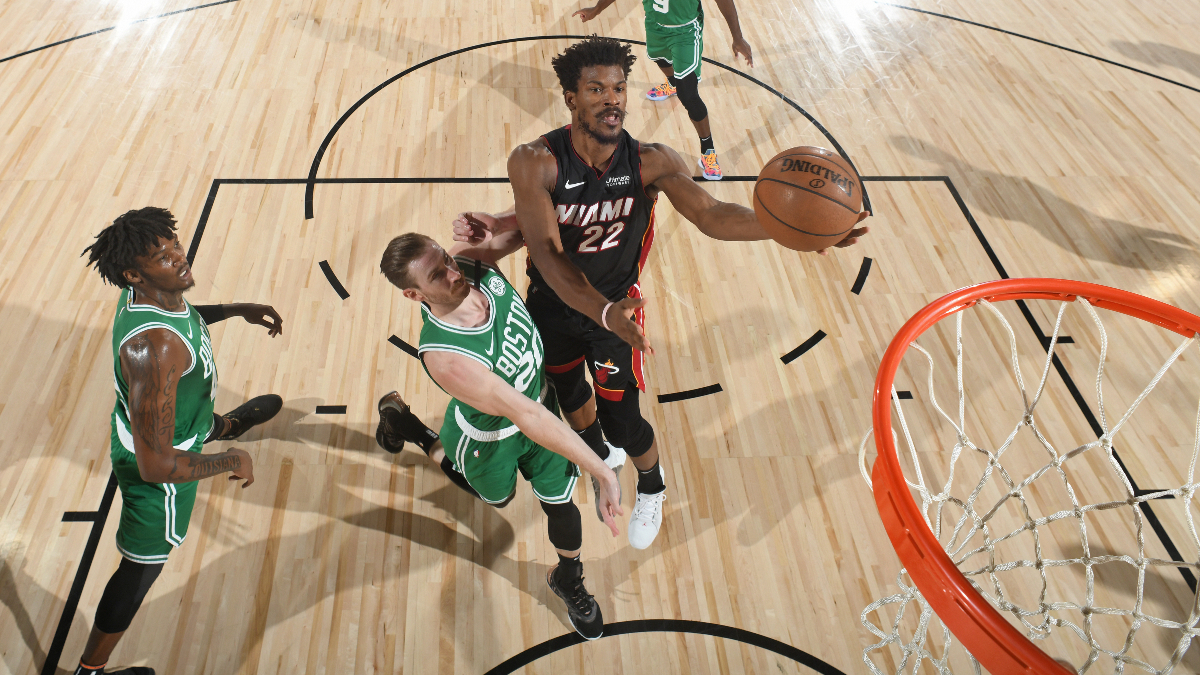 Scouts marvel at the way Butler spearheads the Heat in opportunistic times.
"When you watch them, they wait for you to let your guard down a bit, and when you start to struggle, they push with this incredible force, and that's all Butler," one scout said.
"Stone cold killer," another remarked.
League sources are split on whether the blame for the All-Star's previous failures and issues on other teams was entirely about those teammates or Butler himself.
"He's got his way, and it works with Miami. But part of being a leader is reaching guys differently," one league source not affiliated with a certain team said.

"All I know is the guy has won everywhere he's gone, and those results have to say something," another source remarked.
Ultimately, it doesn't matter. It's clearly working with the Heat. He's been exceptionally supportive of Tyler Herro, who's ballistic Game 4 performance lifted the Heat to a 3-1 lead against the Celtics.
Any time spent around the Heat leaves the impression of their seriousness. Their business is winning, and winning, right now, is good.
This team seemed to be spinning nowhere. Their cap sheet was bloated, their roster unimpressive. But the development of Adebayo, drafting Herro and acquisition of Kendrick Nunn, all of it lined up perfectly at the exact time Butler came available.
No no knows how much longer Pat Riley will keep his current position, he's less involved day-to-day than ever, but the front office is considered to be exceptional, with several members considered high in the ranks of future general manger lists.
Ultimately, though, the Butler story is fascinating because of the multitudes it contains. He undermined Brown (now fired) in Philly. He unnecessarily tore down his young teammates for being unserious in Minnesota. And he has helped take the Heat back to the place they are in constant pursuit of — NBA title contention — in just one season.
Butler's season-by-season performance has often been lifted up next to Paul George; the two vied for the same All-NBA spot for several years in the East and are considered to be among the best two-way players. George was taking the Pacers to the semifinals and Conference finals to face the Heat in his early days in Indiana while Jimmy Butler was coming off the bench.
James Harden has garnered an MVP award and consistent top-five voting for his regular-season scoring exploits, yet isn't seen as a top playoff performer, while Butler has established himself as every bit the "16 game player" GMs are always looking for nowadays.
Butler has never played on a team where he wasn't the best player, in function, if not talent. The common thought was that Butler could never be the best player on a championship team. The idea was ludicrous a year ago.
If 2020 has proven anything, though, it's that we knew very little about what is and what isn't in this world.
The playoffs are Butler's world. Everyone else is just competing in it.
More NBA Finals Coverage
How would you rate this article?