Wob: Kawhi-for-DeRozan Trade Can Join Exclusive Club of 'Fair' NBA Swaps
Credit:
USA TODAY Sports. Pictured: Kawhi Leonard and DeMar DeRozan
Kawhi Leonard and DeMar DeRozan haven't skipped a beat this NBA season with their new teams.
Early indications are that the blockbuster trade was fair all around, with both the Raptors and Spurs getting exactly what they wanted.
Editor's note: This article was originally published on Oct. 29. We've resurfaced it today with the Raptors and Spurs playing each other.
When was the last time we had an NBA trade where everyone thought: "This worked out for both parties involved"?
I feel safe declaring the most recent answer was when the Indiana Pacers and Oklahoma City Thunder completed their blockbuster Paul George transaction, sending soon-to-be-All-Star Victor Oladipo and Domantas Sabonis to Indianapolis.
OKC got a superstar swingman to fill Durant's void/run with Westbrook, while the Pacers received a franchise cornerstone/the NBA's 2018 Most Improved Player in return.
Before that, however, the water is a little murkier.
---
>> Sign up for The Action Network's daily newsletter to get the smartest conversation delivered into your inbox each morning.
---
Remember how the world reacted when Jimmy Butler was traded to Minnesota on draft day 2017 in exchange for Zach LaVine, Kris Dunn and the No. 7 pick (Lauri Markkanen)?
It was perceived as a 50-cents-on-the-dollar deal for the Bulls for a long time. We all know how this played out.
That Andrew Wiggins/Anthony Bennett/Thaddeus Young for Kevin Love trade in 2014 seemed splendid for both of the main parties involved at the time (the 76ers were the third team in the deal).
Oh, can't forget when the Pacers dealt the 15th pick in the 2011 draft for George Hill.
Hill, an up-and-coming fringe All-Star who outgrew his backup role to Tony Parker in San Antonio, came in and made an immediate impact for a championship-contending Indiana squad.
That harmless 15th pick the Pacers traded for him? Yeah, that was Kawhi Leonard.
We can even go all the way back to 2008 when the Lakers pulled off what was said to be one of the biggest fleecings in NBA history — Pau Gasol for Kwame Brown, Javaris Crittenton, Aaron McKie, 2008 first-round pick, 2010 first-round pick, and the No. 48 pick in the 2007 draft.
That meaningless second-rounder? It was Marc Gasol.
The truth of the matter is that we can (and always will) overreact to trades in real time and how they affect the "now," but ultimately "who won" cannot be judged until years — sometimes even a decade — down the road.
The whole reason for even bringing this up in the first place is because after a measly five games, Leonard and DeMar DeRozan's performances on their new teams have impressed so much that it may be worth having a preliminary discussion of inducting this transaction into the "fair trade" club.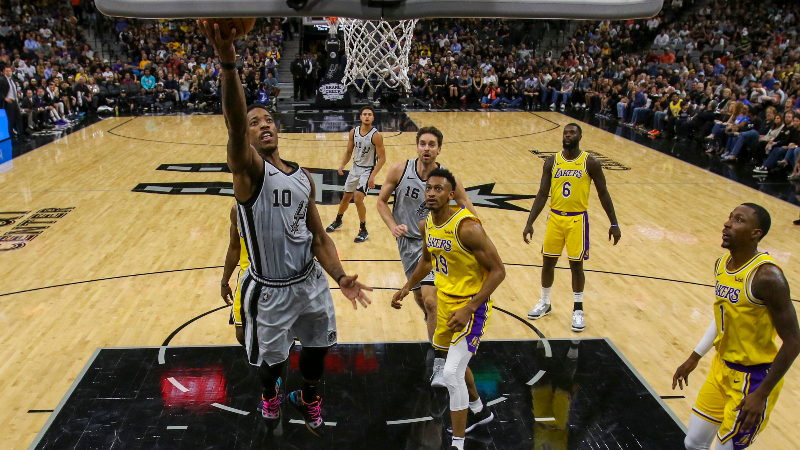 Before we dive into the evidence, it is essential that we establish some ground rules here. Again, they have played FIVE GAMES — a sample size that renders any serious hypothesis invalid.
Let's brainstorm: what are the factors that determine if a trade was ultimately "fair?"
1. Did the players on both sides perform to the best of their abilities for the duration of their contract? Obviously, this needs to be answered "yes."
2. Were future assets (picks and cap space) sacrificed for at least one side to complete this trade? If no, proceed to Question 3. If yes, the trade cannot be graded until those assets are used AND have played enough time in the league to deliver an adequate judgment. This is essentially the Billy King clause.
3. Did the acquisition of the players line up with the long-term direction of both franchises?
4. Did the players involved help their franchises take "the next step?" (Example: from playoff participant to contender, or from out of the playoffs to in.)
Questions three and four are without a doubt the most important when discussing DeRozan and Kawhi, but let's do our due diligence here.
Did the players on both sides perform well during their tenure?
DeRozan — who was heartbroken by the trade and aired out his hurt publicly…
…has been absolutely BALLING since landing in San Antonio and hooking up with the new date he never thought would be better than the first love.
This 2018-19 campaign, DeRozan is averaging (per game):
27.2 points, just 0.1 shy of his career high
7.8 assists, 2.6 more than his previous career high
6.0 rebounds, another career high
22.7 Player Efficiency Rating, the highest on the team and the second highest of his career
…and he already has one game-winning dagger under his belt:
As for Kawhi, he has been nothing short of sensational. Returning to MVP form the moment he landed North of the border, Leonard leads the Raptors in points per game (26.6), is second in rebounds (8.0) and is shooting 45.5% from 3-point territory — all of which are career highs.
He's making everyone on the team better, unleashing a version of Kyle Lowry that is simply a walking bucket, and is still doing crazy "WTF Kawhi?" things: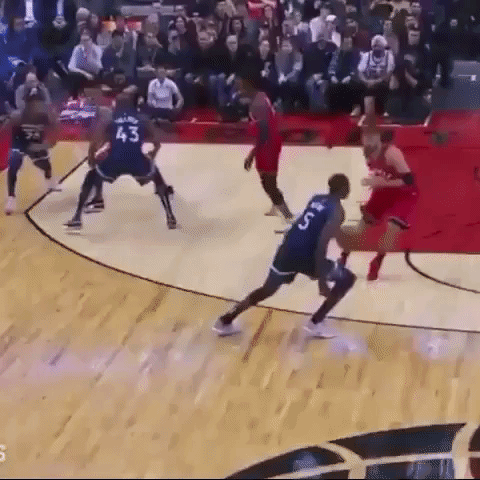 Were future assets involved in the transaction?
We could argue whether Jakob Poeltl will be an important Spur five years down the road, but if we're being completely honest here, I'd rather eat dirt.
Did the trade benefit the big picture for both teams?
This is a massive yes.
Let's start in Toronto. For decades, the franchise has been teased with mediocrity, never taken seriously as a actual championship contender.
And while DeRozan is one of, if not the most successful player to ever don a Raptors jersey, they were never winning a title with him as their best player. They could win 60 regular-season games, they could make the conference finals — but LeBron, year after year, exposed every hole in the armor.
With the acquisition of Kawhi, the Raptors instantly have the best player in the Eastern Conference. Go ahead and throw your shoe, Giannis and Embiid fans, all I have to do is stand more than 20 feet away and you have no chance of hitting me.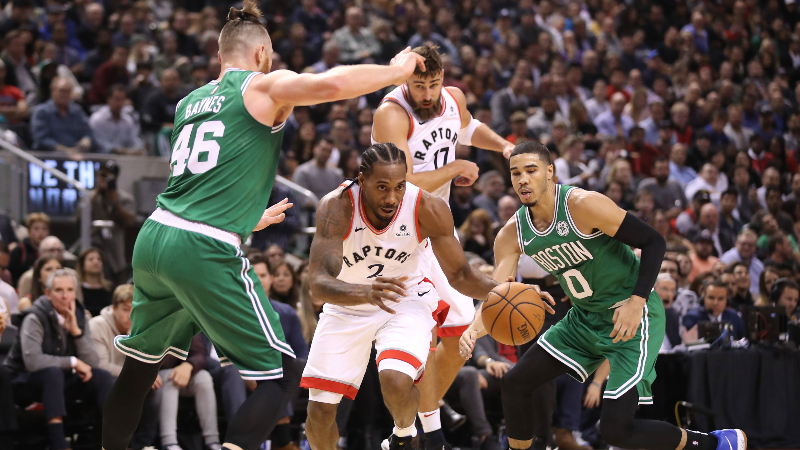 They finally have a closer on both ends of the floor, and a guy who has proven he can also do it when the lights are brightest in May and June.
At this point, I'm preaching to the choir; we all know how good this basketball mutant is.
The one wild card? Kawhi can become a free agent at the end of the season, and he might or might not want to stay in Toronto long term.
If he bounces, was the trade still worth it?
I'm here today to tell you it doesn't matter if Leonard stays or goes. Masai Ujiri is betting with house money. There are two payoffs for the Raptors:
The Raptors make it to the Finals and Kawhi re-signs
The Raptors make it to the Finals and Kawhi doesn't re-sign
If the Raptors make the Finals and Leonard leaves, Toronto will put a banner in the rafters it hasn't seen since 1967, and that was for a completely different sport.
More importantly, should Kawhi bolt, the Raptors are well-positioned to blow everything up and completely rebuild without the burden of any long-term contracts haunting the salary cap (DeRozan).
They have a single player on the books (Norman Powell) with a guaranteed contract for the 2020-21 season.
Lowry, Serge Ibaka, Jonas Valanciunas, Fred VanVleet are all guys who will immediately become attractive trade pieces next season to every fringe-contending team looking for an upgrade
The number of draft picks Ujiri could get in return for those players would make even Sam Hinkie jealous — and give Toronto a blank canvas for free agency.
This is why the Raptors did the Kawhi trade: They can lose this season, but they can't lose long-term.
As for the city of San Antonio, it just experienced a year's worth of being ghosted by their spouse of seven years. They smelled perfume on one of Kawhi's collars, didn't want to believe it could be true, and then they caught him red-handed at the company Christmas party in New York City.
When the divorce was final, they swapped out Kawhi for DeRozan — a player who, if you think hard enough, is probably the biggest antithesis of how the Spurs play (iso ball, volume mid-range jump shooter) and why they've been so successful for 20 straight years.
No more Tim Duncan, Tony Parker or Manu Ginobili. Father Time is coming for Gregg Popovich in the near future, too. And then Dejounte Murray tears his ACL in the preseason.
Spurs fans had every right to believe this was finally the end…
…it has been anything but.
LaMarcus Aldridge remains the same All-Star-caliber player he always was and has finally integrated himself into the Spurs' equal-parts system. With DeRozan as Aldridge's running mate, progressing rapidly toward the same adaptation, the Spurs look like they haven't missed a beat.
It's business as usual in the top eight of the Western Conference yet again; proving for the thousandth time that this franchise doesn't rebuild, it reloads.
Now, for this trade verdict to be ruled "fair" for both sides years down the road, DeRozan is going to have to conquer his postseason demons. Pick any advanced statistic you want for him during his five playoff campaigns — they're — how do I put this politely? — not great.
We won't get the answers we need for quite a while; however, through the first two weeks of the season, we have learned that both the Spurs and Raptors made not just the right choice by completing the blockbuster of the summer, but the only choice.