25 Maniacal Reactions to Kawhi Leonard and Paul George Teaming Up on the Clippers
Credit:
Cary Edmondson-USA TODAY Sports. Pictured: Kawhi Leonard
Kawhi Leonard's decision to sign with the LA Clippers -- and bring Paul George with him -- will change the league for years to come.
Matt Moore, Rob Perez and Justin Phan assess the winners, the losers and everything in between, including what this means for the Lakers, the Thunder, the 2020 title race, the Warriors, Russell Westbrook, the MVP favorite, and, yes, the Clippers
Look, sometimes it's better to just illustrate what happened with an image: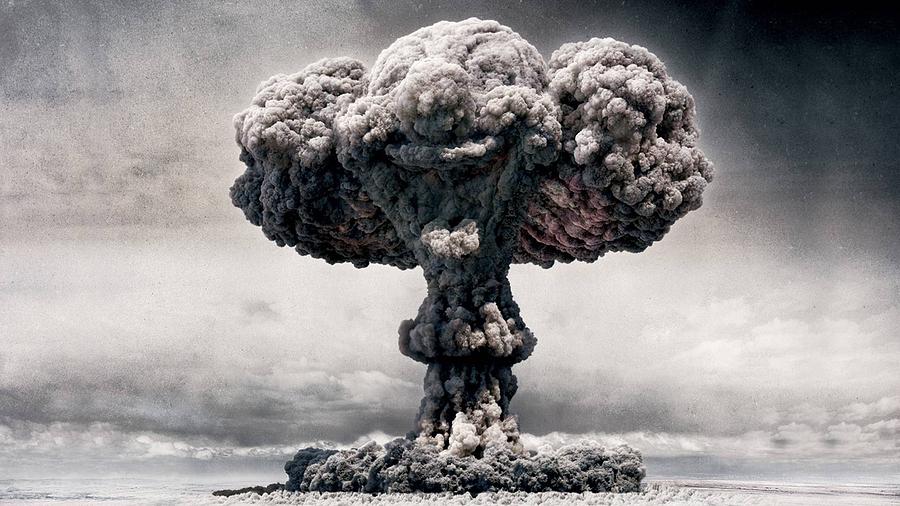 That's the NBA, laughing at us as it detonates and reinvents itself, like a thermonuclear phoenix.
This time it was the Clippers, who late Friday night agreed to terms with Kawhi Leonard, and then pulled off a trade for Paul George concurrently.
Free agent forward Kawhi Leonard will sign with the Los Angeles Clippers, league sources tell Yahoo Sports.

— Chris Haynes (@ChrisBHaynes) July 6, 2019
Both deals are massive, with Leonard spurning the Lakers and the Raptors to sign a four-years, $141 million deal, and the Clippers sending Shai Gilgeous-Alexander and Danilo Gallinari along with almost every draft pick they have for the next seven years to OKC for George.
It's madness. It's chaos. It's the NBA.
Here are 25 manic reactions from our NBA crew of Matt Moore, Justin Phan, and Rob Perez in the wake of the biggest blockbuster in a summer of blockbusters that just reshaped the NBA … again.
---
1. The Clippers Just Kicked Big Brother In the Junk
They finally beat Big Brother. They finally walked up to him, looked him in the eye, and while he was laughing at him, socked him in the mouth, kicked him in the crotch, and shoved him into the river.
The Clippers have always been the lesser basketball team in LA, an afterthought, a joke. Throughout the Lob City years, Lakers fans reveled in  reminding the Clippers how they don't matter.
That won't change overnight; it might not change at all. But look at this. The Clippers — THE CLIPPERS — are moving into a new building in a few years with two serious MVP candidates around a remaining roster of capable veterans (unlike their STAPLES co-habitants), and they did so by grabbing the guys the Lakers wanted.
The Clippers may not be relevant in LA next to the Lakers, but they are NBA relevant, you can bet your ass. Just look at the title odds with them as the favorite for proof of that. — Matt Moore 
---
2. Lakers In Shambles
Striking out on Kawhi was bad enough, but to lose out to Little Brother AND see him create a potential juggernaut in the process is even worse. The Lakers had to have prepared for this scenario, right? No seriously, I'm genuinely asking. Because their plan was to apparently run out and pay Kentavious Caldwell-Pope, JaVale McGee and Danny Green a combined $26.3 million next season. And it's only a matter of time until they announce the signing of Rajon Rondo since they still don't have a starting point guard.
Yes, it's July 6 and the vast majority of top free agents have already been signed, but there was still talent left on the board. Boogie Cousins, Rondae Hollis-Jefferson, Avery Bradley, JaMychal Green are just some of the names they should have prioritized. Maybe they still salvage this with some combination of Marcus Morris, Kyle Korver, and Andre Iguodala, but things aren't off to a promising start. — Justin Phan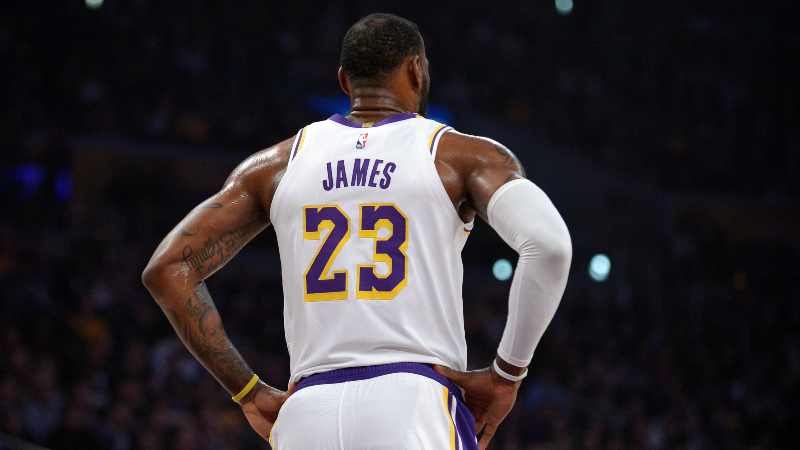 ---
3. Raptors Life Goes On
Toronto: you are forever world champions.
Don't retire Kawhi's jersey, give that to DeRozan and Lowry and Masai. Don't be the Warriors.
Instead, build him a statue of his Game 7 shot outside the arena.
Have him crouching in stone sticking his tongue out like he just sucked on a warhead for eternity.
Walk by it every day on your way into the arena and remember the good times. No free agency can ever take that away from you. — Wob
---
4. Kawhi Went "Hunt For Red October"
In the 1990 film "The Hunt for Red October" (TIMELY REFERENCE ALERT), the Soviet Union builds a nuclear submarine that employs a "Caterpillar drive," which uses silent propulsion to make itself totally undetectable to American sonar. The noise the engine does make resembles "whales humping," according to one character.
Well, guess what, Kawhi Leonard and his camp had the Caterpillar drive on this entire free agency.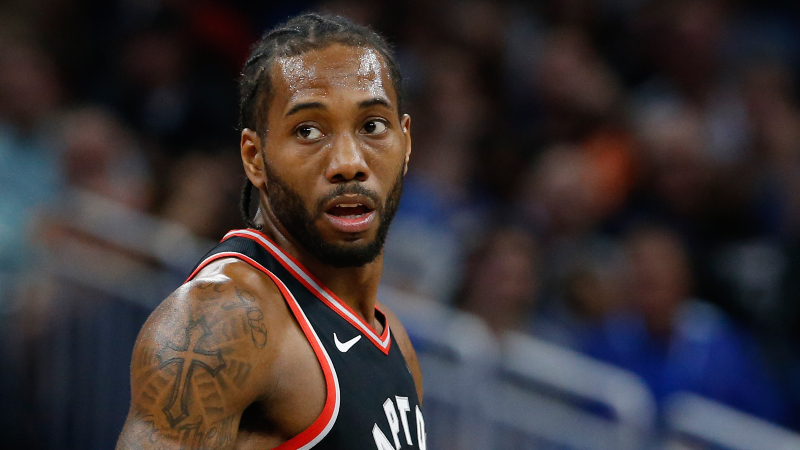 Noise came out about the Lakers, lots of it. From LakersSuperFans.Net to randos on Twitter claiming to be relatives, there was a ton of "done deal" Lakers talk when it came to Leonard. There was also Raptors chatter, most notably about planes and automobiles and a little bit of Drake. One of the few bits of actual news spread across multiple reporters was how Leonard's camp was testing for discretion and silence.
Except it turns out the reason they wanted it was so that Leonard could recruit Paul George in silence. It wasn't about Leonard's personality or proclivity for understatement: It was cover to pull off the annex of one of OKC's key stars and give Leonard a running mate in his prime who brings top-level play on both ends of the floor.
And in their confusion, all the rest of the NBA could hear was the sound of their laughter. Run silent, run deep. — Matt Moore
---
5. The Three-Headed Defensive Dragon of Doom
Little secret: Pat Beverley gets lost off-ball. He's a terror on-ball, a plague of locusts that consume the ball-handler. But he gets itchy trying to make a play off-ball.
But with Kawhi, George and Beverley, the Clippers have the capacity now to blitz every action by the opponent in a way not seen since the 2013 Heat. They can blitz every pick and roll and play every passing lane because they have the defensive attention to recover at all times and make plays. Those three will terrorize opponents.
Montrezl Harrell isn't an elite rim protector, but his job gets much easier with how Beverley, Kawhi and PG can contain and push players to where they want to send them. The Clippers will be a top-five team in steal rate, which will create easy buckets. They will be a top-five team in defensive rating. They will frustrate, confound and challenge the ball at all times.
The Clippers will absolutely pounce on opposing offenses. Their defense will be better than their offense, of that I have no doubt. — Matt Moore
---
6. Clippers' Roster Strengths
Matt covered the Clippers' insane defensive potential with Beverley, Kawhi, and PG so there's no need to belabor the point here. LA was already a top-10 offense last season without PG and Kawhi; now factor in the defensive improvement, and they'll be one of maybe two or three teams that have a shot at finishing with a top-five offense and defense next year.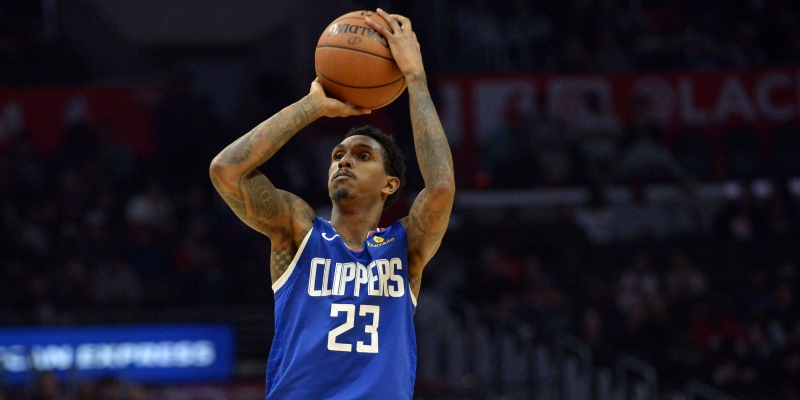 Can we talk about the spacing of this team, too? Five of their top six rotation players shot 36% or better from 3 last season:
Beverley 40%
Shamet 42%
Kawhi 37%
George 39%
Lou Williams 36%
If Maurice Harkless can find his shot again (he shot 38% from deep from 2016-18), that makes it six key rotation players at or above 36%. — Justin Phan
---
7. West Matchups for Clippers
So the Lakers are actually going to be a tough counter for the Clippers. They can throw one of PG or Kawhi on LeBron, and having two guys to defend him certainly helps, but it also means the other one is guarding someone like Troy Daniels or Kentavious Caldwell-Pope and therefore not optimized. If they run Kawhi Leonard at power forward, he can match Kyle Kuzma, but they don't have anyone to guard Anthony Davis in the slightest.
No one can guard him well, but this Clippers team especially can't.
The Lakers can also go big with Davis and JaVale McGee and give the Clippers trouble.
But the rest of the West will have issues with the new-look Clippers. The Nuggets have an advantage with Nikola Jokic, but Kawhi-PG-Beverley can wreak enough havoc to disrupt the entry passes and take Jamal Murray out of the play.
Utah will have Gobert on the lob, but the Clippers can also lock down Mike Conley and Donovan Mitchell in a variety of ways and still stay home on Bojan Bogdanovic and Joe Ingles.
One team that will give them issues? Portland. Nurkic can overwhelm with size if he's back healthy, and Damian Lillard is, of course, dangerous enough, though the Clippers can also blitz him like no one else. It'll be on CJ McCollum with larger defenders closing to compensate.
The Rockets will be difficult. Sure, LA can assault James Harden with great individual defense, but Harden is also good enough to win that matchup. The question will be if the Clippers can limit Chris Paul and Clint Capela enough, and if anyone can keep PJ Tucker off the boards. — Matt Moore
---
8. West Matchups for the Lakers
The Lakers missing out on Leonard hurts them badly. Their defense is compromised, and their lack of depth puts more strain on their starting unit. They still have LeBron and AD, but their margin for error is now tiny.
They'll match up well with the Clippers as discussed above, and will do well vs. the Blazers. The Rockets now become tougher because of the math problem; Houston will outpace them in perimeter offense without Leonard's killer efficiency. The same issues exist vs. perimeter-oriented teams like Denver and Portland.
Leonard would have filled five players' roles on this team they were badly in need of. Without him, they'll have to get creative. — Matt Moore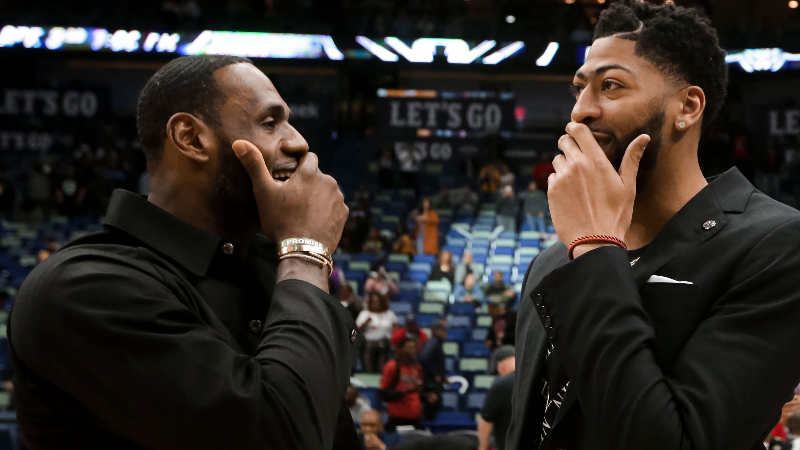 ---
9. The Quickest of MVP Thoughts
True story: I had about 600 words written on the MVP race before these moves. Whoops. Now Paul George has to be out. As good as he is, he'll never look better than Leonard on his own team. Leonard, however, gains a lot of value. Even with PG, an MVP candidate last year, at his side, if Kawhi brings the Clippers to a top-tier contender status after winning Finals MVP that's going to set up a narrative push.
The Clippers will need to win 55-plus games and Leonard's stats will have to be exemplary. He'll also need to not load manage, which seems unlikely given its success for him last year. But his stock is up.
So too is LeBron and AD's. A superteam of all three would've been too much, as KD and Steph Curry found out, but their current situation is enough to get them into the conversation if the team success and stats are there. — Matt Moore
---
10. Pacific Division Of Doom
Just real quick, these players play in the Pacific Division:
Kawhi Leonard
Paul George
LeBron James
Anthony Davis
Lou Williams
Patrick Beverley
Montrezl Harrell
Kyke Kuzma
Steph Curry
Draymond Green
Klay Thompson
D'Angelo Russell
Devin Booker
Kelly Oubre (likely)
DeAndre Ayton
D'Aaron Fox
Buddy Held
Marvin Bagley
And of course, JaVale McGee.
And this might not even be the best division in basketball (hello, Northwest). The West is going to be even more guano nuts than usual next year. — Matt Moore
---
11. THE WARRIORS?!
It's still way too early to really evaluate where the Warriors fall in the hierarchy out West. Trading for D'Angelo Russell may have been seen as their big gamble, but it was potentially just the first of a series of moves that may not crystallize until the trade deadline.
Russell is just an awkward fit long-term alongside Steph Curry and Klay Thompson, and it appears that the Warriors made the move just so they wouldn't lose Kevin Durant for nothing. I wouldn't be surprised to see them flip Russell for a wing at some point, and don't forget about that $17.2 million trade exception they created in the Andre Iguodala deal.
The Warriors are far from finished. — Justin Phan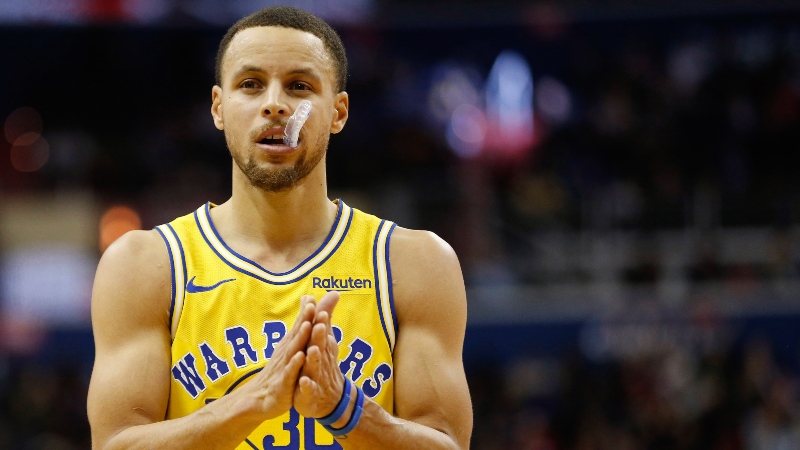 ---
12. OKC Fallout
Thunder fans were just minding their own damn business. They didn't want any of this free agency brawl. They were watching it all go down from what they thought was a safe distance, but then Jerry went to the bag and they caught a stray in the chest. But here's the thing: they OWN the Clippers every time the calendar hits the middle of June. I'm talking about the type of bill that comes from LA rolling onto OKC's hotels on BOARDWALK and PARK PLACE in Monopoly.
OKC acquired THREE unprotected first-round picks from the Clippers in this trade (2022, 2024 and 2026), league sources say, PLUS two firsts from Miami (2021 unprotected and 2023 protected 1-to-14) … AND the right to swap picks with the Clips in 2023 and 2025. Staggering

— Marc Stein (@TheSteinLine) July 6, 2019
You know how really rich people have those butlers outside their penthouses for when they need assistance with the simplest tasks? Sometimes they even have one of those pompous little bells that gets the servant to come running over like a dog awaiting its next command. The Thunder have one of these bells for the Clippers now, the same way the Pelicans have it for the Lakers, for the next seven years.
Here's the cold hard truth, OKC fans: Your team stunk. The Thunder were egregious underachievers and were never going to win a title as currently constructed. What Sam Presti just pulled off is the complete opposite of what I like to now call "Getting Kemba Walker'd," where you just let an All-NBA player walk for absolutely nothing in return for no reason whatsoever.
You were NEVER, EVER getting a deal this good for either Westbrook or George again. Thunder GM Sam Presti assessed the situation and said it's time to cut our losses — but in this case, losses are now options. — Wob
---
13. Russ On The Block?
This man will make approximately $40 million in each of the next two seasons … which team has the cap space to absorb this, let alone contracts to match it? The first two individual contracts that come to mind: John Wall and Chris Paul, one is slowly evolving into Oompa Loompa Eddy Curry and the other is responsible for half of the state of Texas' GDP and is reportedly feuding with his coach and co-star.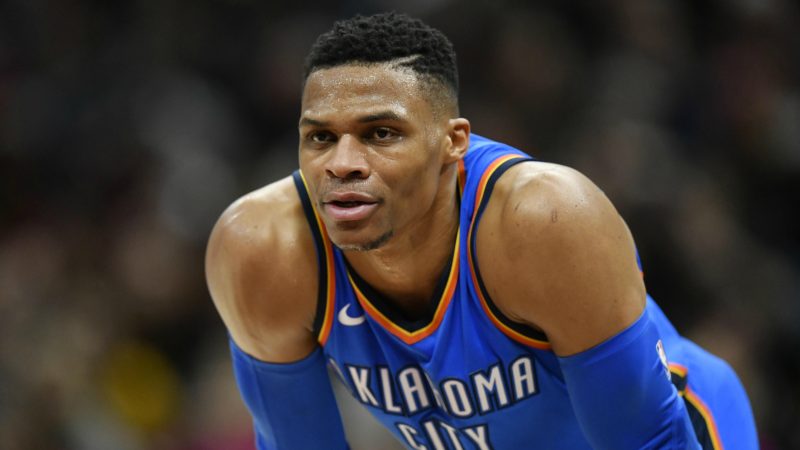 Teams could find ways to make this work, for sure, but here's another cold hard truth that OKC fans don't want to hear: Nobody wants Westbrook when he takes up almost 35% of your team's salary cap.
"Good luck." — Liam Neeson voice. — Wob
---
14. Parity, Parody, and All Else
I'm going to keep writing this until your eyes bleed: the NBA battles the perception of parity, parody, and everything in between. The league has proven to be anything but a mystery on the court, as the best teams always win, but the path from which they triumph is different every single time. Now, the championship race is more open than it has ever been.
P.S. I'm still riding with the Utah Jazz or Denver Nuggets to win the Western Conference, subject to change. — Wob
---
15. More Than Just a Pretty Logo
For the first time in a long time, the organizationally strong teams won out. In New York, Kyrie Irving and Kevin Durant shunned James Dolan's circus to join a meticulously crafted brand that offers something new in black and white. In LA, the Clippers offered new ownership, a new building (coming soon) and a new kingdom to build all their own.
For years, players had made decisions based on reputation and the conceptual ideas of something that defined teams. The Lakers landed LeBron James because of his gravitas and pursuit of star power for his off-court exploits and then Anthony Davis because of who his agent is. The Clippers went out and sold a vision. This matters. — Matt Moore
---
16. Raptors Rebuild?
Masai Ujiri was prepared for this all along. The Raptors just put a banner in the rafters. Mission accomplished. More importantly, if Kawhi did decide to leave, they were already set financially to blow everything up and completely re-build without the burden of any long-term contracts haunting the salary cap (ahem: DeRozan).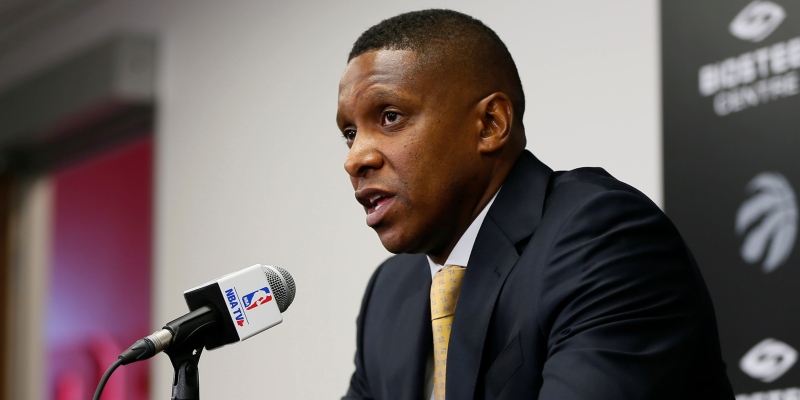 They have one player on the books (Normal Powell) who has a guaranteed contract for the 2020-21 season, in addition to team control over both Pascal Siakam and OG Anunoby. Kyle Lowry, Serge Ibaka, Fred VanVleet and Marc Gasol are all guys who will immediately become attractable trade assets for any fringe-contending team looking to make a more serious run at the title next season.
The Raptors will likely stockpile enough draft picks that even Sam Hinkie would be jealous of AND have a completely blank canvas of salary to work with moving forward.
THIS is why the Raptors did the Kawhi trade — even after winning the title, they still win long term. — Wob
---
17. The Chosen Elephant in the Room
Look, at some point we're going to have to talk about how many players have passed up playing with LeBron. Kyrie Irving left him and then didn't come back. Kevin Durant passed. Paul George. Kawhi Leonard. Jimmy Butler. Kemba Walker. The Lakers held out hope for the finest in the land … and none of them came.
It's enough to make you wonder where they'd be if Davis hadn't chosen Klutch Sports as his representative, and what it says about LeBron James. — Matt Moore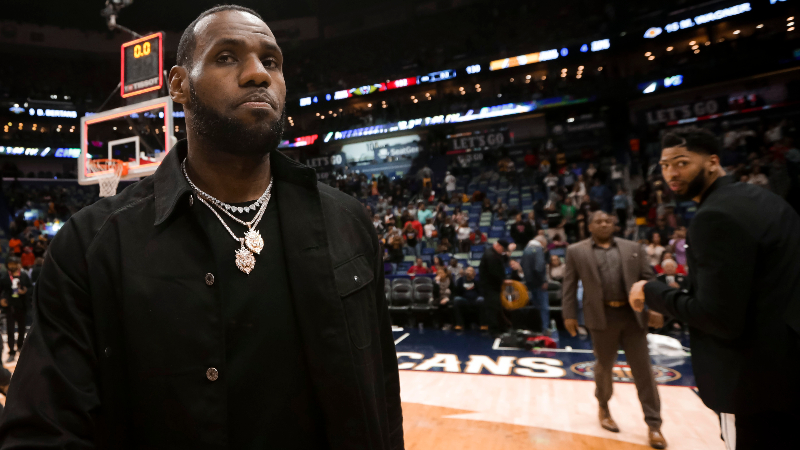 ---
18. Paul George Got the Whole Bag
Paul George grew up a Clippers fan, wanted to come home, wanted to come home on the most money possible, and he got all of that and he gets to play with Kawhi Leonard.
Thunder fans can't even really be mad because he gave it two years, a real shot. George got everything he wanted with a two-year OKC detour and Leonard's star isn't big enough to eclipse his own. Man, did PG play this right for himself. — Matt Moore
---
19. Don't Mess With West
Jerry West is the Logo, and he is a Laker legend. But in his time since departing the Lakers front office under somewhat tumultuous circumstances, he's helped build the 73-win, three-title Warriors and brought the Clippers to their highest point of relevancy. Both teams in California, I might add, the Lakers' backyard. Note to self: don't mess with Jerry West. — Matt Moore
---
20. Kawhi's Legacy in Toronto
First, he ended the reign of the Miami Heat Big 3, then the dynastic Warriors, then the Lakers superteam before it even started.
He is not just a mercenary, he is the one true balance in the force. — Wob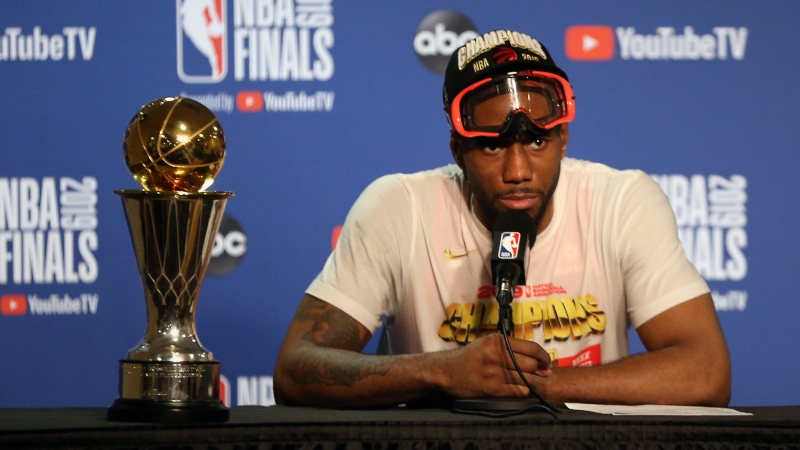 ---
21. KCP First-Team All-Finesse
Without a doubt — I mean not even close — the funniest thing to happen during the blockbuster madness. Anthony Davis gave $4 million back so the Lakers could go get Kawhi Leonard. KCP straight up pocketed this for the SECOND time. His approximate earnings from the Los Angeles Lakers on June 30, 2021 will be $45,745,894.
THIS MAN COULDN'T LEAVE THE STATE OF CALIFORNIA TO PLAY WITH THE TEAM OR PRACTICE BECAUSE HE WAS IN JAIL AND HE JUST GOT ANOTHER TWO YEAR DEAL.
ALL BOW BEFORE KLUTCH SPORTS YOU UNWORTHY HEATHENS.
This right here is it. I hereby promote Kentavious Caldwell-Pope to First-Team All-Finesse. I'm talking Chandler Parsons … I'm talking Luol Deng … I'm talking Timofey Mozgov, Joakim Noah, Bismack Biyombo, Jerome James, Carmelo Anthony, and Gilbert Arenas.
Side note: Why are half these guys former Knicks and Lakers?
Whatever we'll talk about that another day.
He has made it. The best businessman in America. Put his picture on the cover of Fortune or I will riot. — Wob
---
22. Did OKC Come Away as the Biggest Winner?
Pairing Kawhi with Paul George and potentially vaulting to the top of the West is obviously a huge win for the Clippers, but from a value perspective, the Thunder emerged as the biggest winner. Just hear me out.
The Thunder were already way over the cap before this deal — and they didn't have a way to create meaningful cap space over the next two seasons with almost $120 million committed to Westbrook, George, Steven Adams and Dennis Schroder next season. This was the core they were stuck with, better for worse — and it's the core nearly got swept by the Blazers in the first round of the playoffs last season.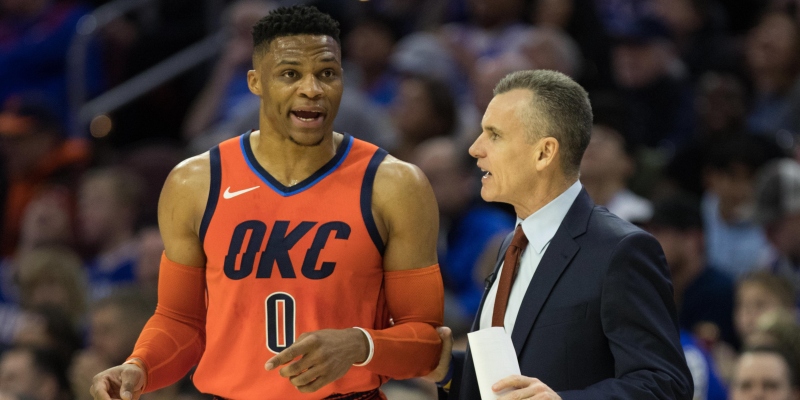 Let's be real, this team wasn't going to be a legitimate contender anytime soon. So instead of playing out the next two years which would've likely ended with early playoff exits, they got to kickstart a rebuild.
Their return for George is staggering — Shai Gilgeous-Alexander, four unprotected first-round picks, one protected first-round pick, two pick swaps, and whatever they can get for Danilo Gallinari's expiring contract. — Justin Phan
---
23. Winner: Lou Williams
You realize Lou managed to sign a good extension, stick with an LA team, win another Sixth Man of the Year Award, and now might wind up winning a title, which fundamentally shifts his legacy? Like Lou Williams went all the way up with Friday night's news. Sweet Lou smelling like roses. — Matt Moore
---
24. Loser: Danny Green
Green gets to join LeBron James (his former teammate; oh did you forget he used to be a Cavalier before he was a Spur?) and Anthony Davis, but Green is now going to be the target of much more scrutiny.
Every missed open 3 is a source of blame. He'll have to be even better defensively because of how LeBron James has shifted his defensive role. Green gets the money and gets to be a Laker, but there's a heavy price here. — Matt Moore
---
25. Winner: NBA
We've seen Anthony Davis traded to LA, KD leave the Warriors for the Nets, Kyrie leave the Celtics, Kemba Walker and Jimmy Butler and Al Horford change teams and yet … this was the biggest of them all, a splash that will spur content, discussion, and interest in the league all the way to training camp and beyond. The NBA has burnt itself to ash and now rises as a phoenix (but not the Suns), something new, something strange, and something chaotic. — Matt Moore
How would you rate this article?