Moore: What Kevin Durant's Injury Means for His Future, the Warriors, the NBA and These Finals
Credit:
Photo credit: Troy Taormina-USA TODAY Sports. Pictured: Kevin Durant and Stephen Curry
Kevin Durant underwent surgery Wednesday afternoon to repair a ruptured Achilles tendon suffered in Game 5 of the NBA Finals.
Matt Moore (@HPBasketball) discusses what this injury means for Durant's future, the Warriors, the NBA and the rest of these Finals.
Kevin Durant is gone from basketball.
That's hard, as a fan of the game, to deal with. It's going to be a year, maybe more, before we see Kevin Durant — in my humble opinion, the best player in the game — back on the court. It could be fall of 2020 before he steps back on an NBA floor.
That's sobering.
Durant made the NBA better, even as a member of a team so stacked it made competition a relative term over the past three seasons. He is a singular talent who should finish as a top-10 player of all time. His absence makes the NBA less.
However, it's the reality. He's not going to magically get better. He's not going to be the same. Everything has changed in the last 48 hours.
So what does it mean?
FOR THE FINALS…
KD was a +6 in the first quarter before his injury. The Warriors won that quarter by six. In the minutes Durant was not on the floor, the Warriors were outscored by five, and that was after the incredible 9-0 run by the Splash Brothers to win the game. The Raptors were +11 between when Durant went down and the 3:15 mark of the fourth quarter when that run arrived.
The Warriors simply have not been better than Toronto in this series overall, in large part due to KD. Durant's return was what could have turned this tide.
While there are all sorts of narrative reasons to believe the Warriors can pull this off — the emotional drive to "win it for KD," the last game at Oracle, their backs against the wall, needing only two more wins — the basketball side of all this suggests that they're up against it.
The Raptors are somehow 2.5-point underdogs, opening as big as 4.5-point dogs in Game 6. The value on their moneyline at +125 remains high. The Raptors are 5-2 as a dog this postseason on the moneyline. They have the matchups, and, most importantly, they've proven they can withstand the initial burst from the Warriors as they did in Games 4 and 5.
They can go down double digits early and rally. They've won the third quarter in this series, which takes away one of the Warriors' key elements. Thompson and Curry have to be perfect without Durant, and in a weird turnabout for the Warriors, their margin of error is essentially gone vs. Toronto.
Durant's return put value on the Warriors. His injury returns the value to Toronto.
FOR DURANT'S FREE AGENCY…
This is a question of comfort.
If Durant is comfortable staying with the Warriors, if he feels that their process of evaluating him before Game 5 was sound and this was just one of those things, then he has several options.
He can opt into his $31.5 million player option for the final season, rehab wherever he chooses and re-evaluate then.
He can sign a new deal with the Warriors, for whatever terms he wants within the CBA confines. The Athletic reported that the Warriors were willing to give him a long-term contract that allowed him to leave "at any point," though it's unclear what that means exactly. This option would allow him to guarantee his peak earning potential despite the injury while maintaining flexibility once his rehab is complete in 9-12 months.
If he doesn't feel comfortable or doesn't want to stay with the Warriors (which are two overlapping but distinct scenarios), he'll have his pick. A very brief check with various league sources confirmed what most assumed: Durant will still have a max offer on the table from several teams. The question is if those teams overlap with his desires. The Knicks are a tough one to gauge, as the Athletic outlined:
If Durant misses all of next year, he will be 32 years old at the start of the 2020-21 season and coming back from a major injury after having been sidelined for 16 months. That's a tough sell. The Knicks grew tired of waiting for 23-year-old Kristaps Porzingis to return, but they're going to keep a light on for an aging superstar and his surgically repaired Achilles?

Anything is possible with the Knicks. But you want to believe that James Dolan and Steve Mills haven't forgotten how the contracts of two injured former Knicks, Allan Houston and Amar'e Stoudemire, threw the franchise into salary cap purgatory.
Now, the counter in all this is that they are the Knicks. But perhaps not signing Durant is the most Knicks outcome, when a superstar finally elects to join them.
Would the Lakers essentially sign off another full year of LeBron James' prime to wait for Durant? Would they make that call if they can trade for Anthony Davis to bridge the gap? How do you fill in the roster to compete with the contracts of LeBron, Davis and KD on the books, but without KD on the floor?
Most teams — a league executive pegged it as ballpark 20 among the league franchises — would offer Durant a max because they're not going to do anything more valuable with their available cap space than that, even with Durant coming off an Achilles injury. But the 4-5 that he might most want might not be among that list, or have conflicting factors.
This means the Warriors may remain in the best position to retain his services long-term. The injury just throws wrenches into so many plans.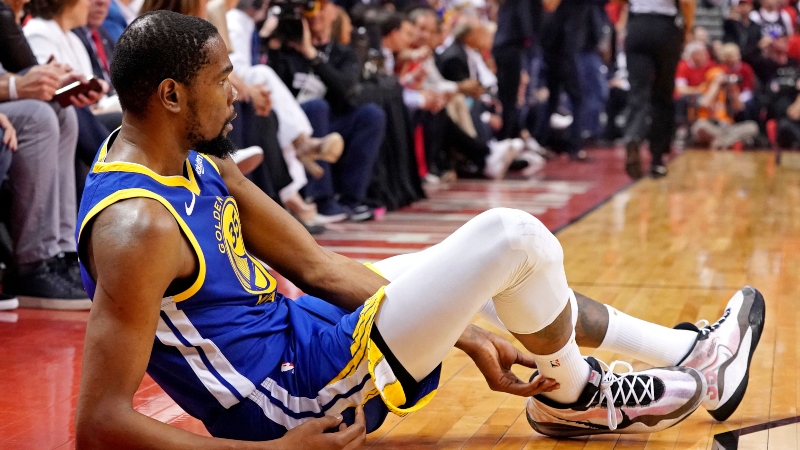 THE REST OF THE LEAGUE…
There are trickle-down effects here. If Durant opts in or re-signs with Golden State, all of a sudden there's a void in free agency. The team that might have signed him otherwise (say it's the Knicks) now has cap space available.
So they turn to their other options. This immediately enhances the value of a guy like Tobias Harris, Khris Middleton or Jimmy Butler. Teams that might have passed on those players in pursuit of what they felt were better options might find those better options headed to the teams above them in the pecking order, making the lesser options more valuable.
In other words, a fourth-ranked team that might have had Butler below Middleton might see Middleton off the board.
There's also the impact of this on the Western Conference. Golden State has looked vulnerable in the Finals without Durant, even after going 6-0 since his original calf injury in the second round. The Warriors are likely to reconfigure their bench for better depth without Durant but will still be limited in what they can really do with an aging core locked in on big-money deals. (This assumes they re-sign Klay Thompson this summer. If they don't and Durant opts in, all hell breaks loose.)
Other teams may see this as potentially a one-year opportunity to make a run at the West. There's been a growing sense of vulnerability in Golden State, and teams are primed to take advantage, but that means actually beating them, which has meant something entirely different for West teams.
FOR DURANT…
I always feel the need to stress this: This is a human body. What I mean by that is when Kevin Durant wakes up after surgery, it's going to hurt. And it will keep hurting. And he'll have strenuous, annoying, dispiriting rehab. The basketball stuff, the loss of what he could do before — that's all part of it and will be anguish for him, but I try to keep in mind that, just human-to-human, Kevin Durant's going to be in a lot of pain, and that matters.
You know by now that the prognosis of players after Achilles injuries are not good. There are steep drop-offs in athleticism, which impacts field goal percentage. Durant has arguably been the most overall efficient player (maybe in NBA history), and that will take a hit.
There are success stories to go with the failures. Dominique Wilkins returned to All-NBA form after he suffered the injury. Rudy Gay has carved out a good career for himself as a stretch-4. Jonas Jerebko is unplayable in these Finals but has overall been a productive player since he came back from it. DeMarcus Cousins is at least still in the Finals.
Durant's also a singular talent. If the best he ever gets is 70 percent of what he once was? That's still better than 95 percent of all NBA players. His work ethic, love of the game and an incredible combination of size and skill work in his favor as well. He could very well be the player who redefines what is possible for players after rupturing their Achilles.
ESPN's Brian Windhorst said after Game 5 that the NBA had been changed forever, and he's right. It will take time to figure out just how. This is one of the most dispiriting and widespread impactful stories to happen in league history — in a league where landscape-altering things seem to happen every six months.
There's so much we don't know, but for now I'd say the best bets are the Raptors to win the Finals, the Warriors to retain Durant's services and on Durant to return to being a dominant player. We've seen too much to think otherwise in all three cases.
How would you rate this article?