ROY vs. ROI: What Summer League Means for Rookie of the Year Odds
Credit:
Stephen R. Sylvanie-USA TODAY Sports. Pictured: Moritz Wagner (left), Kevin Knox (right).
Despite not playing this summer, Luka Doncic (+200) is the favorite to take home the Rookie of the Year award.
Trae Young (+650) didn't help his stock with his poor shot selection during the Vegas Summer League.
Kevin Knox is a sneaky pick at (+1500) after his play this summer for the Knicks.
Summer League is over … well, the part of it where teams actually try to win is over. The Summer League tournament was a good idea to try and keep things competitive, but there's just never going to be any realistic incentive for teams to keep their star rookies and promising camp players active.
This year's stretch wasn't one to really remember. There will be small moments to hold onto, but no one really lit things up. There was no real buzz in the building for any of the top players.
Some of that has to do with Luka Doncic sitting for the Mavericks and Michael Porter Jr. being shelved for the Nuggets. Still, we learned a lot about this crop of incoming players.
Let's take a look at the 2018 NBA rookie class through the lens of their Rookie of the Year odds:
Deandre Ayton, Phoenix Suns (+275)
Here's a number right off the bat for you. Deandre Ayton has had just eight post-up possessions thus far in Summer League play. Phoenix just hasn't been able to get him the ball in the right position.
This brings up a larger issue with big men coming into the Association: They need someone to get them the ball to succeed offensively. The NBA has suffered from a dire need for quality entry passers over the last 10 years as the sport has accelerated at light speed toward a perimeter game, and it still has not corrected itself. While the Summer League point guard play is beneath what Ayton will find during the regular season (though Davon Reed was impressive), the Suns aren't well equipped on this front.
Still in search of a legitimate starting point guard, their projected starter is Brandon Knight, who hasn't played since Feb. 15, 2017 and is returning from a knee injury. Passing isn't Devin Booker's bag, so to speak. It's also concerning that this issue followed Ayton throughout the Arizona collegiate season and in the NCAA tournament. Guys can't get him the ball. Is that just the guards, or is there something with how Ayton establishes position?
Ayton still put up bonkers numbers in college, went No. 1 overall and put up big numbers in Summer League. But it's worth wondering if that will translate. What has been great has been his pick-and-roll work. He's been devastating as a finisher:
I just continue to wonder if Ayton's going to get the usage necessary to win the award. His payoff is short, and he's on a team with a volume scorer in Booker who is turning into a star as well as Josh Jackson, who's no slouch either. Can Ayton finish enough lobs and block enough shots while the Suns lose a bunch of games and the defense suffers (because blocking shots is relatively low on the impact list for defensive plays these days)? Ayton has a great chance to be the best player in this class, but ROY still seems tough.
Luka Doncic, Dallas Mavericks (+200)
The odds-on favorite. This will either be remembered as a, "Hey, remember when Doncic was the steal of the draft and the favorite to win ROY?" punchline, or it will be so plainly obvious how good he is that it makes the Hawks' trade worse.
The Mavs couldn't get Doncic's buyout completed in time for him to participate in Summer League, so there's nothing to look at there. Here's what we do know: There's likely to be a little tug of war between Dennis Smith Jr., an absolute killer, and Doncic. Both players need and deserve the ball. Balancing that with a roster filled with veterans like DeAndre Jordan and Harrison Barnes will be tough. I'm not saying that the ROY winner has to have complete control; Ben Simmons split touches with Joel Embiid, and Donovan Mitchell nearly won on a team filled with veterans. Regardless, it's something to consider since we're unsure how Doncic will translate to the domestic game.
The 2-1 return seems great for a player as skilled as he is, and again, we could wake up New Year's Day saying, "Welp, should have grabbed Doncic, who we knew was the best player, when you could still get plus money." Still, it's worth looking at higher ROI opportunities if you're betting now.
Marvin Bagley Jr., Sacramento Kings, (+400)
Bagley struggled this summer. He had moments, he had nights, but he also showed some cause for concern. The biggest issue was his defense. Rookies generally haven't been overly criticized for stuff like that, but we've seen a shift in that recently. The bar is higher for rookies, and Bagley was blown past on the edge and bullied in the paint in Vegas.
Now, he had highlights as well, like his debut where he was awesome:
Something to keep in mind, however: He still has no right hand in his shot. None. It is not a thing. Even if he gets to where he's having success, that will hit the scouting book pretty hard, and it's going to make life tougher for him. The 4-1 odds are nice, but Bagley needs to be a more polished player to really vault to the top.
Trae Young, Atlanta Hawks (+650)
I went from loving how long Young's odds are to holding a fire sale of his ROY stock.
Young was largely a disaster in Vegas. His shot selection was at its worst — when Young is pressed and out of sorts his default is to hoist. That's going to be a struggle for him in the NBA. Even coaches willing to let him develop will yank him if he's holding the team back.
His size really hit you when compared to Summer League guards, who aren't always as talented as all the guards he faced in college, but are all certainly more athletic. He was pressured, pressed and thrown off his game.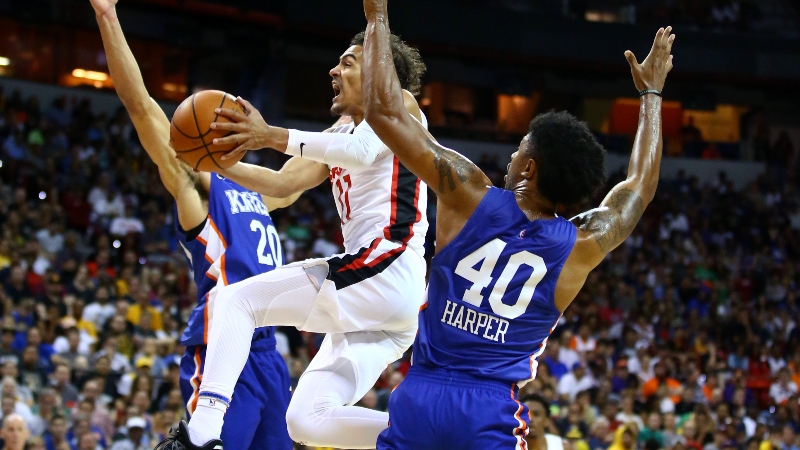 Mark J. Rebilas-USA TODAY Sports. Pictured: Trae Young
Now, Young's passing remains sublime (he's averaging 6.8 assists per game as of this writing). That's what I loved most about him as a prospect.
But if he struggles to get good looks with his loose trigger, no amount of passing will compensate. It was always known he'd struggle defensively, but if you're inefficient as a shooter (an area where Young should excel) and bad defensively, you have no shot at ROY. Do I think this will be his identity in the league for his whole career? No. But it's enough to avoid his ROY odds.
Jaren Jackson Jr. Memphis Grizzlies (+950)
Now this is interesting. Jackson's star shone brightest in Sacramento's summer league before burning out in Vegas. It was readily apparent by his third game (when he started to simmer down) that he was exhausted. Memphis played five games in eight days.
His shooting may have been a little above his regular season ceiling, but the potential is still very much there, and he's a guy who stands out on both ends of the floor. He struggled with Mohamed Bamba and Jonathan Isaac's athleticism, but he still found ways to make an impact. Jackson is also one of the few big men in this draft with a guard (Mike Conley) who can get him the ball. The Memphis offense is being built around 4's and 5's stretching the floor with Kyle Anderson on the wing as a secondary distributor. Jackson is going to have lob opportunities and pick-and-pop chances all season. I like the +950 return quite a bit because Jackson actually has a lot of NBA-ready talent around him, but not a lot of guys to throw his usage in a dungeon.
One cautionary tale? The impression I got from Vegas is that Memphis expects him to come off the bench to begin the season. That could change if he annihilates the competition and incumbent starter JaMychal Green in camp, but it's a concern when it comes to minutes for a team that is absolutely trying to make the playoffs.
Mohamed Bamba, Orlando Magic (+1100)
Juicy. Bamba leaped out of the gym in Vegas, on both ends of the floor. He's just superhuman when it comes to length and athleticism. It's surreal watching him.
Downsides: No guards to get him the ball, sharing minutes with Aaron Gordon, no idea how Steve Clifford will use him.
Upsides: Might wind up posting big stats with points, rebounds and blocks to get into the conversation. Was super impressive to scouts and front-office folks.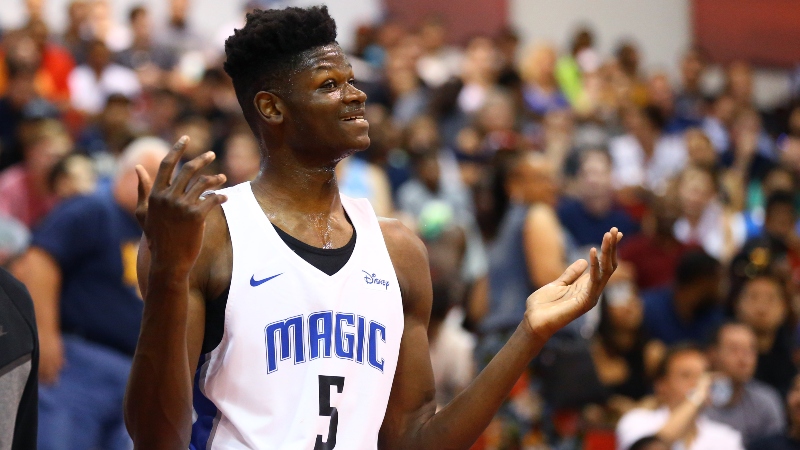 Mark J. Rebilas-USA TODAY Sports. Pictured: Mohamed Bamba.
Kevin Knox, New York Knicks (+1500)
I kind of like this one. Knox has averaged 23 points and seven rebounds per game, and he's showed off all sorts of ability in Summer League. He's so athletic he can get up and down the floor to attack, and David Fizdale is really good with wings. He shot just 39% from the field, but the confidence to take perimeter shots is a plus when they're good looks.
Kristaps Porzingis is out until the midseason mark, at best. Frank Ntilikina may not even start. Knox is a two-way demon in a league defined by them. This is my favorite longshot bet on this board.
Colin Sexton, Cleveland Cavaliers (+2000)
Sexton has looked really good, shooting 48.8% from the field and averaging 18.8 points per game. His assist total has been low; granted, it's Summer League, where assists are rare, but it's at least something to note.
He's got a lot of competition for touches on the Cavs and won't start in almost any scenario. He's looked great and caught people's eye, but the ROY chances are still worse than the ROI.
Wendell Carter Jr., Chicago Bulls (+2800)
Carter has the longest odds after the most impressive summer league performance, so if you want to take a longshot, this is the one. Lauri Markkanen is never going to demand the ball enough to prevent WCJ from getting touches. The bigger issue is the guards. Zach LaVine is on a $20 million deal and has always been a gunner. Getting touches will be difficult.
It's too bad rookies never really get real credit for their defense, because WCJ may wind up being the most impactful player in his first year. The Al Horford comparisons are absolutely rampant with him. Given how much analytics have come to be a factor in the conversation, this is worth looking at. There's no player or set of players who are so far ahead of this conversation that it's ridiculous to take a longshot like this.