Palmer: Ranking LeBron James' Toughest NBA Finals Opponents
Credit:
Getty Images. Pictured (L-R): Stephen Curry, Dirk Nowitzki, Tim Duncan.
LeBron James' record in the NBA Finals often overshadows his ability to consistently make it to the championship round year after year.
Raheem Palmer looks at each of James' opponents in each of those series ahead of his 10th trip to the Finals where he faces the Miami Hea.
If the NBA decided to change the name of the Finals to the LeBron James Invitational, it would be hard to find many people to dispute its accuracy.
After advancing to his 10th NBA Finals and ninth in the past 10 seasons, James has now played in an astounding 13.5% of the 74 Finals series played in league history.
Here's how Jimmy Butler reflected on it after the Miami Heat won games Game 6 of the Eastern Conference finals:
Heat's Jimmy Butler on Finals: "It's been like this for a very long time: If you want to win, you'll have to go through a LeBron James-led team… That's what it normally comes down to… You're going to get the same test over & over until you pass it. That test is LeBron James." pic.twitter.com/zlYYE1vRgr

— Ben Golliver (@BenGolliver) September 28, 2020
Despite a G.O.A.T. worthy 17-season career, the lone blemish on James' career from his detractors remains his less than ideal 3-6 record in Finals series.
In a world with never ending debates over who is the greatest player ever, James' record often serves as unfair evidence that he falls short of his historical peers — most notably Michael Jordan whose is perfect Finals record has set the benchmark by which all players are measured.
Nuance is often absent from the room, particularly the ones in which "rings culture" reigns supreme. The nature of basketball allows for stars to have more impact than any other team sport and it's not uncommon to hear fans say things like "Jordan wouldn't allow his team to lose," disregarding the many variables that impact winning.
Teammates, coaching, schemes, strategy, injuries (ie: the 2015 NAB Finals) and luck all play an integral role in influencing the outcome of games, series and ultimately legacies.
While Jordan's Bulls had a strangle hold in the 90's, entering as betting favorites in all six of their NBA Finals series, LeBron's teams were the underdog for seven of his nine previous Finals appearances.
Given the low expectations for James' teams entering these series, it's evident he's won as many as he should have. In light of this, I decided to rank his Finals opponents using Simple Rating System (SRS).
Per Basketball Reference, SRS takes into account average point differential and strength of schedule. The rating is denominated in points above/below average, where zero is average.
For the purposes of this article, I took the average of regular season and playoff SRS so we can get a composite of how good teams were during both the regular season and the playoffs. (The 2014 Spurs made a massive leap during the post season, while the 2016 Warriors never quite reached their regular season levels of play.)
Of course, no rating system is perfect — there are a few teams that are ranked lower than I'd like, particularly the 2018 Warriors — nonetheless, this should give us a good idea of how good these teams were in comparison to one another based on how they performed.
 1. 2017 Golden State Warriors 
67-15, 16-1 in the playoffs, Regular Season SRS: 11.35, Playoff SRS: 16.91 (Average: 14.13)
What happens when you take an angry 73-9 team fresh off blowing a 3-1 lead in the previous Finals and add four-time scoring champion and former MVP Kevin Durant to the mix? You get quite possibly the greatest team in NBA history, one with so much firepower that it upset the competitive balance of the league for years to come.
The 2017 Warriors steamrolled through the playoffs with a 15-1 record, scoring 118.2 points per 100 possessions while holding teams to 105.3 points per 100 possessions defensively.
Their lone playoff loss? A historic shooting Game 4 in the 2017 Finals in which the Cavs shot 24-of 45-from behind the arc (53.3%) and got 71 combined points from Kyrie Irving and James.
The 2017 iteration of the Cavaliers averaged 119.9 points per 100 possessions and dusted the Eastern Conference on the a way to a 12-0 record before losing to the Warriors in five games.
This may have been the best team James played on during his career and despite averaging a triple-double with 33 points, 12 rebounds and 10 assists in the Finals, the Warriors' overall talent level meant he never stood a chance.
2. 2014 San Antonio Spurs
61-21, 16-7 in the playoffs, Regular Season SRS: 8, Playoff SRS: 13.71 (Average: 10.895)
Although the 2017 Warriors overwhelmed opponents with talent, the 2014 Spurs exemplified the beauty of team basketball while reaching levels of play we haven't seen since. After a heart breaking loss in the 2013 Finals, the Spurs came back with a vengeance.
It was basketball nirvana as their ball movement carved up the Heat's swarming defense to the tune of 120 points per 100 possessions. Despite 28.2 points, 7.8 rebounds and four assists per game from James, it was the most lopsided NBA Finals series ever, as the Spurs outscored the Heat by 70 points over five games with their four wins being decided by 17.5 points per game.
With Dwyane Wade on his last legs and the Heat featuring an old roster full of aging vets, this series was the death of a dynasty and James departed for greener pastures soon after.
 3. 2015 Golden State Warriors
67-15, 16-5 in the playoffs,  Regular Season SRS: 10.01 ,  Playoff SRS: 11.12 (Average: 10.565)
This may come as a shock to many, but the 2015 Warriors actually performed better than the 2018 and 2016 iterations when accounting for both regular season and playoff SRS as they maintained their stellar play for the entire year. The 2018 team didn't perform as well in the regular season, while the 2016 team suffered a drop off during the playoffs.
Head coach Steve Kerr replaced Mark Jackson and the results of the pace-and-space offense were immediately apparent as the Warriors jumped from 12th in offensive rating  to second at 111.1 per 100 possessions while leading the league in net rating.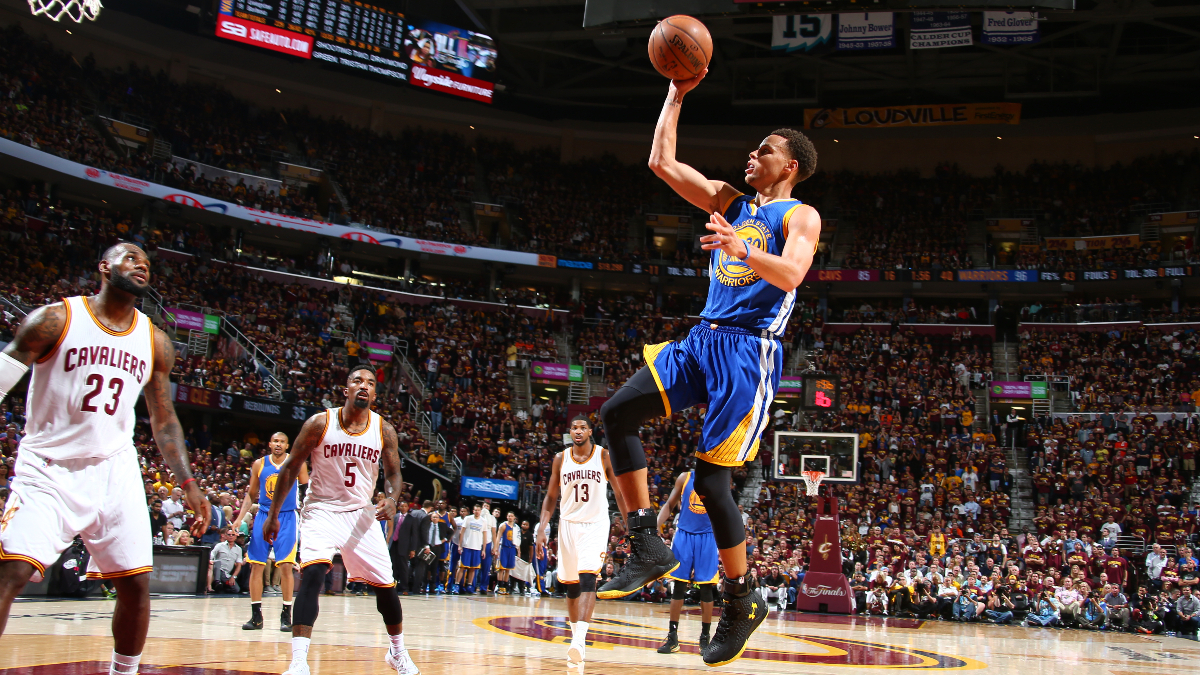 Kerr's new offense completely unlocked Stephen Curry as he won the first of his back-to-back MVP awards creating a 3-point revolution in the process. The Warriors were first in pace, field goal percentage (47%) and shot the highest 3-point percentage (39.8%) in the league.
One of the biggest reasons the Warriors maintained their level of play all season was they stayed healthy throughout the postseason. Although they faced stiff competition beating ever player voted first team All NBA team that season (James Harden, Anthony Davis, Marc Gasol and LeBron James) opposing point guards for every opponent got hurt during their playoff run.  
James averaged a whopping 35.8 points, 13.3 rebounds and 8.8 assists per game, winning two games with a starting lineup of Matthew Dellavedova, Iman Shumpert, Tristan Thompson and Timofey Mozgov before the Warriors pulled out the death lineup and effectively ended the series. If there's anything that speaks to James' dominance, it is that Andre Iguodala won Finals MVP primarily for holding James to 39.8% shooting and hitting timely baskets. 
4.  2018 Golden State Warriors
56-26, 16-5 in the playoffs,  Regular Season SRS: 5.79 ,  Playoff SRS: 13.89 (Average: 9.84)
In Pat Riley's book "Showtime", he coined the phrase the "Disease of more", stating that "success is often the first step toward disaster." The 2018 Golden State Warriors were a likely Chris Paul injury away from being a casualty of Pat's philosophy.
Despite maintaining most of the roster from the previous season, the Warriors didn't perform as well. After sleep walking through the regular season and suffering injuries to Curry and Iguodala, the Warriors looked beatable for the first time since signing Durant as they dropped to 11th in defense and third in offense. Nonetheless, even a less motivated Warriors team were consistently favored over the rest of the league.
After Houston pushed the Warriors to seven games, James delivered a 51 point, eight assist and eight rebound performance, almost stealing Game 1 of the 2018 Finals. It was a valiant effort for James, but the Cavs were overmatched after trading Irving and they were eventually swept in four games.
 5. 2016 Golden State Warriors
73-9, 15-9 in the playoffs, Regular Season SRS: 10.38, Playoff SRS: 8.33 (Average: 9.355)
Many people would expect this Warriors team to be higher, but it's not. Similar to this season's Milwaukee Bucks, the 2016 Warriors are one of the biggest lessons in not overweighing your priors as there was a substantial drop off from their regular season level of play.
You can blame it on Curry's sprained MCL, the impact of trying to stay ahead of another historically great team in the 67-win Spurs or the grind of attempting to win 73 games but they clearly weren't the same team in the playoffs.
Unlike the 2015 season, injury luck wasn't on their side as Curry, Andrew Bogut and Iguodala all suffered injuries, which impacted the Warriors' level of play. In the regular season they scored a league-high 113.5 per 100 possessions while holding teams to 102.8 per 100 possessions. In the postseason, they saw their offensive rating decline to 109.5 and their defensive rating increase to 105.1.
Still, it speaks volumes about how great the 2016 Warriors were considering they still advanced to the NBA Finals and jumped out to a 3-1 lead over the Cavs before James delivered his magnum opus.
Leading both teams in all statistical categories, LeBron averaged 29.7 points, 11.3 rebounds, 8.9 assists, 2.6 steals and 2.3 blocks, delivering the iconic chase down block to lead the Cavs back from a 3-1 deficit to win the series.
The best of the rest:
6. 2013 San Antonio Spurs
58-24 , 15-6 in the playoffs,  Regular Season SRS: 6.67 ,  Playoff SRS: 10.82 (Average: 8.745)
This is a team that I'd like to rank higher given that they were a defensive rebound away from winning the title in 2013. However, their regular season SRS brings them down in comparison to the teams above them. The Warriors from 2015-2018 were historically great and it's tough to place the 2013 Spurs over the 2014 Spurs.
7. 2007 San Antonio Spurs
58-24, 16-4 in the playoffs, Regular Season SRS: 8.35, Playoff SRS: 8.04 (Average: 8.195)
After dragging a team with Sasha Pavlovic, Drew Gooden, Zydrunas Ilgauskas and Larry Hughes to the NBA Finals, the Cavs were clearly overmatched against the Spurs who had Tim Duncan, Tony Parker and Manu Ginobili all at the peak of their powers.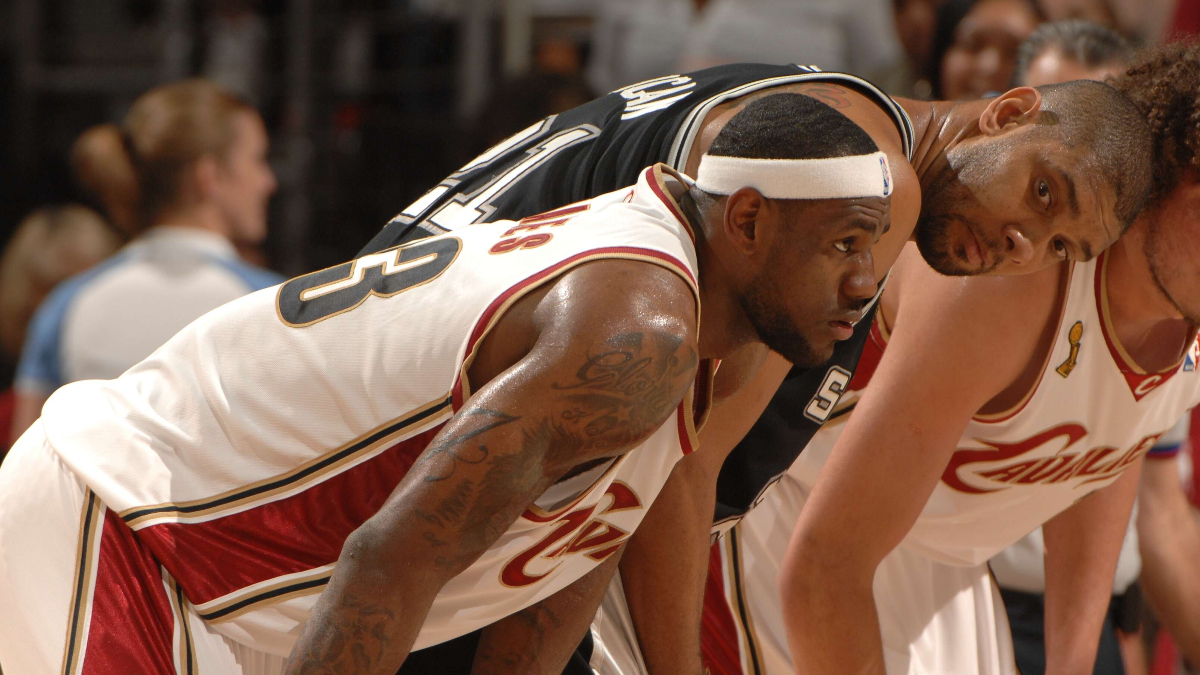 Still, it's tough to believe they were better than the Spurs or Warriors teams ranked above them.
8. 2012 Oklahoma City Thunder
46-20, 13-7 in the playoffs, Regular Season SRS: 6.44, Playoff SRS: 8.46 (Average: 7.45)
The 2012 Finals was the last time we saw Durant, Westbrook and Harden play together. After defeating the defending champion Mavericks, Kobe Bryant's Lakers and the Spurs in six games to win the West, the Thunder were sizable favorites to win the NBA Finals.
The five game series was closer than it appeared to be but the young Thunder they were no match for a hungry and experienced Heat team that crapped the bed a year before.
9. 2011 Dallas Mavericks
73-9, 16-5 in the playoffs, Regular Season SRS: 4.41, Playoff SRS: 10.21 (Average: 7.31)
This series is the lone misstep for James as it's the only Finals series he's lost as an favorite. With the Mavericks having much of their key rotational pieces over the age of 32, prime versions of LeBron, Wade and Chris Bosh looked to be a shoe in to win their first championship.
The Mavericks zone defense made it tough on the Heat but it still took a monumental collapse for them to lose this series. The Heat were poised to go up 2-0 before blowing a 15-point fourth quarter lead at home with 6:30 to go.
In a pivotal Game 4 which the Heat could have gone up 3-1, LeBron James had just eight points. Nevertheless, his 2011 Finals was just a speed bump and set the stage for dominant career that we're still witnessing to this day.
How would you rate this article?