Wob: The Most Impressive Part of LeBron James Passing Kobe Bryant on the NBA's All-Time Scoring List
Credit:
Photo credit: John McCoy/Getty Images. Pictured: LeBron James and Kobe Bryant
33,643.
33,626.
After LeBron James put up 27 points Thursday evening against Kyrie Irving and the Brooklyn Nets, he now sits just 18 points from passing Kobe Bryant to reach third place on the NBA's all-time scoring list.
He'll likely do so on Saturday night, as the Lakers are in Philadelphia — Kobe's hometown, by the way — for a prime time matchup.
Let's put this milestone into context by talking about how Lakers fans should feel, how LeBron should pay homage to Kobe, what's next for LeBron and more.
If you're a Lakers fan, how should you feel?
I have no right to be the judge and jury of your emotions. Feel what you want to feel, regardless of other's opinions; there is no correct or wrong answer.
What I can do, however, is tell you a story.
I grew up a die-hard University of North Carolina-Chapel Hill basketball fan. Every dribble acted as the pacemaker of my heartbeat. I crawled through the Kris Lang, Jason Capel, Joe Forte days and came out the other side clean. I say this next statement with all sincerity: There was not, nor may there ever be, a college basketball player I hated more than JJ Redick.
There were plenty of Dookies who were worthy of being the nation's biggest villain, but Redick was undoubtedly number one. The combination of him being so good, so obnoxious, so Duke — I mean just the epitome of someone you'd imagine attending Duke — and staying in school all four years elevated him past Christian Laettner in my eyes. I carried this grudge through my tenure as a student at UNC all the way through until 2017.
But then something happened: I got a job working in the NBA industry and ran into him at a deli near a studio we shared. We were introduced to each other through a mutual party, and I just came out and said it: "Before you say anything, I have to tell you to your face that I despise you more than any basketball player on Earth not named Reggie Miller."
He rolled with the punches perfectly, alluding to the fact he gets that a lot, and spoke humbly about his experience. He gave me the time of day when I probably didn't deserve it, and even took the time to educate me on his motivations. Within 15 minutes, I regret to inform my friends, family and fellow alumni that I had done a complete 180 on him. He is a genuine, authentic dude who was just doing his job. There's no other way to put it. I now find myself, ugh, rooting for him because I don't know if I would have been as big of a man as him if I were in his position when confronted by a stranger looking to start some shit.
The reason for telling you this story is 1) always appreciate greatness when you have the opportunity to experience it first-hand, and 2) because I understand Lakers fans are still fractured into a three-front civil war: LeBron worshipers, who will follow him to the ends of the Earth, no matter what team he's on. All that matters is LeBron playing well; if the team he's on loses, it's not his fault. We get it.
Then there is House Kobe. These are the crusaders of the Lakers' Mount Rushmore: Magic, Kareem, West, Shaq and Kobe. If you're not a true, lifelong, committed-to-the-cause Laker, you do not have this party's support. This includes LeBron James. These are the people who are vandalizing LeBron's murals across the city. The people who spam every LeBron achievement with Kobe highlights and memes. L.A.'s Sons of Harpy. 
And somewhere in the middle: Lakers fans who just want the team to be great no matter who plays for them or what the cost is.
No matter where you fall, here's all that matters: They're Lakers. You are the only franchise who can even have this problem, if you want to call it that. LeBron may not be a 'true Laker' just yet, or ever, but the fact James is doing it as a member of your favorite team should be a celebration.
After more than half a decade missing the playoffs, the league's most storied franchise has returned to the stratosphere of greatness it's always belonged to be in thanks to this man. It's time for a new 'King' to take the throne, but amongst the Lakers monarchy — this should not be seen as an abdication, but simply succession.
What should LeBron's celebration be when he passes Kobe?
Kobe won't be at the game, as Bryant told the Los Angeles Times' Bill Plaschke. He understandably wants the moment to be about LeBron and doesn't want his presence to serve as a distraction, no matter where it is.
"You got to celebrate … appreciate what he is as an athlete while he is here" he said. "Appreciate this guy, celebrate what he's done, because it's truly remarkable."
He said he's going to call LeBron after the game, so please spare me your takes of disrespect.
Now that we got this out of the way, EVERYBODY should comprehend any gesture made by LeBron after passing Kobe as him paying homage.
That's why I want him to bite the jersey.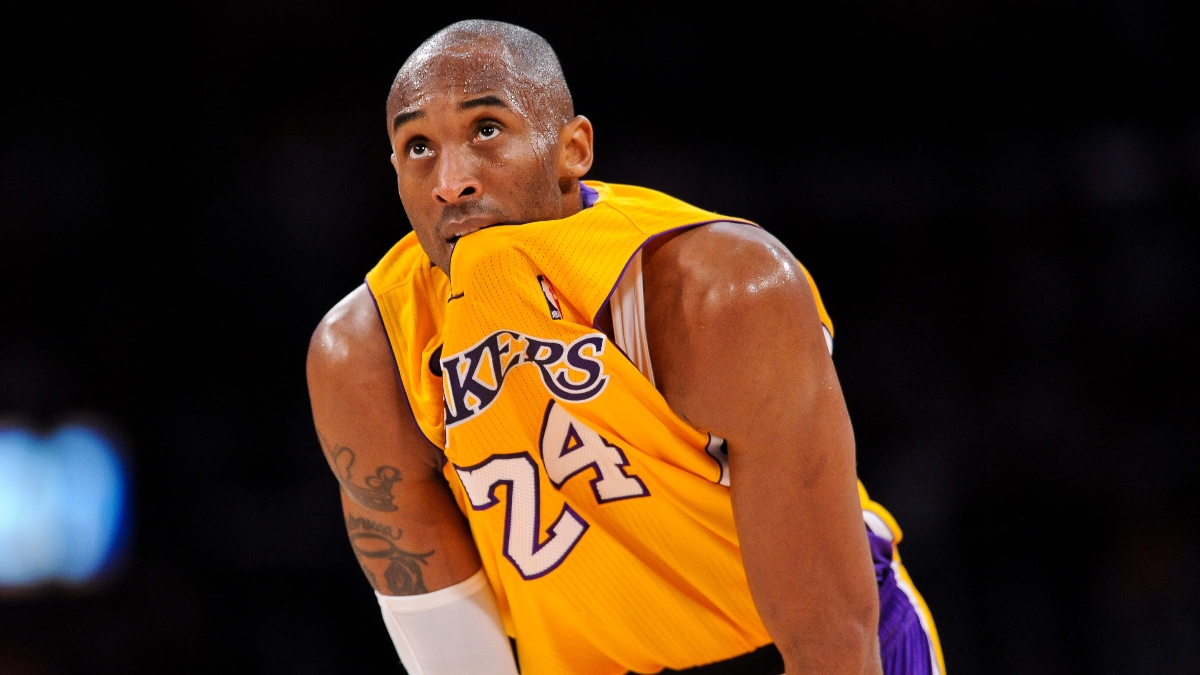 It's subtle, it's respectful, it can be done naturally during live play without coming off as corny, it's something we all will pick up on, and most importantly … it's Kobe.
If he chooses to do so, this is how you salute the mamba.
What are the most impressive aspects of LeBron's ascension to third on the all-time scoring list?
LeBron's trophy case needs its own guest house. The amount of things he has accomplished during his basketball tenure is simply unfathomable, but the most impressive statistic he has ever recorded isn't in the box score: his durability.
Now in Year 17, the simple fact that he's still performing at the same physical, athletic, and sheer basketball prowess level, while maintaining numerical production statistics and out-performing every advanced analytic average year-after-year, is almost unprecedented.
James moving up to third is a historic moment, don't get me wrong, but the fact that he doesn't even look close to slowing down is one of the most eye-popping feats ever accomplished in professional sports.
Kobe had a Player Efficiency Rating (PER) north of 21.0 from 1999 through 2013. That's 14 straight years of elite basketball. It takes more than being a talented basketball player to get to this level of divinity. In an age of load management, superstar-ceiling careers being shortened and defined by injury, and just general human complacency after receiving a bag of cash to get you comfortably through life — this commitment to excellence by both James and Bryant is the generational standard.
Father Time is undefeated for a reason; enjoy this while it lasts.
Does LeBron passing Kobe on the all-time points scored list in Bryant's hometown of Philadelphia matter?
People are going to try and make a big deal out of this because it makes for a good headline. It doesn't matter nearly as much as opposed to if he did it in STAPLES Center in front of the Lakers faithful.
You are asking PHILADELPHIA fans to stop play and celebrate an achievement by an OPPOSING player? In their own gym? Do you have any idea who you're dealing with here? You walk into Mordor asking orcs to give you a standing ovation after destroying the ring? Know your audience.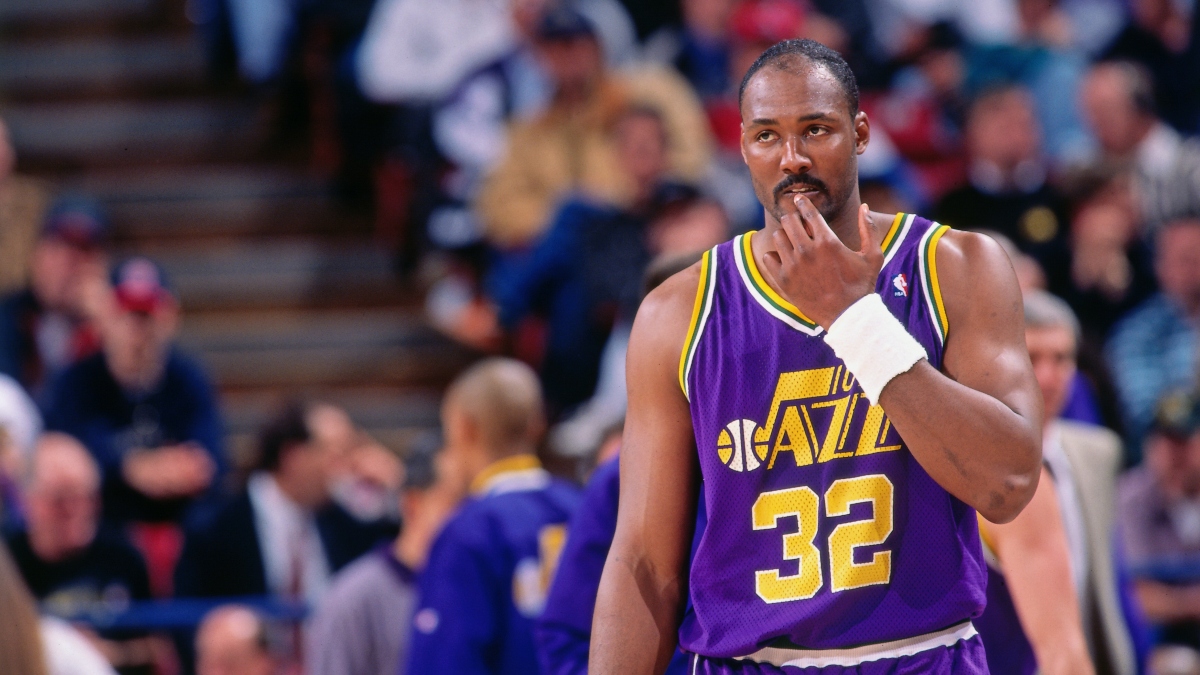 How ridiculous is it that Karl Malone is next on the list?
This is my favorite underrated statistic to talk about. Since he's next up for LeBron to pass (3,285 ahead of Kobe!), let's investigate.
Karl Malone played 19 seasons in the NBA from the age of 18 through 37. He averaged at least 20 points per game for 17 of those campaigns; the two he didn't were his rookie season and his final year with the Lakers.
HE PLAYED IN AT LEAST 80 OUT OF 82 REGULAR SEASON GAMES IN 17 OF 18 SEASONS NOT SHORTENED BY A LOCKOUT. LeBron has accomplished this three times.
Malone averaged 37.2 minutes played per regular season game throughout his career.
Malone participated in the playoffs from 1985 through 2004 and averaged 41.0 minutes played per game. All he did was average 24.7 points per game in 193 appearances.
LeBron won't just be passing The Mailman on the all-time scoring list, but joining him as professional basketball's second-most durable player ever. They don't give signature shoes away for showing up and doing your job every night, but they do provide your own real estate in Springfield for eternity.
We'll discuss Kareem another time, so when the world learns of Karl Malone being LeBron's next hurdle, put some respect on one of the original NBA Iron Men's name…
…for basketball reasons, at least.
How would you rate this article?