Wob: With Their Trade for Anthony Davis, the Lakers Finally Go All-In
Credit:
Gary A. Vasquez-USA TODAY Sports. Pictured: Los Angeles Lakers general manager Rob Pelinka.
It's been looming since last December and was thought to be dead after February, but the Los Angeles Lakers FINALLY landed Anthony Davis in a trade.
Now that the LA has pushed its chips to the middle of the table, what do they do next?
Rob Perez (WorldWideWob) has some thoughts.
Who would have guessed that all it took to get showtime back in Los Angeles was less Magic.
Here's what we know:
The Pelicans have agreed to a deal to trade Anthony Davis to the Lakers for Lonzo Ball, Brandon Ingram, Josh Hart, and three first-round picks – including the No. 4 overall in 2019 Draft, league sources tell ESPN.

— Adrian Wojnarowski (@wojespn) June 15, 2019
A clarification on the haul of draft picks heading the Pelicans' way. The 2021 pick goes to New Orleans if it's in the top eight, if not they'll get an unprotected first in 2022. Swap in 2023. Unprotected first in 2024, with a right to defer to 2025.

— Tania Ganguli (@taniaganguli) June 16, 2019
Here's what we'll learn over the next few weeks:
Kemba Walker will be a top target in free agency for the Lakers after they reached an agreement in principle to trade for Anthony Davis, according to league sources

— Marc Stein (@TheSteinLine) June 15, 2019
There is no other way to put this: the Lakers are as all-in as they have ever been right now. Remember that whole "surround LeBron with all the up-and-coming young guys and let them develop under his wing" strategy?
That's gone. Forever.
If they don't win a championship in the next three seasons, or whenever LeBron/Anthony Davis' contracts expire, this trade is structured in a way that could potentially go down as more damaging than the Brooklyn Nets-Boston Celtics blockbuster of 2013.
But guess what? Nobody will care if they bring the Larry O'Brien trophy back to LA. Soldiers die in war, but flags last forever.
The Lakers put themselves in this situation the moment the ink on LeBron's contract dried. He was 33 years old when he signed, and you have to imagine father time is coming for him the same way it has come for so many of the game's greats before.
The evidence is already showing:
The counter-argument to this data is that LeBron did not have a player the of Davis' caliber on his squad with him — one of, if not the most talented players on Earth.
The markets suggest that this move puts the Lakers in line to be preseason favorites to win next year's championship:
Could his "load management" this entire time been to save himself for this very acquisition? Only one person can truly answer that and it's LeBron. But it doesn't change the fact that James is currently sitting on his living room recliner like Darth Sidious demanding the room witness the firepower of this fully armed and operational battles station.
The Lakers are creating their own luck instead of waiting for it. LeBron and AD together are a force. LeBron, Davis and another potential A-list free agent (whether that's Kemba Walker, Kawhi Leonard, Jimmy Butler, etc.) is THE force.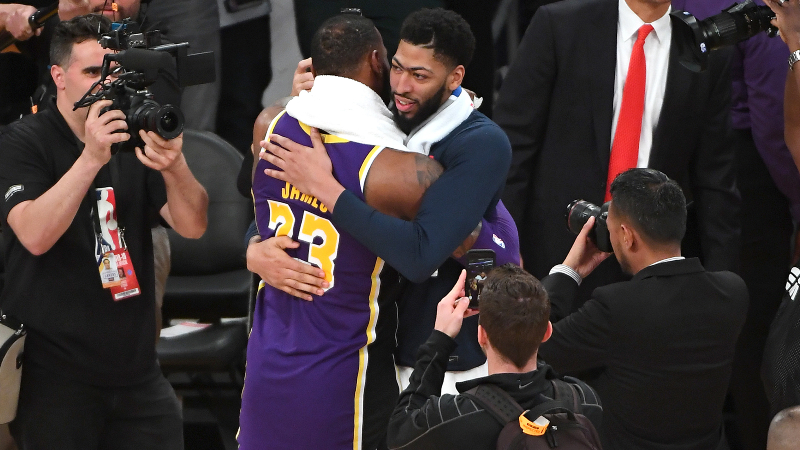 They'll face the same challenges the Golden State Warriors had filling in out their bench around their core superstars and that may ultimately haunt them down-the-road if injuries occur (look at what just happened to the Warriors during the Finals). But the Lakers are in no position to think too far ahead. They did this to themselves.
With the fanbase banging down the castle doors with tiki torches and pitchforks and LeBron's prime ticking away, they had to make this move. No team has ever made it to the top without rolling the dice to get there, but it feels like the Lakers need snake eyes to land when the house just needs a seven. The payoff of making this trade, at least in their opinion, is worth the risk.
You want to be championship contenders again and not wait another five years to see if Lonzo Ball, Brandon Ingram, and Josh Hart are the chosen ones like they were believed to be? This is what it costs.
You make this move assuming all of those draft picks aren't that valuable because they're going to be in the high twenties due to the team making it so far in the playoffs. The Lakers have paid the price, and whether it was worth it can only be determined by the total number of parade floats that travel down Figueroa Ave.
As for the New Orleans Pelicans, they basically own the Lakers for about the next seven years depending on the number of protections and pick swaps. When you ring your hand bell every June during the draft, the Lakers are going to have to come running to your side dressed in a butler tuxedo, clean the goop off your chin after you've just feasted on a delicious entree of pekin with a lemon garnish, and address you as "your grace."
The haul of picks and players you just got back for a dude who was  never going to play a legitimate minute for the franchise again and was leaving anyway is a colossal win.
Let's not forget that with already having the  No. 1 pick, the Pelicans can hold an equal ransom over the  Lakers' No. 4 pick of this year's draft as well. With the rumored number of teams interested in moving up, the Pelicans' pillage of treasure isn't even close to being through.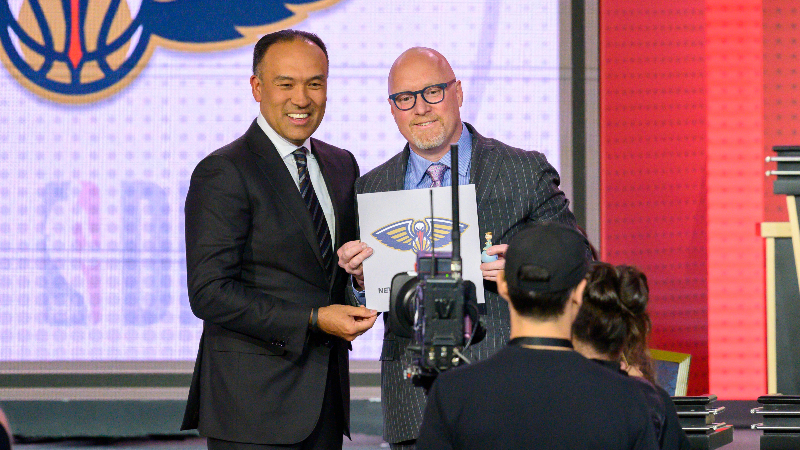 The team isn't going to win titles in the near future, but they are a'ready fun as hell. This might be the top League Pass team in the NBA and we haven't even gotten to free agency yet. With Lonzo and Zion Williamson on the court at the same time, we are about to witness what NBA Jam would look like if the teams were five players instead of two.
Between Jrue Holiday, Ingram, Ball, and Williamson — this may be the worst long-distance shooting team in recent history, but none of that matters when you're building something for the future. This team can lock the hell up on defense, and for once there will be pass interference in the city that New Orleans can actually appreciate.
The trade is yet to be finalized, but a couple narratives already are: Rich Paul has solidified himself as the most powerful broker in basketball. The Los Angeles Lakers have finally succumbed to the sentiment that you can't win the chips that you don't put in the middle.
The Pelicans are now sitting on a war chest of assets that even Danny Ainge is jealous of and are now players in every transaction proposal moving forward. Oh, Davis' "That's All Folks!" shirt he was wearing during the last game of the season and was supposedly hung up in his closet for him by somebody else? He wasn't lying — it was Father Time.
How would you rate this article?