Power Ranking the 2019-20 NBA Title Odds After Lakers Trade News
Credit:
Kirby Lee-USA TODAY Sports. Pictured: Los Angeles Lakers forward LeBron James (23) at Staples Center.
Oddsmakers were seemingly not impressed enough with the NBA champion Toronto Raptors to make them the favorite to win in 2020.
Here are Matt Moore's power rankings for the 13 most notable NBA championship odds for next season.
In the wake of the 2019 Finals, there is carnage. The Warriors have lost two top-15 players, who are both expected to be out the majority of the 2019-20 season and are headed to free agency in a month.
That drastically re-orients what we can expect for next season, because if Klay Thompson and Kevin Durant re-sign with Golden State as many expect, money will be tied up so the Warriors can't improve, and yet they'll be without them, shorthanded for the entire season.
Meanwhile, on Saturday, the Lakers finally got their man as they traded Lonzo Ball, Brandon Ingram, the No. 4-overall pick and two more first-round selections for All-Star Anthony Davis. The move was anticipated in the Westgate's initial odds that had the Lakers already the favorite at 5-1.
With a suddenly wide open NBA space and one of the wildest summers in front of us, let's power rank the NBA title odds from Westgate to see where the best value is now and later.
2019-2020 NBA Title Odds Rankings  
1. Toronto Raptors (10-1): Look, this seems easy at the front, but it was a difficult decision. If the number weren't this good, I wouldn't have them No. 1. The number itself indicates the question that Kawhi Leonard will re-sign with the Raptors; the Clippers have better title odds for God's sake.
Toronto just won the title. Marc Gasol is at least a coin flip to take his player option and come back. Everyone else but Leonard and Danny Green are locked in next year.
Granted, that's three starters, but Green likely takes a discount to come back, which leaves just Leonard. (Even if Gasol left they would likely be fine given Pascal Siakam's development.)
In the playoffs, Leonard had the most signature shot, the only game winner in Game 7 in NBA history. He beat the MVP and he took down the dynasty, winning his second Finals MVP. He's gotten the brand visibility raise his camp wanted, and the title.
If they come back at full strength, with the lessons they've learned, they are simply way better than 10-1. This has to be best value.
---
2. Milwaukee Bucks (6-1): I accept that everyone believes I'm wrong. I can live with that. Even people close to the team think I am wrong on this. But I believe the Bucks were better than Toronto.
It took a tornado from Fred VanVleet, even more than what he gave in Game 6, for them to win the final two games vs. the Bucks. If FVV doesn't go off to that exact level, the Bucks win Game 5 and have a Game 7 to fall back on, at home. But Van Vleet did go off, shooting 7-of-9 from 3 in Game 5, and that's how it goes.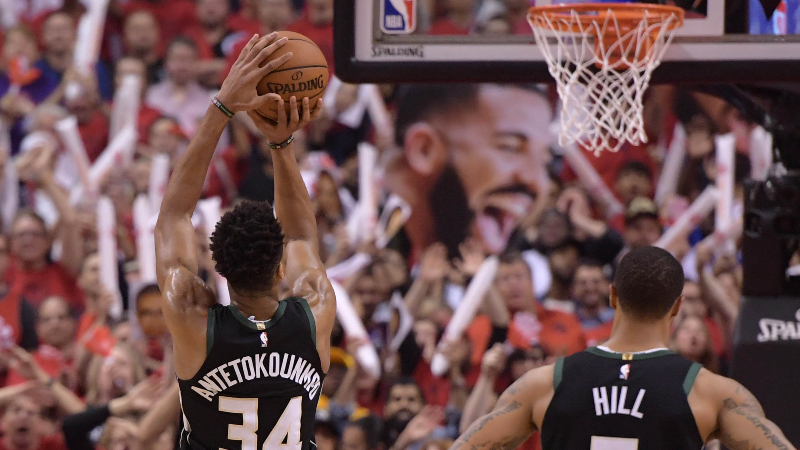 But the Bucks return an MVP-level Giannis Antetokounmpo, the league's best regular season team and a team two wins away from the Finals. Malcolm Brogdon and Khris Middleton are both free agents, but likely only one of them is gone and if it's both, there's probably an upgrade.
Brook Lopez is a big deal here. His free agency may determine more about this value. You'll likely not get a better number than Milwaukee, now, however.
If you believe the Bucks are willing to spend to get Giannis to the title, 6-1 is as good as you may get it. I'd expect without injuries for this to be 3-1 by the time camp opens, if they aren't favorites.
---
3. Golden State Warriors (12-1): Look, I get it. We saw how they looked without Durant and Thompson. But that was on short notice, adapting on the fly, with a bench that was bad all year, and against a great team in the NBA Finals. They'll still have Steph Curry and Draymond Green with Thompson likely back by the postseason.
The Warriors were surging ahead with Thompson before his injury in Game 6. A full summer for them to retool the bench and add some title-desperate veterans? They coast the first three months the way they always do? They get Thompson back in March?
This team still has the best shooters on the planet and a top-five coach. A better bench, more rest, and a favorable playoff matchup draw. Are you taking Denver, Portland, the Clippers, or the Lakers over Curry, Thompson, Green, and Iguodala? And if you are, are you taking them at that high of a number?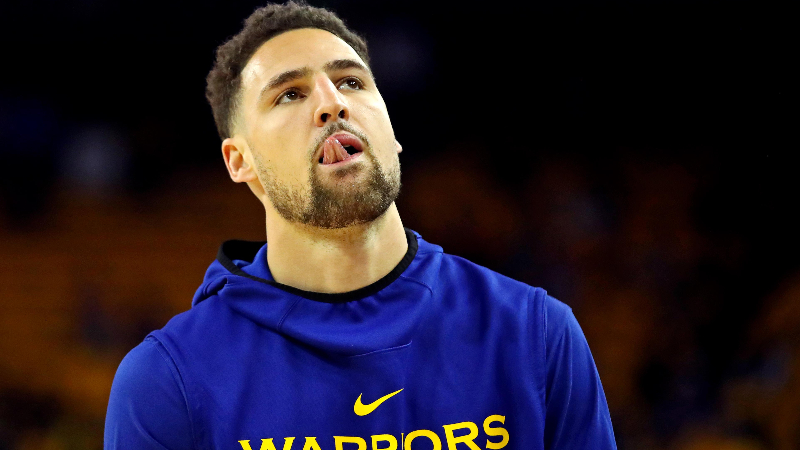 If they make the Finals and stay healthy this time, I like their chances.
There's also the possibility that Durant opts out and departs. That seems unlikely with his injury, but it's on the table and sets the chance for a major upgrade. There's the decent possibility that they trade Green and get back major supporting pieces.
There's great value here, even without Durant.
---
4. Houston Rockets (8-1): James Harden. That's it. This number is higher than I expected, so it lands here. The Rockets were the presumptive best team in the West, but had a nightmare injury stretch and a nightmarish start to their season that pushed  them so low they just barely climbed back to secure the No. 2 seed.
The one team they couldn't beat is now wrecked by season-long injuries. They couldn't beat the Warriors without Durant, but now Thompson is out, there's another year worth of miles on Iguodala's odometer, and Green will have to play bigger minutes.
Harden remains one of the league' best. "But he's a playoff choker!" you cry.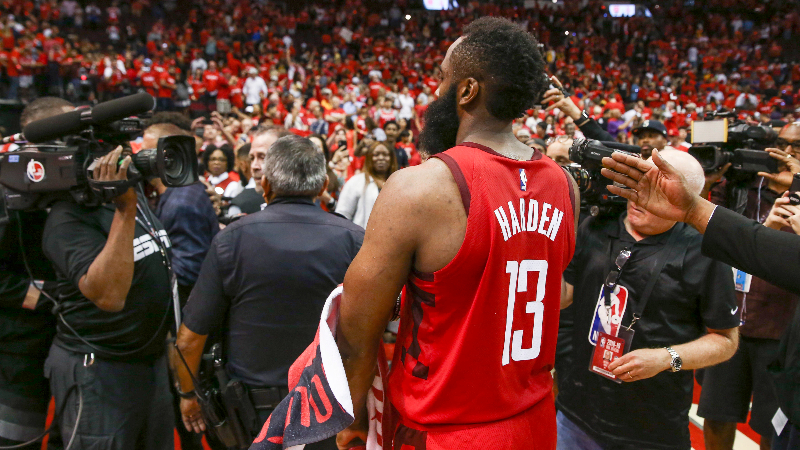 Yeah, well, we said that about Kyle Lowry. Lowry may have had Leonard, but the point I think still stands, given how good Harden's numbers are. The Rockets lost because of their defense, and because Harden wasn't good enough to overcome that defense. But any improvement defensively puts them there. They match up well with every other West contender.
However, one reason they're not higher is that it might be better to wait to see what they do with free agency. If they swing out on trades and don't make any major adjustments, you can get this number later. Big upgrades might lower the number to 4-1 or lower, but then you'll have more confidence in the bet.
---
5. Los Angeles Lakers (3-1): This team popping at that number of 9-2 doesn't seem strange anymore. A $10,000 bet was put down on the Lakers at 5-1, and that moved the line already down to 9-2. There were rumors floating throughout the week that a deal was close.
There's a lot to figure out here. When the Lakers got LeBron last summer, we all assumed they'd "figure it out" based on the fact that it's LeBron and the Lakers. Well, they didn't. They didn't at all.
Davis has always been injury prone, even for short stints with minor ailments. James is 35, coming off his first major injury. They have no depth and if they sign Kemba Walker (their reported free agent target), that eats up all their cap space. In that scenario, they'll be left to sign guys like Rajon Rondo and Tyson Chandler again, veterans on minimum deals.
The Lakers have two top-five players. That, of course, puts them into the title conversation, which is why they're this high. But at 3-1 you're not getting good enough return, at least not with free agency still on the horizon and a Lakers regime that has been a disaster falling backward into success for its duration.
---
6. Denver Nuggets (16-1): This team was in its first playoff run, but managed to survive a Game 7 against a tough-as-nails Spurs team when it could have folded, then came back after going down 2-1 in a heartbreaking Game 3 overtime marathon vs. Portland.
They lost in seven thanks to … let me check my notes … Evan Turner and Myers Leonard having a big game.
Nikola Jokic proved he can be a dominant playoff player. Murray showed he can have star moments. The bench needs seasoning and probably one upgrade in wing.
The Nuggets have their picks after this year to use in trades and Tim Connelly's contacts run deep; he hasn't made enemies. Denver's defense was better than expected, their core is getting better, and they have upgrade opportunities. 16-1 is great value.
7. Philadelphia 76ers (12-1): Within a shot of taking the champions to overtime in a Game 7. The Sixers will likely retain one of Jimmy Butler and Tobias Harris, and will be able to generate some maneuverability with J.J. Redick also heading to free agency. Ben Simmons showed he can at least be impactful in certain playoff games.
Joel Embiid missed a lot of time in the playoffs, but it was random stuff. He was hampered by illnesses, repeatedly. That's likely to not occur next year. A favorable set of matchups helps them.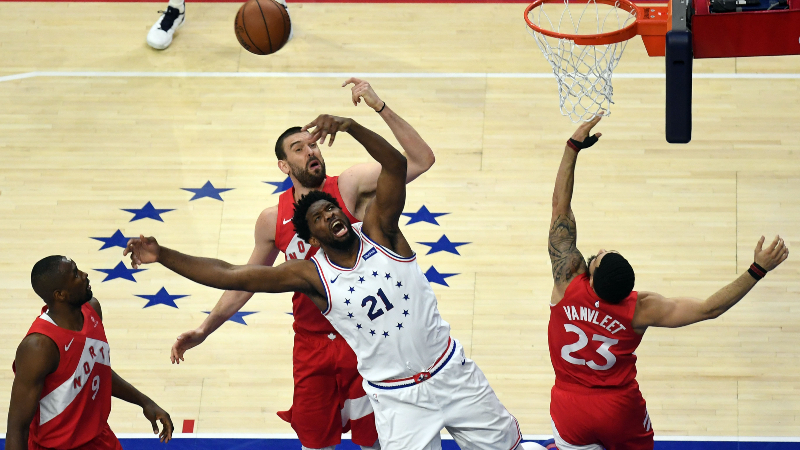 Also bear in mind that Boston is likely drop off the map if Kyrie Irving goes to Brooklyn. That opens up the hierarchy between Toronto, Milwaukee and Philly. Those are all tougher teams than what's left in the West, but the top teams are also better.
The Sixers impressed me enough — when I had low expectations — to think 12-1 is good value if you're willing to hold your nose and deal with the possibility of Embiid missing time to sink this ticket.
---
8. Los Angeles Clippers (6-1): This number is notable on its own. It suggests that the Clippers will land one, if not two, major star free agents, despite two of those free agents being on the shelf and likely re-signing with their current teams.
If Leonard signs, as many in the league expected him to do before the title run, does that put the Clippers this close to a championship? If not, what star could join him to put the Clips at that level?
L.A was tough as nails, inventive, and fun, but Patrick Beverley is a free agent. There wouldn't be much room for Danilo Gallinari's usage rate next to Leonard alone, let alone a combination of say Leonard and Butler.
---
9. Brooklyn Nets (20-1): The Nets were a plucky sixth seed that gave the Sixers some trouble, and are now expected to land Irving. If he comes, the possibility of another star coming increases. If the Nets get two stars to go with a young, versatile roster and great coaching, they can make a serious run at this thing.
There's only one reason they're not higher. Look at all the East teams above them. Irving has never had playoff success without LeBron James. That's just a fact.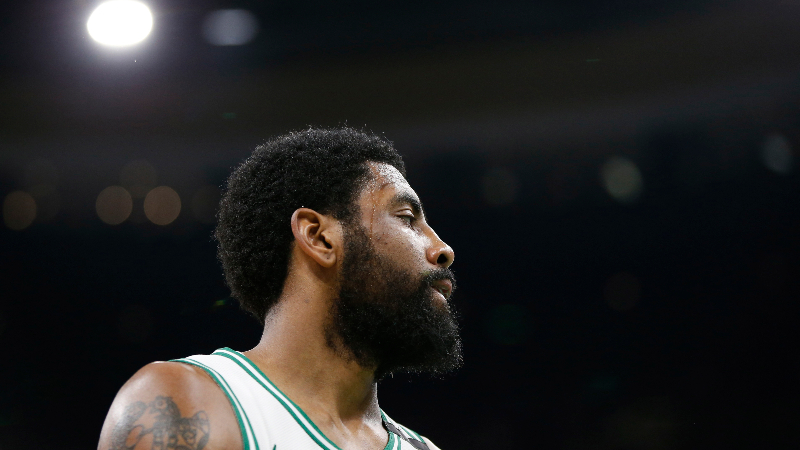 Until we see that, it's hard to get on board. This number sits as high as it does because the Nets could attract major talent to a stable system in a volatile conference (the Raptors, Sixers, and Bucks all have major free agents coming up next month). The buzz is nice, but you might get better value waiting until in-season.
---
10. Portland Trail Blazers (25-1): They made the Western Conference Finals, which is nice. They did so without Jusuf Nurkic who might be back by the end of next season, which would help.
They're likely to get worse with the contracts they have coming up (Seth Curry, Enes Kanter, Al-Farouq Aminu), but they also have some expiring deals to swap and get a possible upgrade if Neil Olshey (fresh off a new contract and feeling good) wins a significant role player upgrade.
They're also 25-1. On the one hand, that's insulting enough to Damian Lillard and CJ McCollum off a WCF appearance to bring value.
On the other hand … even with the Nurkic injury, everything went their way in the playoffs to get them to an outright sweep. If they fall to the No. 4 seed instead of Houston, they are out in the second round and might not have beaten Utah.
There's value here, but not a lot.
---
11. New Orleans Pelicans (60-1): OK, I'm just doing this because of Zion. But hear me out!
Let's say he lives up to every possible expectation and Zion Williamson is a transformational superstar.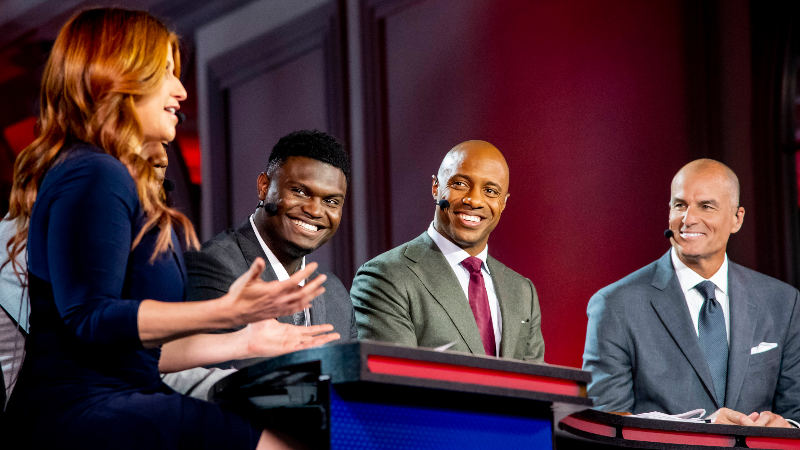 They have Lonzo Ball — who a lot of smart people with the exception of me think is a great defender and incredibly valuable player– Brandon Ingram (same deal), Josh Hart, and the No. 4 pick. They can also package some of that with the three picks they got from the Lakers or their own draft picks to pursue an upgrade (Bradley Beal would be my first suggestion).
It's a weak division with the Mavericks, Spurs, and Grizzlies all vulnerable. They have Jrue Holiday, good wings, and Zion. It's not crazy to think that they could make a run!
OK, it's insane. But if you're as high on Zion as I am, 60-1 is too high!
Yeah, I'm insane. Let's move on.
---
12. Oklahoma City Thunder (18-1): Hello, darkness, my old friend. I've come to bet on you again, because a vision of Paul George peaking, left its mark while I was sleeping.
And the vision that was planted in my brain still remains, within the sound of a top-five defense with two top-level superstars after Russell Westbrook gets a full summer off after his knee surgery last fall and Paul George's shoulder heals and I never count out Sam Presti ever.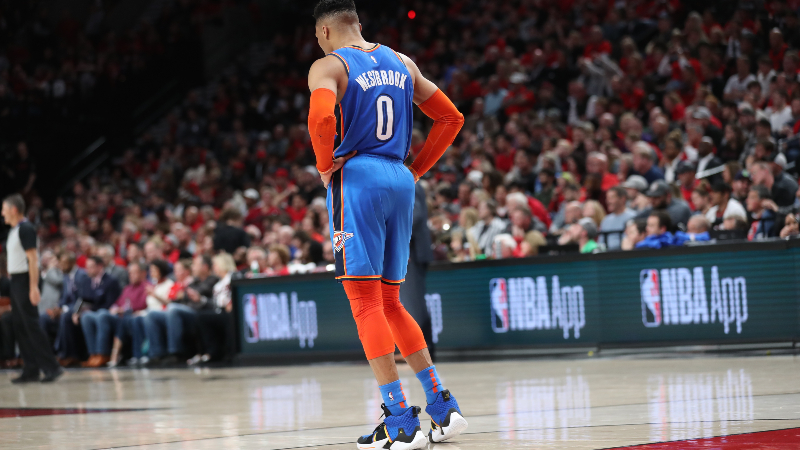 I have lost much trusting the Thunder to live up to their potential, and the Raptors finally Ghosbustering their playoff demons into the positron trap have only emboldened me to do so again.
If Kyle Lowry can shake playoff demons, for God's sake, why not Russ?
---
13. Utah Jazz (25-1): This is basically "If they trade for Mike Conley, they are a whole different team." They have the best defensive rim protector and found a way to keep him on the floor vs. Houston. T
They give the Warriors trouble. They give the Nuggets a lot of trouble.
They have Donovan Mitchell who after a sophomore slump can rebound in a big way. They are well coached.
If the West is open, 25-1 is great value on them. And the West is open.
Most Curious
New York Knicks (20-1): Irving seems almost a lock to go to Brooklyn. It has been reported by the Boston Herald that he intends to do so after signing with Roc Nation Sports (which has a close relationship with the Nets).
If Irving doesn't go to the Knicks, who else is going there? Did they really trade Kristaps Porzingis to sign Tobias Harris? Is this really happening again?
And if so, how are they only 20-1?
How would you rate this article?