NBA Win Total Odds & Pick: Can LeBron James and the Los Angeles Lakers Lead the West?
Credit:
Thearon W. Henderson/Getty Images. Pictured: LeBron James #6 of the Los Angeles Lakers.
The Los Angeles Lakers have high expectations with their newly-formed Big 3 and their over/under is set at 52.5 wins.
Matt Moore analyzes their win total odds below.
Check out this post for updated season win totals and this post for my other 29 season win total picks.
Los Angeles Lakers Win Total Odds
The Case for the Over
On Feb. 6, the Lakers were 18-6, seventh in offense, first in defense, and had the second-best record in the league, back by a half-game. Anthony Davis missed the next game with Achilles soreness, came back for two games, and then was shut down for two months.
James and Davis lineups outscored opponents by 4.6 points per game in just 27 games last season. In 2020, they outscored opponents by 4.6 points per game in 59 games. A lot of nights, just having LeBron and AD on the floor is going to be enough to pick up the win. It's that simple.
There's a lot to try and decipher with the addition of Russell Westbrook. It's not simple, and it's not even really predictable given the circumstances. But one thing that's easier to anticipate is that having another high-production player like Westbrook is crucial if James or Davis misses time.
It simply reinforces the floor. If James is out, Westbrook can dominate usage, dishing repeatedly to Davis for assists when he draws the defense. If Davis is out, Westbrook and James can split time, keeping one star on the floor at all times.
Don't think about how James-Davis-Westbrook matches up vs. Brooklyn or Milwaukee. That's four games out of 82. Think about how two of those three match up with the teams that will finish around or below .500 this season. Two stars and a competent roster of veterans is enough to get a win most nights.
The most impactful element Westbrook will bring to L.A. is helping Davis get easy buckets. James and Davis don't actually have as many combinations as you'd think, even adjusting for last season's injury issues.
Westbrook has helped Serge Ibaka, Steven Adams, Clint Capela, and Daniel Gafford get easy buckets over the past six seasons by using his elite athleticism to draw defenders and then dishing to players in short-to-medium range.
Davis won't have to create as much for himself this season, which honestly is for the best. Of the 36th players with at least 500 isolations the past two seasons, Davis ranks 24th in efficiency. It's just not a strength of his. He's better as the tip of the spear, and adding another playmaker will make him such more often.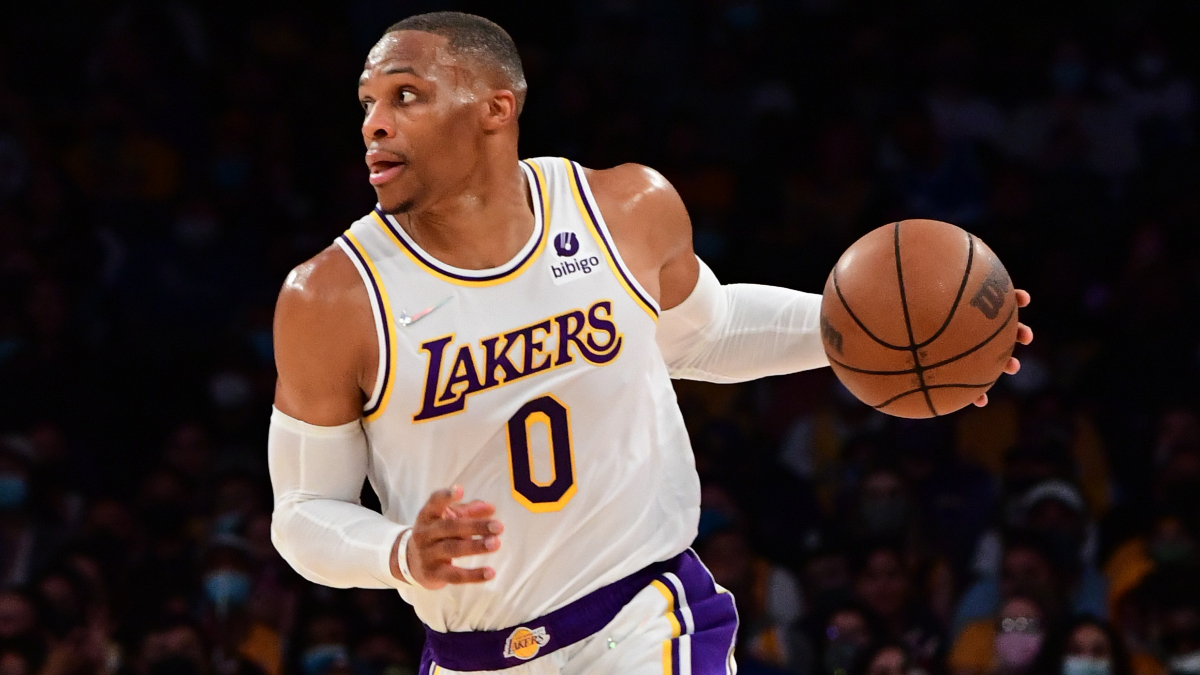 The Lakers' biggest weakness the past two seasons was the offense. If they ran into a team their defense couldn't completely wrangle, they struggled to keep up. They added shooters everywhere — Kent Bazemore, Wayne Ellington, Trevor Ariza, Malik Monk, Kendrick Nunn — and upgraded significantly on the perimeter in shot creation and efficiency, which is crucial around Westbrook.
Would it have been better if they'd added Buddy Hield as well (an impossibility after giving up the assets in the Westbrook trade)? Sure. But Monk-Nunn-Bazemore is a good shooter combination. They should take and make more 3-pointers, even with Westbrook's negative impact on spacing.
The big drawback is defense. Westbrook has been a minus defender for the past seven seasons. None of their additions profile as defensive upgrades. However, Frank Vogel is an elite coach. I work from a paradigm that good coaching with a good scheme can establish a baseline that establishes a floor defensively that's pretty high.
Personnel helps tremendously.
The Lakers still have Davis, an all-world defensive presence (who I believe is slightly overrated), and James while Bazemore is above-average. They have size and athleticism all over. I'm not expecting Westbrook to be good or average, but I also wouldn't rule it out. We've seen other stars recommit to defense when their offensive workload is reduced.
A key element with the Lakers defensively is how they've built the roster to be versatile. If they need to switch, they can put Davis at center (for the scant minutes he's willing to play center).
To manage workload, they have two players in Dwight Howard and DeAndre Jordan, who they can play at center, allowing Davis to roam — he's especially dangerous there. The center plays drop coverage against pick-and-roll in those minutes, and Davis crashes to protect the rim, wreaking havoc.
It doesn't really matter what your other personnel are in those situations because it maximizes what Davis and James bring to the table. Drop coverage lets the other, weaker perimeter defenders (including Westbrook) stay home on shooters.
I see no real reason why the Lakers shouldn't be top-10 in defense again, at worst. I wouldn't be shocked if they were in the top five again.
The schedule is an absolute cupcake for a West team. They have the fourth-easiest rest-adjusted schedule via PositiveResidual.com. The Lakers have the second-fewest rest disadvantage games and are tied for the fewest back-to-backs. This is highly manageable.
The Lakers don't have a high number of rest advantage games, but it also doesn't really matter, as they have a talent advantage when all things are equal.
Despite their massive injury issues last season, the Lakers went 26-8 vs. teams below .500, after going 32-5 against those squads in 2019-20. They will just feast on bad teams, and that's how you build a strong resume. This is the best team in the West. Why overthink it?
The Case for the Under
So yes, the Lakers were 18-6 on Feb. 6 when Davis was first injured. However, that was with a different roster. The Lakers basically tried fixing something that wasn't broken for reasons that raise eyebrows.
The Lakers tried to revert to an earlier firmware by re-adding Dwight Howard and signing Jordan as an ostensible JaVale McGee replacement/upgrade.
But it feels like half of a reversion and half a reconfiguration. Westbrook is an upgrade over Dennis Schröder in supplementing Davis, but comes with a host of other problems, most notably spacing. It has been proven consistently that surrounding James with four shooting threats is surefire.
Instead, the Lakers will have two non-shooters on the floor to start and finish games. James' shooting isn't remarkably consistent, either. He shot 37% from 3 last season but 34.8% the previous season; his percentage fluctuates between 34% and 37%.
Monk was a savvy, low-risk pick-up with high upside, but he comes with a host of concerns, particularly in terms of attitude. Bazemore is a reliable shooter, but his impact has been inconsistent over the past few seasons.
I am a long-term Trevor Ariza fan, but he's washed (and out for two months to start the season). Ellington is 34 and Rajon Rondo will not help in the regular season; he's a postseason boon only (when he is a boon, which is rare).
Carmelo Anthony may wind up getting major minutes on account of his relationship with James. The degree to which he's a negative defensively cannot be understated. His teams bleed points when he is on the floor.
The Lakers are putting a lot of stock in Talen Horton-Tucker, who shot 28% from deep last season. Six of their top 10 in VORP are gone; even if the roster has upgraded, there will be continuity disruptions.
The Lakers' decision to let Alex Caruso walk in free agency — over salary cap concerns — was curious. He was not only one of the team's best defensive difference-makers but an emotional heartbeat for the locker room and the fans.
The Lakers can put together shooting lineups or good defensive lineups. Finding both is difficult. A balanced lineup probably looks like Nunn-Monk-Ellington-James-Davis.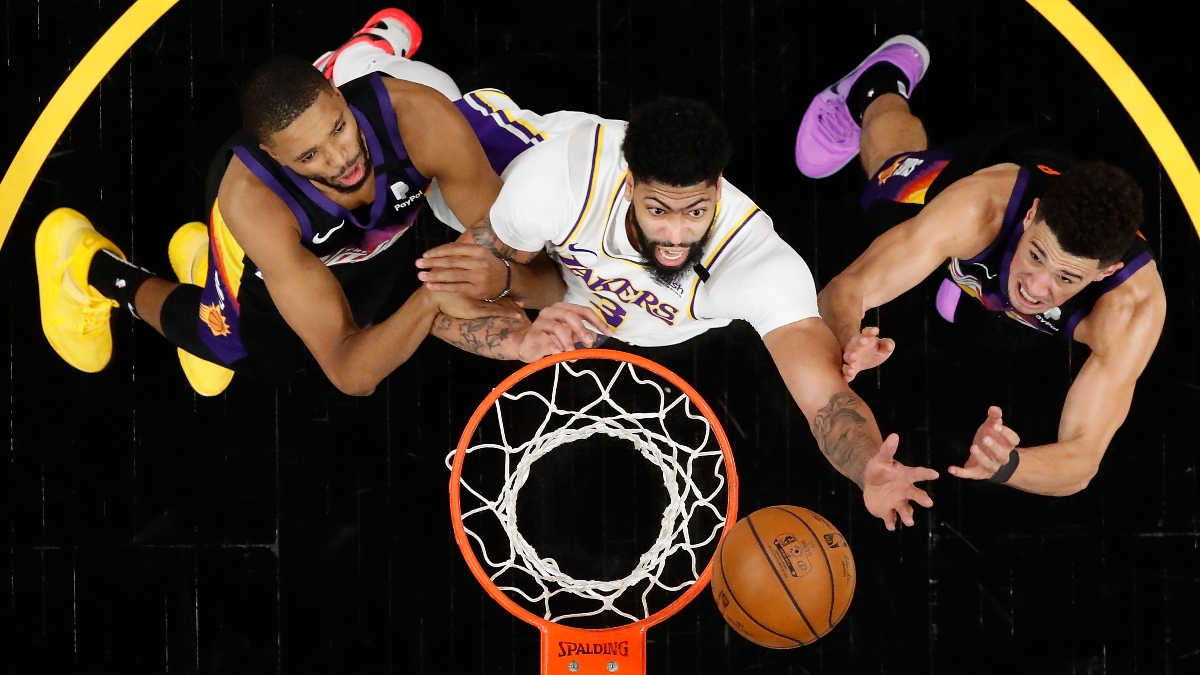 Of course, all those well-spaced lineups require Davis at center and — stop me if you've heard this one — that's a bit of a touchy subject. Davis has never wanted to play center. He's resisted it every single season of his career.
It's why the Pelicans-then-Hornets signed Omer Asik. It's why the Lakers had Howard and McGee. It's why they signed Gasol and Drummond.
At this point, after Davis has told us he doesn't want to play center based on the roster decisions of his teams over the past seven seasons, we should probably believe him.
Yes, it's always possible this is the season where Davis commits to it. But skepticism is warranted.
Additionally, James hasn't exactly leaped at playing four the past few years. He's wanted bigger bodies to cover. Again, I look at Anthony, one of James' best friends since they met before the draft 18 years ago, and get nervous. If James says, Melo closes, then he closes. If Melo closes … yikes.
Finally, the injuries cannot be ignored. LeBron was a cyborg for 15 years, simply invulnerable. But he's missed at least half the season twice in the past three seasons and turns 37 in December. It's going to get harder, not easier, to stay on the floor. Additionally, a misnomer in analyzing the impact of age in the NBA is that it robs stars of their best. It doesn't.
James will have nights where he's still the King; nights where social media accounts that interestingly seem to post 50% more whenever the Lakers play tweet "WASHED KING?" nonsense.
But there will be nights where he doesn't look quite the same. Where the fastball just isn't 90 mph anymore. That's the real problem. James said late last season that he would "never be 100%" after the high ankle sprain he suffered.
That statement has stuck with me consistently. It's a bad injury, a painful injury, no doubt. But the fact that James (who is prone to dramatics at times, but who among us) thought it was that big of a deal is concerning.
Then there's Davis, or as we call him around here, QTR — questionable to return. Davis doesn't have that many major injuries in his history; he just gets banged up a lot. Every game he misses is actually more critical this season than the past two.
James is coming off injury after a brutal stretch of games between the bubble and last season, even with the injury time off. Those opportunities get limited if Davis isn't available. Games with Westbrook and James likely won't be as good as those with either Westbrook or James and Davis.
Westbrook has a long history of knee injuries, and they've taken their toll. He'll have nights where soreness keeps him out as well. The rest of the roster is geriatric. That means missed games and missed games increase the likelihood of falling to teams under .500.
If the Lakers were run in a vacuum, beyond politics and injury? It would be easier to buy into a number this high. But they're not.
Lakers Win Total Bet
I am pulled, by a gravity-like force, to bet the over.
The Lakers have a roster that you can poke holes through. I can tell you why the offense will not be as good as it looks on paper. I can talk about all the problems with Westbrook and James sharing the floor together. I can talk about the injury concerns and the age issues.
But ultimately, do I think that at least two of the three superstars will play more than 60 games? I do. And I expect them to win roughly 70% of those games (42). That gives us 22 games where two of the three stars are out.
In those games, the Lakers would need to just go 11-11 to get home. So in a pretty bad case scenario, where the trio doesn't play more than 60 games together, they still hit the over.
The schedule is a big part of this. The league did the Lakers a solid after their short offseason following the bubble and then a brutal schedule last season. This seasons is a cupcake.
James and Davis together have simply crushed; that dynamic's strength won't be so impacted by the reduced spacing with Westbrook to drag them down.
I don't believe the Lakers will crack 60 — I think they are beatable — but I've got a seven-win window between the line and 60. That's wide enough to feel confident. They have LeBron James: they'll win 50 games.
We had questions about the 2019-20 team, too. The Lakers' win total that season was 50.5, two lower than this one (which I don't love, by the way). The over was easy then, and they were on pace to cruise last season.
I don't think they should have made the changes they did, Losing Gasol and Caruso were mistakes. But nitpicking ignores the top level.
Saying "they have LeBron and Davis, duh" is reductive. There are star combos that don't lead to regular-season wins, but this one does. It has a proven track record, and the schedule makes it easier to optimize those opportunities.
I'm betting the over.
How would you rate this article?
This site contains commercial content. We may be compensated for the links provided on this page. The content on this page is for informational purposes only. Action Network makes no representation or warranty as to the accuracy of the information given or the outcome of any game or event.