Our Staff's Favorite Bets for the 2019 NBA 3-Point Contest
Credit:
Photo credit: USAToday Sports. Pictured: Stephen Curry, Kemba Walker and Damian Lillard
The NBA All-Star Weekend 3-Point Contest will take place Saturday at 8 p.m. ET on TNT.
Our experts dive into the most important storylines and metrics to make their picks, which include some with high odds.
The NBA is in the midst of a 3-point revolution thanks to Stephen Curry and Moreyball, so it's no surprise that this year's 3-point contest features the strongest group of shooters we've ever seen.
It's no hyperbole to say these guys are some of the best gunners in NBA history.
We've written some data-heavy analysis on this contest, but now it's time to put our money where our mouths are. Without further ado, below are our staff's favorite bets for Saturday night's 3-Point Contest.
Matt Moore: Damian Lillard (+750)
I think Stephen Curry will be too amped in his hometown facing his brother. I love Buddy Hield as a pick, but not at that number. My heart wants Danny Green, but I know the odds are very much against him getting that hot.
So I'll grab Dame here.
Getting 7.5-to-1 for a guy who thrives when he feels overlooked is great, and Dame is also able to get red-hot while staying consistent. He can have a steady performance in Round 1 to carry him forward, then get supernova in Round 2 to make the finals.
Dame loves a big moment, and this could be his in a season in which — despite the Blazers' success — he continues to be overlooked.
For my analysis here, I consulted Bryan Mears' piece — "Is it Possible to Predict the NBA 3-Point Contest Winner?" — and looked at some of the consistent correlations over the span Bryan analyzed.
Since Bryan did establish that the contest is largely not correlated to any one stat, I used the following three statistics to give me few picks to choose from: Catch-and-shoot percentage, career free-throw percentage and season 3-point field goal percentage.
The four names that rose to the top were Seth Curry and Steph Curry, who tied for first, then Hield at third and Joe Harris at fourth.
Free-throw percentage and catch-and-shoot percentage have correlated decently over the past few years, which really favors the Curry brothers, especially Steph.
But Seth offers more value than Steph based on the odds.
This is Steph's sixth competition, and he's 1-for-5 in terms of coming out on top, so I'll roll with Seth to take the crown over Steph, Buddy or Joe in the final.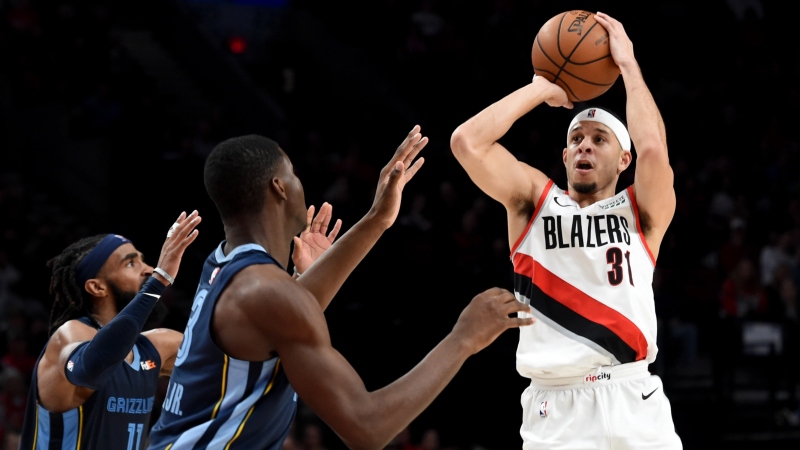 Evan already spelled out a bunch of the reasons why I like the other Curry in this competition. Interestingly, the players who have really done well here aren't the volume-shooters — the guys who will make the game-winning 3s like Steph, Lillard or Kemba Walker.
It's the elite role-playing sharpshooters — a James Jones-type — who have outperformed expectations in this competition.
I mean, the competition is largely unpredictable, but I'll use the little data points we do have and take perhaps the best role-playing sharpshooter in the league: Seth Curry.
Of the 10 participants in this year's contest, only Harris, Seth Curry, Hield and Stephen Curry rank in the top 10 in 3-point percentage this season. And of that group, just Steph and Hield are in the top 10 in most 3-pointers attempted.
So what's the deciding factor between two high-volume, accurate shooters? The odds: Hield is +600 while Curry is +200.
The 3-point contest, like the other events at All-Star Weekend, is nearly impossible to predict, which makes Hield at +600 the better bet.
---
>> Sign up for The Action Network's daily newsletter to get the smartest conversation delivered into your inbox each morning.
---
This contest is so much more of a crapshoot than I think people realize.
The glamour and star power of the Splash Brothers the past couple years has obscured that, but Voshon Lenard, James Jones, Daequan Cook and Marco Belinelli have all won this competition. Not exactly beaming star power.
Stephen Curry has participated five times and won only once, and he's the greatest shooter of all time. Klay Thompson has participated four times and won just once, and he's not far behind.
The best shooter often doesn't win.
Some things I like about Kemba: First and foremost, the price. Of the longshots, Khris Middleton's shooting motion and Dirk Nowitzki's speed could be realistic limiting factors regardless of skill level, so Kemba is the first guy down the list with high odds who I'd feel comfortable taking.
Further, he's been in the contest before and he's making the finals. If you watch tape of his first round a couple years ago, he was so nervous that he got to the final rack with like 20 seconds left. He didn't know how to space things out and take his time. He'll learn from that.
Oh, and by the way, the contest is in his home gym.
I totally get all the reasons for fading Curry in the 3-point contest.
He has the shortest odds in a competition that's essentially random. He's won it only once in five tries. And he's facing one of the toughest fields in the history of the contest, featuring a guy who literally made a 3-pointer while blindfolded.
That said, I can't help but think that Curry is going to try a put on a show in his hometown.
He's historically had some special performances when playing in Charlotte:
If that's not enough, Steph is also competing with his younger brother. Anyone who has siblings will tell you that there is nothing worse than losing to your brother or sister, especially if they're younger than you.
That's enough for me to take him at his current odds, but the fact that he's the best shooter on the planet doesn't hurt either.