Moore's Guide to Betting a Loaded NBA All-Star 3-Point Contest
Credit:
Photo credit: Dylan Buell/Getty Images. Pictured: Buddy Hield
Matt Moore has all the info you'll need to break down what should be a thrilling three-point shootout.
Kings gunner Buddy Hield (+700) offers excellent value, but should you stick with last year's champ Joe Harris instead?
Twenty-seven shots.
That's all the 3-point contest is: 27 shots. It's a fun exhibition of the game's best shooters, but it's also just 27 shots.
So if you're going to bet it, you need to focus in on a theory.
This year's event includes two… sigh… "MTN DEW ZONES" — get that money, NBA — with two shots, each six feet beyond the arc to the left and right of the top of the key, that are worth three points. With the shooters in this contest, that could wind up mattering quite a bit.
Let's take a look at a variety of factors — consistency, efficiency, distance and more — to find value in Saturday night's contest.
---
Odds as of Friday morning and via DraftKings, where Action Network users get a risk-free bet up to $500.
---
CONSISTENCY
Take a look at Buddy Hield's chart for shots beyond 22 feet (from Positive Residual):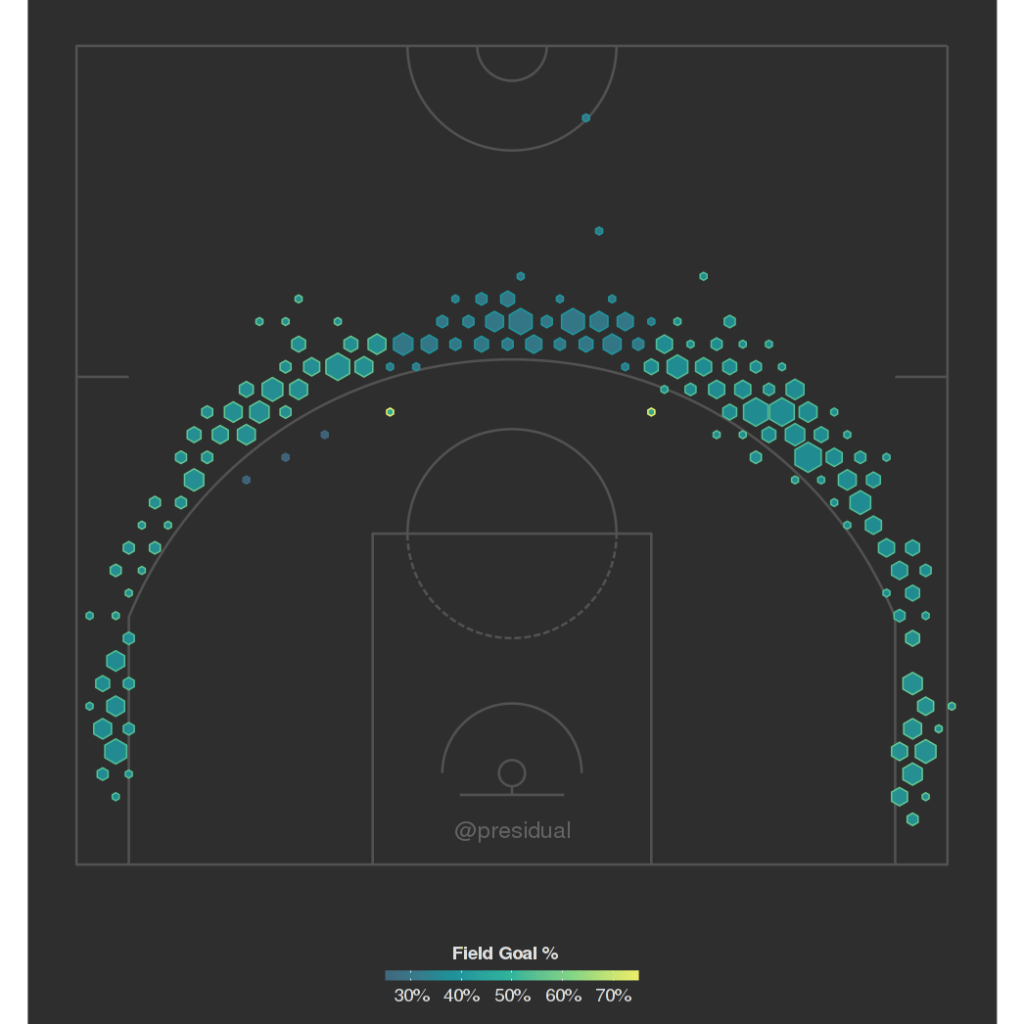 A nice solid distribution of shots and percentages all the way around. No big dips or dives. Hield's a volume shooter. He made the seventh-most 3-pointers in NBA history last season. As in, ever.
Hield's release is quick and effortless. He doesn't shoot especially well relative to the other shooters at any given spot, but he also doesn't shoot particularly poorly. He's good from everywhere.
I hadn't really considered Hield before starting research; now I'm in on him to win it.
A good counter-example to this is Devin Booker, who's won the event before. But look at his chart: He's just shot so much more from the left side (right on the chart) than the right. That uneven distribution makes me a little nervous. Booker's also a lot more feast or famine this season.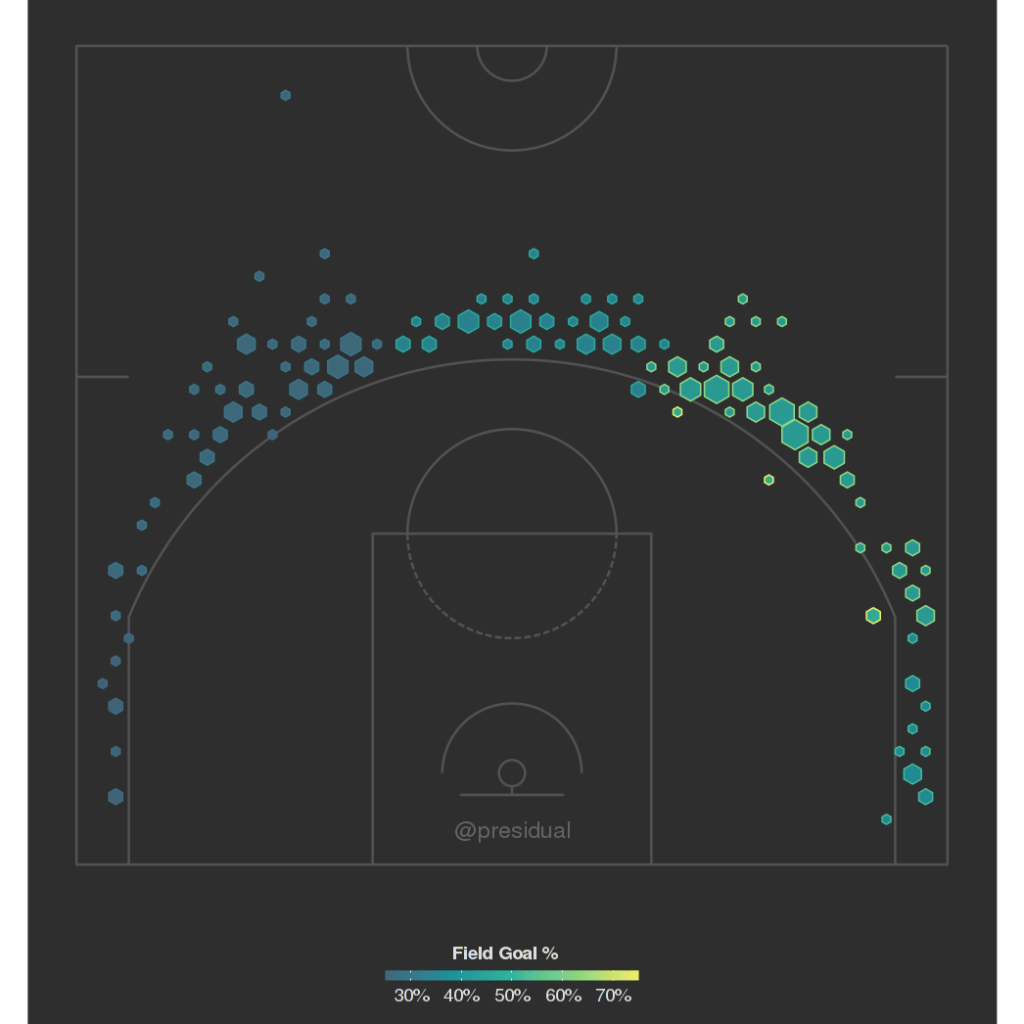 Duncan Robinson, who we'll talk about later, is top-four in made 3s this season. Hield is No. 3 behind James Harden and Damian Lillard. But No. 5 on that list is Devonte' Graham, who's also missed several games and dealt with both injuries and illness. I wrote about Graham's remarkable season last month.
Graham's chart is similarly uneven; he doesn't take as many 3s from the corners: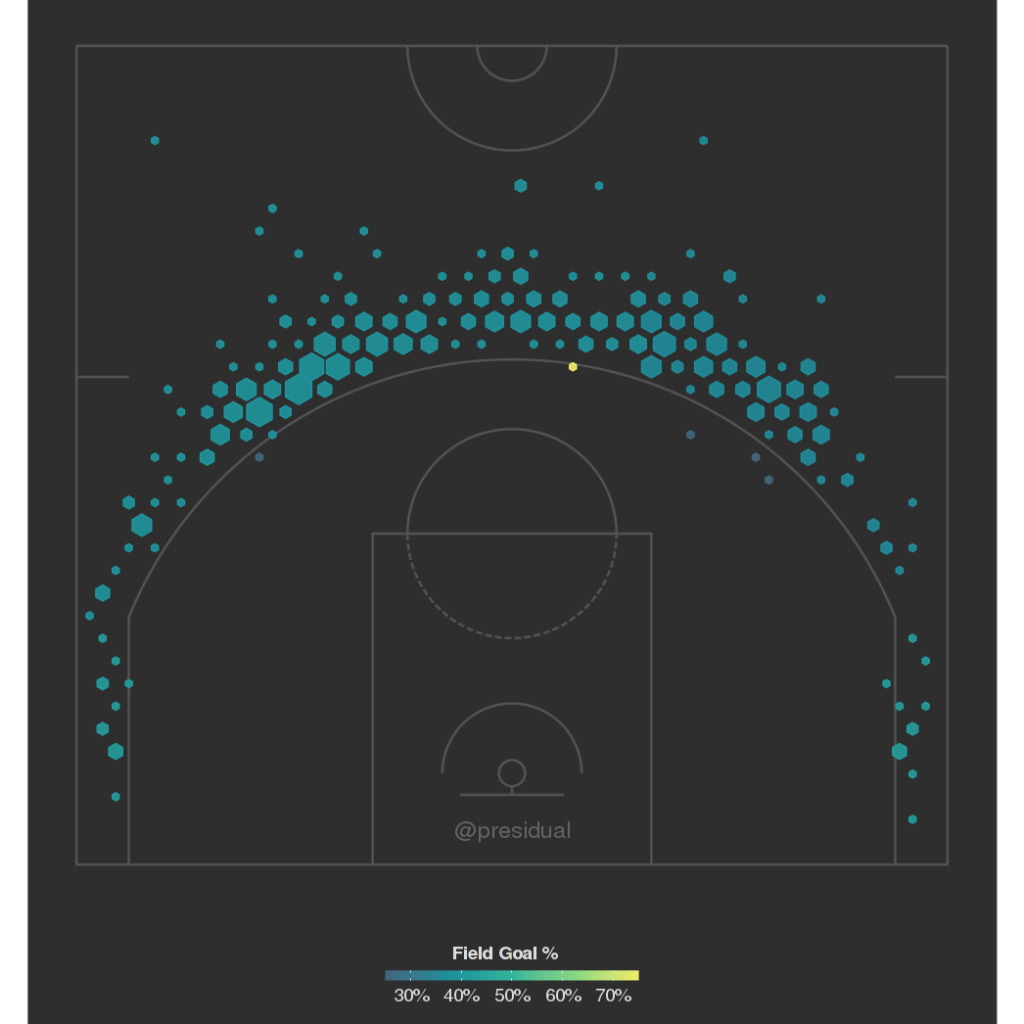 Overall, if you want volume and consistency from all across the floor this season, it's Hield.
EDGE: BUDDY HIELD
EFFICIENCY
Last year's winner, Joe Harris, leads the league again in field goal percentage on unguarded catch-and-shoot jumpers (minimum 100 attempts), making 53% of them this season. That's also 2.6 percentage points better than the second-best shooter (Landry Shamet).
His chart is a little more uneven but still spectacular: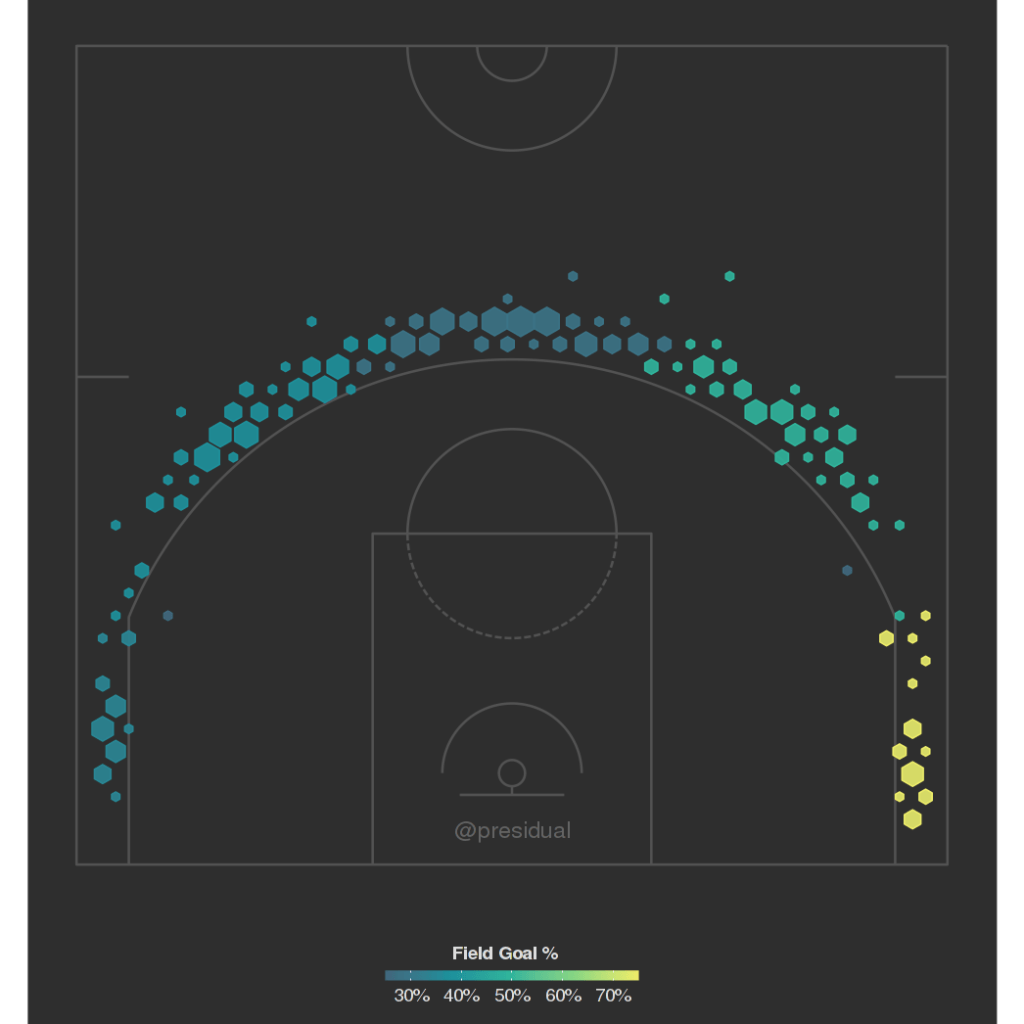 Harris shoots 65% from that left corner, just 35% from the right. Typically, players go from left corner to right corner, saving the moneyball for that last rack. Last year in the first round, Harris actually shot poorly until that right corner, when he nailed the entire moneyball rack.
Then there's Davis Bertans, the best jumpshooter through All-Star Break last season. He's dipped some this year with more attention paid to him in a larger role; he's shot 40% on jumpshots this season compared to 43% a year ago.
His chart is more uneven this season than you'd expect: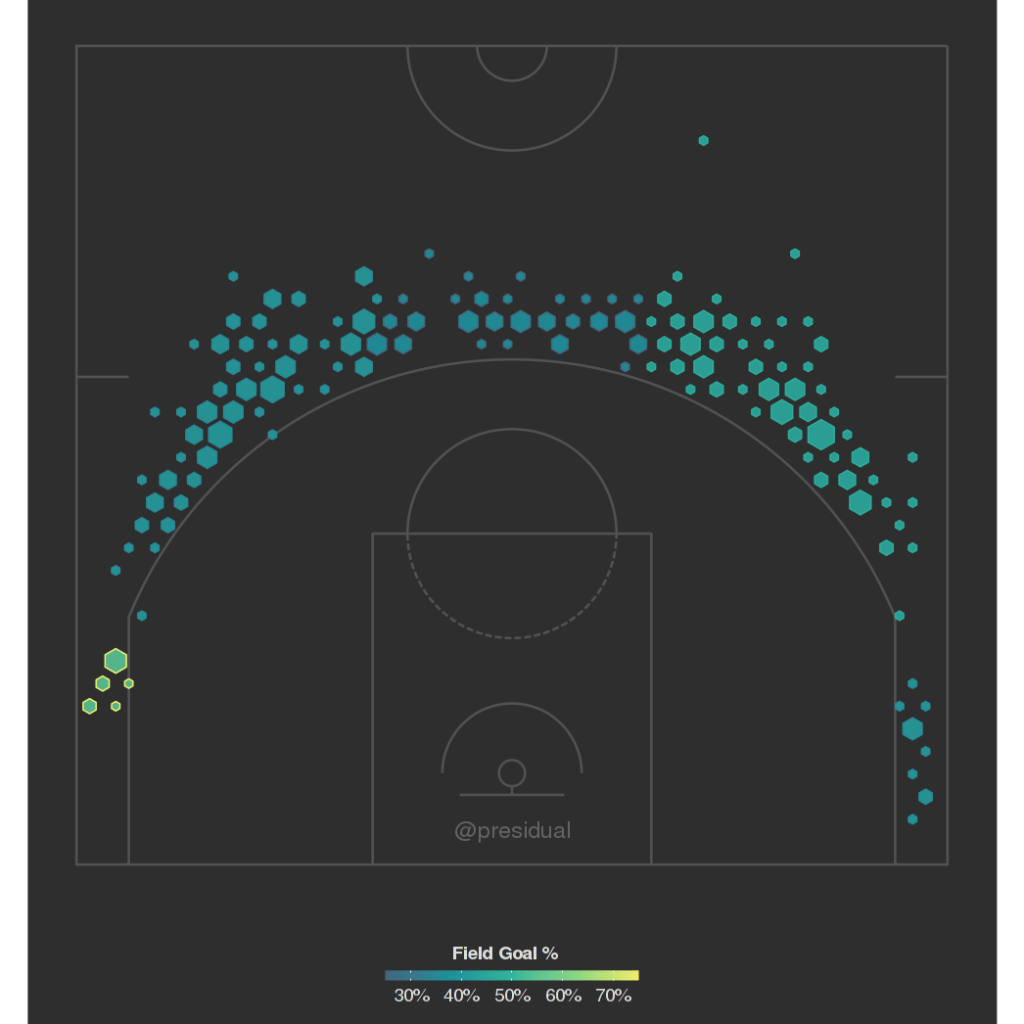 Duncan Robinson is the one who pops analytically this season, along with Harris. He's shooting 44% on jump shots, but an incredible 49% on hand-off shots this season.
Miami uses them more than just about any team in the league. The advantage here is it requires the same kind of motion as the 3-point contest. Taking the ball from a stationary player, moving to the side and firing:
However, look at Robinson's chart: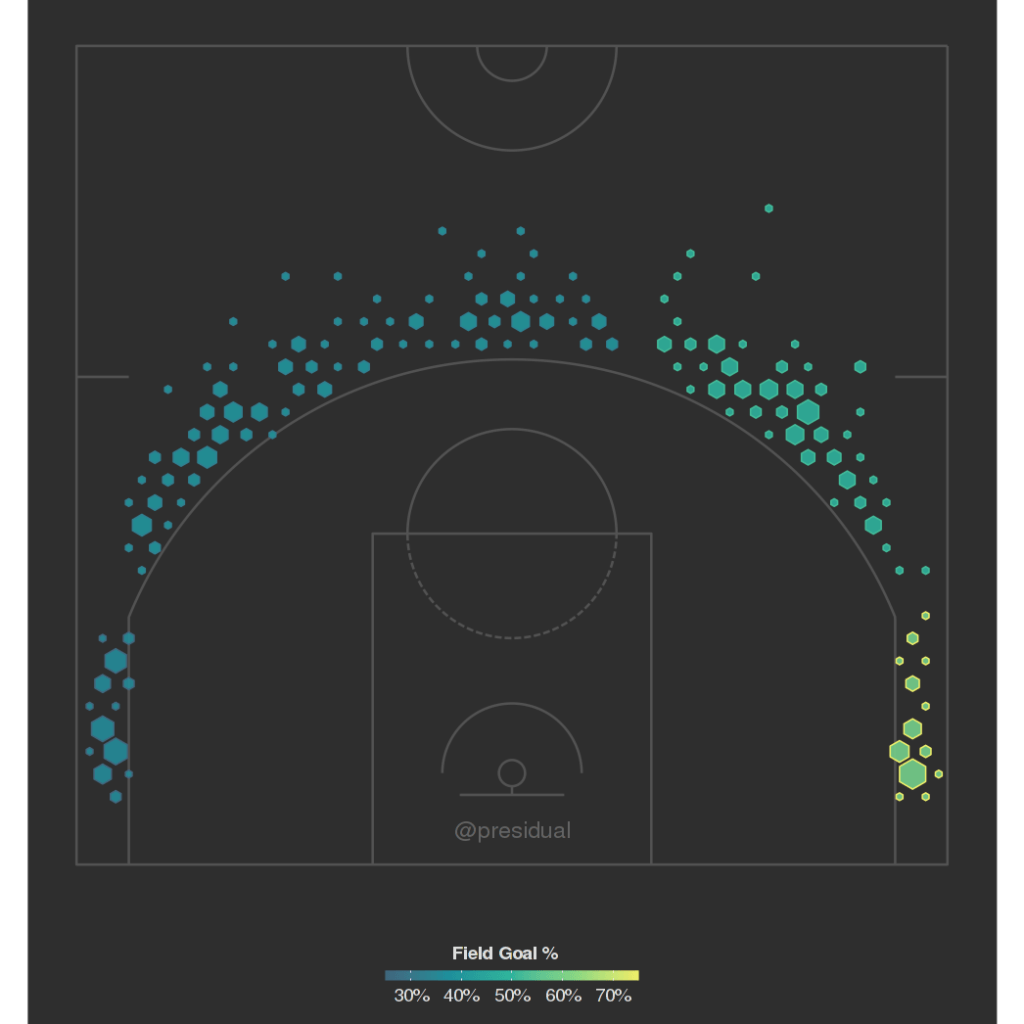 He shoots 58% from the left corner but just 35% from the right. Now, look, Harris is a great example of how this doesn't necessarily play out the same as regular-season performance. But Robinson also has a slower motion than some of these other shooters. I'm concerned if he puts the moneyball rack last that it might get rough towards the end.
If we're looking across all metrics, multi-season, for the best pure shooter in this thing, it's Harris.
EDGE: Joe Harris
DISTANCE ADVANTAGE
The 3-point buckets from deep, essentially logo shots, could really swing this thing. Harris beat Stephen Curry in Round 2 last year by two points. A 3-point swing could get a shooter past some of the more efficient guys.
This is where Damian Lillard's groin injury really hurts, so to speak. Not only is Lillard No. 2 in made 3s — shooting 40% from deep despite all sorts of tight coverage and shooting 44% when unguarded — but he's by far No. 1 on most long shots this season.
On shots more than 28 feet to halfcourt this season, Lillard is 21 made buckets above the second-highest player. He could have absolutely dominated with both of those new shots.
But second on that list is Trae Young.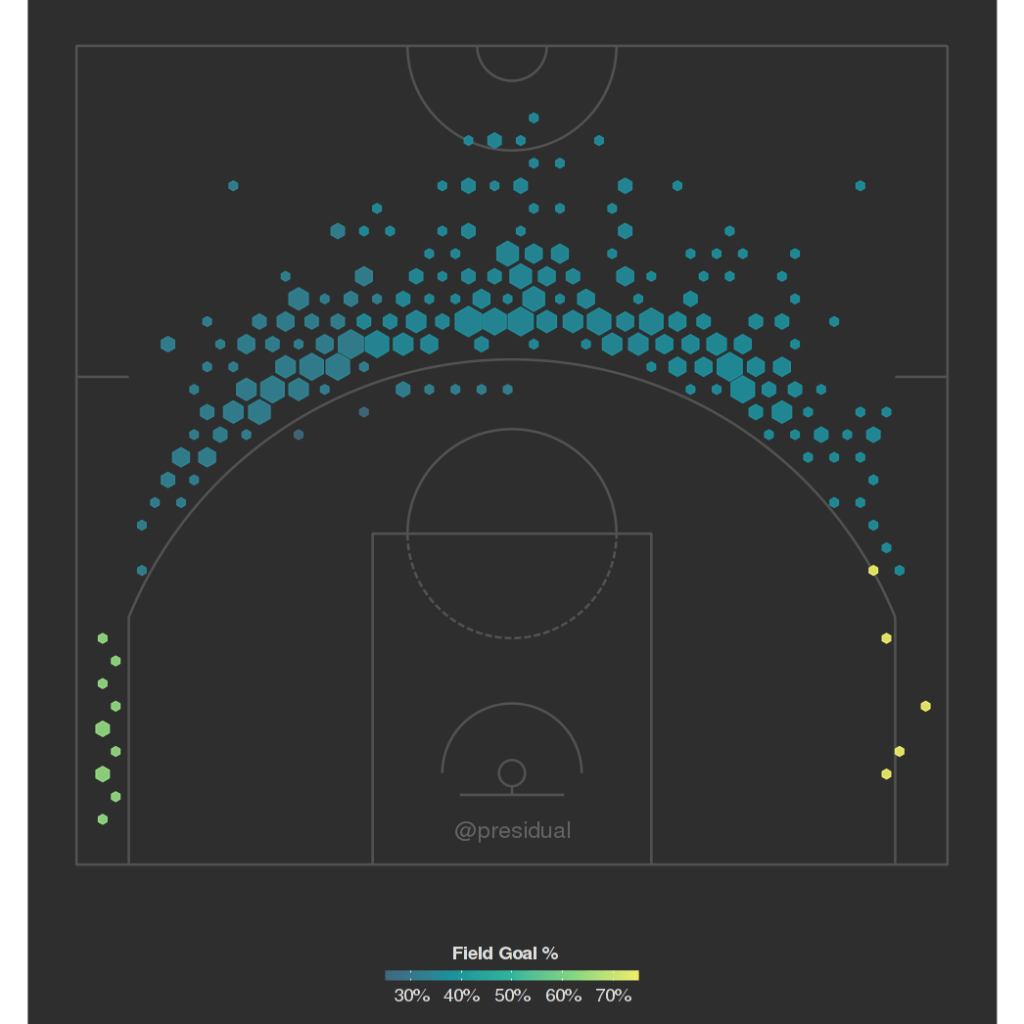 Young is shooting 51% on unguarded catch-and-shoot 3s this season. He's made the second-most shots from deep. He's consistent. And this is an event he can absolutely own.
His overall efficiency is dragged down by how much defensive coverage he sees. But he's got an argument as the best shooter in this thing, and he's got the best track record of hitting those deep, deep "Curry range" shots for three points.
Notably, fourth on that list is Bertans… and he's shooting 51% on them. That's right, he's shooting 51% on 70 shots from more than 28 feet. There's a reason my Action Network colleagues love Bertans in this competition.
But I think the volume matters here, and I lean slightly towards Trae in this spot if you want to use the three-point shot as your edge.
EDGE: Trae Young
OVERALL VALUE
Factoring in the lines and all these factors, here's how I think it shakes out:
1. Buddy Hield (+700): You get 7-1 return on a guy who finished third last year with the most consistent shot profile.
2. Davis Bertans (+550): The distance shots swing this for me. His overall efficiency and range make him a great candidate.
3. Joe Harris (+450): He's still the most efficient shot-maker. There's a reason he's the favorite at most of the books.
4. Trae Young (+500): The player most likely to try and "own the weekend," as Wob and I talked about on our podcast.
5. Devonte' Graham (+1200): Volume shooter and great value because he's not behind the other guys in terms of efficiency and volume.
6. Duncan Robinson (+500): You're not getting as long of odds as I'd like.
7. Devin Booker (+500): A former winner, a guy who is desperately glad to be at All-Star Weekend, a volume shooter … but he's made only seven of 30 from more than 28 feet this season, the same volume of made shots as Lonzo Ball from that distance.
8. Zach LaVine (+1000): The number's nice, but there's nothing in LaVine's profile as a shooter to suggest he can get hot enough to hang and win this thing.
How would you rate this article?