NBA Odds & Picks for Hawks vs. Trail Blazers: Back Home Favorites to Put Up Points (Saturday, Jan. 16)
Credit:
Steph Chambers/Getty Images. Pictured: Damian Lillard (left) and CJ McCollum.
Hawks vs. Trail Blazers Odds
Saturday features an abbreviated NBA slate with only 12 teams in action, and possibly less by the time tipoffs roll around based on the current rate of cancellations due to COVID-19.
Of the six games currently scheduled, Atlanta visiting Portland is by far the most intriguing matchup. Prior to their game against the Jazz on Friday, the Hawks had been reeling. They lost four of their last five, with the one win coming against a depleted 76ers squad.
On the other hand, Portland has won four of its last five, only dropping the second leg of a back-to-back against Indiana. That loss came with an even bigger blow as Jusuf Nurkic, their starting center, fractured his right wrist and will be out about two months.
This intense battle in the Pacific Northwest will be a barometer for both squads, and I see a distinct advantage for the home team.
Atlanta Hawks
2021 has not been kind to the Hawks. After firing on all cylinders for the first five games of the season, they've lost an offensive edge.
Prior to their clash with the Jazz, the Hawks were only averaging 102 points per game in their last five. Even Trae Young cooled down. In recent games against Charlotte, New York and Cleveland, Young went 3-for-19 from beyond the arc. He's shooting under 30% from deep for the season and his overall performance has caused concern among Atlanta fans and his teammates.
It was reported last week that John Collins has voiced serious concerns about how Atlanta's offense is run through Young. I'm not here to play psychiatrist, but a philosophical rift between your two best young players is not the way to lift yourself out of a slump.
Since January 2, the Hawks rank 28th in Offensive Rating (103) and last in Effective Field Goal Percentage (46.4%).
Unfortunately for all Atlanta fans who hoped for a legitimate playoff run for the first time since Mike Budenholzer was at the helm, the offense needs fixing before you can add to the win column.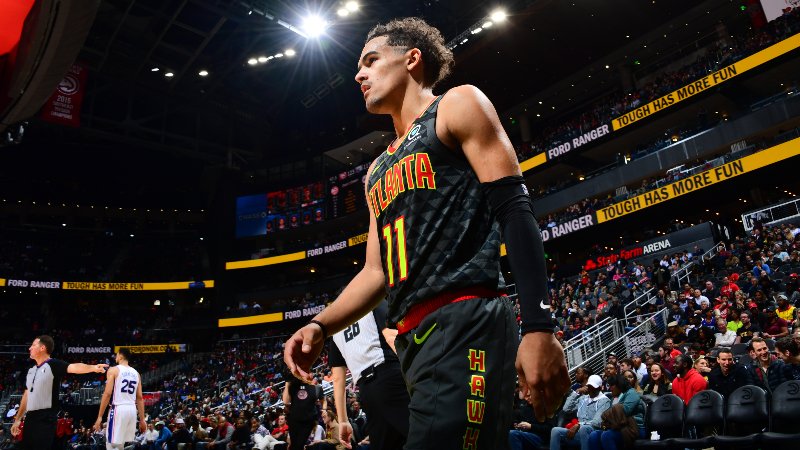 ---
Portland Trail Blazers
Portland is now without Nurkic for an extended period of time, and that is not a new experience for Terry Stotts & Co. Nurkic broke his leg in March 2019 and didn't return until the NBA Bubble this past summer.
In the nine regular season games immediately following Nurkic's 2019 leg injury, the Blazers went 7-2 powered by Damian Lillard, CJ McCollum and Enes Kanter.
Now, when an already poor defensive team loses its starting center, who can also get buckets, that is not good in the long term. In the short term, this means high-scoring games and more opportunity for offensively minded players like Lillard and McCollum to prove they're the best backcourt in the league.
Heading into Friday's NBA action, Portland sports the sixth best Offensive Rating (113.7) and Lillard, McCollum, Gary Trent Jr. and Robert Covington all rank in the top 30 in Individual Offensive Rating for players averaging more than 20 minutes per game.
Portland also has the second-best Turnover Percentage in the league meaning they are taking advantage of every possession. With the exception of their recent loss to the Pacers, the Blazers are clicking and I expect monster games from their star guards.
Hawks-Trail Blazers Pick
The Hawks and Blazers are going in opposite directions. Portland is finding its groove despite the loss of Nurkic and the Hawks cannot figure things out offensively.
The main factor in this decision comes from the play of marquee players. Lillard and McCollum are heating up, ready to fill it up. Before the season started, I took a future on Lillard to win MVP and Portland to win their division. Though these lines haven't drastically improved, I'm confident in Portland's potential midseason performance.
Atlanta is hurting and on the second leg of a back-to-back in this one. I'm riding with a Portland team ready to light up the scoreboard.
Pick: Blazers -4, up to -5.
How would you rate this article?