NBA Predictions, Picks & Betting Odds (Monday, Jan. 27): Market Providing Lots of Over/Under Value
Credit:
Photo credit: Alex Goodlett/Getty Images. Pictured: Rudy Gobert
This NBA season, I'm trying something new. I'm going to write a daily piece that highlights everything bettors and DFS players need to know for that night's slate. For more on what to expect, read the inaugural piece.
Friday I finished 4-1 for +1.2 units. While I don't want to get sucked into the past, I think it's worth reviewing things each day.
The best way to do that is to look at closing line value (CLV), which is just measuring whether the line you bet moved for or against you by closing.
I bet Celtics-Magic under 213 and it closed at 213 (won)
I bet Magic -1.5 and it closed Magic -3 (lost)
I bet Grizzlies PK and it closed Grizzlies -2 (won)
I bet Hawks-Thunder over 230.5 and it closed at 231 (won)
I bet Kings-Bulls (2H) under 106.5 (won)
Yesterday was a tough day for basketball fans. I think my colleague Matt Moore wrote an awesome, touching piece remembering Kobe. Sometimes when you don't have words, it's OK to let others speak for you; I'll let Matt do that for me today.
Let's dive into today's slate and find some angles.
YTD Record:
Overall: 192-157-2
Spreads: 74-67-2
Totals: 72-60
Moneylines: 17-8
Props: 29-22
Jump To: Odds & Analysis | Projected Starting Lineups & Injury News | Player Props | DFS Values & Strategy | My Bets
---
Odds as of Monday afternoon and via FanDuel, where Action Network users get a risk-free bet up to $500.
---
Betting Odds and Analysis
7 p.m. ET: Cleveland Cavaliers at Detroit Pistons (-7), 219
7:30 p.m. ET: Orlando Magic at Miami Heat (-5.5), 210.5
8 p.m. ET: San Antonio Spurs (-2) at Chicago Bulls, 215.5
8 p.m. ET: Dallas Mavericks (-1) at OKC Thunder, 226.5
8 p.m. ET: Sacramento Kings at Minnesota Timberwolves (-3.5), 225.5
9 p.m. ET: Houston Rockets at Utah Jazz (-12.5), 223
Rockets at Jazz
The two most impactful injuries are both with the Rockets tonight. Russell Westbrook will rest on the second leg of the back-to-back, while James Harden is doubtful with a thigh injury that held him out of yesterday's game. Without him, the Rockets fell to the Nuggets by seven, putting up just 108.9 points per 100 possessions.
Those guys are obviously important to the Rockets offense, even if the on/off data doesn't say it. Per Cleaning the Glass, Houston has been just 0.6 points/100 better with Harden on vs. off, and actually 7.5 points/100 worse with Westbrook on vs. off.
But Westbrook was coming around and playing better basketball of late, and honestly that sample size isn't super relevant here. The Rockets bench guys with good on/off numbers — Isaiah Hartenstein, Ben McLemore, Gary Clark and others — all did their damage against bench units. Now they'll have to go up against the starting Jazz unit that has blitzed teams recently.
All in all, the Rockets have posted a 114.8 Offensive Rating without their two stars, but again, bench units, and that sample size is only 230 possessions. The most-used lineup without either of them on the floor has played just 23 possessions together all season. The data is irrelevant here.
Also, the Jazz have been the best team in the league over the past couple of weeks, posting an absurd +15.0 Net Rating. The offense has been good, sure, but the defense has really come around and performed to its ceiling finally.
One more point: The Rockets play at one of the fastest paces in the league, but that largely drops off a cliff without Harden and Westbrook — particularly the latter, who has really pushed the pace. The Jazz, meanwhile, have ranked 28th in pace since the start of the year.
I don't trust the Rockets to generate good looks and really score here, and I think it'll be a slow-paced, halfcourt affair. I bet the under at 224, but unfortunately it's already down to 221. I think there's still a bit of value there, although I'd wait to see if it crept back up at all.
I'll also likely make a smaller play on the Rockets team total — if this one goes over, I think it's because the Jazz overperform rather than Houston.
Update: Clint Capela is now doubtful, but James Harden has been upgraded to questionable. I would wait for the news on him before making a bet on the total.
Mavericks at Thunder
Over the last bit, these two teams have played excellent basketball — at least on the offensive end. Those numbers…
Mavs over last 2 weeks: +6.1 Net Rating (6th), 121.4 ORtg (2nd), 115.3 DRtg (24th)
Thunder over last 2 weeks: +5.4 Net Rating (7th), 117.8 ORtg (6th), 112.4 DRtg (15th)
And I'm not really sure you could blame it on bad luck. Since Jan. 1, both of these teams rank in the bottom-10 in 3P% allowed on wide-open shots. The issue has been more systemic, and neither team has been great at protecting the paint.
In that span, the Mavs and Thunder rank 23rd and 20th, respectively, in terms of opponent frequency of shots at the rim. The Thunder have done OK defending those shots (the Mavs have stunk), but both teams have been awful overall in the restricted area. With Dwight Powell out for the season and Steven Adams dealing with a nagging ankle injury, I'm not really sure the personnel is there for them to turn it around right now.
Further, these offenses are pretty potent right now. The Mavs have been awesome all year, and the Thunder over the last month have really done a great job generating open looks and finally hitting them. I think a big part of that actually is limiting minutes for Terrance Ferguson and Abdel Nader, who have been really bad.
They're still giving minutes to guys like Luguentz Dort, but it's also meant that Dennis Schroder has been able to play more minutes with the starters, particularly Chris Paul. In their last game, CP3 came out early and then came back to play with Schroder, and that's when the Thunder really went on an early run. Schroder has had issues in his career, but he's playing some good, underrated basketball in Oklahoma City this year.
I'm a little worried about the potential pace of play — the Thunder have been average in pace lately, but the Mavs have been quite slow — but overall I think these offenses are playing too well and the defenses too bad. I grabbed the over here at 226.5.
Cavs at Pistons
This one is a bit tougher. While the Cavs and Pistons have both been playing at a slow pace lately, the Cavs especially have been just so terrible defensively. The Pistons have actually been fine in that regard, ranking seventh in the league in Defensive Rating over the last two weeks. Cleveland, meanwhile, has been dead last in that span.
It's also concerning that the total in the first three meetings went over this number each time. But the pace in those were low (at least two of the three), and neither team got up high-efficiency shots. They did get hot from 3 in one and then hot from mid-range in the other. Both of those could happen again today, but I neither are particularly likely to happen, in my opinion.
Really, though, this is just me completely selling the Cavs right now. They've lost seven games in a row, the last five of which have come against the Bulls (twice), Grizzlies, Knicks and Wizards. Most of those weren't particularly close. They put up just 86 in a 20-point loss to New York at home. That's about as bad as it gets, honestly.
Against the Bulls, they put up 106 last game. Against the Wizards, who have the worst defense in the league and play super duper fast, they put up 112. The Pistons defense can absolutely put up a similar effort.
Further, sharp bettors are just hammering this game — both on the Pistons spread and the under.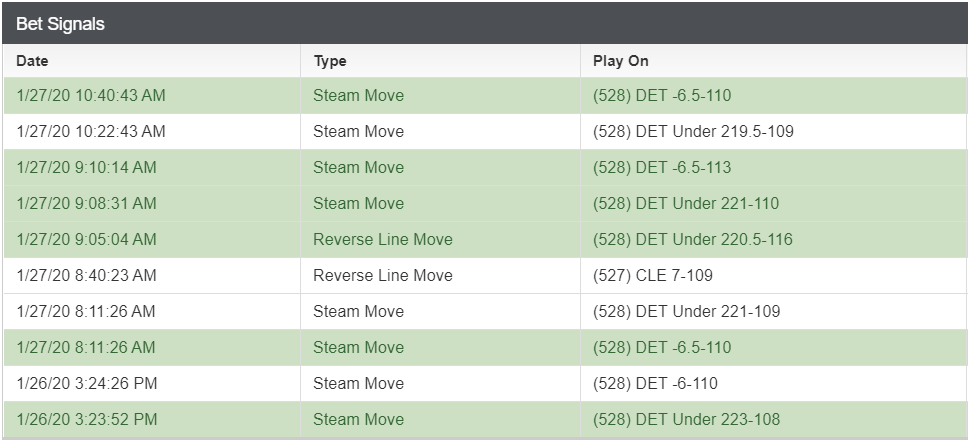 The under also matches this system:
That system is designed to identify sharp money on unders by capturing reverse line movement. It has a 27% ROI this season.
Yes, the Cavs defense worries me — that's why I also bet their team total under. Like with the Rockets-Jazz game, I think if this goes over it's because the Pistons overperform rather than the Cavs doing anything.
Projected Starting Lineups and Injury News
Note: Info as of 11:30 a.m. ET. For up-to-the-minute lineups and news, see FantasyLabs' matchups page.
Projected Lineups
Chicago Bulls: Kris Dunn – Tomas Satoransky – Zach LaVine – Thad Young – Luke Kornet
Cleveland Cavaliers: Darius Garland – Collin Sexton – Cedi Osman – Kevin Love – Tristan Thompson
Dallas Mavericks: Luka Doncic – Seth Curry – Tim Hardaway Jr. – Dorian Finney-Smith – Kristaps Porzingis
Detroit Pistons: Derrick Rose – Bruce Brown – Tony Snell – Sekou Doumbouya – Andre Drummond
Houston Rockets: James Harden – Eric Gordon – Ben McLemore – PJ Tucker – Isaiah Hartenstein
Miami Heat: Kendrick Nunn – Jimmy Butler – Duncan Robinson – Bam Adebayo – Meyers Leonard
Minnesota Timberwolves: Shabazz Napier – Jarrett Culver – Andrew Wiggins – Robert Covington – Karl-Anthony Towns
OKC Thunder: Chris Paul – Shai Gilgeous-Alexander – Luguentz Dort – Danilo Gallinari – Steven Adams
Orlando Magic: Markelle Fultz – Evan Fournier – Aaron Gordon – Khem Birch – Nikola Vucevic
Sacramento Kings: De'Aaron Fox – Bogdan Bogdanovic – Harrison Barnes – Nemanja Bjelica – Dewayne Dedmon
San Antonio Spurs: Dejounte Murray – Bryn Forbes – DeMar DeRozan – Trey Lyles – Jakob Poeltl
Utah Jazz: Donovan Mitchell – Joe Ingles – Bojan Bogdanovic – Royce O'Neale – Rudy Gobert
Injury News
Chicago Bulls: Lauri Markkanen (pelvis) remains out. Tomas Satoransky (ankle), Chandler Hutchison (shoulder) and Ryan Arcidiacono (elbow) are probable.
Cleveland Cavaliers: Brandon Knight (knee) is out 1-3 more weeks. Kevin Porter Jr. (knee) is probable.
Dallas Mavericks: Ryan Broekhoff (fibula) and Luka Doncic (ankle) are probable.
Detroit Pistons: Tony Snell (illness) is questionable. Derrick Rose (knee) is probable.
Houston Rockets: Russell Westbrook (rest) is out. James Harden (thigh) is questionable. Clint Capela (heel) is doubtful.
Miami Heat: Kendrick Nunn (Achilles), Jimmy Butler (ankle) and Goran Dragic (calf) are questionable. Bam Adebayo (ankle) is probable.
Minnesota Timberwolves: Allen Crabbe (patella) is doubtful.
OKC Thunder: Terrance Ferguson (personal) and Abdel Nader (ankle) are out. Nerlens Noel (face) is questionable. Danilo Gallinari (thumb) is not on the injury report.
Orlando Magic: Nothing new.
Sacramento Kings: Marvin Bagley (foot) is out.
San Antonio Spurs: LaMarcus Aldridge (thumb) is out.
Utah Jazz: Emmanuel Mudiay (ankle) is probable.
---
Player Props
To bet props, I use our FantasyLabs player props tool. Follow me in the Action Network app to see my bets (or go to the bottom of the article), but the more important thing is the tool, which measures our projections for every player vs. current odds in the market and highlights the biggest edges for you.
Player props are an inefficient market, which allows casual bettors (limits are low, so pro bettors aren't incentivized to prioritize them) to grab very +EV bets.
That said, the lines move quickly. Our props tool is set up so you can always see whether there's an edge even at the updated numbers throughout the day.
It's one of my favorite tools we offer and should be one of your bookmarked pages if you like making a few extra bucks. Here's a screenshot of what it looks like:

My usual recommendation: Bet unders.
Last season, 10-rated props in our tool hit at a 60.31% rate. But overs hit at a 57.08% rate vs. 66.47% for unders. For 9-rated props, 55.96% of overs were successful bets vs. 62.60% for unders.
As I have noted in the past, unders have more outs: A blowout, an injury, a poor shooting night — all will likely make the under hit. But also, props are less efficient as a market given the low limits, so they're less likely to adjust for things like opponent and pace.
One under I think is intriguing is Tomas Satoransky's 11-point total.
Sato blew by this number last game, putting up 19 points in 30 minutes. That was more minutes than he's been getting, however (perhaps he got more because he was playing well), and prior to that he had been in the single digits for five straight games.
Today we have him projected for 26 minutes and a low 16.5% usage rate, and he'll have to go up against the Spurs, who have allowed a bottom-10 FG% to opposing point guards. He could get some minutes against Dejounte Murray, who is one of the better guard defenders in the league.
He'll be without Lauri Markkanen today, and in the minutes without him this season, Sato has shot much better, but I think that's a noisy sample size and likely to regress. The Bulls have played slower with their current guys, so if the shooting regresses, he should go back into the single digits.
DFS Values and Strategy
It's a weird DFS day, especially with Russell Westbrook and James Harden as two of the priciest studs either already out or unlikely to play. Looking at DraftKings, there are eight players priced at $8,500 or above.
Six of those eight players have center-only eligibility. You can fit two of them in given the utility position, and you might have to given the slate dynamics. Right now the players projecting as the strongest values include guys like Chris Clemons, Austin Rivers, Thad Young and Delon Wright. Three of those guys are PG/SG eligible players, which means players could elect to pay up for Andre Drummond and Clint Capela simply because of the value at the other positions.
But if you want to get up to Luka Doncic or Zach LaVine — the two non-centers priced as studs — it could be wise in tournaments. Doncic has failed to hit value lately, but he obviously has the highest ceiling on the slate. And LaVine without Markkanen exploded for 44 points last game.
The big question today I think is how to handle the Houston Rockets. With Harden and Westbrook likely out, there's obviously a huge number of minutes and usage to go around. The guys filling in are near min-price. That's a very tough thing to fade. But they're also facing the Jazz as huge underdogs — there's a very real blowout risk, and it's possible Houston just plain stinks offensively without its two stars.
You know the drill: Follow the news and make sure to subscribe to our models to see up-to-the-minute projection updates.
For more DFS analysis and value plays, check out the FantasyLabs NBA models.
My Bets Currently
Rockets-Jazz under 224
Mavs-Thunder over 226.5
Cavs-Pistons under 219
Cavs under 106 (available some places at 107, so shop around)
Spurs-Bulls under 214.5 (I bet after Aldridge news)
[In New Jersey, Pennsylvania, Indiana or West Virginia? Bet now at FanDuel]
Follow me in our free app if you want an alert on bets I make.
How would you rate this article?