NBA Tuesday Betting Picks & Angles (Nov. 5): How I'm Betting Magic-Thunder, Spurs-Hawks
Credit:
Cary Edmondson-USA TODAY Sports. Pictured: San Antonio Spurs forward LaMarcus Aldridge (12).
Here are my two angles for Tuesday's NBA slate based on matchups and trends.
---
Odds as of Tuesday at 3 p.m. ET and via PointsBet, where Action Network users can access an exclusive promotion to get a 200% deposit match (deposit $50, bet with $150).
---
The Angle: God Help The Magic Offense
Let's just start here: Orlando hasn't scored over 100 points this season. Not once. Not a single time. The closest they came was vs. the Hawks; you know, the defensive juggernauts from Atlanta.
The Hawks have games with defensive ratings under 100 vs. the Sixers in a weirdo game, and their lowest defensive rating vs. the Magic (98). They've been above 104 in all other contests.
(More on them in a minute, though.)
Orlando has the sixth-worst shot quality via PBPStats.com, and the league's worst effective field goal percentage. The gap between those two is significant enough to warrant some hesitation on under plays.
The odds are that someone on the Magic starts hitting a shot, literally any shot. The Magic are middle of the road in 3-point rate, they get high-value shots. But they're also fourth-to-last in points in the paint per 100 possessions, and fourth-to-last in fast-break points per 100 possessions.
OKC meanwhile has stellar defensive marks in points off turnovers allowed, points in the paint, and second-chance points, and has the fourth-best opponent shot quality (expected eFG%) via PBSStats.com.
Orlando is great in all these categories, too, however.
Nikola Vucevic has largely been quiet this season. Steven Adams isn't as good as he used to be in pick-and-roll coverage, but he's still a stone wall in the post. The Magic guards (Markelle Fultz and DJ Augustin) will struggle with OKC's length and precision from Chris Paul and Shai Gilgeous-Alexander.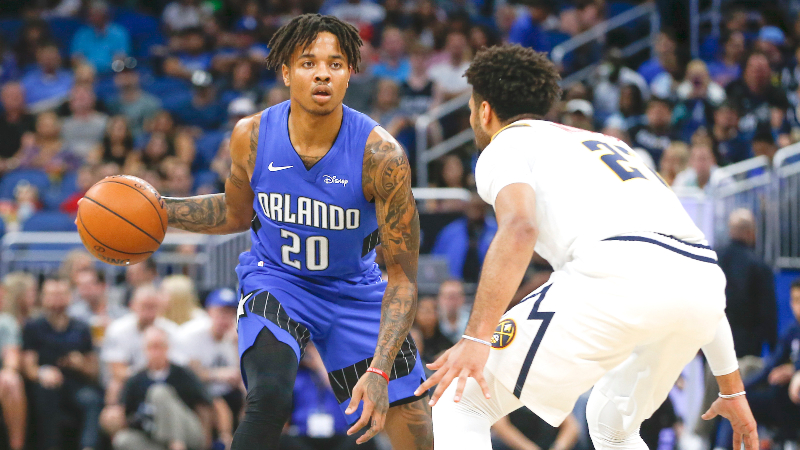 Neither team has wings with great shooting ability right now except Danilo Gallinari, though Terrance Ross is due for some regression.
Have I mentioned the Magic play at the third-slowest pace in the league?
Then there's this trend: totals under 216 this season (of which all but two of Tuesdays games has, by the way) have hit the under at a record of 15-8-1 this season.
The total as of this writing is at 202.5 and that number makes me nervous. One team has a bad turnover night, or it's close at the end and foul shots drip it past the line. I feel confident one of these teams is going to score fewer than 100. I feel reasonably confident in both, but not enough to want the combined total.
So instead of playing the over/under, I'm going to play both team totals, giving the possibility of hitting both with a slightly higher bet on Orlando's under.
The Play: Orlando under 100.5 (2.0 units) | Thunder under 103 (1.0 unit)
[In New Jersey? Bet now at PointsBet]
The Angle: Contrarian Injury Play
We've covered before that not all star player injuries or absences are equal. Some teams are wrecked by key guys sitting, while others are OK. The Hawks were pretty clearly wrecked without Trae Young, but Young is back tonight against the Spurs.
John Collins, however, is out. And out. And out. He's been suspended 25 games by the NBA for violating its drug policy after testing positive for human growth hormone. Not great for the Hawks.
Since that news, the line has gone from Spurs -3.5 to Spurs -5.5. And more than 75% of both the tickets and money are on the Spurs, via Sports Insights, which means it's possible this gets to six, at which point I will grab it. If sharps start buying it back late and it dips to 5, I'm staying away.
I am, however, on the Spurs under 113 points.
I mentioned the Hawks above, and how they only have two performances with a defensive rating under 100. And yet their defense has still hasn't been too bad. It's still ranked 12th.
Meanwhile, there's a key differential in the games where Young played and the games where Young sat. With him out, the Hawks are bottom 10 in opponent expected eFG% via PBPStats.com after a missed field goal. When the Hawks miss a shot and are trying to match up as the defenses pushes after a miss, it's a disaster.
The Hawks give up 9.3 fewer points per 100 possessions after they make a shot compared to misses, the sixth-biggest differential in the league. Adding Young back helps a lot with that.
Atlanta gives up the seventh-most 3-pointers per game, however, San Antonio and its stone-age offense ranks 29th in that category. The Hawks have allowed opponents to shoot 37.7% on mid-range jumpers, around league average.
The Spurs have a top 10 offense, bolstered by performances vs. the Warriors, Knicks and Wizards.
The concern is that the Hawks were supposed to be one of the worst defenses in the league this season; I thought they would be specifically worst. But I just do not trust this San Antonio grindfest offense, even with Collins out.
The Play: Spurs under 113.5 | Hawks +6 (if it gets to that number)
[In New Jersey? Bet now at PointsBet]
How would you rate this article?