NBA Wednesday Betting Picks & Angles (Nov. 6): How I'm Betting Knicks vs. Pistons, 76ers vs. Jazz
Credit:
Bill Streicher-USA TODAY Sports. Pictured: Joel Embiid
Matt Moore is finding value on two games in particular tonight: Knicks-Pistons and 76ers-Jazz.
Below he'll give both picks and dive into the angles leading to the value.
Here are two betting angles for Wednesday's slate based on matchups and trends.
---
Odds as of Wednesday at 5 p.m. ET and via PointsBet, where Action Network users can access an exclusive promotion to get a 200% deposit match (deposit $50, bet with $150).
---
THE ANGLE: Reggie Jackson Is Bizarrely Important
The Pistons are facing the Knicks tonight, and on the surface, that's an easy win. 538's RAPTOR rating has this as Pistons -8.5, with a win likelihood of 80%.
I'm relatively certain this is not attributing absences to Blake Griffin and Reggie Jackson as it is supposed to, but if it is, then RAPTOR is a little off here anyway.
I don't like betting the Knicks. They're the Knicks. It's like the Browns.
You can talk yourself into the number, but you're still betting on the Browns (to wit, I like the Bills +2.5 this week, but that's a whole other sport).
I am, however, going to bet them here. The Knicks are catching between +3.5 and +4 vs. the Pistons. They're on the road as a short road dog. And the reason?
Reggie Jackson.
Take a look a the Pistons' net rating the last three seasons with and without Jackson:
2017-18: With Jackson: +0.4| Without: -0.8
2018-19: With Jackson: +0.7 | Without: -1.9
2019-20: With Jackson: +1.3 | Without: -5.4
Those are small numbers, but here's the bigger key: Jackson, Andre Drummond and Blake Griffin (who is also out) were +6.2 last season. They were really good together. We've talked about the impact of missing players being a mixed bag and case-by-case consistently in this space.
Here's the betting trend I'm keyed in on: Since the Pistons traded for Blake Griffin, ostensibly locking in this roster, the Pistons are 9-18-1 against the spread without Jackson. As favorites, they're 4-7-1.
The Knicks have a big man in Mitchell Robinson to counter Drummond. They have a big wing to create and a Morris twin to balance out the other Morris twin. The Pistons are 25th in defensive rating, and while the Knicks are bottom 10 in offense and defense, they'll get things going.
Without Jackson, I have to hold my nose and grab the points.
The Play: Knicks +3.5 [In New Jersey? Bet now at PointsBet]
THE ANGLE: Embiid Over Gobert
I think the Sixers are the best team in the league. They are sixth in defensive rating, even with Embiid missing two games. They have the third-best SRS via Basketball-Reference, despite a top-five strength of schedule. The Jazz have played the toughest schedule, but also faced the Clippers without Kawhi Leonard.
What's their best win so far this season? Probably the Suns win on the road. That's a good win, but their other tough games have been losses. The offense is inconsistent, it comes and goes in stops and starts.
Then there's Embiid. In three matchups in his career, Embiid is 2-1 over Rudy Gobert, averaging 20 points per game. More importantly, last season the Sixers were +32.6 in net rating (!!!) when Gobert was on-court. Gobert is an awesome pick-and-roll defender and rim protecter against driving guards, especially because of his size advantage.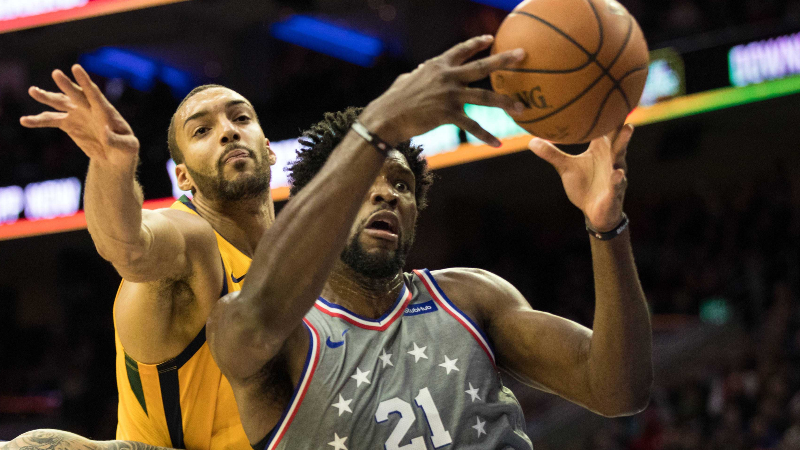 But not only is Embiid Godzilla, the other Sixers are huge. The Sixers can put Ben Simmons on Donovan Mitchell or Mike Conley to stop their shot creation. They can have Josh Richardson guard Joe Ingles or Bojan Bogdanovic. And they can hide Tobias Harris on Royce O'Neal.
Gobert's pick-and-roll threat is mitigated by Embiid inside, and the Sixers' length should disrupt what is a very good shooting team.
This is a great matchup, but while I think Utah is very good and will be much better than they are now by January, they've had more questions than the Sixers, and Embiid tips the scales.
THE PLAY: Sixers +110 ML [In New Jersey? Bet now at PointsBet]
How would you rate this article?