Friday's NBA Expert Picks: How Our Staff is Betting Kings-Lakers
Credit:
Kirby Lee-USA TODAY Sports. Pictured: Los Angeles Lakers center JaVale McGee (7).
There are eight games NBA on the schedule for Friday.
Our crew has found value in three specific matchups and detailed how they are betting tonight's action below.
There are 16 teams in action on a busy and interesting NBA Friday. While the two national TV games (Jazz-Grizzlies and Celtics-Warriors) aren't quite on the minds of our experts, there are three games they are betting tonight:
7 p.m. ET: Detroit Pistons at Charlotte Hornets 
7 p.m. ET: San Antonio Spurs at Orlando Magic 
10:30 p.m. ET: Sacramento Kings at LA Lakers 
See what picks they're making in those matchups below:
---
Odds as of Friday afternoon and via PointsBet, where Action Network users can access an exclusive promotion to get a 200% deposit match (deposit $50, bet with $150). No strings attached. No rollover required.
---
Spread: Spurs +3
Over/Under: 211
Time: 7 p.m. ET
Here's the thing about Gregg Popovich: he knows how to beat the regular season. Everyone's getting worried about the Spurs after losing five of six, but you're going to lose games when you're playing DeMar DeRozan against good teams like the Celtics, Lakers, and Timberwolves (yeah, I said it).
Pop has gamed the regular season for years, beating up on bad teams, even if his team can't hang with the elites. This year, the Spurs are 0-4 against teams that would make the playoffs right now but 5-2 against bad teams.
And here's the other thing: the Magic are bad. They're the only team in the NBA averaging below 100 points per game in the year of our lord 2019, with the league's slowest pace and its second-worst offense.
Only defense is keeping Orlando even remotely competitive and just three players on the roster even have a positive Offensive Box-Minus.
Pop's Spurs beat teams like the Magic. That's how this stuff works. Forget the points. Grab the money line and the juice.
The PICK: Spurs ML +135
Spread: Pistons -3.5
Over/Under: 220.5
Time: 7 p.m. ET
I'm going to lay the 3.5 here. I don't want it any higher, but the Hornets' frontcourt defense has to be discussed. They give up the fourth-most points per 100 possessions to forwards of any team in the league, and they are dead last in points in the paint allowed per 100 possessions.
That seems like a problem for a team facing Andre Drummond and Blake Griffin.
This should be an up-and-down shootout but with Griffin back and the Pistons laying fewer than two possessions, I feel comfortable with it. The Hornets have lost four straight and while they can be pesky, Griffin really does swing the game that much.
The PICK: Pistons -3.5
Spread: Lakers -10.5
Over/Under: 214.5
Time: 10:30 p.m. ET
No De'Aaron Fox or Marvin Bagley … no problem apparently?
The Kings surprised on Tuesday, beating the Blazers at home in the first game after Fox went down with a multi-week injury. The market moved against them in that one, opening at Kings -2 and dipping to +1.5 by game time, but they were able to get the outright win.
I'm skeptical that game is very representative of what we should expect moving forward, however. They rarely got to the rim and didn't take many 3-pointers; most of their success on offense came on hitting enough mid-rangers, along with dominating the Blazers in transition.
On the year, the Kings for whatever reason have not pushed like they did last year with the athletic Fox at the helm. They currently rank just 27th in pace, averaging 101.3 possessions per game. Notably, they have been pretty slow off opponent missed shots, which anecdotally I think is indicative of how the coaching staff wants them to play.
The Kings also survived in that game thanks to outlier performances from Nemanja Bjelica and Bogdan Bogdanovic; it wasn't Buddy Hield or Harrison Barnes stepping up as the new leaders without Fox.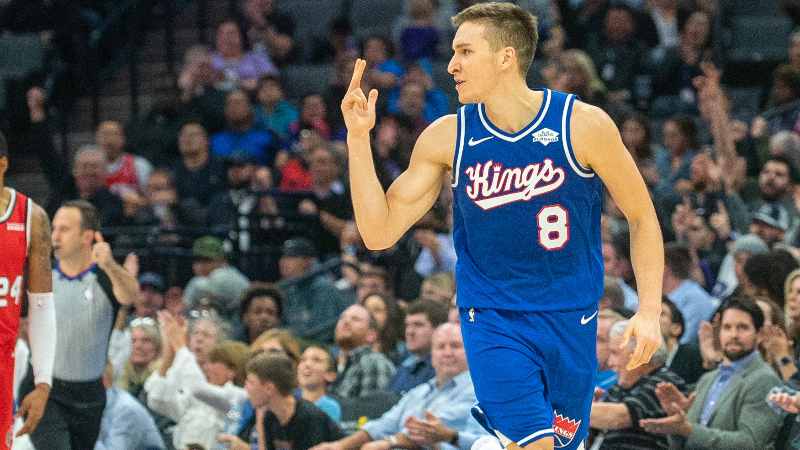 And despite all of that, the Kings still put up just 107 points — their team total currently sits around 102.
That'll be a hard mark to hit against a Lakers team that currently ranks second in defensive efficiency and fourth in eFG% allowed. It is a bit concerning that the Lakers have allowed a high percentage of transition opportunities, but I'm skeptical that will be a long-term trend, especially since the main culprit data-wise has been Danny Green, who is an incredible transition defender.
Overall, though, the Lakers have played at a bottom-five pace this season off opponent missed shots, which I'm expecting to happen quite a bit tonight.
I think the game under has some value here, but I like the Kings team total a bit better given the Lakers' potent offense. I also think there's some live betting value once we see whether Sacramento's newfound pace is real or whether it was just a single-game blip in the first affair without Fox.
The PICK: Under 214.5 | Kings under 102 (I wouldn't bet past the number on either)
JaVale McGee scored a season-high 18 points and grabbed 17 rebounds in Wednesday's game against the Warriors. It was a monster performance for the Lakers center.
After the big game, oddsmakers gave McGee's player props a bump for tonight. His over/under for points scored is 8.5 and over/under for rebounds is 6.5. Based on the previous game performance the overs look like smash spots, but context is important.
McGee produced on Wednesday because he played 28 minutes as Anthony Davis sat out with a rib injury. AD has been upgraded to probable for tonight's matchup.
In the previous 10 games that McGee played in this season, he averaged 15.5 minutes, 6.8 points and 4.7 rebounds. Assuming Davis plays, the unders are the smart bet with McGee's player props.
The PICK: McGee under 8.5 points | under 6.5 rebounds
How would you rate this article?